Abstract
Purpose
The small peptide TMTP1 (NVVRQ) has been proved to target a series of highly metastatic tumor cells. The aim of this study was to develop a new agent based on TMTP1 conjugated with Evans blue (EB), to increase tumor uptake and modify the pharmacokinetic characteristics of the resulting radiolabeled agent.
Procedures
DOTA-EB-TMTP1 was prepared through conventional solid-phase peptide synthesis chemistry. Then, it was successfully labeled with Cu-64 to obtain [64Cu]DOTA-EB-TMTP1. The tumor targeting properties were evaluated in vivo using 143B xenografts.
Results
DOTA-EB-TMTP1 was successfully labeled with Cu-64 in a yield of 87.3 ± 5.2 %. In a small animal positron emission tomography/X-ray computed tomography (PET/CT) study in osteosarcoma 143B xenograft mice, [64Cu]DOTA-EB-TMTP1 was found to rapidly accumulate in the tumor tissue. The tumor uptake increased over time and reached a plateau of 6.50 ± 0.88 % ID/g 8 h after tail vein injection. The radioactivity remained in the tumor tissue 48 h postinjection with a negligible decrease.
Conclusions
Overall, the introduction of the EB motif to TMTP1 significantly changed its pharmacokinetics in vivo, and this strategy fulfills the purpose of prolonging the blood circulation and enhancing the tumor uptake. [64Cu]DOTA-EB-TMTP1 is a promising agent for osteosarcoma targeting. Moreover, our study highlights that DOTA-EB-TMTP1 is a good candidate for labeling with different radionuclides for potential theranostic applications.
This is a preview of subscription content, log in to check access.
Access options
Buy single article
Instant access to the full article PDF.
US$ 39.95
Price includes VAT for USA
Subscribe to journal
Immediate online access to all issues from 2019. Subscription will auto renew annually.
US$ 99
This is the net price. Taxes to be calculated in checkout.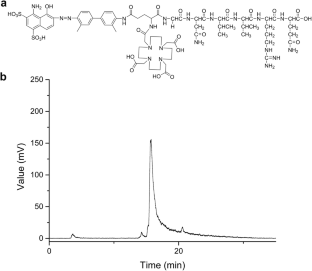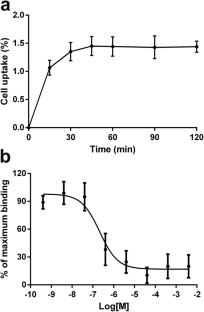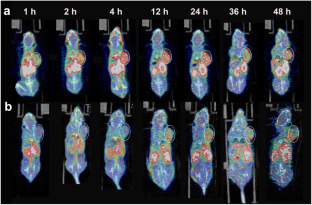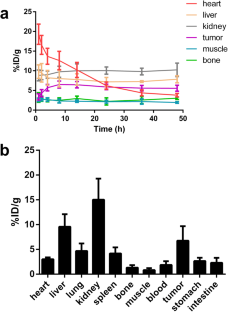 References
1.

Harrison DJ, Geller DS, Gill JD et al (2018) Current and future therapeutic approaches for osteosarcoma. Expert Rev Anticancer Ther 18:39–50

2.

Durfee RA, Mohammed M, Luu HH (2016) Review of osteosarcoma and current management. Rheumatol Ther 3:221–243

3.

Luetke A, Meyers PA, Lewis I, Juergens H (2014) Osteosarcoma treatment—where do we stand? A state of the art review. Cancer Treat Rev 40:523–532

4.

Ma Z, Qin H, Chen H et al (2017) Phage display-derived oligopeptide-functionalized probes for in vivo specific photoacoustic imaging of osteosarcoma. Nanomedicine 13:111–121

5.

Reed DR, Hayashi M, Wagner L, Binitie O, Steppan DA, Brohl AS, Shinohara ET, Bridge JA, Loeb DM, Borinstein SC, Isakoff MS (2017) Treatment pathway of bone sarcoma in children, adolescents, and young adults. Cancer 123:2206–2218

6.

Lau JL, Dunn MK (2018) Therapeutic peptides: historical perspectives, current development trends, and future directions. Bioorg Med Chem 26:2700–2707

7.

Yang W, Luo D, Wang S et al (2008) TMTP1, a novel tumor-homing peptide specifically targeting metastasis. Clin Cancer Res 14:5494–5502

8.

Li Y, Zhang D, Shi Y, Guo Z, Wu X, Ren JL, Zhang X, Wu H (2016) Syntheses and preliminary evaluation of [18F]AlF-NOTA-G-TMTP1 for PET imaging of high aggressive hepatocellular carcinoma. Contrast Media Mol Imaging 11:262–271

9.

Jacobson O, Kiesewetter DO, Chen X (2016) Albumin-binding Evans blue derivatives for diagnostic imaging and production of long-acting therapeutics. Bioconjug Chem 27:2239–2247

10.

Liu Z, Chen X (2016) Simple bioconjugate chemistry serves great clinical advances: albumin as a versatile platform for diagnosis and precision therapy. Chem Soc Rev 45:1432–1456

11.

Niu G, Lang L, Kiesewetter DO et al (2014) In vivo labeling of serum albumin for PET. J Nucl Med 55:1150–1156

12.

Chen H, Wang G, Lang L et al (2016) Chemical conjugation of Evans blue derivative: a strategy to develop long-acting therapeutics through albumin binding. Theranostics 6:243–253

13.

Wang Z, Tian R, Niu G et al (2018) Single low-dose injection of Evans blue modified PSMA-617 radioligand therapy eliminates prostate-specific membrane antigen positive tumors. Bioconjug Chem 29:3213–3221

14.

Zang J, Fan X, Wang H, Liu Q, Wang J, Li H, Li F, Jacobson O, Niu G, Zhu Z, Chen X (2019) First-in-human study of 177Lu-EB-PSMA-617 in patients with metastatic castration-resistant prostate cancer. Eur J Nucl Med Mol Imaging 46:148–158

15.

Brandt M, Cardinale J, Aulsebrook ML et al (2018) An overview of PET radiochemistry, part 2: radiometals. J Nucl Med 59:1500–1506

16.

Follacchio GA, De Feo MS, De Vincentis G et al (2018) Radiopharmaceuticals labelled with copper radionuclides: clinical results in human beings. Curr Radiopharm 11:22–33

17.

Bishop MW, Janeway KA, Gorlick R (2016) Future directions in the treatment of osteosarcoma. Curr Opin Pediatr 28:26–33

18.

Xiao M, Hong Z, Sun L et al (2011) TMTP1, a novel tumor-homing peptide, specifically targets hematological malignancies and their metastases. J Huazhong Univ Sci Technolog Med Sci 31:608–613

19.

Hooper NM, Lendeckel U (eds) (2004) Aminopeptidases in Biology and Disease. Springer, New York

20.

Ma X, Lv P, Ye S et al (2013) DT390-triTMTP1, a novel fusion protein of diphtheria toxin with tandem repeat TMTP1 peptide, preferentially targets metastatic tumors. Mol Pharm 10:115–126

21.

Liu R, Ma X, Wang H et al (2014) The novel fusion protein sTRAIL-TMTP1 exhibits a targeted inhibition of primary tumors and metastases. J Mol Med (Berl) 92:165–175

22.

Ma X, Xi L, Luo D et al (2012) Anti-tumor effects of the peptide TMTP1-GG-D(KLAKLAK)(2) on highly metastatic cancers. PLoS One 7:e42685

23.

Li F, Cheng T, Dong Q, Wei R, Zhang Z, Luo D, Ma X, Wang S, Gao Q, Ma D, Zhu X, Xi L (2015) Evaluation of 99mTc-HYNIC-TMTP1 as a tumor-homing imaging agent targeting metastasis with SPECT. Nucl Med Biol 42:256–262

24.

Zhou Y, Guiying J, Wang W et al (2018) A novel near-infrared fluorescent probe TMTP1-PEG4-ICG for in vivo tumor imaging. Bioconjug Chem. https://doi.org/10.1021/acs.bioconjchem.8b00756

25.

Kleynhans J, Grobler AF, Ebenhan T, Sathekge MM, Zeevaart JR (2018) Radiopharmaceutical enhancement by drug delivery systems: a review. J Control Release 287:177–193

26.

Jevsevar S, Kunstelj M, Porekar VG (2010) PEGylation of therapeutic proteins. Biotechnol J 5:113–128

27.

Zhang F, Liu MR, Wan HT (2014) Discussion about several potential drawbacks of PEGylated therapeutic proteins. Biol Pharm Bull 37:335–339

28.

Yao L, Xue X, Yu P et al (2018) Evans blue dye: a revisit of its applications in biomedicine. Contrast Media Mol Imaging 2018:7628037

29.

Tsopelas C, Sutton R (2002) Why certain dyes are useful for localizing the sentinel lymph node. J Nucl Med 43:1377–1382

30.

Ahmedova A, Todorov B, Burdzhiev N, Goze C (2018) Copper radiopharmaceuticals for theranostic applications. Eur J Med Chem 157:1406–1425

31.

Gutfilen B, Souza SA, Valentini G (2018) Copper-64: a real theranostic agent. Drug Des Dev Ther 12:3235–3245

32.

Boswell CA, Sun X, Niu W et al (2004) Comparative in vivo stability of copper-64-labeled cross-bridged and conventional tetraazamacrocyclic complexes. J Med Chem 47:1465–1474

33.

Sun X, Wuest M, Weisman GR et al (2002) Radiolabeling and in vivo behavior of copper-64-labeled cross-bridged cyclam ligands. J Med Chem 45:469–477

34.

Prasanphanich AF, Nanda PK, Rold TL, Ma L, Lewis MR, Garrison JC, Hoffman TJ, Sieckman GL, Figueroa SD, Smith CJ (2007) [64Cu-NOTA-8-Aoc-BBN(7-14)NH2] targeting vector for positron-emission tomography imaging of gastrin-releasing peptide receptor-expressing tissues. Proc Natl Acad Sci U S A 104:12462–12467
Acknowledgments
Yesen Li was funded by the China Scholarship Council (CSC). We thank Drs. Yanjiang Han, Bulin Du, and Frezghi G. Habte for their assistance in the imaging study.
Funding
This study was funded by the National Natural Science Foundation of China (81701762) and Natural Science Foundation of Fujian Province of China (No. 2016J01642). Funding support was provided in part by the Stanford University, Department of Radiology.
Ethics declarations
Conflict of Interest
The authors declare that they have no conflict of interest.
Ethics Approval
All animal procedures were performed in accordance with the Guide for the Care and Use of Laboratory Animals (Xiamen University Institutional Animal Care and Use Committee).
Additional information
Publisher's Note
Springer Nature remains neutral with regard to jurisdictional claims in published maps and institutional affiliations.
About this article
Cite this article
Li, Y., Li, D., Wu, H. et al. Synthesis and Application of a Long-Circulating Radiolabeled Peptide for Targeting of Osteosarcoma. Mol Imaging Biol (2020). https://doi.org/10.1007/s11307-019-01468-6
Key words
TMTP1

Evans blue

Cu-64

Osteosarcoma

PET