Abstract
Purpose
The Tera-Tomo 3D image reconstruction algorithm (a version of OSEM), provided with the Mediso nanoScan® PC (PET8/2) small-animal positron emission tomograph (PET)/x-ray computed tomography (CT) scanner, has various parameter options such as total level of regularization, subsets, and iterations. Also, the acquisition time in PET plays an important role. This study aims to assess the performance of this new small-animal PET/CT scanner for different acquisition times and reconstruction parameters, for 2-deoxy-2-[18F]fluoro-d-glucose ([18F]FDG) and Ga-68, under the NEMA NU 4-2008 standards.
Procedures
Various image quality metrics were calculated for different realizations of [18F]FDG and Ga-68 filled image quality (IQ) phantoms.
Results
[18F]FDG imaging produced improved images over Ga-68. The best compromise for the optimization of all image quality factors is achieved for at least 30 min acquisition and image reconstruction with 52 iteration updates combined with a high regularization level.
Conclusion
A high regularization level at 52 iteration updates and 30 min acquisition time were found to optimize most of the figures of merit investigated.
This is a preview of subscription content, log in to check access.
Access options
Buy single article
Instant access to the full article PDF.
US$ 39.95
Price includes VAT for USA
Subscribe to journal
Immediate online access to all issues from 2019. Subscription will auto renew annually.
US$ 99
This is the net price. Taxes to be calculated in checkout.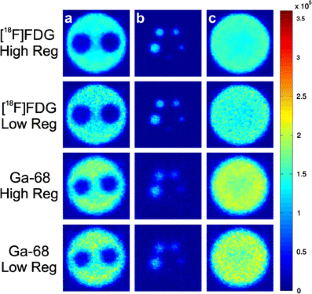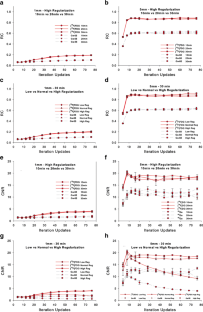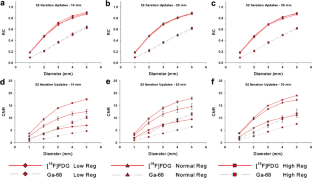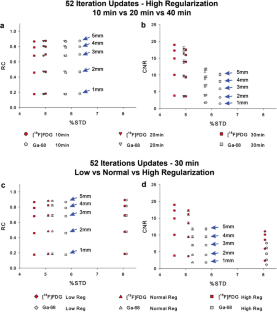 References
1.

Yamamoto S, Watabe H, Kanai Y et al (2013) Development of an ultrahigh resolution Si-PM-based PET system for small animals. Phys Med Biol 58:7875–7888

2.

Nagy K, Toth M, Major P et al (2013) Performance evaluation of the small-animal nanoScan PET/MRI system. J Nucl Med 54:18125–11832

3.

Wang Y, Seidel B, Tsui BMW et al (2006) Performance evaluation of the GE Healthcare eXplore VISTA dual-ring small-animal PET scanner. J Nucl Med 47:1891–1900

4.

Visser EP, Disselhorst JA, Brom M et al (2009) Spatial resolution and sensitivity of the Inveon small-animal PET scanner. J Nucl Med 50:139–147

5.

Lasnon C, Dugué AE, Briand M et al (2015) Quantifying and correcting for tail vein extravasation in small animal PET scans in cancer research: is there an impact on therapy assessment? Eur J Nucl Med Mol Imaging Res 5:61

6.

Ferrari C, Asabella AN, Villano C et al (2015) Copper-64 dichloride as theranostic agent for glioblastoma multiform: a preclinical study. Biomed Res Int. doi:10.1155/2015/129764

7.

Maschauer S, Gahr S, Gandesiri M et al (2016) In vivo monitoring of the anti-angiogenic therapeutic effect of the pan-deacetylase inhibitor panobinostatby small animal PET in a mouse model of gastrointestinal cancers. Nucl Med Biol 43:27–34

8.

Kim DY, Kim HS, Reder S et al (2015) Comparison of 18F-labeled fluoroalkyphosphonium cations with 13N-NH3 for PET myocardial perfusion imaging. J Nucl Med 56:1581–1586

9.

Thackeray JT, Bankstahl JP, Bengel FM (2015) Impact of image-derived input function and fit time intervals on Patlak quantification of myocardial glucose uptake in mice. J Nucl Med 56:1615–1621

10.

Mateo J, Bilbao I, Vaquero JJ et al (2015) In vivo 18F-FDG-PET imaging in mouse atherosclerosis. Methods Mol Biol 1339:377–386

11.

Deruyver Y, Rietjens R, Franken J et al (2015) (18F)FDG-PET brain imaging during the micturition cycle in rats detects regions involved in bladder afferent signaling. Eur J Nucl Med Mol Iimaging Res 5:55

12.

Wenzel B, Mollitor J, Deuther-Conrad W et al (2016) Development of a novel nonpeptidic 18F-labeled radiotracer for in vivo imaging of oxytocin receptors with positron emission tomography. J Med Chem 59:1800–1817

13.

Disselhorst JA, Brom M, Laverman P et al (2010) Image-quality assessment for several positron emitters using the NEMA NU 4-2008 standards in the Siemens Inveon small-animal PET scanner. J Nucl Med 51:610–617

14.

Goetzen AL, Bao Q, Bergeron M et al (2012) NEMA NU 4-2008 comparison of preclinical PET imaging systems. J Nucl Med 53:1300–1309

15.

Hulsman MC, Reder S, Weber AW et al (2007) Performance evaluation of the Philips MOSAIC small animal PET scanner. Eur J Nucl Med Mol Imaging 34:532–540

16.

Magota K, Kubo N, Kuge Y et al (2011) Performance characterization of the Inveon preclinical small-animal PET/SPECT/CT system for multimodality imaging. Eur J Nucl Med Mol Imaging 38:742–752

17.

Cañadas M, Romero Sanz E, et al. (2010) Performance evaluation for 68Ga and 18F of the ARGUS small-animal PET scanner based on the NEMA NU-4 standard, IEEE Nuclear Science Symposium Conference & Medical Imaging Conference, Knoxville TN, pp. 3454–3457.

18.

Visser EP, Disselhorst JA, van Lier MGJTB et al (2011) Characterization and optimization of image quality as a function of reconstruction algorithms and parameter settings in a Siemens Inveon small-animal PET scanner using the NEMA NU 4-2008 standards. NuclInstr Meth Phys Res A 629:357–367

19.

M. Magdics, B. Tóth, B. Kovács, et al. (2011) Total variation regularization in PET reconstruction, Képfeldolgozók és Alakfelismerók VIII. Konferenciája. Szeged.

20.

Panin VY, Zeng GL, Gullberg GT (1999) Total variation regulated EM algorithm. IEEE TNS 46:2202–2210

21.

Persson M, Bone D, Elmqvist H (2001) Total variation norm for three-dimensional iterative reconstruction in limited view angle tomography. Phys Med Biol 46:853–866

22.

Magdics M, Szirmay-Kalos L, Szlavecz A, et al. (2010) TeraTomo project: a fully 3D GPU based reconstruction code for exploiting the imaging capability of the NanoPET™/CT system. Mol Imaging Biol 12

23.

National Electrical Manufacturers Association (NEMA) (2008) Performance measurements for small animal positron emission tomographs (PETs). NEMA Standards Publication NU 4-2008. Rosslyn, VA: NEMA.

24.

Bradshaw TJ, Voorbach MJ, Reuter DR et al (2015) Image quality of Zr-89 PET imaging in the Siemens microPET Focus 220 preclinical scanner. Mol Imaging Biol 18:377–385
Ethics declarations
Conflict of Interest
The authors declare that they have no conflict of interest.
About this article
Cite this article
Gaitanis, A., Kastis, G.A., Vlastou, E. et al. Investigation of Image Reconstruction Parameters of the Mediso nanoScan PC Small-Animal PET/CT Scanner for Two Different Positron Emitters Under NEMA NU 4-2008 Standards. Mol Imaging Biol 19, 550–559 (2017). https://doi.org/10.1007/s11307-016-1035-9
Key words
Small-animal PET/CT

3D OSEM

Mediso nanoScan

Image quality

NEMA NU 4-2008

Total level of regularization

Tera-Tomo 3D