Abstract
Purpose
In humans, colonoscopy is the gold standard for the diagnosis of inflammatory changes of the colon wall. Aim of this study was the identification of less invasive imaging biomarkers in the dextran sodium sulfate (DSS) colitis model to provide additional information on transmural changes of the colon wall.
Procedures
Colitis was induced in C57BL/6 mice by administration of 2, 3, and 4 % DSS over a period of 5 days. Colon wall thickness was measured using magnetic resonance imaging (MRI), ultrasound (US), and x-ray computed tomography (CT), gut inflammation by positron emission tomography/CT, and mucosal changes of the colon wall by colonoscopy. Colon samples were examined histologically.
Results
MRI, CT, US, and histological data revealed increased colon wall thickness in DSS-treated mice compared to healthy controls. Elevated 2-deoxy-2[18F]fluoro-d-glucose uptake and colonoscopy confirmed high inflammatory load in the guts of colitis mice.
Conclusions
The established quantitative imaging readouts offer promising perspectives to develop new compounds and to translate these methods into the clinical setting.
This is a preview of subscription content, log in to check access.
Access options
Buy single article
Instant access to the full article PDF.
US$ 39.95
Price includes VAT for USA
Subscribe to journal
Immediate online access to all issues from 2019. Subscription will auto renew annually.
US$ 99
This is the net price. Taxes to be calculated in checkout.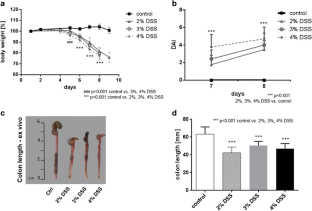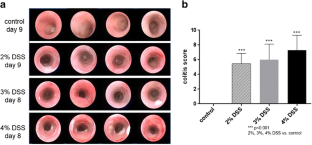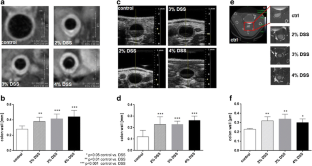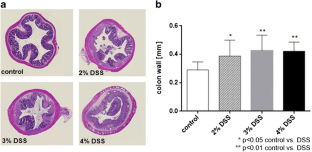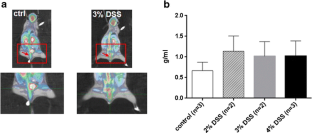 Abbreviations
CT:

Computed tomography

MRI:

Magnetic resonance imaging

PET/CT:

Positron emission tomography combined with computed tomography

US:

Ultrasound imaging

SPECT:

Single photon emission computed tomography

[18F]FDG:

2-deoxy-2-[18F]fluoro-d-glucose

DSS:

Dextran sodium sulfate

IBD:

Inflammatory bowel disease
References
1.

Podolsky DK (1991) Inflammatory bowel disease (1). N Engl J Med 325:928–937

2.

Baumgart DC, Sandborn WJ (2012) Crohn's disease. Lancet 380:1590–1605

3.

Hommes DW, van Deventer SJ (2004) Endoscopy in inflammatory bowel diseases. Gastroenterology 126:1561–1573

4.

Stange EF, Travis SP, Vermeire S et al (2006) European evidence based consensus on the diagnosis and management of Crohn's disease: definitions and diagnosis. Gut 55(Suppl 1):i1–i15

5.

Panes J, Bouhnik Y, Reinisch W et al (2013) Imaging Techniques for assessment of inflammatory bowel disease: joint ECCO and ESGAR evidence-based consensus guidelines. J Crohns Colitis 7:556–585

6.

Panes J, Bouzas R, Chaparro M et al (2011) Systematic review: the use of ultrasonography, computed tomography and magnetic resonance imaging for the diagnosis, assessment of activity and abdominal complications of Crohn's disease. Aliment Pharmacol Ther 34:125–145

7.

Horsthuis K, Bipat S, Bennink RJ, Stoker J (2008) Inflammatory bowel disease diagnosed with US, MR, scintigraphy, and CT: meta-analysis of prospective studies. Radiology 247:64–79

8.

Spier BJ, Perlman SB, Reichelderfer M (2009) FDG-PET in inflammatory bowel disease. Q J Nucl Med Mol Imaging 53:64–71

9.

Spier BJ, Perlman SB, Jaskowiak CJ, Reichelderfer M (2010) PET/CT in the evaluation of inflammatory bowel disease: studies in patients before and after treatment. Mol Imaging Biol 12:85–88

10.

Glaudemans AW, Maccioni F, Mansi L et al (2010) Imaging of cell trafficking in Crohn's disease. J Cell Physiol 223:562–571

11.

Okayasu I, Hatakeyama S, Yamada M et al (1990) A novel method in the induction of reliable experimental acute and chronic ulcerative colitis in mice. Gastroenterology 98:694–702

12.

Wirtz S, Neufert C, Weigmann B, Neurath MF (2007) Chemically induced mouse models of intestinal inflammation. Nat Protoc 2:541–546

13.

Breynaert C, Dresselaers T, Perrier C et al (2013) Unique gene expression and MR T2 relaxometry patterns define chronic murine dextran sodium sulphate colitis as a model for connective tissue changes in human Crohn's disease. PLoS One 8:e68876

14.

Becker C, Fantini MC, Neurath MF (2006) High resolution colonoscopy in live mice. Nat Protoc 1:2900–2904

15.

Flecknell P (2002) Replacement, reduction and refinement. ALTEX 19:73–78

16.

Rusche B (2003) The 3Rs and animal welfare—conflict or the way forward? ALTEX 20(Suppl 1):63–76

17.

Leist M, Kadereit S, Schildknecht S (2008) Food for thought… on the real success of 3R approaches. ALTEX 25:17–32

18.

Maxwell JR, Viney JL (2009) Overview of mouse models of inflammatory bowel disease and their use in drug discovery. Curr Protoc Pharmacol 5:Unit 5.57.1–5.58.19

19.

Hindryckx P, Staelens S, Devisscher L et al (2011) Longitudinal quantification of inflammation in the murine dextran sodium sulfate-induced colitis model using μPET/CT. Inflamm Bowel Dis 17:2058–2064

20.

Dieleman LA, Ridwan BU, Tennyson GS et al (1994) Dextran sulfate sodium-induced colitis occurs in severe combined immunodeficient mice. Gastroenterology 107:1643–1652

21.

Arndt JW, Grootscholten MI, van Hogezand RA et al (1997) Inflammatory bowel disease activity assessment using technetium-99m-HMPAO leukocytes. Dig Dis Sci 42:387–393

22.

Papós M, Nagy F, Láng J, Csernay L (1993) Technetium-99m hexamethylpropylene amine oxime labelled leucocyte scintigraphy in ulcerative colitis and Crohn's disease. Eur J Nucl Med 20:766–769

23.

Signore A, Chianelli M, Annovazzi A et al (2000) 123I-interleukin-2 scintigraphy for in vivo assessment of intestinal mononuclear cell infiltration in Crohn's disease. J Nucl Med 41:242–249

24.

Kadayakkara DK, Ranganathan S, Young WB, Ahrens ET (2012) Assaying macrophage activity in a murine model of inflammatory bowel disease using fluorine-19 MRI. Lab Investig 92:636–645

25.

Wang H, Machtaler S, Bettinger T et al (2013) Molecular imaging of inflammation in inflammatory bowel disease with a clinically translatable dual-selectin-targeted US contrast agent: comparison with FDG PET/CT in a mouse model. Radiology 267:818–829

26.

Schürmann GM, Bishop AE, Facer P et al (1995) Increased expression of cell adhesion molecule P-selectin in active inflammatory bowel disease. Gut 36(3):411–418

27.

Jubeli E, Moine L, Vergnaud-Gauduchon J, Barratt G (2012) E-selectin as a target for drug delivery and molecular imaging. J Control Release 158:194–206

28.

Cummins EP, Seeballuck F, Keely SJ et al (2008) The hydroxylase inhibitor dimethyloxalylglycine is protective in a murine model of colitis. Gastroenterology 134:156–165
Acknowledgments
We thank Andrea Vögtle, David Kind, and Michael Neumaier for excellent technical assistance and Anna-Lena Martin for statistical analyses.
Ethics declarations
Conflict of Interest
All the authors are employees of Boehringer Ingelheim Pharma GmbH & Co. K and declare that they have no conflict of interest.
About this article
Cite this article
Beltzer, A., Kaulisch, T., Bluhmki, T. et al. Evaluation of Quantitative Imaging Biomarkers in the DSS Colitis Model. Mol Imaging Biol 18, 697–704 (2016). https://doi.org/10.1007/s11307-016-0937-x
Key words
DSS

Mouse model

Colitis

Inflammatory bowel disease

Multimodal imaging