Abstract
Purpose
The hemoglobin scavenger receptor CD163 is exclusively expressed on monocytes and tissue macrophages, also at sites of inflammation. We examined whether gallium-68 (Ga-68)-labeled anti-CD163-antibody can detect the receptor in vivo.
Procedures
We radiolabeled anti-CD163 antibody with Ga-68 and evaluated stability and binding specificity of the conjugate ([68Ga]ED2) in vitro. Furthermore, tracer biodistribution was assessed in vivo in healthy rats and rats with acute collagen-induced arthritis (CIA) by MicroPET and tissue analysis.
Results
Radiosynthesis of [68Ga]ED2 antibody yielded a tracer with high-specific activity and radiochemical purity. [68Ga]ED2 bound specifically to CD163 in vitro. In rats, [68Ga]ED2 rapidly accumulated in macrophage-rich tissues. The arthritic paws exhibited a low but significant [68Ga]ED2 uptake. Interestingly, the systemic distribution was also changed in the sense that a significantly higher liver uptake and lower spleen uptake of [68Ga]ED2 was measured in CIA rats that accordingly showed a corresponding change in level of CD163 expression.
Conclusions
[68Ga]ED2 specifically binds CD163 in vitro and in vivo. Biodistribution studies in CIA rats suggest that this novel tool may have applications in studies of inflammatory diseases.
This is a preview of subscription content, log in to check access.
Access options
Buy single article
Instant access to the full article PDF.
US$ 39.95
Price includes VAT for USA
Subscribe to journal
Immediate online access to all issues from 2019. Subscription will auto renew annually.
US$ 99
This is the net price. Taxes to be calculated in checkout.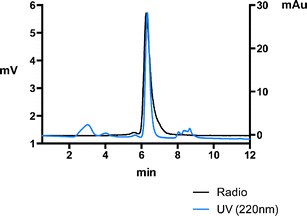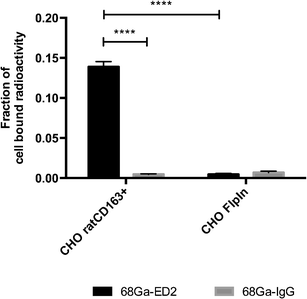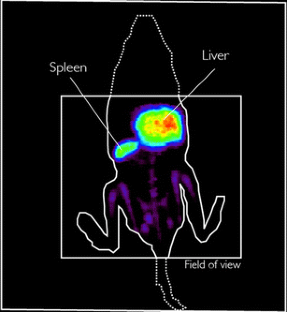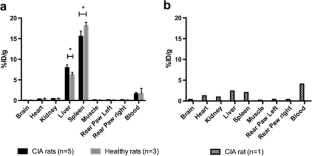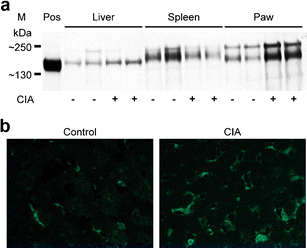 References
1.

Ambarus CA, Krausz S, van Eijk M et al (2012) Systematic validation of specific phenotypic markers for in vitro polarized human macrophages. J Immunol Methods 375:196–206

2.

Buechler C, Ritter M, Orso E et al (2000) Regulation of scavenger receptor CD163 expression in human monocytes and macrophages by pro- and antiinflammatory stimuli. J Leukoc Biol 67:97–103

3.

Siveen KS, Kuttan G (2009) Role of macrophages in tumour progression. Immunol Lett 123:97–102

4.

Lebre MC, Tak PP (2010) Macrophage subsets in immune-mediated inflammatory disease: lessons from rheumatoid arthritis, spondyloarthritis, osteoarthritis, Behçet's disease and gout. Open Arthritis J 3:18–23

5.

Kinne RW, Brauer R, Stuhlmuller B et al (2000) Macrophages in rheumatoid arthritis. Arthritis Res 2:189–202

6.

Kristiansen M, Graversen JH, Jacobsen C et al (2001) Identification of the haemoglobin scavenger receptor. Nature 409:198–201

7.

Tang X (2013) Tumor-associated macrophages as potential diagnostic and prognostic biomarkers in breast cancer. Cancer Lett 332:3–10

8.

Bover LC, Cardó-Vila M, Kuniyasu A et al (2007) A previously unrecognized protein-protein interaction between TWEAK and CD163: potential biological implications. J Immunol 178:8183–8194

9.

Lissbrant IF, Stattin P, Wikstrom P et al (2000) Tumor associated macrophages in human prostate cancer: relation to clinicopathological variables and survival. Int J Oncol 17:445–451

10.

Fabriek BO, van Bruggen R, Deng DM et al (2009) The macrophage scavenger receptor CD163 functions as an innate immune sensor for bacteria. Blood 113:887–892

11.

Sánchez-Torres C, Gómez-Puertas P, Gómez-del-Moral M et al (2003) Expression of porcine CD163 on monocytes/macrophages correlates with permissiveness to African swine fever infection. Arch Virol 148:2307–2323

12.

Polfliet MMJ, Fabriek BO, Daniëls WP et al (2006) The rat macrophage scavenger receptor CD163: expression, regulation and role in inflammatory mediator production. Immunobiology 211:419–425

13.

Solinas G, Germano G, Mantovani A, ALLAVENA P (2009) Tumor-associated macrophages (TAM) as major players of the cancer-related inflammation. J Leukoc Biol 86:1065–1073

14.

Etzerodt A, Maniecki MB, Graversen JH et al (2012) Efficient intracellular drug-targeting of macrophages using stealth liposomes directed to the hemoglobin scavenger receptor CD163. J Control Release 160:72–80

15.

Graversen JH, Svendsen P, Dagnæs-Hansen F et al (2012) Targeting the hemoglobin scavenger receptor CD163 in macrophages highly increases the anti-inflammatory potency of dexamethasone. Mol Ther 20:1550–1558

16.

Etzerodt A, Moestrup SK (2013) CD163 and inflammation: biological, diagnostic, and therapeutic aspects. Antioxid Redox Signal 18:2352–2363

17.

Etzerodt A, Maniecki MB, Møller K et al (2010) Tumor necrosis factor α-converting enzyme (TACE/ADAM17) mediates ectodomain shedding of the scavenger receptor CD163. J Leukoc Biol 88:1201–1205

18.

Møller HJ (2012) Soluble CD163. Scand J Clin Lab Invest 72:1–13

19.

Fani M, André JP, Maecke HR (2008) 68Ga-PET: a powerful generator-based alternative to cyclotron-based PET radiopharmaceuticals. Contrast Media Mol Imaging 3:67–77

20.

Anderson CJ, Welch MJ (1999) Radiometal-labeled agents (non-technetium) for diagnostic imaging. Chem Rev 99:2219–2234

21.

Zhernosekov KP, Filosofov DV, Baum RP et al (2007) Processing of generator-produced 68Ga for medical application. J Nucl Med 48:1741–1748

22.

Swirski FK, Nahrendorf M, Etzrodt M et al (2009) Identification of splenic reservoir monocytes and their deployment to inflammatory sites. Science 325:612–616
Acknowledgments
This study has been financially supported by an ERC grant for the TROJA project (Project 233312 Targeting Receptors Of Jointly Assembled Drug-Ligand Complexes) as well as a Mobility Ph.D. fellowship to Sascha Eichendorff from Aarhus University. Bent Deleuran was supported by the Danish Rheumatoid Association.
The authors wish to thank Mette Simonsen from the Department of Nuclear Medicine & PET Centre, Aarhus University Hospital for skillful assistance with MicroPET imaging and biodistribution experiments. Karina Højrup Vase and Lykke Hagelskjær Pedersen, also from the Department of Nuclear Medicine & PET Centre, Aarhus University Hospital, were of great help with the gallium generator handling.
Conflict of Interest
The authors state that they have no conflicts of interest.
About this article
Cite this article
Eichendorff, S., Svendsen, P., Bender, D. et al. Biodistribution and PET Imaging of a Novel [68Ga]-Anti-CD163-Antibody Conjugate in Rats with Collagen-Induced Arthritis and in Controls. Mol Imaging Biol 17, 87–93 (2015). https://doi.org/10.1007/s11307-014-0768-6
Key words
CD163

Positron emission tomography

Arthritis

Macrophages

Liver