Abstract
Purpose
We explored the effect of Noggin protein expression on tumor growth in vivo by using fluorescence imaging.
Procedures
Human lung carcinoma MV522 cells were transduced by using bicistronic (EGFP/Nog) or a control (EGFP) lentivirus at >95% efficacy. The transduced cells were implanted in athymic mice either individually or after mixing with DsRed2-expressing MV522 cells.
Results
The expression of Noggin protein was demonstrated in EGFP+/Nog+ but not in EGFP+ cell lysates and conditioned media. Noggin did not inhibit tumor cell proliferation in vitro. Implantation of EGFP+ resulted in rapid tumor growth, whereas mice implanted with EGFP+/Nog+ either failed to develop tumors or developed smaller slowly proliferating ones. In the case of tumors grown from mixtures with DsRed2+ cells, only Noggin-expressing cells resulted in decreased tumor volumes with low vascular density and poorly developed stroma.
Conclusion
The effect of Noggin protein expression is a consequence of inhibition of stromal and/or endothelial proliferation in vivo.
This is a preview of subscription content, log in to check access.
Access options
Buy single article
Instant access to the full article PDF.
US$ 39.95
Price includes VAT for USA
Subscribe to journal
Immediate online access to all issues from 2019. Subscription will auto renew annually.
US$ 99
This is the net price. Taxes to be calculated in checkout.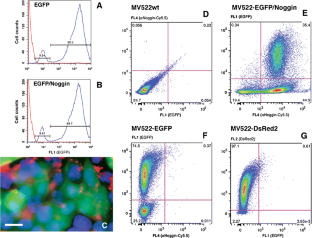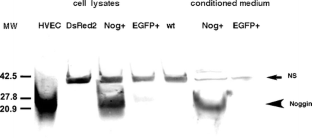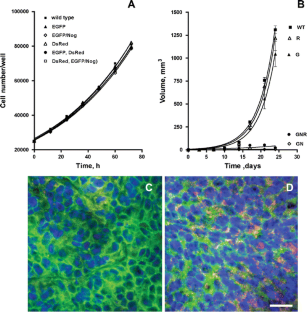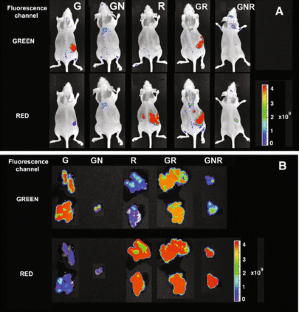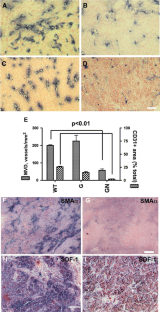 References
1.

Carmeliet P, Moons L, Dewerchin M et al (1997) Insights in vessel development and vascular disorders using targeted inactivation and transfer of vascular endothelial growth factor, the tissue factor receptor, and the plasminogen system. Ann NY Acad Sci 811:191–206

2.

Hsu JY, Wakelee HA (2009) Monoclonal antibodies targeting vascular endothelial growth factor: current status and future challenges in cancer therapy. BioDrugs 23:289–304

3.

Boyd NL, Dhara SK, Rekaya R et al (2007) Bmp4 promotes formation of primitive vascular networks in human embryonic stem cell-derived embryoid bodies. Exp Biol Med 232:833–843

4.

Yang S, Pham LK, Liao CP et al (2008) A novel bone morphogenetic protein signaling in heterotypic cell interactions in prostate cancer. Cancer Res 68:198–205

5.

Kang MH, Kim JS, Seo JE, Oh SC, Yoo YA (2010) Bmp2 accelerates the motility and invasiveness of gastric cancer cells via activation of the phosphatidylinositol 3-kinase (PI3K)/AKT pathway. Exp Cell Res 316:24–37

6.

Orimo A, Gupta PB, Sgroi DC et al (2005) Stromal fibroblasts present in invasive human breast carcinomas promote tumor growth and angiogenesis through elevated SD-1/CXCL12 secretion. Cell 121:335–348

7.

Orimo A, Weinberg RA (2006) Stromal fibroblasts in cancer: a novel tumor-promoting cell type. Cell Cycle 5:1597–1601

8.

Chen X, Beutler JA, McCloud TG et al (2003) Tannic acid is an inhibitor of CXCL12 (SDF-1alpha)/CXCR4 with antiangiogenic activity. Clin Cancer Res 9:3115–3123

9.

Kioi M, Vogel H, Schultz G et al (2010) Inhibition of vasculogenesis, but not angiogenesis, prevents the recurrence of glioblastoma after irradiation in mice. J Clin Invest 120:694–705

10.

Kang HW, Walvick R, Bogdanov A Jr (2009) In vitro and in vivo imaging of antivasculogenesis induced by noggin protein expression in human venous endothelial cells. FASEB J 23:4126–4134

11.

Walsh DW, Godson C, Brazil DP, Martin F (2010) Extracellular bmp-antagonist regulation in development and disease: tied up in knots. Trends Cell Biol 20:244–256

12.

Varki NM, Roome L, Sparkes RS, Miller JE (1987) Microscopic metastasis of a human lung carcinoma cell line in athymic nude mice: isolation of a metastatic variant. Int J Cancer 40:46–52

13.

Sena-Esteves M, Tebbets JC, Steffens S, Crombleholme T, Flake AW. (2004) Optimized large-scale production of high titer lentivirus vector pseudotypes. J Virol Methods 122(2):131–9 122:131–139

14.

Kim YR, Yudina A, Figueiredo J et al (2005) Detection of early antiangiogenic effects in human colon adenocarcinoma xenografts: in vivo changes of tumor blood volume in response to experimental vegfr tyrosine kinase inhibitor. Cancer Res 65:9253–9260

15.

Kawabata M, Imamura T, Miyazono K (1998) Signal transduction by bone morphogenetic proteins. Cytokine Growth Factor Rev 9:49–61

16.

Dai J, Kitagawa Y, Zhang J et al (2004) Vascular endothelial growth factor contributes to the prostate cancer-induced osteoblast differentiation mediated by bone morphogenetic protein. Cancer Res 64:994–999

17.

Nimmagadda S, Geetha Loganathan P, Huang R et al (2005) Bmp4 and noggin control embryonic blood vessel formation by antagonistic regulation of vegfr-2 (quek1) expression. Dev Biol 280:100–110

18.

Reese DE, Hall CE, Mikawa T (2004) Negative regulation of midline vascular development by the notochord. Dev Cell 6:699–708

19.

Chang K, Weiss D, Suo J et al (2007) Bone morphogenic protein antagonists are coexpressed with bone morphogenic protein 4 in endothelial cells exposed to unstable flow in vitro in mouse aortas and in human coronary arteries: role of bone morphogenic protein antagonists in inflammation and atherosclerosis. Circulation 116:1258–1266

20.

Capdevila J, Johnson RL (1998) Endogenous and ectopic expression of noggin suggests a conserved mechanism for regulation of bmp function during limb and somite patterning. Dev Biol 197:205–217

21.

Katz M, Spivack D, Takimoto S et al (2003) Dual color, in vivo imaging of gene expression in a pancreatic cancer model. Gastroenterology 122:406–414

22.

Kumar AT, Chung E, Raymond SB et al (2009) Feasibility of in vivo imaging of fluorescent proteins using lifetime contrast. Opt Lett 34:2066–2068

23.

Kucia M, Jankowski K, Reca R et al (2004) Cxcr4-sdf-1 signalling, locomotion, chemotaxis and adhesion. J Mol Histol 35:233–245

24.

Feeley BT, Krenek L, Liu N et al (2006) Overexpression of noggin inhibits bmp-mediated growth of osteolytic prostate cancer lesions. Bone 38:154–166

25.

Sharov AA, Mardaryev AN, Sharova TY et al (2009) Bone morphogenetic protein antagonist noggin promotes skin tumorigenesis via stimulation of the Wnt and Shh signaling pathways. Am J Pathol 175:1303–1314
Acknowledgment
This work was supported in part by RO1 EB000858 grant (A.B.). The authors are grateful to Dr. Miguel Esteves (Department of Neurology, UMASS Medical School) for providing high-titer lentiviral vectors for this study and to Dr. Mary Mazzanti for editing the text.
Conflicts of interest
The authors have no conflicts of interest.
About this article
Cite this article
Kang, H., Gupta, S. & Bogdanov, A. Orthotopic Expression of Noggin Protein in Cancer Cells Inhibits Human Lung Carcinoma Growth In Vivo . Mol Imaging Biol 14, 480–488 (2012). https://doi.org/10.1007/s11307-011-0518-y
Key words
Noggin

BMP

Fluorescence

Cancer

Stroma

Xenograft

Lung carcinoma