Abstract
Purpose
To analyze brain metabolic response to acute cocaine in male and female Wistar rats with or without a history of cannabinoid exposure during periadolescence.
Procedures
The synthetic cannabinoid agonist CP 55,940 (CP) or its vehicle (VH), were administered to male and female rats during periadolescence. When these animals reached adulthood, saline and cocaine-induced changes in 2-deoxy-2-[18F]fluoro-D-glucose (FDG) uptake were studied by positron emission tomography.
Results
The baseline (post-saline) metabolism in the septal nuclei was higher in CP-females than in VH-females, although septal metabolism was lower in CP-females after cocaine, reaching similar values to those of VH-females at baseline. Cocaine did not affect metabolism in VH-females. Periadolescent cannabinoid treatment did not influence baseline metabolism in males although cocaine reduced the FDG uptake in the dorsal striatum of males that received the VH but not CP.
Conclusions
These results suggest that cannabinoids during periadolescence modify baseline and cocaine-evoked brain metabolism in a sex-dependent manner. In the case of CP-females, the involvement of septal metabolic alterations in their susceptibility to the rewarding effects of cocaine should be further investigated.
This is a preview of subscription content, log in to check access.
Access options
Buy single article
Instant access to the full article PDF.
US$ 39.95
Price includes VAT for USA
Subscribe to journal
Immediate online access to all issues from 2019. Subscription will auto renew annually.
US$ 99
This is the net price. Taxes to be calculated in checkout.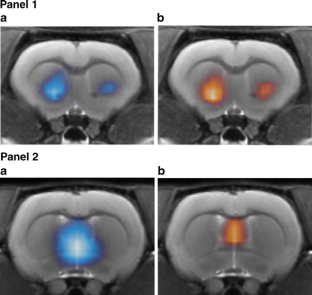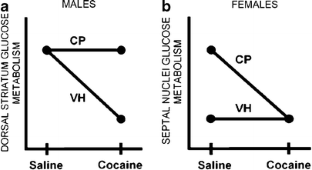 References
1.

Gruber AJ, Pope HG Jr (2002) Marijuana use among adolescents. Pediatr Clin North Am 49:389–413

2.

Kandel DB (2003) Does marijuana use cause the use of other drugs? Jama 289:482–483

3.

Kandel DB, Yamaguchi K, Klein LC (2006) Testing the Gateway Hypothesis. Addiction 101:470–472, discussion 474–476

4.

Higuera-Matas A, Soto-Montenegro ML, del Olmo N et al (2008) Augmented acquisition of cocaine self-administration and altered brain glucose metabolism in adult female but not male rats exposed to a cannabinoid agonist during adolescence. Neuropsychopharmacology 33:806–813

5.

London ED, Wilkerson G, Goldberg SR, Risner ME (1986) Effects of L-cocaine on local cerebral glucose utilization in the rat. Neurosci Lett 68:73–78

6.

London ED, Cascella NG, Wong DF et al (1990) Cocaine-induced reduction of glucose utilization in human brain. A study using positron emission tomography and [fluorine 18]-fluorodeoxyglucose. Arch Gen Psychiatry 47:567–574

7.

Volkow ND, Hitzemann R, Wang GJ et al (1992) Long-term frontal brain metabolic changes in cocaine abusers. Synapse 11:184–190

8.

Dalley JW, Fryer TD, Aigbirhio FI et al (2009) Modelling human drug abuse and addiction with dedicated small animal positron emission tomography. Neuropharmacology 56(Suppl 1):9–17

9.

Biscaia M, Marin S, Fernandez B et al (2003) Chronic treatment with CP 55,940 during the peri-adolescent period differentially affects the behavioural responses of male and female rats in adulthood. Psychopharmacology (Berl) 170:301–308

10.

Higuera-Matas A, Botreau F, Miguens M et al (2009) Chronic periadolescent cannabinoid treatment enhances adult hippocampal PSA-NCAM expression in male Wistar rats but only has marginal effects on anxiety, learning and memory. Pharmacol Biochem Behav 93:482–490

11.

Vaquero JJ, Lage E, Rincón L, et al. (2005) rPET detectors design and data processing. IEEE NSS/MIC Conference Record 2885–2889

12.

Abella M, Vaquero JJ, Soto-Montenegro ML, Lage E, Desco M (2009) Sinogram bow-tie filtering in FBP PET reconstruction. Med Phys 36:1663–1671

13.

Pascau J, Gispert JD, Michaelides M et al (2009) Automated method for small-animal PET image registration with intrinsic validation. Mol Imaging Biol 11:107–113

14.

Sled JG, Zijdenbos AP, Evans AC (1998) A nonparametric method for automatic correction of intensity nonuniformity in MRI data. IEEE Trans Med Imaging 17:87–97

15.

Gong W, Neill DB, Justice JB Jr (1995) Increased sensitivity to cocaine place-preference conditioning by septal lesions in rats. Brain Res 683:221–227

16.

Rubino T, Vigano D, Realini N et al (2008) Chronic delta(9)-tetrahydrocannabinol during adolescence provokes sex-dependent changes in the emotional profile in adult rats: behavioral and biochemical correlates. Neuropsychopharmacology 33:2760–2771

17.

Hu H, Su L, Xu YQ, Zhang H, Wang LW (2010) Behavioral and [F-18] fluorodeoxyglucose micro positron emission tomography imaging study in a rat chronic mild stress model of depression. Neuroscience 169(1):171–81

18.

Zocchi A, Conti G, Orzi F (2001) Differential effects of cocaine on local cerebral glucose utilization in the mouse and in the rat. Neurosci Lett 306:177–180

19.

Lyons D, Friedman DP, Nader MA, Porrino LJ (1996) Cocaine alters cerebral metabolism within the ventral striatum and limbic cortex of monkeys. J Neurosci 16:1230–1238

20.

Higuera-Matas A, Botreau F, Miguens M, et al. (2008) Alterations in the rat adult dopaminergic system following pubertal cannabinoid treatment: implications for vulnerability to cocaine addiction. NIDA International Forum. San Juan, Puerto Rico. (Abstract)

21.

Patel V, Borysenko M, Kumar MS (1985) Effect of delta 9-THC on brain and plasma catecholamine levels as measured by HPLC. Brain Res Bull 14:85–90

22.

Reich R, Laufer N, Lewysohn O et al (1982) In vitro effects of cannabinoids on follicular function in the rat. Biol Reprod 27:223–231

23.

Rosenkrantz H, Esber HJ (1980) Cannabinoid-induced hormone changes in monkeys and rats. J Toxicol Environ Health 6:297–313
Acknowledgements
The authors thank Alberto Marcos, Rosa Ferrado, and Luis Troca for their technical assistance and Dr. Mark Sefton for editorial assistance. The authors declare that they are entirely responsible for the scientific content of this paper. This work was supported by grants from the Ministerio de Educación y Ciencia (Grants nº SAF2004-08148 and SAF2007-064890); Ministerio de Sanidad y Consumo (Grants RD06/00170029 of Instituto de Salud Carlos III, PNSD 2004–2007 and 2008–2010); Dirección General de Investigación de la Comunidad de Madrid (Grant S-SAL/0261/2006, I+D CANNAB-CM Consortium); and UNED (Plan de Promoción de la Investigación) to EA, and grants from the "Ministerio de Ciencia y Tecnología" (TEC2004-07052-C02-01/TCM), "Ministerio de Sanidad y Consumo" (CIBER CB06/01/0079, PNSD 2007–2010, FIS CP08/00017), "Ministerio de Industria" (CENIT program) and "Fundación de Investigación Médica Mutua Madrileña" (2007–2010 and 2008–2011) to MD.
Conflict of Interest
The authors declare that they have no conflict of interest.
Additional information
Significance: In the present report, we present combined PET/MR imaging evidence suggesting that periadolescent cannabinoid treatment to rats modifies the metabolic response to cocaine in adulthood in a sex-dependent manner. We also show for the first time in the rat that cocaine is associated with decreased metabolism in the dorsal striatum. This work extends previous findings by showing how the brain metabolic changes induced by cocaine are modulated by a chronic cannabinoid treatment.
An erratum to this article is available at http://dx.doi.org/10.1007/s11307-010-0429-3.
About this article
Cite this article
Higuera-Matas, A., Soto-Montenegro, M.L., Montoya, G.L. et al. Chronic Cannabinoid Administration to Periadolescent Rats Modulates the Metabolic Response to Acute Cocaine in the Adult Brain. Mol Imaging Biol 13, 411–415 (2011). https://doi.org/10.1007/s11307-010-0388-8
Key words
Cannabinoids

Cocaine

Dorsal striatum

PET

Septal nuclei