Abstract
Purpose
The chick embryo in ovo is a well-accessible and economical in vivo model, but its use in molecular imaging has been limited because of motion artifacts on resulting images. The purpose of this study was to develop a method using narcotics to inhibit motility and to perform motion-artifact-free imaging of living chick embryos in ovo.
Procedures
Chick embryos in ovo were narcotized using three different narcotics: isoflurane, 2,2,2-tribromoethanol, and urethane/α-chloralose. Narcotized embryos were imaged using micro-computed tomography (microCT) at days 10–18 of incubation, and the resulting images were analyzed for reduction of motion artifacts.
Results
All three anesthetics could be used for anesthetizing living chick embryos in ovo thus allowing the acquisition of motion-artifact-free images.
Conclusions
Our experiments revealed that isoflurane is the best-suited narcotic for single and repeated applications to image living chick embryos in ovo.
This is a preview of subscription content, log in to check access.
Access options
Buy single article
Instant access to the full article PDF.
US$ 39.95
Price includes VAT for USA
Subscribe to journal
Immediate online access to all issues from 2019. Subscription will auto renew annually.
US$ 99
This is the net price. Taxes to be calculated in checkout.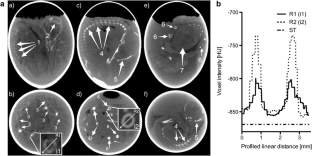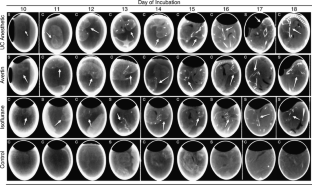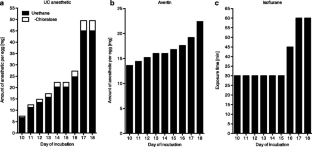 References
1.

Strome E, Doudet D (2007) Animal models of neurodegenerative disease: insights from in vivo imaging studies. Mol Imaging Biol 9(4):186–195

2.

Morgan D, Diamond DM, Gottschall PE et al (2000) A beta peptide vaccination prevents memory loss in an animal model of Alzheimer's disease. Nature 408(6815):982–985

3.

Wang JP, Qi L, Moore MR et al (2002) A review of animal models for the study of arsenic carcinogenesis. Toxicol Lett 133(1):17–31

4.

Haertl A, Sauerbrei A, Stelzner A et al (2004) Influenza infection of the embryonated hen's egg/an alternative model for in vivo evaluation of antiviral compounds. Arzneimittelforschung 54(2):130–134

5.

Sauerbrei A, Haertl A, Brandstaedt A et al (2006) Utilization of the embryonated egg for in vivo evaluation of the anti-influenza virus activity of neuraminidase inhibitors. Med Microbiol Immunol 195(2):65–71

6.

Sugiyama T, Miyazaki H, Saito K et al (1996) Chick embryos as an alternative experimental animal for cardiovascular investigations: stable recording of electrocardiogram of chick embryos in ovo on the 16th day of incubation. Toxicol Appl Pharmacol 138(2):262–267

7.

Darnell DK, Schoenwolf GC (2000) The chick embryo as a model system for analyzing mechanisms of development. Meth Mol Biol 135:25–29

8.

Hildebrandt IJ, Su H, Weber WA et al (2008) Anesthesia and other considerations for in vivo imaging of small animals. ILAR J 49(1):17–26

9.

Balaban RS, Hampshire VA (2001) Challenges in small animal noninvasive imaging. ILAR J 42(3):248–262

10.

Vasquez SX, Hansen MS, Bahadur AN et al (2008) Optimization of volumetric computed tomography for skeletal analysis of model genetic organisms. Anat Rec (Hoboken) 291(5):475–487

11.

Metscher BD (2009) MicroCT for developmental biology: a versatile tool for high-contrast 3D imaging at histological resolutions. Dev Dyn 238(3):632–640

12.

Chen JC, Zhao B, Longaker MT et al (2008) Periosteal biaxial residual strains correlate with bone specific growth rates in chick embryos. Comput Methods Biomech Biomed Eng 11(5):453–461

13.

Bain MM (2007) Noninvasive monitoring of chick development in ovo using a 7T MRI system from day 12 of incubation through to hatching. J Magn Reson Imaging 26(1):198–201

14.

Gaertner DJ, Hallmann TM, Hankenson FC et al (2008) Anesthesia and analgesia in rodents. In: Fish RE, Brown MJ, Dannemann PJ et al (eds) Anesthesia and analgesia in laboratory animals, 2nd edn. Academic Press, San Diego, CA, pp 240–282

15.

Gunkel C, Lafortune M (2005) Current techniques in avian anesthesia. Semin Avian Exot Pet Med 14(4):263–276

16.

Paul-Murphy J, Fialkowski J (2001) Injectable Anesthesia and Analgesia of Birds. In: Gleed R.D. and Ludders J.W. (eds) Recent Advances in Veterinary Anesthesia and Analgesia: Companion Animals. Ithaca: International Veterinary Information Service (www.ivis.org), 2001; Document No. A1409.0801. http://www.ivis.org/advances/Anesthesia_Gleed/paul/chapter.asp?LA=1 (accessed 13 Apr 2010).

17.

Smith NG (1967) Capturing seabirds with avertin. J Wildl Manag 31(3):479–483

18.

Williams LE Jr, Phillips RW et al (1972) Tests of oral anesthetics to capture mourning doves and bobwhites. J Wildl Manage 36(3):968–971

19.

Williams LE Jr (1966) Capturing wild turkeys with alpha-chloralose. J Wildl Manag 30(1):50–56

20.

Wojtczak JA (2000) The hemodynamic effects of halothane and isoflurane in chick embryo. Anesth Analg 90(6):1331–1335

21.

Concannon KT, Dodam JR, Hellyer PW et al (1995) Influence of a mu- and kappa-opioid agonist on isoflurane minimal anesthetic concentration in chickens. Am J Vet Res 56(6):806–811

22.

Hiscock J, Straznicky C (1986) The formation of axonal projections of the mesencephalic trigeminal neurones in chick embryos. J Embryol Exp Morph 93(1):281–290

23.

Rous P, Murphy J (1911) Tumor implantations in the developing embryo. JAMA 56(10):741–742

24.

Tazawa H, Rahn H (1987) Temperature and metabolism of chick embryos and hatchlings after prolonged cooling. J Exp Zool Suppl 1:105–109

25.

Paganelli CV (1980) The physics of gas exchange across the avian eggshell. Am Zool 20(2):329–338

26.

Loibl M, Clutton R, Marx B et al (1988) Alpha-chloralose as a capture and restraint agent of birds: therapeutic index determination in the chicken. J Wildl Dis 24(4):684–687

27.

Maggi CA, Meli A (1986) Suitability of urethane anesthesia for physiopharmacological investigations in various systems. Part 1: general considerations. Experientia 42(2):109–114

28.

Meyer RE, Fish RE (2008) Pharmacology of Injectable Anesthetics, Sedatives, and Tranquilizers. In: Fish RE, Brown MJ, Dannemann PJ et al (eds) Anesthesia and analgesia in laboratory animals, 2nd edn. Academic Press, San Diego, pp 27–82

29.

Ghanayem BI (2007) Inhibition of urethane-induced carcinogenicity in cyp2e1−/− in comparison to cyp2e1+/+ mice. Toxicol Sci 95(2):331–339

30.

Papaioannou VE, Fox JG (1993) Efficacy of tribromoethanol anesthesia in mice. Lab Anim Sci 43(2):189–192

31.

Lin M, Liu R, Gozal D et al (2009) Chronic intermittent hypoxia impairs baroreflex control of heart rate but enhances heart rate responses to vagal efferent stimulation in anesthetized mice. Am J Physiol Heart Circ Physiol 293(2):H997–H1006

32.

Byers SL, Wiles MV, Ra T et al (2009) Surgical oocyte retrieval (SOR): a method for collecting mature mouse oocytes without euthanasia. J Am Assoc Lab Anim Sci 48(1):44–51

33.

Zeller W, Meier G, Burki K et al (1998) Adverse effects of tribromoethanol as used in the production of transgenic mice. Lab Anim 32(4):407–413

34.

Lieggi CC, Fortman JD, Ra K et al (2005) An evaluation of preparation methods and storage conditions of tribromoethanol. Contemp Top Lab Anim Sci 44(1):11–16

35.

Flecknell P (2009) Laboratory animal anaesthesia, 3rd edn. Academic Press, San Diego, CA

36.

Schou M, Zoghbi S, Shetty H et al (2009) Investigation of the metabolites of (S, S)-[11C]MeNER in humans, monkeys and rats. Mol Imaging Biol 11(1):23–30

37.

Chapon C, Jackson JS, Aboagye EO et al (2009) An in vivo multimodal imaging study using MRI and PET of stem cell transplantation after myocardial infarction in rats. Mol Imaging Biol 11(1):31–38

38.

Carlson SK, Classic KL, Bender CE et al (2007) Small animal absorbed radiation dose from serial micro-computed tomography imaging. Mol Imaging Biol 9(2):78–82

39.

Baum JA (2004) The carrier gas in anaesthesia: nitrous oxide/oxygen, medical air/oxygen and pure oxygen. Curr Opin Anaesthesiol 17(6):513–516

40.

Reis LH, Gama LT, Soares MC et al (1997) Effects of short storage conditions and broiler breeder age on hatchability, hatching time, and chick weights. Poult Sci 76(11):1459–1466

41.

Fasenko GM, Robinson FE, Whelan AI et al (2001) Prestorage incubation of long-term stored broiler breeder eggs: 1. Effects on hatchability. Poult Sci 80(10):1406–1411
Acknowledgements
This work was funded by the BMBF (Grant no. 0314108). We are grateful to Melanie Grigsby for proofreading the manuscript.
Conflict of Interest Disclosure
The authors declare that they have no conflict of interest.
Additional information
Alexander Heidrich and Lydia Würbach contributed equally to this work.
Elecronic supplementary material
Below is the link to the electronic supplementary material.
Sample CT images for each day of incubation studied and for each anesthetic tested as well as an untreated chick embryo in ovo as control. S sagittal slice; C coronal slice; arrows point to head of the chick embryo (PDF 788 kb)
About this article
Cite this article
Heidrich, A., Würbach, L., Opfermann, T. et al. Motion-Artifact-Free In Vivo Imaging Utilizing Narcotized Avian Embryos In Ovo . Mol Imaging Biol 13, 208–214 (2011). https://doi.org/10.1007/s11307-010-0355-4
Key words
Anesthesia

Motion artifact

Chick embryo

In vivo
In ovo

PET/CT

MicroCT

Model organism