Abstract
Purpose
In this study, we exploited the potential of 64Cu-labeled polyethylenimine (PEI) for cell trafficking and tumor imaging as compared to copper-64-pyruvaldehyde-bis(N 4-methylthiosemicarbazone) (64Cu-PTSM).
Procedures
U87MG cells were labeled with both 64Cu-PEI and 64Cu-PTSM, and their in vivo distributions in mice were tracked by positron emission tomography (PET). The tumor imaging ability of 64Cu-PTSM and 64Cu-PEI was investigated in U87MG human glioblastoma xenograft model. 64Cu-PEI-polyethylene glycol (PEG) was also synthesized, and the cell uptake, efflux, cytotoxicity, and the biodistribution were carried out and compared with 64Cu-PEI.
Results
Both 64Cu-PEI and 64Cu-PEI-PEG were obtained in high labeling yield without the need of macrocyclic chelating agents. 64Cu-PEI showed lower cell labeling efficiency than 64Cu-PTSM. Small-animal PET images of living mice indicate that tail-vein-injected U87MG cells labeled with 64Cu-PTSM or 64Cu-PEI traffic to the lungs and liver. In a subcutaneous U87MG xenograft model, 64Cu-PEI had higher tumor uptake (18.7 ± 2.2 %ID/g at 24 h) than 64Cu-PTSM (12.4 ± 1.7 %ID/g at 24 h). In comparison with 64Cu-PEI, 64Cu-PEI-PEG had decreased toxicity and increased cell uptake in cell culture, as well as higher tumor uptake and better tumor-to-background contrast in U87MG xenograft model.
Conclusion
64Cu-labeled polyethylenimine can be used for both cell trafficking and tumor imaging. PEGylation reduces the toxicity of 64Cu-PEI and improves the tumor imaging ability.
This is a preview of subscription content, log in to check access.
Access options
Buy single article
Instant access to the full article PDF.
US$ 39.95
Price includes VAT for USA
Subscribe to journal
Immediate online access to all issues from 2019. Subscription will auto renew annually.
US$ 99
This is the net price. Taxes to be calculated in checkout.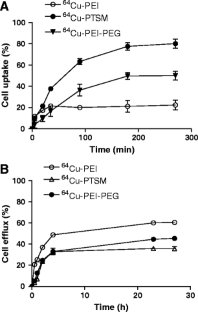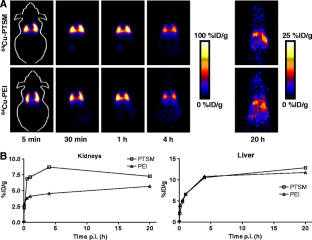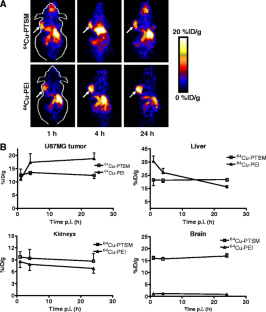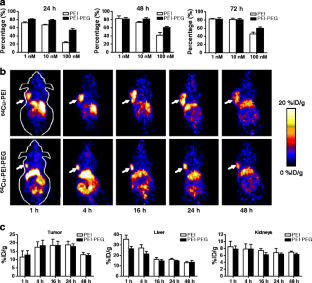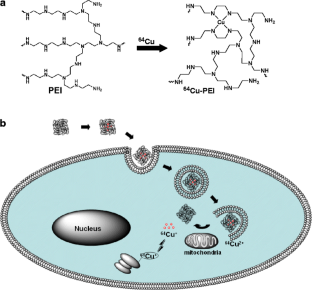 References
1.

Guerra-Crespo M, Charli JL, Rosales-Garcia VH, Pedraza-Alva G, Perez-Martinez L (2003) Polyethylenimine improves the transfection efficiency of primary cultures of post-mitotic rat fetal hypothalamic neurons. J Neurosci Methods 127:179–192

2.

Aoki K, Furuhata S, Hatanaka K et al (2001) Polyethylenimine-mediated gene transfer into pancreatic tumor dissemination in the murine peritoneal cavity. Gene Ther 8:508–514

3.

Suk JS, Suh J, Choy K, Lai SK, Fu J, Hanes J (2006) Gene delivery to differentiated neurotypic cells with RGD and HIV Tat peptide functionalized polymeric nanoparticles. Biomaterials 27:5143–5150

4.

Zou SM, Erbacher P, Remy JS, Behr JP (2000) Systemic linear polyethylenimine (L-PEI)-mediated gene delivery in the mouse. J Gene Med 2:128–134

5.

Khin C, Lim MD, Tsuge K, Iretskii A, Wu G, Ford PC (2007) Amine nitrosation via NO reduction of the polyamine copper(II) complex Cu(DAC)2+. Inorg Chem 46:9323–9331

6.

Wojciechowska A, Bolewski L, Lomozik L (1991) A study of polyamine complex formation with H+, Cu(II), Zn(II), Pb(II), and Mg(II) in aqueous solution. Monatsh Chem 122:131–138

7.

Doyle B, Kemp BJ, Chareonthaitawee P et al (2007) Dynamic tracking during intracoronary injection of 18F-FDG-labeled progenitor cell therapy for acute myocardial infarction. J Nucl Med 48:1708–1714

8.

Adonai N, Nguyen KN, Walsh J et al (2002) Ex vivo cell labeling with 64Cu-pyruvaldehyde-bis(N 4-methylthiosemicarbazone) for imaging cell trafficking in mice with positron-emission tomography. Proc Natl Acad Sci USA 99:3030–3035

9.

Blower PJ, Lewis JS, Zweit J (1996) Copper radionuclides and radiopharmaceuticals in nuclear medicine. Nucl Med Biol 23:957–980

10.

Chen X, Conti PS, Moats RA (2004) In vivo near-infrared fluorescence imaging of integrin αvβ3 in brain tumor xenografts. Cancer Res 64:8009–8014

11.

Li ZB, Cai W, Cao Q et al (2007) 64Cu-labeled tetrameric and octameric RGD peptides for small-animal PET of tumor αvβ3 integrin expression. J Nucl Med 48:1162–1171

12.

Wu Y, Zhang X, Xiong Z et al (2005) microPET imaging of glioma integrin αvβ3 expression using 64Cu-labeled tetrameric RGD peptide. J Nucl Med 46:1707–1718

13.

Schiffelers RM, Ansari A, Xu J et al (2004) Cancer siRNA therapy by tumor selective delivery with ligand-targeted sterically stabilized nanoparticle. Nucleic Acids Res 32:e149

14.

Chen D, Sun Y, Martell AE, Welch MJ (2002) Two novel macrocyclic monooxo-tetraamines and the stabilities of their Cu(II) complexes. Inorganica Chimica Acta 335:119–124

15.

Kong D, Reibenspies J, Martell AE, Motekaitis RJ (2001) A new unsymmetrical polyamine macrocycle incorporating two phenolic functions: synthesis, basicity and coordination behavior toward copper(II). Inorganica Chimica Acta 324:35–45

16.

Garnett MC (1999) Gene-delivery systems using cationic polymers. Crit Rev Ther Drug Carrier Syst 16:147–207

17.

Behr JP (1997) The proton sponge. A trick to enter cells the viruses did not exploit. Chimia 51:34–36

18.

Sonawane ND, Szoka FC Jr, Verkman AS (2003) Chloride accumulation and swelling in endosomes enhances DNA transfer by polyamine-DNA polyplexes. J Biol Chem 278:44826–44831

19.

Forrest ML, Pack DW (2002) On the kinetics of polyplex endocytic trafficking: implications for gene delivery vector design. Mol Ther 6:57–66

20.

Petersen H, Fechner PM, Martin AL et al (2002) Polyethylenimine-graft-poly(ethylene glycol) copolymers: influence of copolymer block structure on DNA complexation and biological activities as gene delivery system. Bioconjug Chem 13:845–854

21.

Moore NM, Barbour TR, Sakiyama-Elbert SE (2008) Synthesis and characterization of four-arm poly(ethylene glycol)-based gene delivery vehicles coupled to integrin and dna-binding peptides. Mol Pharm 5(1):140–150

22.

Kim WJ, Yockman JW, Jeong JH et al (2006) Anti-angiogenic inhibition of tumor growth by systemic delivery of PEI-g-PEG-RGD/pCMV-sFlt-1 complexes in tumor-bearing mice. J Control Release 114:381–388

23.

Temming K, Schiffelers RM, Molema G, Kok RJ (2005) RGD-based strategies for selective delivery of therapeutics and imaging agents to the tumour vasculature. Drug Resist Updat 8:381–402

24.

Kunath K, Merdan T, Hegener O, Haberlein H, Kissel T (2003) Integrin targeting using RGD-PEI conjugates for in vitro gene transfer. J Gene Med 5:588–599

25.

Chiu SJ, Ueno NT, Lee RJ (2004) Tumor-targeted gene delivery via anti-HER2 antibody (trastuzumab, Herceptin) conjugated polyethylenimine. J Control Release 97:357–369

26.

Jeong JH, Lee M, Kim WJ et al (2005) Anti-GAD antibody targeted non-viral gene delivery to islet beta cells. J Control Release 107:562–570
Acknowledgments
This work was supported by National Cancer Institute (NCI) (R01 CA119053, R21 CA121842, R21 CA102123, P50 CA114747, U54 CA119367, and R24 CA93862), and Department of Defense (DOD) (W81XWH-07-1-0374, W81XWH-04-1-0697, W81XWH-06-1-0665, W81XWH-06-1-0042, and DAMD17-03-1-0143). We also thank the cyclotron team at the University of Wisconsin, Madison for 64Cu production.
Additional information
Zi-Bo Li and Kai Chen contributed equally to this work.
About this article
Cite this article
Li, Z., Chen, K., Wu, Z. et al. 64Cu-Labeled PEGylated Polyethylenimine for Cell Trafficking and Tumor Imaging. Mol Imaging Biol 11, 415 (2009). https://doi.org/10.1007/s11307-009-0228-x
Received:

Revised:

Accepted:

Published:
Key words
Cell trafficking

Polyethylenimine (PEI)

Tumor imaging

Positron emission tomography (PET)

64Cu