Abstract
Purpose
To evaluate prognostic value of integrated 2-deoxy-2-[F-18]fluoro-d-glucose-positron emission tomography/computed tomography (FDG-PET/CT) and correlate histopathological subtype with maximum standardized uptake value (SUVmax) and survival in patients with malignant mesothelioma (MM).
Procedures
Retrospective review of FDG-PET/CT scans, with derivation of SUVmax of FDG-avid lesions, was performed in patients with biopsy-proven MM. Clinical follow-up and Kaplan–Meier survival analysis was performed.
Results
Forty-six patients (37 M:9 F; mean age 61 years) with MM had a FDG-PET/CT scan in a 30-month period. Follow-up was available on 44/46 (96%) patients. Metastatic disease was detected in 9/46 (20%) patients on FDG-PET/CT, where 8/9 were previously undetected. Better survival was found in patients without metastases (p value < 0.05). Mean SUVmax of primary pleural lesions in patients with metastatic disease was significantly higher than in patients without metastatic disease (p value < 0.05). Progression-free survival was significantly better in the epithelioid histology group compared to the biphasic group (p value 0.015).
Conclusions
Detection of extrathoracic metastases on FDG-PET/CT and nonepithelioid histopathology are poor prognostic indicators in patients with MM.
This is a preview of subscription content, log in to check access.
Access options
Buy single article
Instant access to the full article PDF.
US$ 39.95
Price includes VAT for USA
Subscribe to journal
Immediate online access to all issues from 2019. Subscription will auto renew annually.
US$ 99
This is the net price. Taxes to be calculated in checkout.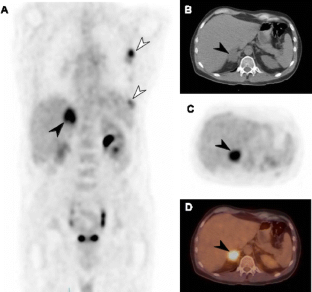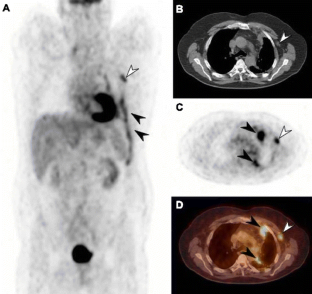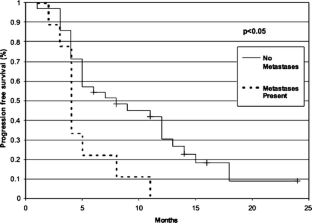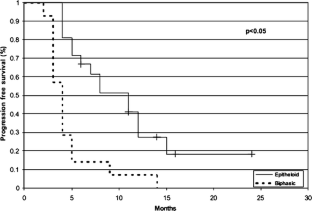 References
1.

Robinson BW, Lake RA (2005) Advances in malignant mesothelioma. N Engl J Med 353:1591–1603

2.

Ahamad A, Stevens CW, Smythe WR et al (2003) Promising early local control of malignant pleural mesothelioma following postoperative intensity modulated radiotherapy (IMRT) to the chest. Cancer J 9:476–484

3.

Marom EM, Erasmus JJ, Pass HI et al (2002) The role of imaging in malignant pleural mesothelioma. Semin Oncol 29:26–35

4.

Truong MT, Marom EM, Erasmus JJ (2006) Preoperative evaluation of patients with malignant pleural mesothelioma: role of integrated CT-PET imaging. J Thorac Imaging 21:146–153

5.

Heelan RT, Rusch VW, Begg CB et al (1999) Staging of malignant pleural mesothelioma: comparison of CT and MR imaging. Am J Roentgenol 172:1039–1047

6.

Scott AM (2001) Current status of positron emission tomography in oncology. Intern Med J 31:27–36

7.

Benard F, Sterman D, Smith RJ et al (1999) Prognostic value of FDG PET imaging in malignant pleural mesothelioma. J Nucl Med 40:1241–1245

8.

Flores RM (2005) The role of PET in the surgical management of malignant pleural mesothelioma. Lung Cancer 49(Suppl 1):S27–32

9.

Erasmus JJ, Truong MT, Smythe WR et al (2005) Integrated computed tomography-positron emission tomography in patients with potentially resectable malignant pleural mesothelioma: Staging implications. J Thorac Cardiovasc Surg 129:1364–1370

10.

Schneider DB, Clary-Macy C, Challa S et al (2000) Positron emission tomography with f18-fluorodeoxyglucose in the staging and preoperative evaluation of malignant pleural mesothelioma. J Thorac Cardiovasc Surg 120:128–133

11.

Flores RM, Akhurst T, Gonen M et al (2003) Positron emission tomography defines metastatic disease but not locoregional disease in patients with malignant pleural mesothelioma. J Thorac Cardiovasc Surg 126:11–16

12.

Van Marck E (2004) Pathology of malignant mesothelioma. Lung Cancer 45(Suppl 1):S35–36

13.

Steele JP, Klabatsa A, Fennell DA et al (2005) Prognostic factors in mesothelioma. Lung Cancer 49(Suppl 1):S49–52

14.

Herndon JE, Green MR, Chahinian AP et al (1998) Factors predictive of survival among 337 patients with mesothelioma treated between 1984 and 1994 by the Cancer and Leukemia Group B. Chest 113:723–731

15.

Wang ZJ, Reddy GP, Gotway MB et al (2004) Malignant pleural mesothelioma: evaluation with CT, MR imaging, and PET. Radiographics 24:105–119

16.

Shankar LK, Hoffman JM, Bacharach S et al (2006) Consensus recommendations for the use of 18F-FDG PET as an indicator of therapeutic response in patients in National Cancer Institute Trials. J Nucl Med 47:1059–1066

17.

Flores RM, Akhurst T, Gonen M et al (2006) Positron emission tomography predicts survival in malignant pleural mesothelioma. J Thorac Cardiovasc Surg 132:763–768

18.

Sugarbaker DJ, Flores RM, Jaklitsch MT et al (1999) Resection margins, extrapleural nodal status, and cell type determine postoperative long-term survival in trimodality therapy of malignant pleural mesothelioma: results in 183 patients. J Thorac Cardiovasc Surg 117:54–63 (discussion 63–55)

19.

Rusch VW, Venkatraman E (1996) The importance of surgical staging in the treatment of malignant pleural mesothelioma. J Thorac Cardiovasc Surg 111:815–825 (discussion 825–816)

20.

Power DG, Farrelly CT, McDermott RA et al (2006) Evaluation of the role of FDG-PET imaging in malignant pleural mesothelioma (MPM). J Clin Oncol 24:17113

21.

Francis RJ, Byrne MJ, van der Schaaf AA et al (2007) Early prediction of response to chemotherapy and survival in malignant pleural mesothelioma using a novel semiautomated 3-dimensional volume-based analysis of serial 18F-FDG PET scans. J Nucl Med 48:1449–1458

22.

Byrne M, Hillerdal G (2005) Imaging, staging and response evaluation. Lung Cancer 49(Suppl 1):S25–26

23.

Ceresoli GL, Chiti A, Zucali PA et al (2006) Early response evaluation in malignant pleural mesothelioma by positron emission tomography with [18F]fluorodeoxyglucose. J Clin Oncol 24:4587–4593
About this article
Cite this article
Lee, S.T., Ghanem, M., Herbertson, R.A. et al. Prognostic Value of 18F-FDG PET/CT in Patients with Malignant Pleural Mesothelioma. Mol Imaging Biol 11, 473 (2009). https://doi.org/10.1007/s11307-009-0203-6
Received:

Revised:

Accepted:

Published:
Key words
FDG-PET/CT

Mesothelioma

Prognosis

PET