Abstract
Purpose
Salvinorin A (SA) is a potent and highly selective kappa-opioid receptor (KOR) agonist with rapid kinetics and commensurate behavioral effects; however, brain regions associated with these effects have not been determined.
Procedures
Freely moving adult male rats were given SA intraperitoneally during uptake and trapping of the brain metabolic radiotracer, 2-deoxy-2-[F-18]fluoro-d-glucose (FDG), followed by image acquisition in a dedicated animal positron emission tomography (PET) system. Age-matched control animals received vehicle treatment. Animal behavior during FDG uptake was recorded digitally and later analyzed for locomotion. Group differences in regional FDG uptake normalized to whole brain were determined using Statistical Parametric Mapping (SPM) and verified by region of interest (ROI) analysis.
Results
SA-treated animals demonstrated significant increases in FDG uptake compared to controls in several brain regions associated with the distribution of KOR such as the periaqueductal grey, bed nucleus of the stria terminalis and the cerebellar vermis, as well as in the hypothalamus. Significant bilateral activations were also observed in the auditory, sensory, and frontal cortices. Regional decreases in metabolic demand were observed bilaterally in the dorsolateral striatum and hippocampus. Locomotor activity did not differ between SA and vehicle during FDG uptake.
Conclusions
We have provided the first extensive maps of cerebral metabolic activation due to the potent κ-opioid agonist, salvinorin A. A major finding from our small animal PET studies using FDG was that neural circuits affected by SA may not be limited to direct activation or inhibition of kappa-receptor-expressing cells. Instead, salvinorin A may trigger brain circuits that mediate the effects of the drug on cognition, mood, fear and anxiety, and motor output.
This is a preview of subscription content, log in to check access.
Access options
Buy single article
Instant access to the full article PDF.
US$ 39.95
Price includes VAT for USA
Subscribe to journal
Immediate online access to all issues from 2019. Subscription will auto renew annually.
US$ 99
This is the net price. Taxes to be calculated in checkout.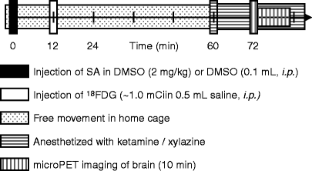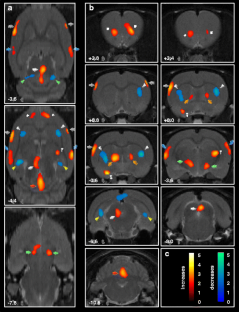 References
1.

Ossipov MH, Lai J, King T, Vanderah TW, Malan TP Jr, Hruby VJ, Porreca F (2004) Antinociceptive and nociceptive actions of opioids. J Neurobiol 61:126–148

2.

Snyder SH, Pasternak GW (2003) Historical review: opioid receptors. Trends Pharmacol Sci 24:198–205

3.

Mague SD, Pliakas AM, Todtenkopf MS, Tomasiewicz HC, Zhang Y, Stevens WC Jr, Jones RM, Portoghese PS, Carlezon WA Jr (2003) Antidepressant-like effects of kappa-opioid receptor antagonists in the forced swim test in rats. J Pharmacol Exp Ther 305:323–330

4.

Jutkiewicz EM (2006) The antidepressant-like effects of delta-opioid receptor agonists. Mol Interv 6:162–169

5.

Pan ZZ (1998) mu-Opposing actions of the kappa-opioid receptor. Trends Pharmacol Sci 19:94–98

6.

Hunter JC, Leighton GE, Meecham KG, Boyle SJ, Horwell DC, Rees DC, Hughes J (1990) CI-977, a novel and selective agonist for the kappa-opioid receptor. Br J Pharmacol 101:183–189

7.

Tao YM, Li QL, Zhang CF, Xu XJ, Chen J, Ju YW, Chi ZQ, Long YQ, Liu JG (2008) LPK-26, a novel kappa-opioid receptor agonist with potent antinociceptive effects and low dependence potential. Eur J Pharmacol 584:306–311

8.

Millan MJ (1990) Kappa-opioid receptors and analgesia. Trends Pharmacol Sci 11:70–76

9.

Roth BL, Baner K, Westkaemper R, Siebert D, Rice KC, Steinberg S, Ernsberger P, Rothman RB (2002) Salvinorin A: a potent naturally occurring nonnitrogenous kappa opioid selective agonist. Proc Natl Acad Sci U S A 99:11934–11939

10.

Vortherms TA, Roth BL (2006) Salvinorin A: from natural product to human therapeutics. Mol Interv 6:257–265

11.

Babu KM, McCurdy CR, Boyer EW (2008) Opioid receptors and legal highs: Salvia divinorum and Kratom. Clin Toxicol (Phila) 46:146–152

12.

Braida D, Limonta V, Capurro V, Fadda P, Rubino T, Mascia P, Zani A, Gori E, Fratta W, Parolaro D, Sala M (2008) Involvement of kappa-opioid and endocannabinoid system on Salvinorin A-induced reward. Biol Psychiatry 63:286–292

13.

Braida D, Limonta V, Pegorini S, Zani A, Guerini-Rocco C, Gori E, Sala M (2007) Hallucinatory and rewarding effect of salvinorin A in zebrafish: kappa-opioid and CB1-cannabinoid receptor involvement. Psychopharmacology 190:441–448

14.

Zhang Y, Butelman ER, Schlussman SD, Ho A, Kreek MJ (2005) Effects of the plant-derived hallucinogen salvinorin A on basal dopamine levels in the caudate putamen and in a conditioned place aversion assay in mice: agonist actions at kappa opioid receptors. Psychopharmacology (Berl) 179:551–558

15.

Gehrke BJ, Chefer VI, Shippenberg TS (2008) Effects of acute and repeated administration of salvinorin A on dopamine function in the rat dorsal striatum. Psychopharmacology 197:509–517

16.

Carlezon WA (2006) Neurobiological effects of salvinorin A in rodents: implications for the study and treatment of depressive disorders. Neuropsychopharmacology 31:S40–S41

17.

Carlezon WA Jr., Beguin C, DiNieri JA, Baumann MH, Richards MR, Todtenkopf MS, Rothman RB, Ma Z, Lee DY, Cohen BM (2006) Depressive-like effects of the kappa-opioid receptor agonist salvinorin A on behavior and neurochemistry in rats. J Pharmacol Exp Ther 316:440–447

18.

John TF, French LG, Erlichman JS (2006) The antinociceptive effect of salvinorin A in mice. Eur J Pharmacol 545:129–133

19.

Ansonoff MA, Zhang JW, Czyzyk T, Rothman RB, Stewart J, Xu H, Zjwiony J, Siebert DJ, Yang F, Roth BL, Pintar JE (2006) Antinociceptive and hypothermic effects of salvinorin A are abolished in a novel strain of kappa-opioid receptor-1 knockout mice. J Pharmacol Exp Ther 318:641–648

20.

Fantegrossi WE, Kugle KM, Valdes LJ 3rd, Koreeda M, Woods JH (2005) Kappa-opioid receptor-mediated effects of the plant-derived hallucinogen, salvinorin A, on inverted screen performance in the mouse. Behav Pharmacol 16:627–633

21.

Wang Y, Tang K, Inan S, Siebert D, Holzgrabe U, Lee DY, Huang P, Li JG, Cowan A, Liu-Chen LY (2005) Comparison of pharmacological activities of three distinct kappa ligands (Salvinorin A, TRK-820 and 3FLB) on kappa opioid receptors in vitro and their antipruritic and antinociceptive activities in vivo. J Pharmacol Exp Ther 312:220–230

22.

Butelman ER, Harris TJ, Kreek MJ (2004) The plant-derived hallucinogen, salvinorin A, produces kappa-opioid agonist-like discriminative effects in rhesus monkeys. Psychopharmacology 172:220–224

23.

Lee DY, Karnati VV, He M, Liu-Chen LY, Kondaveti L, Ma Z, Wang Y, Chen Y, Beguin C, Carlezon WA Jr., Cohen B (2005) Synthesis and in vitro pharmacological studies of new C(2) modified salvinorin A analogues. Bioorg Med Chem Lett 15:3744–3747

24.

Alexoff DL, Vaska P, Marsteller D, Gerasimov T, Li J, Logan J, Fowler JS, Taintor NB, Thanos PK, Volkow ND (2003) Reproducibility of 11C-raclopride binding in the rat brain measured with the microPET R4: effects of scatter correction and tracer specific activity. J Nucl Med 44:815–822

25.

Frumberg DB, Fernando MS, Lee DE, Biegon A, Schiffer WK (2007) Metabolic and behavioral deficits following a routine surgical procedure in rats. Brain Res 1144:209–218

26.

Paxinos G, Watson C (1986) The rat brain in stereotaxic coordinates, 2nd edn. Academic, New York

27.

Schiffer WK, Mirrione MM, Dewey SL (2007) Optimizing experimental protocols for quantitative behavioral imaging with 18F-FDG in rodents. J Nucl Med 48:277–287

28.

Schweinhardt P, Fransson P, Olson L, Spenger C, Andersson JL (2003) A template for spatial normalisation of MR images of the rat brain. J Neurosci Methods 129:105–113

29.

Hooker JM, Xu Y, Schiffer W, Shea C, Carter P, Fowler JS (2008) Pharmacokinetics of the potent hallucinogen, salvinorin A in primates parallels the rapid onset, short duration of effects in humans. Neuroimage 41:1044–1050

30.

Holschneider DP, Yang J, Sadler TR, Nguyen PT, Givrad TK, Maarek JM (2006) Mapping cerebral blood flow changes during auditory-cued conditioned fear in the nontethered, nonrestrained rat. Neuroimage 29:1344–1358

31.

Nobre MJ, Ribeiro dos Santos N, Aguiar MS, Brandao ML (2000) Blockade of mu- and activation of kappa-opioid receptors in the dorsal periaqueductal gray matter produce defensive behavior in rats tested in the elevated plus-maze. Eur J Pharmacol 404:145–151

32.

Yakusheva TA, Shaikh AG, Green AM, Blazquez PM, Dickman JD, Angelaki DE (2007) Purkinje cells in posterior cerebellar vermis encode motion in an inertial reference frame. Neuron 54:973–985

33.

Buzsaki G, Kaila K, Raichle M (2007) Inhibition and brain work. Neuron 56:771–783

34.

Beguin C, Richards MR, Li JG, Wang Y, Xu W, Liu-Chen LY, Carlezon WA Jr, Cohen BM (2006) Synthesis and in vitro evaluation of salvinorin A analogues: effect of configuration at C(2) and substitution at C(18). Bioorg Med Chem Lett 16:4679–4685

35.

Lee DYW, Ma ZZ, Liu-Chen LY, Wang YL, Chen Y, Carlezon WA, Cohen B (2005) New neoclerodane diterpenoids isolated from the leaves of Salvia divinorum and their binding affinities for human kappa opioid receptors. Bioorg Med Chem 13:5635–5639

36.

Holden KG, Tidgewell K, Marquam A, Rothman RB, Navarro H, Prisinzano TE (2007) Synthetic studies of neoclerodane diterpenes from Salvia divinorum: Exploration of the 1-position. Bioorg Med Chem Lett 17:6111–6115

37.

Munro TA, Duncan KK, Xu W, Wang Y, Liu-Chen LY, Carlezon WA Jr., Cohen BM, Beguin C (2008) Standard protecting groups create potent and selective kappa opioids: salvinorin B alkoxymethyl ethers. Bioorg Med Chem 16:1279–1286

38.

Wang Y, Chen Y, Xu W, Lee DY, Ma Z, Rawls SM, Cowan A, Liu-Chen LY (2008) 2-Methoxymethyl-salvinorin B is a potent kappa opioid receptor agonist with longer lasting action in vivo than salvinorin A. J Pharmacol Exp Ther 324:1073–1083

39.

Siebert DJ (1994) Salvia divinorum and salvinorin A: new pharmacologic findings. J Ethnopharmacol 43:53–56
Acknowledgments
This work was carried out at Brookhaven National Laboratory under contract DE-AC02-98CH10886 with the U.S. Department of Energy and supported by its Office of Biological and Environmental Research. J.M.H. was supported by an NIH Postdoctoral Fellowship (1F32EB008320-01) and through the Goldhaber Distinguished Fellowship program at BNL. The authors are grateful to Dr. Stephen Dewey, David Alexoff, and Dr. Martine Mirrione for helpful discussions and insights.
Additional information
Significance: Salvinorin A is the major psychoactive compound from Salvia divinorum and is a potent kappa-opioid receptor agonist. Owing to its hallucinogenic properties, abuse liability, and medicinal potential as a kappa-agonist there has been a growing effort to characterize its physiological effects in rodents. Our manuscript describes our efforts to further inform how salvinorin A leads to behavioral (and physiological) changes in rodents. We have determined the regional differences (relative to controls) in glucose utilization in the brains of freely behaving rats after acute administration of salvinorin A. Using FDG, we have mapped brain regions that are activated or deactivated as a result of the kappa agonist. We feel there will be an increasing need to systematically understand how affinity, pharmacokinetics, and distribution influence behavior through regional changes in brain activation. Our studies highlight the potential of FDG with small animal PET to accomplish this.
Electronic supplementary material
Below is the link to the electronic supplementary material.
About this article
Cite this article
Hooker, J.M., Patel, V., Kothari, S. et al. Metabolic Changes in the Rodent Brain after Acute Administration of Salvinorin A. Mol Imaging Biol 11, 137–143 (2009). https://doi.org/10.1007/s11307-008-0192-x
Received:

Revised:

Accepted:

Published:

Issue Date:
Key words
Salvia

Salvinorin A

Kappa opioid

Hallucinogen

Positron emission tomography