Abstract
Purpose
The ability to reproducibly and repeatedly image rodents in noninvasive imaging systems, such as small-animal positron emission tomography (PET) and computed tomography (CT), requires a reliable method for anesthetizing, positioning, and heating animals in a simple reproducible manner. In this paper, we demonstrate that mice and rats can be reproducibly and repeatedly imaged using an imaging chamber designed to be rigidly mounted on multiple imaging systems.
Procedures
Mouse and rat imaging chambers were made of acrylic plastic and aluminum. MicroCT scans were used to evaluate the positioning reproducibility of the chambers in multimodality and longitudinal imaging studies. The ability of the chambers to maintain mouse and rat body temperatures while anesthetized with gas anesthesia was also evaluated.
Results
Both the mouse and rat imaging chambers were able to reproducibly position the animals in the imaging systems with a small degree of error. Placement of the mouse in the mouse imaging chamber resulted in a mean distance of 0.23 mm per reference point in multimodality studies, whereas for longitudinal studies the mean difference was 1.11 mm. The rat chamber resulted in a mean difference of 0.46 mm in multimodality studies and a mean difference of 4.31 mm in longitudinal studies per reference point. The chambers maintained rodent body temperatures at the set point temperature of 38°C.
Conclusions
The rodent imaging chambers were able to reproducibly position rodents in tomographs with a small degree of variability and were compatible with routine use. The embedded anesthetic line and heating system was capable of maintaining the rodent's temperature and anesthetic state, thereby enhancing rodent health and improving data collection reliability.
This is a preview of subscription content, log in to check access.
Access options
Buy single article
Instant access to the full article PDF.
US$ 39.95
Price includes VAT for USA
Subscribe to journal
Immediate online access to all issues from 2019. Subscription will auto renew annually.
US$ 99
This is the net price. Taxes to be calculated in checkout.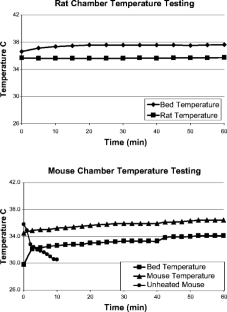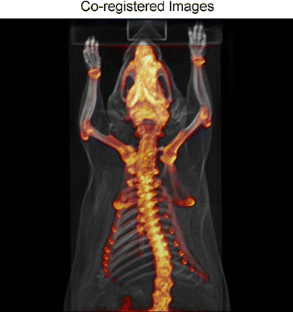 References
1.

Croy AC, DiSanto JP, Manz M et al (2007) Mouse models of immunodeficiency. In: Fox JG, Barthold SW, Davisson MT et al (eds) The mouse in biomedical research. Academic, New York, pp 275–289

2.

Fueger BJ et al (2006) Impact of animal handling on the results of 18F-FDG PET studies in mice. J Nucl Med 47:999–1006

3.

Chow PL, Stout DB, Komisopoulou E, Chatziioannou AF (2006) A method of image registration for small animal, multi-modality imaging. Phys Med Biol 51:379–390

4.

Stout DB et al (2005) Small animal imaging center design: the facility at the UCLA Crump institute for molecular imaging. Mol Imaging Biol 7:393–402

5.

Stout D, Lawson TP, Silverman RW, Chatziioannou AF (2001) Immuno-isolated imaging of SCID and nude mice in microPET. Proceedings of the Annual Conference of the Academy of Molecular Imaging

6.

Bahadur AN et al (2007) Multimodality chamber for coregistered anatomical and molecular imaging of small animals. Lab Anim (NY) 36:29–35

7.

Rubins DJ, Meadors AK, Yee S, Melega WP, Cherry SR (2001) Evaluation of a stereotactic frame for repositioning of the rat brain in serial positron emission tomography imaging studies. J Neurosci Methods 107:63–70

8.

Herschman HR (2004) PET reporter genes for noninvasive imaging of gene therapy, cell tracking and transgenic analysis. Crit Rev Oncol Hematol 51:191–204

9.

Hendrich H, Horst M (2004) Housing and maintenance. In: Hendrich H (ed) The laboratory mouse. Academic, New York, pp 395–408

10.

Chatziioannou AF (2002) Molecular imaging of small animals with dedicated PET tomographs. Eur J Nucl Med Mol Imaging 29:98–114

11.

Jacoby RO, Fox JG, Davisson M (2002) Biology and diseases of mice. In: Fox JG, Anderson LC, Loew FM et al (eds) Laboratory animal medicine. 2nd edn. Academic, New York, pp 35–120

12.

Deroose CM et al (2007) Multimodality imaging of tumor xenografts and metastases in mice with combined small-animal PET, small-animal CT, and bioluminescence imaging. J Nucl Med 48:295–303

13.

Wagenaar DJ, Kapusta M, Li J, Patt BE (2006) Rationale for the combination of nuclear medicine with magnetic resonance for pre-clinical imaging. Technol Cancer Res Treat 5:343–350

14.

Hsieh J et al (2004) A novel reconstruction algorithm to extend the CT scan field-of-view. Med Phys 31:2385–2391

15.

Beattie BJ et al (2007) Multimodality registration without a dedicated multimodality scanner. Mol Imaging 6:108–120

16.

Zanzonico P et al (2006) Animal-specific positioning molds for registration of repeat imaging studies: comparative microPET imaging of F18-labeled fluoro-deoxyglucose and fluoro-misonidazole in rodent tumors. Nucl Med Biol 33:65–70

17.

Kastenmayer RJ, Perdue KA (2007) Variation in organ volumes of matched BALB/c mice by microcomputed tomography analysis. J Am Assoc Lab Anim Sci 46:7–12
Acknowledgments
We wish to thank the Crump Imaging Center Staff for their support; Waldemar Ladno, Judy Edwards, and Antonia Lu; Jim Houts of Summit Anesthesia Solutions; Dennis Corey; Marcelo Couto and Tim Lawson of UCLA Division of Laboratory Animal Medicine; and Andy Gustillo and Steve Grubweiser of the UCLA School of Engineering and Applied Sciences. Support for this project was provided by the Biological and Environmental Research Division of the Department of Energy (DOE) #FC03-02ERG3420; the National Cancer Institute (NCI) #R25 CA098010:01; the In Vivo Cellular and Molecular Imaging Center (NIH ICMIC) #R01 EB001943; the Small Animal Imaging Resource Program (SAIRP) #R24 CA92865; the Jonsson Comprehensive Cancer Center UCLA; and the NCI SPORE in Prostate Cancer.
Additional information
All work was completed at UCLA.
About this article
Cite this article
Suckow, C., Kuntner, C., Chow, P. et al. Multimodality Rodent Imaging Chambers for Use Under Barrier Conditions with Gas Anesthesia. Mol Imaging Biol 11, 100–106 (2009). https://doi.org/10.1007/s11307-008-0165-0
Received:

Revised:

Accepted:

Published:

Issue Date:
Key words
Rodent imaging chamber

Multimodality imaging

Reproducible rodent imaging

Immunocompromised imaging

Gas anesthesia