Abstract
Purpose
Idiopathic pulmonary fibrosis (IPF) is a lethal lung disease for which no single diagnostic modality is able to evaluate the activity of the disease process. Cis-4-18F-fluoro-l-proline (18F-proline) was shown in animal studies to be a reliable marker for fibrosis formation. We tested this candidate radioligand for imaging of fibrogenesis in patients with IPF.
Methods
Five patients with IPF proven by lung biopsy and computed tomography were included. Furthermore, we also included one patient with non-specific interstitial pneumonia (NSIP) and scleroderma and one with NSIP and organising pneumonia. Positron emission tomography (PET) acquisition was performed 1, 2 and 3h after injection of 400MBq 18F-proline. We scored 18F-proline activity visually and quantitatively by calculating the activity in the regions of interest over lung, liver and mediastinum.
Results
We found low uptake of 18F-proline in the lungs of all patients with IPF. The highest uptake was seen at 2h post-injection, with a decline at 3h past injection. The differences in lung uptake between patients were small, except for one patient with NSIP and organising pneumonia who had a slightly higher 18F-proline uptake. No significant correlations between 18F-proline uptake and clinical parameters were found.
Conclusions
Due to the low pulmonary uptake of 18F-proline in patients with IPF, 18F-proline does not seem to be a suitable radioligand to evaluate the activity of fibrosis formation in patients with IPF. The low uptake in the lungs of patients with interstitial fibrosis may be explained by the slow nature of fibrogenesis or to the relatively low dose of proline that can be used.
This is a preview of subscription content, log in to check access.
Access options
Buy single article
Instant access to the full article PDF.
US$ 39.95
Price includes VAT for USA
Subscribe to journal
Immediate online access to all issues from 2019. Subscription will auto renew annually.
US$ 99
This is the net price. Taxes to be calculated in checkout.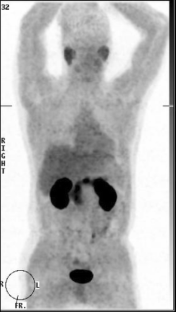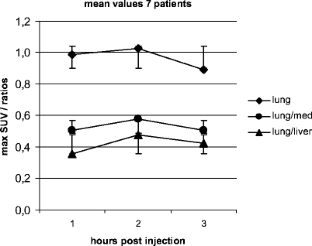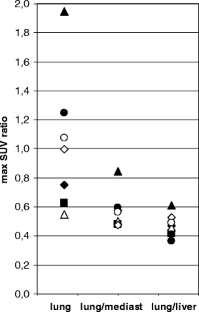 References
1.

Strieter RM (2005) Pathogenesis and natural history of usual interstitial pneumonia: the whole story or the last chapter of a long novel. Chest 128:526S–532S

2.

Khalil N, O'Connor R (2004) Idiopathic pulmonary fibrosis: current understanding of the pathogenesis and the status of treatment. CMAJ 171:153–160

3.

Laurent GJ (1985) Biochemical pathways leading to collagen deposition in pulmonary fibrosis. Ciba Found Symp 114:222–233

4.

Takeuchi T, Prockop DJ (1969) Biosynthesis of abnormal collagens with amino acid analogues. I. Incorporation of l-azetidine-2-carboxylic acid and cis-4-fluoro-l-proline into protocollagen and collagen. Biochim Biophys Acta 175:142–155

5.

Wester HJ, Herz M, Senekowitsch-Schmidtke R, Schwaiger M, Stocklin G, Hamacher K (1999) Preclinical evaluation of 4-[18F]fluoroprolines: diastereomeric effect on metabolism and uptake in mice. Nucl Med Biol 26:259–265

6.

Wallace WE, Gupta NC, Hubbs AF, Mazza SM, Bishop HA, Keane MJ et al (2002) Cis-4-[(18)F]fluoro-l-proline PET imaging of pulmonary fibrosis in a rabbit model. J Nucl Med 43:413–420

7.

Jones HA, Boobis AR, Hamacher K, Coenen HH, Clark JC (2003) PET imaging of pulmonary fibrosis. J Nucl Med 44:483–484

8.

Langen KJ, Borner AR, Muller-Mattheis V, Hamacher K, Herzog H, Ackermann R et al (2001) Uptake of cis-4-[18F]fluoro-l-proline in urologic tumors. J Nucl Med 42:752–754

9.

Langen KJ, Jarosch M, Hamacher K, Muhlensiepen H, Weber F, Floeth F et al (2004) Imaging of gliomas with cis-4-[18F]fluoro-l-proline. Nucl Med Biol 31:67–75

10.

American Thoracic Society/European Respiratory Society International Multidisciplinary Consensus Classification of the Idiopathic Interstitial Pneumonias (2002) This joint statement of the American Thoracic Society (ATS), and the European Respiratory Society (ERS) was adopted by the ATS board of directors, June 2001 and by The ERS Executive Committee, June 2001. Am J Respir Crit Care Med 165:277–304

11.

Hamacher K (1999) Synthesis of n.c.a. cis- and trans-4-[18F]fluoro-l-proline, radiotracers for PET-investigations of disordered matrix protein synthesis. J Labelled Compd Radiopharm 42:1135–1142

12.

Zimny M, Klosterhalfen B, Conze J, Hamacher K, Fehler S, Schumpelick V et al (2002) Uptake of cis-4-[18 F]fluoro-l-proline in scar formation: a marker of collagen synthesis? Nucl Med Commun 23:695–698

13.

Lebtahi R, Moreau S, Marchand-Adam S, Debray MP, Brauner M, Soler P et al (2006) Increased uptake of 111In-octreotide in idiopathic pulmonary fibrosis. J Nucl Med 47:1281–1287
Acknowledgement
This project was financially supported by the innovation fund of the St. Antonius Hospital. The experiments comply with the current laws of The Netherlands.
About this article
Cite this article
Lavalaye, J., Grutters, J.C., van de Garde, E.M.W. et al. Imaging of Fibrogenesis in Patients with Idiopathic Pulmonary Fibrosis with cis-4-[18F]-Fluoro-l-Proline PET. Mol Imaging Biol 11, 123–127 (2009). https://doi.org/10.1007/s11307-008-0164-1
Received:

Revised:

Accepted:

Published:

Issue Date:
Key words
PET

Radiopharmaceuticals

IPF

Fibrosis

Proline