Answering biological questions by analysis of the strawberry metabolome
Part of the following topical collections:
Abstract
Background
The qualitative and quantitative analysis of all low molecular weight metabolites within a biological sample, known as the metabolome, provides powerful insights into their roles in biological systems and processes. The study of all the chemical structures, concentrations, and interactions of the thousands of metabolites is called metabolomics. However present state of the art methods and equipment can only analyse a small portion of the numerous, structurally diverse groups of chemical substances found in biological samples, especially with respect to samples of plant origin with their huge diversity of secondary metabolites. Nevertheless, metabolite profiling and fingerprinting techniques have been applied to the analysis of the strawberry metabolome since their early beginnings.
Aim
The application of metabolomics and metabolite profiling approaches within strawberry research was last reviewed in 2011. Here, we aim to summarize the latest results from research of the strawberry metabolome since its last review with a special emphasis on studies that address specific biological questions.
Key scientific concepts
Analysis of strawberry, and other fruits, requires a plethora of analytical methods and approaches encompassing the analysis of primary and secondary metabolites, as well as capturing and quantifying volatile compounds that are related to aroma as well as fruit development, function and plant-to-plant communication. The success and longevity of metabolite and volatile profiling approaches in fruit breeding relies upon the ability of the approach to uncover biologically meaningful insights. The key concepts that must be addressed and are reviewed include: gene function analysis and genotype comparison, analysis of environmental effects and plant protection, screening for bioactive compounds for food and non-food uses, fruit development and physiology as well as fruit sensorial quality. In future, the results will facilitate fruit breeding due to the identification of metabolic QTLs and candidate genes for fruit quality and consumer preference.
Keywords
Strawberry 
Fragaria 
Metabolite 
Volatile 
VOC 
Aroma 
Metabolomics 
Volatilomics 
1

Introduction

In addition to biopolymers including proteins, polysaccharides, lignins, and deoxynucleic acids, organisms ingest and produce a multitude of low-molecular weight molecules collectively called the metabolome (Oliver et al. 1998). In plants, the small molecules determine key features such as nutritional value, flavour, fragrance, colour, bioactivity, pest and disease antagonism. The definition of metabolome was coined in analogy to the previously suggested notions genome and proteome although the difficulty with the concept was immediately recognized, as molecules making up the metabolome are more diverse in their physiochemical properties than structures comprising the genome and proteome. The metabolome embraces a wide range of structurally and chemically various molecules including highly water-soluble and volatile compounds such as short-chain alcohols and fruit esters, respectively, but also completely water-insoluble and non-volatile metabolites like carotenoids and monosaccharides, respectively. Due to the high complexity, until today there is no analytical instrument and method available to detect, identify and quantify all of the metabolites that constitute the metabolome. It is also impossible to determine or even estimate the number of different chemicals contributing to the metabolome of a sample. This will only be feasible when single molecule analysis becomes a reality. Amylose, although a biopolymer, may serve here as an example, which is formed by the successive addition of d-glucose units to a growing saccharide chain. As amylose contains 200–2000 monosaccharide units, all intermediates could theoretically be present in a sample and thus amylose alone comprises already several hundreds of metabolites. In other words, metabolomics, which is the systematic study of all metabolites in a given biological sample, is unrealistic considering the current analytical equipment and methods. The high-throughput characterization of selected groups of small molecules presently performed in many labs is best described as metabolic profiling when the identities of the metabolites are known (targeted analysis) and metabolic fingerprinting when the exact chemical structures of the compounds are unknown (untargeted analysis). The traditional target molecules analysis aims at the detection and quantification of a small set of known metabolites but it is not applicable for the chemical profiling of complex mixtures.

As analysis of the metabolome can link key features of interest with the causal compounds, numerous life science disciplines currently apply metabolome analysis techniques to tackle biological questions. In plant science, metabolite profiling of soft fruits is of special interest because low molecular weight compounds are essential constituents of a healthy diet due to their potential health-beneficial bioactivity and fast and comprehensive analysis of their metabolite composition can significantly accelerate the breeding of nutrient-rich varieties. Hundreds of natural products, including primary and secondary metabolites, have been found in fruit but it is expected that many more are present, which will be identified in the near future due to continuous improvements in the sensitivity and separation efficiency of the analytical instruments.

The only review on the strawberry (Fragaria x ananassa) metabolome dates back to 2011 (Hanhineva et al. 2011). In their excellent report, Hanhineva and co-workers discussed the non-volatile phytochemicals produced in leaf, flower and fruit of the strawberry plant, both with regard to the physiology of the plant and as a component of the human diet. They presented the metabolome of strawberry in connection with developments and applications of cutting-edge analytical chemistry-based approaches. Since then, the list of clearly identified strawberry metabolites has not been extended very much, except for acylphloroglucinols (Song et al. 2015b, 2016b) but the analysis of the metabolome has been employed to investigate various biological issues. Acylphloroglucinols are newly identified strawberry fruit constituents and are formed by the condensation of intermediates in branched-chain amino acid metabolism with three molecules of malonyl-CoA catalysed by chalcone synthase (CHS) (Song et al. 2015b) (Fig. 1). Identification of acylphloroglucinols was made possible by comparative metabolite fingerprinting analysis of fruits of wild type and transgenic plants showing reduced CHS transcript levels.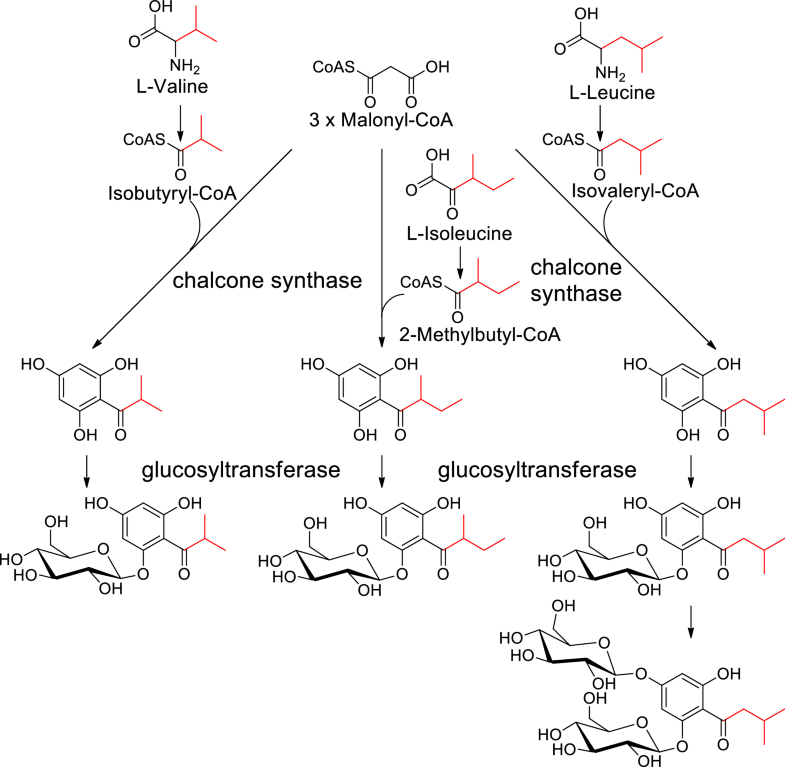 Thus, this review cannot present newly identified strawberry compounds, except for acylphloroglucinols but focuses and discusses recent successful examples applying metabolite profiling and fingerprinting analysis to study strawberry plant physiology with the aim to improve fruit quality. The focus is on the analysis of secondary metabolites because they have been best studied in strawberry fruit and there are no studies, which focus only on the metabolite profiling of primary metabolites in strawberry fruit.
2

Primary and secondary metabolites

Although biopolymers such as proteins, polysaccharides, lignins, and deoxyribonucleic acids are major constituents of plant cells they are not considered as part of the cells metabolome. Generally, the metabolome refers to small-molecule chemicals (< 1500 Da, arbitrarily defined) found in biological samples, which can be easily analysed by high-throughput platforms based on GC–MS and LC–MS equipment (Wishart 2007). In contrast to the analysis of small molecules, the comprehensive analysis of polymers cannot be achieved so easily in high throughput and automated applications because of a dearth of methods that are available for profiling these complex high-molecular weight biomolecules.

The metabolome itself is further subdivided into primary and secondary metabolites, which are either directly involved in the normal growth of the organism or have important ecological function, respectively. Because secondary metabolism uses biosynthetic enzymes and building blocks derived from primary metabolism, both are directly connected. Primary metabolism comprises all physiological processes allowing organisms to grow and propagate while the secondary or specialized metabolism is essential for an organisms' interaction with the environment. Although not necessary for survival, specialized metabolites aid a plant in protection, competition and species interactions. The substances of the primary and secondary metabolism are considered as the chemical phenotype, which can be investigated by metabolite profiling and metabolite fingerprinting analyses.

Phenylpropanoids (mainly glucose esters of cinnamic acid, 4-coumaric acid, caffeic acid and ferulic acid), flavonoids (mainly glycosides of quercetin and kaempferol as well as derivatives of catechin and epicatechin), anthocyanins (mainly glycosides of pelargonidin and cyanidin), and ellagic acid derivatives are among the major non-volatile secondary metabolites found in strawberry fruit (Hanhineva et al. 2011). They are involved, among others, in the attraction of frugivores (anthocyanins), protect plants against UV-B light (flavonoids), serve as energy-rich precursor molecules in plant metabolism (phenylpropanoid glucose esters), and play a role in plant growth regulation (derivatives of ellagic acid). Recent studies have shown that these compounds contribute to the nutritional quality of foods due to their anti-inflammatory, photoprotective, anticarcinogenic and antimutagenic properties (Giampieri et al. 2014).

In addition to non-volatile organic chemicals, plants also produce and emit volatile metabolites. The volatile substances (volatilome) comprise a structurally diverse group of low molecular weight chemicals having an appreciable vapour pressure under ambient conditions. They attract pollinator and seed dispersing animals, provide defence against pathogens and pests, and play a role in plant–plant communication. Only recently, the volatilome of the strawberry fruit has been excellently reviewed (Ulrich et al. 2018) and in total 979 volatiles were identified in strawberry fruit. Despite the fact that only a small number of the volatile metabolites contributes to the aroma of strawberry, the knowledge is important for genetic studies, plant breeding, plant protection, nutritional science, and the strawberry processing industry.
4

Conclusions

Metabolomics is the comprehensive large-scale chemical analysis of the metabolome. Due to the chemical complexity of the metabolome and limitations of the instrumental methodologies, a comprehensive and complete analysis of all metabolites is not currently possible. However, alterations in the metabolome are frequently explored by profiling approaches to study biological processes. In studies aimed at the improvement of strawberry fruit quality, combinations of different metabolite profiling techniques have been successfully applied to elucidate gene functions, analyse environmental effects, screen for bioactive compounds, improve plant protection, localize metabolites, compare genotypes and physiological stages and identify odour-active volatiles. The levels of biological insight captured within such plant metabolite profiling studies, demonstrates the great utility of profiling the metabolome and volatilome, when such approaches are combined with other 'omic' level data (i.e., transcripts, proteins, enzymatic determinations of metabolite concentrations). The level of systematic knowledge that can be gained is huge especially in contrast with applications within other scientific fields that solely aim to discover biomarker compounds.
Notes
Acknowledgements
We apologize to those colleagues whose work could not be cited because of space constraint.
Author contributions
AH and JT were the lead authors of the review performing the majority of writing, with KH, TH, JWA, and WS making minor contributions to writing as well as providing critical review and guidance to the lead authors. All authors read and approved the manuscript.
Funding
The authors would like to thank and acknowledge the support of this work by the EU funded GoodBerry project (funded from the European Union's Horizon 2020 research and innovation programme under Grant Agreement No 679303).
Compliance with ethical standards
Conflict of interest
All authors declare that there are no conflicts of interest.
Research involving human and animal participants
This article does not contain any studies with human and/or animal participants performed by any of the authors.
Copyright information
© The Author(s) 2018
corrected publication 2019
Open AccessThis article is distributed under the terms of the Creative Commons Attribution 4.0 International License (http://creativecommons.org/licenses/by/4.0/), which permits unrestricted use, distribution, and reproduction in any medium, provided you give appropriate credit to the original author(s) and the source, provide a link to the Creative Commons license, and indicate if changes were made.