Abstract
Introduction
γ-Hydroxybutyric acid is a well-known prescription medicine that is used for the clinical treatment of alcohol dependence and narcolepsy. However, the biochemical mechanism underlying γ-hydroxybutyric acid intoxication remains unclear, and metabolomic amino acid profiling and pattern analyses have not been attempted following treatment with γ-hydroxybutyric acid.
Objectives
We carried out urinary amino acid profiling and pattern analyses in rats to determine the biochemical events associated with altered amino acid metabolism and biomarker detection of intoxication following treatment with γ-hydroxybutyric acid.
Methods
Metabolic profiling analysis of amino acids in rat urine samples was performed as ethoxycarbonyl/tert-butyldimethylsilyl derivatives by gas chromatography–mass spectrometry following intraperitoneal administration of γ-hydroxybutyric acid once per day for 1 and 10 consecutive days.
Results
A total of 28 amino acids were positively identified in urine samples from the control, single and multiple groups treated with γ-hydroxybutyric acid. Their levels from the single and multiple treated groups were normalized to the corresponding mean control values. The star graphic pattern of the amino acids was characteristic and readily distinguishable for each group owing to its distorted nonacosagonal shape. In the principle component analysis, we monitored phenylalanine, glutamic acid, aspartic acid, asparagine, and methionine as contributing factors that discriminated the three groups.
Conclusion
The present metabolomic study may explain the altered metabolism of amino acids following administration, and intoxication with γ-hydroxybutyric acid.
This is a preview of subscription content, log in to check access.
Access options
Buy single article
Instant access to the full article PDF.
US$ 39.95
Price includes VAT for USA
Subscribe to journal
Immediate online access to all issues from 2019. Subscription will auto renew annually.
US$ 99
This is the net price. Taxes to be calculated in checkout.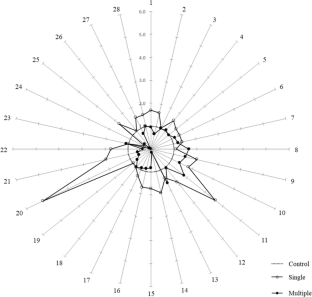 Acknowledgements
This research was supported by Basic Science Research Program through the National Research Foundation of Korea (NRF) funded by the Ministry of Education (NRF-2016R1A6A1A03011325), by the Ministry of Science, ICT & Future Planning (2015R1A4A1041219) and by Suncheon Research Center for Natural Medicines.
Ethics declarations
Conflict of interest
The authors declare no conflicts of interest.
Ethical approval
All procedures performed in studies involving animals were in accordance with the ethical standards of the National Forensic Service.
About this article
Cite this article
Seo, C., Na, M., Jang, J. et al. Monitoring of altered amino acid metabolic pattern in rat urine following intraperitoneal injection with γ-hydroxybutyric acid. Metabolomics 14, 111 (2018). https://doi.org/10.1007/s11306-018-1409-x
Received:

Accepted:

Published:
Keywords
Metabolomics

γ-Hydroxybutyric acid

Amino acid profiling analysis

Star pattern analysis

Gas chromatography–mass spectrometry