Data fusion in metabolomic cancer diagnostics
Open Access
Original Article
Abstract
We have recently shown that fluorescence spectroscopy of plasma samples has promising abilities regarding early detection of colorectal cancer. In the present paper, these results were further developed by combining fluorescence with the biomarkers, CEA and TIMP-1 and traditional metabolomic measurements in the form of 1H NMR spectroscopy. The results indicate that using an extensive profile established by combining such measurements together with the biomarkers is better than using single markers.
Keywords
Biomarker 
Chemometrics 
Multivariate 
Fingerprinting 
1

Introduction

Colorectal cancer is one of the most frequent malignant diseases in the Western part of the world. In order to improve patient outcome, there is a strong need for novel methodological developments allowing for early detection and proper monitoring of the disease. State-of-the-art tools are direct colonoscopy, which however has limited applications due to high costs and inadequate capacity, and fecal occult blood tests, which, due to limited compliance, only identifies <30 % of those with large bowel lesions (Nielsen et al. 2011b). Use of serological biomarkers (BM) only requires minimally-invasive procedures, blood is easy to obtain and allows for repeated sampling. Moreover, measurements of serological BM, e.g. proteins, are most often inexpensive (Jenkinson and Steele 2010). The only accepted protein serum biomarker presently being used in the treatment of colorectal cancer is carcinoembryonic antigen (CEA). CEA has no value as a stand-alone biomarker for early detection of primary colorectal cancer, but is recommended as a monitoring tool for early detection of disease recurrence allowing for surgical interventions (ASCO, EGTM and NACB recommendations).

In an earlier paper, we have proposed measurements of autofluorescence of human blood plasma as a potential useful tool for detecting colorectal cancer (Lawaetz et al. 2012a, b). The idea behind this approach was based on earlier findings by Leiner et al. amongst others (Leiner et al. 1983, 1986a; Nørgaard et al. 2005; Wolfbeis and Leiner 1985). They have shown that for example, a blueshift in tryptophan fluorescence, a changing NADH emission and increasing levels of porphyrin emission can all be fluorescence detectable indicators of cancer (Kalaivani et al. 2008; Masilamani et al. 2004).

While fluorescence based cancer diagnostics may be useful and as good as current BM, it would be of interest to see if it is possible to provide significant improvements of this technology by combining different sources of information. Data fusion or multiblock modeling is an approach for combining data sources. Using this type of mathematical modeling, the combination of fluorescence spectroscopy and traditional and new BM, CEA and TIMP-1 (Nielsen et al. 2008), was investigated to evaluate whether there could be advantages in terms of early detection of colorectal cancer. Furthermore, it was evaluated whether additional diagnostic power could be obtained by adding NMR spectroscopic data.
3

Results and discussion

In Fig. 

1

, the results of bootstrapping various classification models are shown. Each plot contains the results of using particular parts of the measured variables going from individual BM (top), combining these, adding fluorescence data to BM and adding the additional NMR data (bottom). For each plot, the AUC is shown (red line) as well as a histogram from bootstrapping that shows the variability in AUC.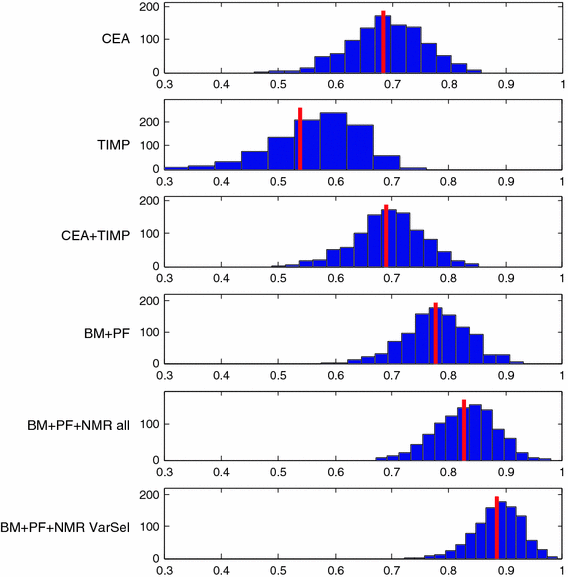 Many interesting observations can be made. First of all it is important to realize that with the limited number of samples available, there is a high variability. This is an inevitable consequence of the few samples and a fact, which implies that caution is warranted in the interpretation of our data. The uncertainty is directly seen in the width of the histograms indicating that any specific single model may have widely different observed quality (AUC) depending on individual samples being left out.
Overall, the results show that the two serological protein BM, CEA and TIMP-1, also when used together, are able to classify colorectal cancer with an AUC of around 0.7. Adding the fluorescence data leads to a better classification albeit only slightly so with an AUC of 0.78. The fluorescence markers are primarily reflecting changes in overall protein structure (Lawaetz et al. 2012b; Leiner et al. 1986b), which appear to add to the classification results.
Adding the NMR variables improves classification and especially when irrelevant NMR variables are removed. An AUC of 0.89 is obtained. In general, both the NMR CPMG and the NOESY-Presat data contribute to the classification model but in a different manner as a result of their experimental features. CPMG data, which enhances the signals of smaller molecules, shows several narrow and sharp selected regions, mostly containing well defined/resolved NMR signals. However, it is not trivial to assign the selected signals to specific molecules without performing further targeted experiments. Some contributions can be found in the spectral region dominated by the proton signals of carbohydrates (mainly glucose and derivatives) between 4.5 and 3.0 ppm and in the region dominated by amino acids and small organic acids between 3.0 and 0.9 ppm. Apparently, also the regions in which the signals belonging to l-tryptophan are selected (3.7–3.6 ppm), but the concentration of l-tryptophan itself is probably too low to be detected by NMR here. For the CPMG data, it is interesting that almost the whole large signal between 0.9 and 0.8 ppm, arising from the terminal –CH3 protons of the lipids bound to lipoproteins, is important in the classification. In the NOESY-Presat data the information from larger proteins is kept and characterized by the broader "hilly" signals on top of which are the sharper signals of smaller molecules. Indeed, the regions selected on the NOESY-Presat data are dominated by the contributions of several types of protons all belonging to the lipoprotein class, with a tendency on preferring those with higher density (LDL and HDL) (Ala-Korpela 1995). This is reflected e.g. in that the broad signal originating from the lipid–CH2–chains (between 1.4 and 1.1 ppm) have been selected only on the more right-most side of the interval. In addition to that, also the spectral region containing signals from valine on the left shoulder of the broad peak representing the terminal –CH3 protons, are selected. Interestingly, also the signal arising from the terminal –CH3 of cholesterol (carbon no. 18) in the spectral region between 0.7 and 0.6 ppm is selected.
In Table 
1
it is shown how well the developed models are working on the 16 left out test samples. The left out test set is definitely on the small side, so the uncertainty of the results is substantial as also indicated in the bootstrapping of the calibration data. Nevertheless, the test set validates that the developed models are adequate and that the tendencies indicated above are real and worth elaborating on in further studies.
Table 1
Comparison of classification results on calibration and left out test set. The 'AUC mean from bootstrap' is the value indicated by the red line in Fig. 1
| Variables included | AUC mean from bootstrap | AUC test set |
| --- | --- | --- |
| CEA | 0.68 | 0.64 |
| TIMP1 | 0.54 | 0.44 |
| CEA + TIMP1 | 0.69 | 0.69 |
| BM + PF var select | 0.78 | 0.72 |
| BM + PF + NMR | 0.83 | 0.86 |
| BM + PF + NMR var select | 0.89 | 0.84 |
While the results suggest that fluorescence and NMR add useful information when paired with the biomarker data, it is also of interest to investigate if the opposite is true; whether the biomarker data adds to the spectroscopic information. Building classification models from fluorescence data alone gives a bootstrapped AUC of 0.71 which is slightly lower than the 0.78 (see Table 1) obtained when including the BM. Building a classification model solely on the selected NMR data provides a bootstrapped AUC of 0.87 which is only marginally lower than the 0.89 obtained when BM (and fluorescence) is included. Hence, it seems that the BM do add to the fluorescence data but only marginally so for the NMR data.
4

Concluding remarks

We have shown that beneficial results are obtained by combining relevant data from many sources of information. By complementing traditional BM with fluorescence and NMR based BM we were able to improve the classification power. The uncertainty of the model also seemingly improves as judged from the bootstrapping results. While the results are promising and interesting, it is apparent that the number of samples poses a limiting factor in the investigation. We are therefore now validating the present results in a larger clinical material.
Notes
Acknowledgments
The VILLUM FOUNDATION is thanked for funding Anders Juul Lawaetz. Abdelrhani Mourhib is thanked for his laboratory assistance. Lars Nannestad Jørgensen, Bispebjerg Hospital, Knud Nielsen, Randers Hospital, Søren Laurberg, Aarhus Hospital, Jesper Olsen, Glostrup Hospital and Hans B. Rahr, Odense Hospital, are acknowledged for their contribution to the original protocol. The authors thank The Kornerup Fund, The Aage & Johanne Louis-Hansen Fund, The Aase & Ejnar Danielsen Fund, and The Kathrine and Vigo Skovgaard Fund for financial support.
Open Access
This article is distributed under the terms of the Creative Commons Attribution License which permits any use, distribution, and reproduction in any medium, provided the original author(s) and the source are credited.
Copyright information
© The Author(s) 2012
Open AccessThis article is distributed under the terms of the Creative Commons Attribution 2.0 International License (https://creativecommons.org/licenses/by/2.0), which permits unrestricted use, distribution, and reproduction in any medium, provided the original work is properly cited.