Abstract
Hypertrophic cardiomyopathy (HCM) is an inherited heart failure condition, mostly found to have genetic abnormalities, and is a leading cause of sudden death in young adults. Whole exome sequencing should be given consideration as a molecular diagnostic tool to identify disease-causing mutation/s. In this study, a HCM family with multiple affected members having history of sudden death were subjected to exome sequencing along with unaffected members. Quality passed variants obtained were filtered for rarity (MAF > 0.5%), evolutionary conservation, pathogenic prediction, and segregation in affected members after removing shared variants present in unaffected members. Only one non-synonymous mutation (p. Glu186Lys or E186K) in exon 6 of P2X7 gene segregated in HCM-affected individuals which was absent in unaffected family members and 100 clinically evaluated controls. The site of the mutation is highly conserved and led to complete loss of function which is in close vicinity to ATP-binding site-forming residues, affecting ATP binding, channel gating, or both. Mutations in candidate genes which were not segregated define clinical heterogeneity within affected members. P2X7 gene is highly expressed in the heart and shows direct interaction with major candidate genes for HCM. Our results reveal a significant putative HCM causative gene, P2X7, for the first time and show that germ-line mutations in P2X7 may cause a defective phenotype, suggesting purinergic receptor involvement in heart failure mediated through arrhythmias which need further investigations to be targeted for therapeutic interventions.
This is a preview of subscription content, log in to check access.
Access options
Buy single article
Instant access to the full article PDF.
US$ 39.95
Price includes VAT for USA
Subscribe to journal
Immediate online access to all issues from 2019. Subscription will auto renew annually.
US$ 99
This is the net price. Taxes to be calculated in checkout.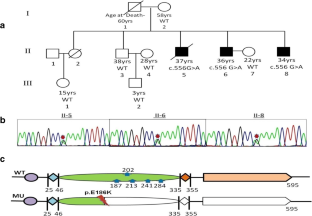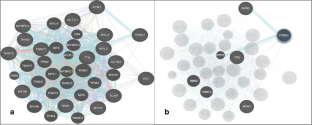 References
1.

Barth K, Pfleger C, Linge A, Sim J, Surprenant A, Steinbronn N, Strasser R, Kasper M (2010) Increased P2X7R expression in atrial cardiomyocytes of caveolin-1 deficient mice. Histochem Cell Biol 134:31–38

2.

Bracey NA, Beck PL, Muruve DA, Hirota SA, Guo J, Jabagi H, Wright JR Jr et al (2013) The Nlrp3 inflammasome promotes myocardial dysfunction in structural cardiomyopathy through interleukin-1β. Exp Physiol 98(2):462–472

3.

Chen Z, He L, Li L, Chen L (2018) The P2X7 purinergic receptor: an emerging therapeutic target in cardiovascular diseases. Clin Chim Acta 479:196–207

4.

Erlinge D, Burnstock G (2008) P2 receptors in cardiovascular regulation and disease. Purinerg Signal 4(1):1–20

5.

Franceschini A, Capece M, Chiozzi P, Falzoni S, Sanz JM, Sarti AC, Bonora M, Pinton P, Di Virgilio F (2015) The P2X7 receptor directly interacts with the NLRP3 inflammasome scaffold protein. FASEB J 29(6):2450–2461

6.

Górecki DC (2019) P2X7 purinoceptor as a therapeutic target in muscular dystrophies. Curr Opin Pharmacol 47:40–45

7.

Ingles J, Semsarian C (2007) Sudden cardiac death in the young: a clinical genetic approach. Intern Med J 37:32–37

8.

Lenertz LY, Wang Z, Guadarrama A, Hill LM, Gavala ML, Bertics PJ (2010) Mutation of putative N-linked glycosylation sites on the human nucleotide receptor P2X7 reveals a key residue important for receptor function. Biochemistry 49:4611–4619

9.

Maron B (2002) Hypertrophic cardiomyopathy. JAMA 287:1308–1320

10.

Maron B (2004) Hypertrophic cardiomyopathy: an important global disease. Am J Med 116:63–65

11.

Martinez CM (2019) P2X7 receptor in cardiovascular disease: the heart side. Clin Exp Pharmacol Physiol 46:513–526. https://doi.org/10.1111/1440-1681.13079

12.

Niimura H, Bachinski LL, Sangwatanaroj S, Watkins H, Chudley AE, McKenna W, Kristinsson A, Roberts R, Sole M, Maron BJ, Seidman JG, Seidman CE (1998) Mutations in the gene for cardiac myosin-binding protein C and late-onset familial hypertrophic cardiomyopathy. N Engl J Med 338:1248–1257

13.

Roger S, Mei Z, Baldwin J, Dong L, Bradley H, Baldwin SA, Surprenant A, Jiang LH (2010) Single nucleotide polymorphisms that were identified in affective mood disorders affect ATP-activated P2X7 receptor functions. J Psychiatr Res 44:347–355

14.

Skaper SD, Debetto P, Giusti P (2009) P2X7 receptors in neurological and cardiovascular disorders. Cardiovasc Psychiatry Neurol 861324:1–13. https://doi.org/10.1155/2009/861324

15.

Sluyter R, Stokes L (2011) Significance of P2X7 receptor variants to human health and disease. Recent Pat DNA Gene Seq 5:41–54

16.

VanDriest SL, Will ML, Atkins DL, Ackerman MJ (2000) A novel TPM1 mutation in a family with hypertrophic cardiomyopathy and sudden cardiac death in childhood. Am J Cardiol 90:1123–1127

17.

Zhang S, Shao D, Zhang S, Wang Y (2014) Prioritization of candidate disease genes by enlarging the seed set and fusing information of the network topology and gene expression. Mol BioSyst 10:1400–1408

18.

Zhang J, Wang G, Feng J, Zhang L, Li J (2014a) Identifying ion channel genes related to cardiomyopathy using a novel decision forest strategy. Mol BioSyst 10(9):2407–2414
Acknowledgments
The authors acknowledge CSIR-Institute of Genomics and Integrative Biology, New Delhi, for exome sequencing facility and patients and their family for participating in the study.
Funding
This work was supported by Department of Biotechnology (DBT), Government of India, India (BT/PR 5767/MED/12/563/2012) and ICMR Emeritus Medical Scientist Fellowship (ICMR/74/1/2016-Pers,EMS) to VRR.
Ethics declarations
We obtained prior written informed consent as per the guidelines and with approval of the Institutional Ethics Committee of both participating institutes.
Conflict of interest
The authors declare that they have no conflict of interest.
Additional information
Publisher's note
Springer Nature remains neutral with regard to jurisdictional claims in published maps and institutional affiliations.
Electronic supplementary material
About this article
Cite this article
Biswas, A., Raza, A., Das, S. et al. Loss of function mutation in the P2X7, a ligand-gated ion channel gene associated with hypertrophic cardiomyopathy. Purinergic Signalling 15, 205–210 (2019). https://doi.org/10.1007/s11302-019-09660-7
Received:

Accepted:

Published:

Issue Date:
Keywords
HCM

Clinical heterogeneity

Bradycardia

Sudden death

Heart failure