Abstract
Glaucoma is a neurodegenerative disease that produces blindness. The main factor associated with this disease is an abnormally elevated intraocular pressure (IOP). To date, some attempts have been made to demonstrate the role of nucleotides modulating IOP, but never in a model of glaucoma. The DBA/2J mouse is an animal that develops the pathology spontaneously, starting from the typical rise in IOP at 9 months of age. Using this animal model, together with a control mouse, C57BL/6J, it has been possible to monitor the elevation in IOP in the glaucomatous mice and to check the ability of the dinucleotide diadenosine tetraphosphate AKA Ap4A to reduce IOP. The topical application of Ap4A when IOP is maximal (9–12 months) reduced IOP 30.6 ± 6.6% in the DBA/2J and 17.9 ± 4.0% in the C57BL/6J mice. Concentration response curves in both animal strains produced similar pD2 values; these being 4.9 ± 0.5 and 5.1 ± 0.4 for the normotensive C57BL/6J and the glaucomatous DBA/2J respectively. Antagonist studies showed differences between the control and the glaucomatous animals. In particular, the main receptor reducing IOP in the control animal was the P2Y1 receptor and in the glaucomatous model the P2Y6, although the participation of other P2 receptors cannot be ruled out. The long-term effect of Ap4A applied three times a week for 3 months showed a clear stop in the elevation of IOP in the glaucomatous model, thus indicating the possibility of using Ap4A as an effective compound for the treatment of glaucoma.
This is a preview of subscription content, log in to check access.
Access options
Buy single article
Instant access to the full article PDF.
US$ 39.95
Price includes VAT for USA
Subscribe to journal
Immediate online access to all issues from 2019. Subscription will auto renew annually.
US$ 99
This is the net price. Taxes to be calculated in checkout.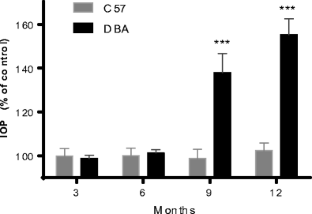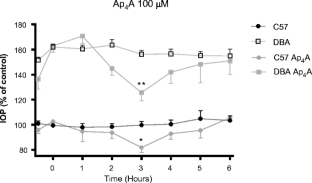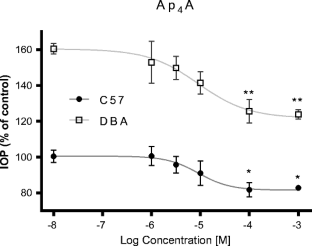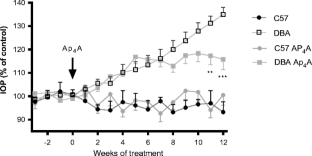 References
1.

Davson H (1993) The aqueous humour and the intraocular pressure, physiology of the eye, 5th edn. Pergamon Press, New York

2.

Gupta SK, Niranjan DG, Agrawal SS, Srivastava S, Saxena R (2008) Recent advances in pharmacotherapy of glaucoma. Indian J Pharmacol 40(5):197–208

3.

Mediero A, Alarma-Estrany P, Pintor J (2009) New treatments for ocular hypertension. Auton Neurosci 147(1–2):14–19

4.

Pintor J (2009) Autonomic nervous system: ophthalmic control. Encyclopedia of neurosciences. Academic press, Oxford

5.

Pintor JPA (2001) Therapeutic potential of nucleotides in the eye. Drug Develop Res 52:190–195

6.

Sanderson J, Dartt DA, Trinkaus-Randall V, Pintor J, Civan MM, Delamere NA, Fletcher EL, Salt TE, Grosche A, Mitchell CH (2014) Purines in the eye: recent evidence for the physiological and pathological role of purines in the RPE, retinal neurons, astrocytes, Muller cells, lens, trabecular meshwork, cornea and lacrimal gland. Exp Eye Res 127:270–279

7.

Castany M, Jordi I, Catala J, Gual A, Morales M, Gasull X, Pintor J (2011) Glaucoma patients present increased levels of diadenosine tetraphosphate, Ap(4)a, in the aqueous humour. Exp Eye Res 92(3):221–226

8.

Guzman-Aranguez A, Crooke A, Peral A, Hoyle CH, Pintor J (2007) Dinucleoside polyphosphates in the eye: from physiology to therapeutics. Prog Retin Eye Res 26(6):674–687

9.

Pintor J, Peral A, Pelaez T, Martin S, Hoyle CHV (2003) Presence of diadenosine polyphosphates in the aqueous humor: their effect on intraocular pressure. J Pharmacol Exp Ther 304(1):342–348

10.

Pintor J, Diaz-Hernandez M, Gualix J, Gomez-Villafuertes R, Hernando F, Miras-Portugal MT (2000) Diadenosine polyphosphate receptors. From rat and guinea-pig brain to human nervous system. Pharmacol Ther 87(2–3):103–115

11.

Pintor J, Sanchez-Nogueiro J, Irazu M, Mediero A, Pelaez T, Peral A (2004) Immunolocalisation of P2Y receptors in the rat eye. Purinergic Signal 1(1):83–90

12.

Pintor J, Peral A, Pelaez T, Martin S, Hoyle CH (2003) Presence of diadenosine polyphosphates in the aqueous humor: their effect on intraocular pressure. J Pharmacol Exp Ther 304(1):342–348

13.

Soto D, Pintor J, Peral A, Gual A, Gasull X (2005) Effects of dinucleoside polyphosphates on trabecular meshwork cells and aqueous humor outflow facility. J Pharmacol Exp Ther 314(3):1042–1051

14.

Martin-Gil A, de Lara MJ, Crooke A, Santano C, Peral A, Pintor J (2012) Silencing of P2Y(2) receptors reduces intraocular pressure in New Zealand rabbits. Br J Pharmacol 165(4b):1163–1172

15.

Li A, Zhang X, Zheng D, Ge J, Laties AM, Mitchell CH (2011) Sustained elevation of extracellular ATP in aqueous humor from humans with primary chronic angle-closure glaucoma. Exp Eye Res 93(4):528–533

16.

Crooke A, Huete-Toral F, Martinez-Aguila A, Colligris B, Pintor J (2012) Ocular disorders and the utility of animal models in the discovery of melatoninergic drugs with therapeutic potential. Expert Opin Drug Discov 7(10):989–1001

17.

John SW, Smith RS, Savinova OV, Hawes NL, Chang B, Turnbull D, Davisson M, Roderick TH, Heckenlively JR (1998) Essential iris atrophy, pigment dispersion, and glaucoma in DBA/2 J mice. Invest Ophthalmol Vis Sci 39(6):951–962

18.

Libby RT, Anderson MG, Pang IH, Robinson ZH, Savinova OV, Cosma IM, Snow A, Wilson LA, Smith RS, Clark AF, John SW (2005) Inherited glaucoma in DBA/2 J mice: pertinent disease features for studying the neurodegeneration. Vis Neurosci 22(5):637–648

19.

Communi D, Motte S, Boeynaems JM, Pirotton S (1996) Pharmacological characterization of the human P2Y4 receptor. Eur J Pharmacol 317(2–3):383–389

20.

Lazarowski ER, Watt WC, Stutts MJ, Boucher RC, Harden TK (1995) Pharmacological selectivity of the cloned human P2U-purinoceptor: potent activation by diadenosine tetraphosphate. Br J Pharmacol 116(1):1619–1627

21.

Patel K, Barnes A, Camacho J, Paterson C, Boughtflower R, Cousens D, Marshall F (2001) Activity of diadenosine polyphosphates at P2Y receptors stably expressed in 1321 N1 cells. Eur J Pharmacol 430(2–3):203–210

22.

Pintor J, Peral A, Hoyle CH, Redick C, Douglass J, Sims I, Yerxa B (2002) Effects of diadenosine polyphosphates on tear secretion in New Zealand white rabbits. J Pharmacol Exp Ther 300(1):291–297

23.

Daimon T, Kazama M, Miyajima Y, Nakano M (1997) Immunocytochemical localization of thrombomodulin in the aqueous humor passage of the rat eye. Histochem Cell Biol 108(2):121–131

24.

Goldblum D, Kontiola AI, Mittag T, Chen B, Danias J (2002) Non-invasive determination of intraocular pressure in the rat eye. Comparison of an electronic tonometer (TonoPen), and a rebound (impact probe) tonometer. Graefes Arch Clin Exp Ophthalmol 240(11):942–946

25.

Reitsamer HA, Kiel JW, Harrison JM, Ransom NL, McKinnon SJ (2004) Tonopen measurement of intraocular pressure in mice. Exp Eye Res 78(4):799–804

26.

Perez de Lara MJ, Santano C, Guzman-Aranguez A, Valiente-Soriano FJ, Aviles-Trigueros M, Vidal-Sanz M, de la Villa P, Pintor J (2014) Assessment of inner retina dysfunction and progressive ganglion cell loss in a mouse model of glaucoma. Exp Eye Res 122:40–49

27.

Martinez-Aguila A, Fonseca B, Perez de Lara MJ, Pintor J (2016) Effect of melatonin and 5-Methoxycarbonylamino-N-Acetyltryptamine on the intraocular pressure of normal and glaucomatous mice. J Pharmacol Exp Ther 357(2):293–299

28.

Chandra S, Muir ER, Deo K, Kiel JW, Duong TQ (2016) Effects of dorzolamide on retinal and Choroidal blood flow in the DBA/2 J mouse model of glaucoma. Invest Ophthalmol Vis Sci 57(3):826–831

29.

Markovskaya A, Crooke A, Guzman-Aranguez AI, Peral A, Ziganshin AU, Pintor J (2008) Hypotensive effect of UDP on intraocular pressure in rabbits. Eur J Pharmacol 579(1–3):93–97

30.

Gugleta K (2010) Topical carbonic anhydrase inhibitors and visual function in glaucoma and ocular hypertension. Curr Med Res Opin 26(6):1255–1267

31.

Sawada K, Hiraoka M, Ohguro H (2016) Effect of antiglaucoma medicine on intraocular pressure in DBA/2J mice. Ophthalmic Res 55(4):205–211

32.

Peral A, Gallar J, Pintor J (2009) Adenine nucleotide effect on intraocular pressure: involvement of the parasympathetic nervous system. Exp Eye Res 89(1):63–70

33.

Soto D, Comes N, Ferrer E, Morales M, Escalada A, Pales J, Solsona C, Gual A, Gasull X (2004) Modulation of aqueous humor outflow by ionic mechanisms involved in trabecular meshwork cell volume regulation. Invest Ophthalmol Vis Sci 45(10):3650–3661

34.

Fonseca B, Martínez-Águila A, Pérez de Lara MJ, Crooke A, Pintor J (2014) Participation of P2Y2 and P2Y6 purinergic receptors in the physiopathology of glaucoma. Invest Ophthalmol Vis Sci 55(13):2425–2425
Acknowledgements
This work has been supported by the Spanish Ministry of Economy and Competitiveness SAF2013-44416-R, SAF2016-77084R and RETICS R12/0034/0003. B. F and A. M-Á. are fellowship holders of Universidad Complutense de Madrid. We thank Penny Rollinson for her help in the preparation of this manuscript.
Ethics declarations
The animal treating procedures were approved by the Committee for the Welfare of Laboratory Animals of the University Complutense de Madrid and the Comunidad de Madrid laws and experiments conducted in the accordancewith the guidelines of the European Community Council (Directive 86/609/EEC) and the ARVO Statment for the use of Animals in Ophthalmic and Vision Research. All efforts were made to minimize the number of animals used and their suffering.
Conflict of interest
Begoña Fonseca declares that she has no conflict of interest.
AlejandroMartínez-Águila declares that he has no conflict of interest.
María J. Pérez de Lara declares that she has no conflict of interest.
Jesús Pintor declares that he has no conflict of interest.
About this article
Cite this article
Fonseca, B., Martínez-Águila, A., de Lara, M.J.P. et al. Diadenosine tetraphosphate as a potential therapeutic nucleotide to treat glaucoma. Purinergic Signalling 13, 171–177 (2017). https://doi.org/10.1007/s11302-016-9547-y
Received:

Accepted:

Published:

Issue Date:
Keywords
Ap4A

Diadenosine tetraphosphate

DBA/2 J

Glaucoma

P2 receptors