Abstract
Morphine creates a neuroinflammatory response and enhances release of the proinflammatory cytokines like interleukin-1β (IL-1β), which compromises morphine analgesia as well as induces morphine tolerance. In this study, we attempted to investigate the mechanisms of morphine induced IL-1β synthesis and release. Microglial cells were treated with morphine (100 μM) once daily for 3 days. Control groups underwent the same procedure but received sterile saline injection instead of morphine. Toll-like receptor 4 (TLR4) and P2X4 receptor (P2X4R) signaling were analyzed using Western blot; immunofluorescence was used to detect the signaling of CD68; real-time RT-PCR and ELISA kit was used to measure the messenger RNA and protein synthesis and release level of IL-1β. Morphine enhanced IL-1β synthesis and P2X4R protein expression. TLR4 were responsible for morphine-induced IL-1β synthesis, while morphine-induced IL-1β release was via P2X4R. Morphine-induced IL-1β release is mediated by endocytosis of TLR4. These results indicated that TLR4 and P2X4R pathways mediated IL-1β synthesis and release in microglia followed chronic morphine. TLR4 internalization is the main mechanism of morphine-induced microglia activation and IL-1β release.
This is a preview of subscription content, log in to check access.
Access options
Buy single article
Instant access to the full article PDF.
US$ 39.95
Price includes VAT for USA
Subscribe to journal
Immediate online access to all issues from 2019. Subscription will auto renew annually.
US$ 99
This is the net price. Taxes to be calculated in checkout.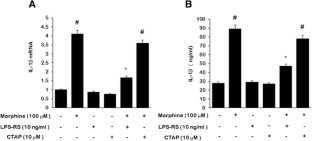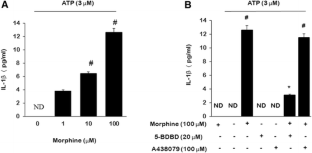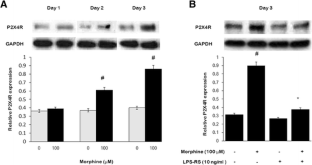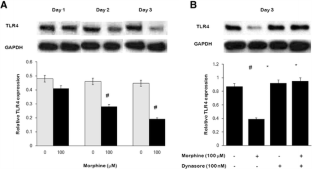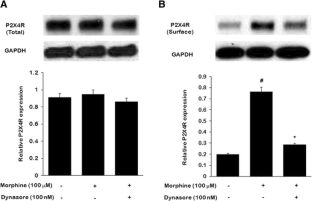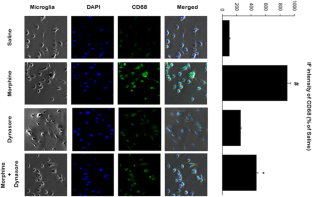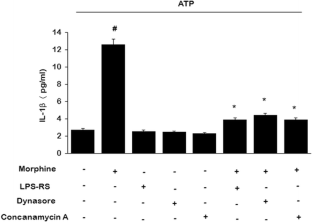 References
1.

Bekhit MH (2010) Opioid-induced hyperalgesia and tolerance. Am J Ther 17(5):498–510

2.

Hutchinson MR, Coats BD, Lewis SS, et al. (2008) Proinflammatory cytokines oppose opioid-induced acute and chronic analgesia. Brain Behav Immun 22(8):1178–1189

3.

Rubartelli A, Cozzolino F, Talio M, et al. (1990) A novel secretory pathway for interleukin 1b, a protein lacking a signal sequence. EMBO J 9(5):1503–1510

4.

Dinarello CA (2011) Interleukin-1 in the pathogenesis and treatment of inflammatory diseases. Blood 117(14):3720–3732

5.

Rubartelli A, Bajetto A, Allavena G, et al. (1993) Posttranslational regulation of interleukin 1b secretion. Cytokine 5(3):117–124

6.

Hickman SE, Khouri JE, Greenberg S, et al. (1994) P2Z adenosine triphosphate receptor activity in cultured human monocyte-derived macrophages. Blood 84(8):2452–2456

7.

Akira S, Takeda K (2004) Toll-like receptor signalling. Nat Rev Immunol 4(7):499–511

8.

Mattioli TA, Leducpessah H, Skelhornegross G, et al. (2014) Toll-like receptor 4 mutant and null mice retain morphine-induced tolerance, hyperalgesia, and physical dependence. PLoS One 9(9):e97361

9.

Fukagawa H, Koyama T, Kakuyama M, et al. (2013) Microglial activation involved in morphine tolerance is not mediated by toll-like receptor 4. J Anesth 27(1):93–97

10.

Hutchinson MR, Zhang Y, Shridhar M, et al. (2010) Evidence that opioids may have toll-like receptor 4 and MD-2 effects. Brain Behav Immun 24(1):83–95

11.

Stevens CW, Aravind S, Das S, et al. (2013) Pharmacological characterization of LPS and opioid interactions at the toll-like receptor 4. Br J Pharmacol 168(6):1421–1429

12.

Eidson LN, Murphy AZ (2013) Blockade of toll-like receptor 4 attenuates morphine tolerance and facilitates the pain relieving properties of morphine. J Neurosci 33(40):15952–15963

13.

Husebye H, Halaas Ø, Stenmark H, et al. (2006) Endocytic pathways regulate toll-like receptor 4 signaling and link innate and adaptive immunity. EMBO J 25(4):683–692

14.

Inoue K (2008) Purinergic systems in microglia. Cell Mol Life Sci 65(19):3074–3080

15.

Weber FC, Esser PR, Müller T, et al. (2010) Lack of the purinergic receptor P2X7 results in resistance to contact hypersensitivity. J Exp Med 207(12):2609–2619

16.

Humphreys BD, Dubyak GR (1998) Modulation of P2X7 nucleotide receptor expression by pro-and anti-inflammatory stimuli in THP-1 monocytes. J Leukoc Biol 64(2):265–273

17.

Ma W, Korngreen A, Weil S, et al. (2006) Pore properties and pharmacological features of the P2X receptor channel in airway ciliated cells. J Physiol 571(Pt 3):503–517

18.

Qureshi OS, Paramasivam A, Jowie CH, et al. (2007) Regulation of P2X4 receptors by lysosomal targeting, glycan protection and exocytosis. J Cell Sci 120(Pt 21):3838–3849

19.

Horvath RJ, DeLeo JA (2009) Morphine enhances microglial migration through modulation of P2X4 receptor signaling. J Neurosci 29(4):998–1005

20.

Ferrini F, Trang T, Mattioli T, et al. (2013) Morphine hyperalgesia gated through microglia-mediated disruption of neuronal Cl-homeostasis. Nat Neurosci 16(2):183–192

21.

Tsuda M, Shigemoto-Mogami Y, Koizumi S, et al. (2003) P2X4 receptors induced in spinal microglia gate tactile allodynia after nerve injury. Nature 424(6950):778–783

22.

Hutchinson MR, Shavit Y, Grace PM, et al. (2011) Exploring the neuroimmunopharmacology of opioids: an integrative review of mechanisms of central immune signaling and their implications for opioid analgesia. Pharmacol Rev 63(3):772–810

23.

Watkins LR, Milligan ED, Maier SF (2003) Glial proinflammatory cytokines mediate exaggerated pain states: implications for clinical pain. Adv Exp Med Biol 521:1–21

24.

Wolf G, Gabay E, Tal M, et al. (2006) Genetic impairment of interleukin-1 signaling attenuates neuropathic pain, autotomy, and spontaneous ectopic neuronal activity, following nerve injury in mice. Pain 120(3):315–324

25.

Hebrew University of Jerusalem. How morphine can be given more effectively without having to increase dosages. Science Daily 2008; April 28.

26.

Shavit Y, Wolf G, Goshen I, et al. (2005) Interleukin-1 antagonizes morphine analgesia and underlies morphine tolerance. Pain 115(1–2):50–59

27.

Bauernfeind F, Ablasser A, Bartok E, et al. (2011) Inflammasomes: current understanding and open questions. Cell Mol Life Sci 68(5):765–783

28.

Schäfers M, Svensson CI, Sommer C, Sorkin LS (2003) Tumor necrosis factor-a induces mechanical allodynia after spinal nerve ligation by activation of p38 MAPK in primary sensory neurons. J Neurosci 23(7):2517–2521

29.

Perregaux D, Gabel CA (1994) Interleukin-1 beta maturation and release in response to ATP and nigericin. Evidence that potassium depletion mediated by these agents is a necessary and common feature of their activity. J Biol Chem 269(21):15195–15203

30.

Ferrari D, Chiozzi P, Falzoni S, et al. (1997) Purinergic modulation of interleukin-1 beta release from microglial cells stimulated with bacterial endotoxin. J Exp Med 185(3):579–582

31.

Brough D, Le Feuvre RA, Iwakura Y, et al. (2002) Purinergic (P2X7) receptor activation of microglia induces cell death via an interleukin-1-independent mechanism. Mol Cell Neurosci 19(2):272–280

32.

Burnstock G (2007) Physiology and pathophysiology of purinergic neurotransmission. Physiol Rev 87(2):659–797

33.

Inoue K, Tsuda M (2009) Microglia and neuropathic pain. Glia 57(14):1469–1479

34.

Burnstock G (2009) Purinergic receptors and pain. Curr Pharmaceut Design 15:1717–1735

35.

Cunha TM, Verri WA Jr, Silva JS, et al. (2005) A cascade of cytokines mediates mechanical inflammatory hypernociception in mice. Proc Natl Acad Sci U S A 102(5):1755–1760

36.

de Rivero Vaccari JP, Bastien D, Yurcisin G, et al. (2012) P2X4 receptors influence inflammasome activation after spinal cord injury. J Neurosci 32(9):3058–3066

37.

Schwiebert LM, Rice WC, Kudlow BA, et al. (2002) Extracellular ATP signaling and P2X nucleotide receptors in monolayers of primary human vascular endothelial cells. Am J Physiol Cell Physiol 282(2):C289–C301

38.

Ferrari D, Chiozzi P, Falzoni S, et al. (1997) Extracellular ATP triggers IL-1 beta release by activating the purinergic P2Z receptor of human macrophages. J Immunol 159(3):1451–1458

39.

Chessell IP, Hatcher JP, Bountra C, et al. (2005) Disruption of the P2X7 purinoceptor gene abolishes chronic inflammatory and neuropathic pain. Pain 114(3):386–396

40.

Hanisch UK, Kettenmann H (2007) Microglia: active sensor and versatile effector cells in the normal and pathologic brain. Nat Neurosci 10(11):1387–1394

41.

Biber K, Neumann H, Inoue K, et al. (2007) Neuronal 'on' and 'off' signals control microglia. Trends Neurosci 30(11):596–602

42.

Waage A, Brandtzaeg P, Halstensen A, et al. (1989) The complex pattern of cytokines in serum from patients with meningococcal septic shock. Association between interleukin 6, interleukin 1, and fatal outcome. J Exp Med 169(1):333–338

43.

Thieblemont N, Wright SD (1999) Transport of bacterial lipopolysaccharide to the Golgi apparatus. J Exp Med 190(4):523–534

44.

Latz E, Visintin A, Lien E, et al. (2002) Lipopolysaccharide rapidly traffics to and from the Golgi apparatus with the toll-like receptor 4-MD-2-CD14 complex in a process that is distinct from the initiation of signal transduction. J Biol Chem 277(49):47834–47843

45.

Toulme E, Garcia A, Samways D, et al. (2010) P2X4 receptors in activated C8-B4 cells of cerebellar microglial origin. J Gen Physiol 135(4):333–353

46.

Toulme E, Soto F, Garret M, et al. (2006) Functional properties of internalization-deficient P2X4 receptors reveal a novel mechanism of ligand-gated channel facilitation by ivermectin. Mol Pharmacol 69(2):576–587

47.

Li S, Carolyn L, Christian S (2011) Deletion of the murine scavenger receptor CD68. J Lipid Res 52(8):1542–1550
Acknowledgments
The authors' work is supported by grants from the Affiliated Hospital of Qingdao University. We are grateful to Zejun Niu and Zhiqiang Qu for their technical assistance.
Ethics declarations
Conflict of interest
The authors declare that they have no competing interests. The authors alone are responsible for the content and writing of this paper. This study was partially supported by the Qingdao University.
Ethical approval
The experimental protocols were approved by the Animal Care and Protection Committee of Qingdao University. Our use of animals conformed to our Institution's and Country's animal welfare laws and our studies were approved.
About this article
Cite this article
Liang, Y., Chu, H., Jiang, Y. et al. Morphine enhances IL-1β release through toll-like receptor 4-mediated endocytic pathway in microglia. Purinergic Signalling 12, 637–645 (2016). https://doi.org/10.1007/s11302-016-9525-4
Received:

Accepted:

Published:

Issue Date:
Keywords
Morphine

Microglia

Toll-like receptor 4

P2X4 receptors

Interleukin-1β