Abstract
The relative importance of ATP as a functional sympathetic neurotransmitter in blood vessels has been shown to be increased when the level of preexisting vascular tone or pressure is increased, in studies carried out in rat mesenteric arteries. The aim of the present study was to determine whether tone influences the involvement of ATP as a sympathetic cotransmitter with noradrenaline in another species. We used the porcine perfused mesenteric arterial bed and porcine mesenteric large, medium and small arteries mounted for isometric tension recording, because purinergic cotransmission can vary depending on the size of the blood vessel. In the perfused mesenteric bed at basal tone, sympathetic neurogenic vasocontractile responses were abolished by prazosin, an α1-adrenoceptor antagonist, but there was no significant effect of α,β-methylene ATP, a P2X receptor-desensitizing agent. Submaximal precontraction of the mesenteric arterial bed with U46619, a thromboxane A2 mimetic, augmented the sympathetic neurogenic vasocontractile responses; under these conditions, both α,β-methylene ATP and prazosin attenuated the neurogenic responses. In the mesenteric large, medium and small arteries, prazosin attenuated the sympathetic neurogenic contractile responses under conditions of both basal and U46619-raised tone. α,β-Methylene ATP was effective in all of these arteries only under conditions of U46619-induced tone, causing a similar inhibition in all arteries, but had no significant effect on sympathetic neurogenic contractions at basal tone. These data show that ATP is a cotransmitter with noradrenaline in porcine mesenteric arteries; the purinergic component was revealed under conditions of partial precontraction, which is more relevant to physiological conditions.
This is a preview of subscription content, log in to check access.
Access options
Buy single article
Instant access to the full article PDF.
US$ 39.95
Price includes VAT for USA
Subscribe to journal
Immediate online access to all issues from 2019. Subscription will auto renew annually.
US$ 99
This is the net price. Taxes to be calculated in checkout.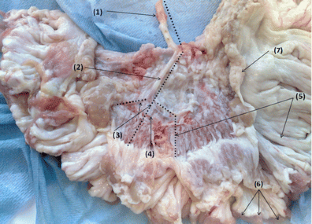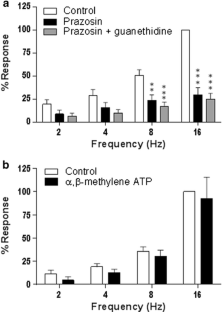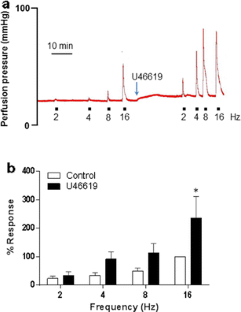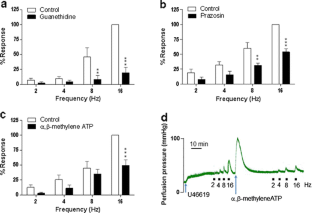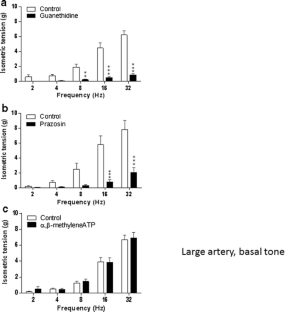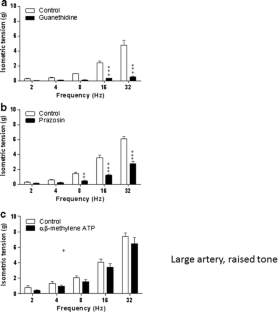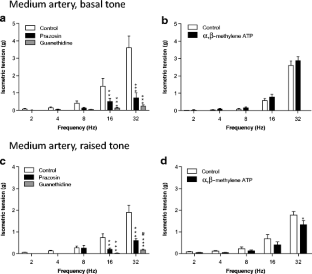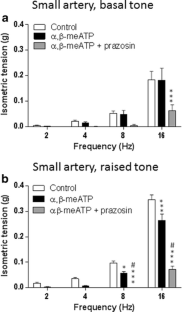 References
1.

Bhattacharya B, Roberts RE (2003) Enhancement of α2-adrenoceptor-mediated vasoconstriction by the thromboxane-mimetic U46619 in the porcine isolated ear artery: role of the ERK–MAP kinase signal transduction cascade. Br J Pharmacol 139:156–162

2.

Burnstock G (1975) Innervation of vascular smooth muscle: histochemistry and electron microscopy. Clin Exp Pharmacol Physiol Suppl 2:7–20

3.

Burnstock G (1990) Co-transmission. The fifth Heymans memorial lecture. Arch Int Pharmacodyn Ther 304:7–33

4.

Burnstock G, Kennedy C (1986) Purinergic receptors in the cardiovascular system. Prog Pharmacol 6:111–132

5.

Burnstock G, Ralevic V (2014) Purinergic signalling and blood vessels in health and disease. Pharmacol Rev 66(1):102–192

6.

Crane GJ, Garland CJ (2004) Thromboxane receptor stimulation associated with loss of SKCa activity and reduced EDHF responses in the rat isolated mesenteric artery. Br J Pharmacol 142:43–50

7.

Donoso MV, Steiner M, Huidobro-Toro JP (1997) BIBP 3226, suramin and prazosin identify neuropeptide Y, adenosine 5′-triphosphate and noradrenaline as sympathetic cotransmitters in the rat arterial mesenteric bed. J Pharmacol Exp Ther 282:691–698

8.

Eikenburg DC (1984) Functional characterization of the pre- and postjunctional alpha-adrenoceptors in the in situ perfused rat mesenteric vascular bed. Eur J Pharmacol 105:161–165

9.

Gitterman DP, Evans RJ (2001) Nerve evoked P2X receptor contractions of rat mesenteric arteries; dependence on vessel size and lack of L-type calcium channels and calcium-induced calcium release. Br J Pharmacol 132:1202–1208

10.

Inscho EW, Cook AK, Webb RC, Jin L-M (2009) Rho-kinase inhibition reduces pressure-mediated autoregulatory adjustments in afferent arteriolar diameter. Am J Physiol 296:F590–F597

11.

Kong JQ, Taylor DA, Fleming WW (1994) Functional distribution and role of alpha1 adrenoceptor subtypes in the mesenteric vasculature of the rat. J Pharmacol Exp Ther 268:1153–1159

12.

Lewis CJ, Evans RJ (2001) P2x receptor immunoreactivity in different arteries from the femoral, pulmonary, cerebral, coronary and renal circulations. J Vasc Res 38(4):332–340

13.

Malpas SC (2010) Sympathetic nervous system overactivity and its role in the development of cardiovascular disease. Physiol Rev 90(2):513–557

14.

McGregor DD (1965) The effect of sympathetic nerve stimulation on vasoconstrictor responses in perfused mesenteric blood vessels of the rat. J Physiol 177:21–30

15.

Montano N, Furlan R, Guzzetti S, McAllen RM, Claude J (2009) Analysis of sympathetic neural discharge in rats and humans. Phil Trans R Soc A 367:1265–1282

16.

Mulvany MJ, Halpern W (1977) Contractile properties of small arterial resistance arteries in spontaneously hypertensive and normotensive rats. Circ Res 41:19–26

17.

North RA (2002) Molecular physiology of P2X receptors. Physiol Rev 82:1013–1067

18.

Pakdeechote P, Rummery NM, Ralevic V, Dunn WR (2007) Raised tone reveals purinergic-mediated responses to sympathetic nerve stimulation in the rat perfused mesenteric vascular bed. Eur J Pharmacol 563:180–186

19.

Ralevic V, Burnstock G (1998) Receptors for purines and pyrimidines. Pharmacol Rev 50:413–492

20.

Rummery NM, Brock JA, Pakdeechote P, Ralevic V, Dunn WR (2007) ATP is the predominant sympathetic neurotransmitter in rat mesenteric arteries at high pressure. J Physiol 582(2):745–754

21.

Roberts RE (2012) Pre-contraction with the thromboxane-mimetic U46619 enhances P2X receptor-mediated contractions in isolated porcine splenic artery. Purinergic Signal 8(2):287–293

22.

Roberts JA, Vial C, Digby HR, Agboh KC, Wen H, Atterbury-Thomas A, Evans RJ (2006) Molecular properties of P2X receptors. Pflugers Arch – EurJ Physiol 542:486–500

23.

Rubanyi GM, Polokoff MA (1994) Endothelins: molecular biology, biochemistry, pharmacology, physiology, and pathophysiology. Pharmacol Rev 46:325–415

24.

Saul A, Haunmann R, Kless A, Nicke A (2013) Heteromeric assembly of P2X subunits. Front Cell Neurosci 7:1–20

25.

Shatarat A, Dunn WR, Ralevic V (2009) Sympathetic cotransmission of noradrenaline and adenosine triphosphate (ATP) in porcine mesenteric arteries. Winter Meeting, London UK, British Pharmacological Society, pa2online.org/abstracts/Vol7Issue4abstr031P.pdf

26.

Shatarat A. Dunn WR, Ralevic V (2010) Pre-constriction increases nerve-mediated responses in rat pressurised mesenteric arteries. Winter Meeting, London UK, British Pharmacological Sciety, pa2online.org/abstracts/Vol8Issue1abstr002P.pdf

27.

Shatarat A, Dunn WR, Ralevic V (2010) ATP acts as a functional sympathetic neurotransmitter in the porcine perfused mesentery after raising tone. Purinergic Signal 7(1):158

28.

Shaw L, O'Neill S, Jones CJ, Austin C, Taggart MJ (2004) Comparison of U46619-, endothelin-1 or phenylephrine-induced changes in cellular Ca2+ profiles and Ca2+ sensitisation of constriction of pressurised rat resistance arteries. Br J Pharmacol 141:678–688

29.

Swindle MM, Makin A, Herron AJ, Clubb FJ, Frazier KS (2011) Swine as models in biomedical research and toxicology testing. Vet Pathol 49(2):344–356

30.

Tabuchi Y, Nakamura M, Rakugi H, Nagano M, Higashimori K, Mikama H, Ogihara T (1990) Effects of endothelin on neuroeffector junction in mesenteric arteries of hypertensive rats. Hypertension 15:739–743

31.

Van RC, Vigne P, Barhanin J, Schmid-Alliana A, Frelin C, Lazdunski M (1988) Molecular mechanism of action of the vasoconstrictor peptide endothelin. Biochem Biophys Res Commun 157:977–985

32.

Vial C, Evans RJ (2002) Receptor-deficient mice establish the native P2X receptor and a P2Y6-like receptor in arteries. Mol Pharmacol 62(6):1438–1445

33.

Williams TJ, Clarke DE (1995) Characterization of alpha 1-adrenoceptors mediating vasoconstriction to noradrenaline and nerve stimulation in the isolated perfused mesentery of rat. Br J Pharmacol 114:531–536

34.

Yeoh M, Brock JA (2005) Rho kinase inhibitors reduce neurally evoked contraction of the rat tail artery in vitro. Br J Pharmacol 146:854–861
Acknowledgments
The support of the University of Jordan is gratefully acknowledged.
About this article
Cite this article
Shatarat, A., Dunn, W.R. & Ralevic, V. Raised tone reveals ATP as a sympathetic neurotransmitter in the porcine mesenteric arterial bed. Purinergic Signalling 10, 639–649 (2014). https://doi.org/10.1007/s11302-014-9426-3
Received:

Accepted:

Published:

Issue Date:
Keywords
ATP

Cotransmission

Noradrenaline

P2X receptor

Porcine mesenteric arteries

Sympathetic nerves