Zusammenfassung
Die periphere arterielle Verschlusskrankheit (PAVK) stellt aufgrund der demographischen Entwicklung eine der häufigsten Erkrankungen v. a. in westlichen Industrienationen dar. In den letzten Jahren hat sich der Trend zur überwiegend endovaskulären Revaskularisation weiter fortgesetzt. Aufgrund der hohen Erfolgsrate und geringen Komplikationsquote ist die interventionelle Therapie in den weit überwiegenden Fällen die Methode der Wahl. Die Behandlungsstrategie sollte interdisziplinär abgestimmt werden und idealerweise innerhalb von Gefäßzentren erfolgen. Das wesentliche Problem bei Interventionen ist das Auftreten von Restenosen, insbesondere bei infrapoplitealen Läsionen. Einen deutlichen Fortschritt stellen medikamentenbeschichtete Ballonkatheter dar, die in der femoropoplitealen Strombahn die Notwendigkeit für Reinterventionen drastisch reduzieren konnten. Eine sinnvolle Behandlungsalternative könnte der Einsatz von Kombinationstherapien, wie eine Plaqueentfernung mit anschließender Verwendung von medikamentenbeschichteten Ballons, sein.
This is a preview of subscription content, log in to check access.
Access options
Buy single article
Instant access to the full article PDF.
US$ 39.95
Price includes VAT for USA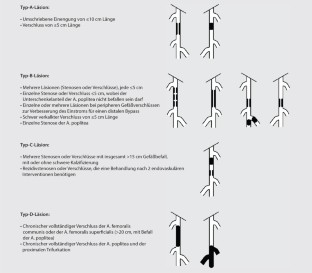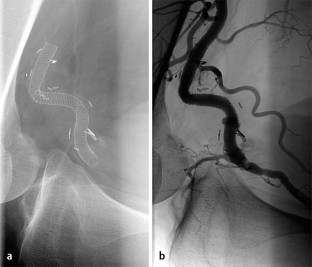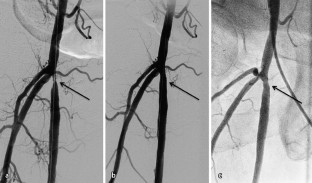 Literatur
1.

Kroger K, Stang A, Kondratieva J, Moebus S et al (2006) Prevalence of peripheral arterial diesase - results of the Heinz Nixdorf recall study. Eur J Epidemiol 21:279–285

2.

Sigvant B, Wiberg-Hedman K, Bergqvist D, Rolandsson O et al (2007) A population-based study of peripheral arterial disease prevalence with special focus on critical limb ischemia and sex differences. J Vasc Surg 45:1185–1191

3.

Ingolfsson IO, Sigurdsson G, Sigvaldason H, Thorgeirsson G et al (1994) A marked decline in the prevalence and incidence of intermittent claudication in Icelandic men 1968-1986: a strong relationship to smoking and serum cholesterol - the Reykjavik Study. J Clin Epidemiol 47:1237–1243

4.

European Stroke Organisation, Tendera M, Aboyans V, Bartelink ML, Baumgartner I et al (2011) ESC Guidelines on the diagnosis and treatment of peripheral artery diseases: document covering atherosclerotic disease of extracranial carotid and vertebral, mesenteric, renal, upper and lower extremity arteries: the task force on the diagnosis and treatment of peripheral artery diseases of the european society of cardiology (ESC). Eur Heart J 32:2851–2906

5.

Watson L, Ellis B, Leng GC (2008) Exercise for intermittent claudication. Cochrane Database Syst Rev 4:CD000990

6.

Momsen AH, Jensen MB, Norager CB, Madsen MR et al (2009) Drug therapy for improving walking distance in intermittent claudication: a systematic review and meta-analysis of robust randomised controlled studies. Eur J Vasc Endovasc Surg 38:463–474

7.

De Backer TL, Vander Stichele R, Lehert P, Van Bortel L (2012) Naftidrofuryl for intermittent claudication. Cochrane Database Syst Rev 12:CD001368PubMed

8.

Ruffolo AJ, Romano M, Ciapponi A (2010) Prostanoids for critical limb ischaemia. Cochrane Database Syst Rev 1:CD006544

9.

Spronk S, Bosch JL, den Hoed PT, Veen HF et al (2009) Intermittent claudication: clinical effectiveness of endovascular revascularization versus supervised hospital-based exercise training - randomized controlled trial. Radiology 250:586–595

10.

Kedora J, Hohmann S, Garrett W, Munschaur C et al (2007) Randomized comparison of percutaneous Viabahn stent grafts vs prosthetic femoral-popliteal bypass in the treatment of superficial femoral arterial occlusive disease. J Vasc Surg 45:10–16

11.

Norgren L, Hiatt WR, Dormandy JA, Nehler MR et al (2007) Inter-society consensus for the management of peripheral arterial disease (TASC II). J Vasc Surg 45:S5–S67

12.

Bosch JL, Hunink MG (1997) Meta-analysis of the results of percutaneous transluminal angioplasty and stent placement for aortoiliac occlusive disease. Radiology 204:87–96

13.

Grenacher L, Rohde S, Ganger E, Deutsch J et al (2006) In vitro comparison of self-expanding versus balloon-expandable stents in a human ex vivo model. Cardiovasc Intervent Radiol 29:249–254

14.

Schillinger M, Sabeti S, Dick P, Amighi J et al (2007) Sustained benefit at 2 years of primary femoropopliteal stenting compared with balloon angioplasty with optional stenting. Circulation 115:2745–2749

15.

Dick P, Wallner H, Sabeti S, Loewe C et al (2009) Balloon angioplasty versus stenting with nitinol stents in intermediate length superficial femoral artery lesions. Catheter Cardiovasc Interv 74:1090–1095

16.

Rastan A, Krankenberg H, Baumgartner I, Blessing E et al (2013) Stent placement versus balloon angioplasty for the treatment of obstructive lesions of the popliteal artery: a prospective, multicenter, randomized trial. Circulation 127:2535–2541

17.

Rastan A, Krankenberg H, Baumgartner I, Blessing E et al (2015) Stent placement vs. balloon angioplasty for popliteal artery treatment: two-year results of a prospective, multicenter, randomized trial. J Endovasc Ther 22:22–27

18.

Scheinert D, Grummt L, Piorkowski M, Sax J et al (2011) A novel self-expanding interwoven nitinol stent for complex femoropopliteal lesions: 24-month results of the SUPERA SFA registry. J Endovasc Ther 18:745–752

19.

Scheinert D, Werner M, Scheinert S, Paetzold A et al (2013) Treatment of complex atherosclerotic popliteal artery disease with a new self-expanding interwoven nitinol stent: 12-month results of the Leipzig SUPERA popliteal artery stent registry. JACC Cardiovasc Interv 6:65–71

20.

Garcia L, Jaff MR, Metzger C, Sedillo G et al (2015) Wire-Interwoven Nitinol Stent outcome in the superficial femoral and proximal popliteal arteries: twelve-month results of the SUPERB trial. Circ Cardiovasc Interv 8:pii:e000937

21.

Duda SH, Bosiers M, Lammer J, Scheinert D et al (2006) Drug-eluting and bare nitinol stents for the treatment of atherosclerotic lesions in the superficial femoral artery: long-term results from the SIROCCO trial. J Endovasc Ther 13:701–710

22.

Dake MD, Ansel GM, Jaff MR, Ohki T et al (2011) Paclitaxel-eluting stents show superiority to balloon angioplasty and bare metal stents in femoropopliteal disease: twelve-month Zilver PTX randomized study results. Circ Cardiovasc Interv 4:495–504

23.

Dake MD, Ansel GM, Jaff MR, Ohki T et al (2013) Sustained safety and effectiveness of paclitaxel-eluting stents for femoropopliteal lesions: 2-year follow-up from the Zilver PTX randomized and single-arm clinical studies. J Am Coll Cardiol 61:2417–2427

24.

Tepe G, Zeller T, Albrecht T, Heller S et al (2008) Local delivery of paclitaxel to inhibit restenosis during angioplasty of the leg. N Engl J Med 358:689–699

25.

Werk M, Langner S, Reinkensmeier B, Boettcher HF et al (2008) Inhibition of restenosis in femoropopliteal arteries: paclitaxel-coated versus uncoated balloon: femoral paclitaxel randomized pilot trial. Circulation 118:1358–1365CrossRefPubMed

26.

Scheinert D (2010) LEVANT I Trial 6-month results - A comparison of the Moxy™ drug coated balloon catheter vs standard PTA for femoropopliteal disease. Transcatheter Cardiovascular Therapeutics Congress, 2010 September, Washington, DC 2010; Oral presentation. http://www.tctmd.com/show.aspx?id=102034

27.

Werk M, Albrecht T, Meyer DR, Stiepani H et al (2011) The PACIFIER trial. A randomized multicenter trial evaluating prevention of restenosis with paclitaxel-coated PTA balloon catheters in stenosis or occlusion of femoropopliteal arteries. Cardiovascular and Interventional Radiological Society of Europe Congress, 2011 September, Munich 2011; Oral presentation. http://www.esir.org/cslide/library/esir/mylibrary/authors/W/M.+Werk

28.

Rosenfield K, Jaff MR, White CJ, Rocha-Singh K et al (2015) Trial of a paclitaxel-coated balloon for femoropopliteal artery disease. N Engl J Med 373:145–153

29.

Tepe G, Laird J, Schneider P, Brodmann M et al (2015) Drug-coated balloon versus standard percutaneous transluminal angioplasty for the treatment of superficial femoral and popliteal peripheral artery disease. 12-month results from the IN.PACT SFA randomized trial. Circulation 131:495–502

30.

Cassese S, Byrne RA, Ott I, Ndrepepa G et al (2012) Paclitaxel-coated versus uncoated balloon angioplasty reduces target lesion revascularization in patients with femoropopliteal arterial disease: a meta-analysis of randomized trials. Circ Cardiovasc Interv 5:582–589

31.

Tepe G (2011) 5 year thunder follow up: patients with pad treated with uncoated versus paccocath paclitaxel coated balloons. JACC 58(Suppl B):B151–B151

32.

Liistro F, Grotti S, Porto I, Angioli P et al (2013) Drug-eluting balloon in peripheral intervention for the superficial femoral artery: the DEBATE-SFA randomized trial (drug eluting balloon in peripheral intervention for the superficial femoral artery). JACC Cardiovasc Interv 6:1295–1302

33.

Diehm N, Schneider H (2013) Cost-effectiveness analysis of paclitaxel-coated balloons for endovascular therapy of femoropopliteal arterial obstructions. J Endovasc Ther 20:819–825

34.

Mc Kinsey JF, Zeller T, Rocha-Singh KH, Jaff MR et al (2014) Lower extremity revascularization using directional atherectomy: 12-month prospective results of the DEFINITIVE LE study. JACC Cardiovasc Interv 7:923–933

35.

McKinsey JF, Goldstein L, Khan HU, Graham A et al (2008) Novel treatment of patients with lower extremity ischemia: use of percutaneous atherectomy in 579 lesions. Ann Surg 248:519–528

36.

Zeller T, Rastan A, Sixt S, Schwarzwälder U et al (2006) Long-term results after directional atherectomy of femoro-popliteal lesions. J Am Coll Cardiol 48:1573–1578

37.

Garcia LA, Jaff MR, Rocha-Singh KJ, Zeller T et al (2015) A comparison of clinical outcomes for diabetic and nondiabetic patients following directional atherectomy in the DEFINITIVE LE Claudicant cohort. J Endovasc Ther. pii:1526602815599550. (Epub ahead of print) doi:10.1177/1526602815599550

38.

Sixt S, Carpio Cancino OG, Treszl A, Beschorner U et al (2013) Drug-coated balloon angioplasty after directional atherectomy improves outcome in restenotic femoropopliteal arteries. J Vasc Surg 58:682–686

39.

Lammer J, Zeller T, Hausegger KA, Schaefer PJ et al (2013) Heparin-bonded covered stents versus bare-metal stents for complex femoropopliteal artery lesions: the randomized VIASTAR trial (Viabahn endoprosthesis with PROPATEN bioactive surface [VIA] versus bare nitinol stent in the treatment of long lesions in superficial femoral artery occlusive disease). J Am Coll Cardiol 62:1320–1327

40.

Serruys PW, Onuma Y, Dudek D, Smits PC et al (2011) Evaluation of the second generation of a bioresorbable everolimus-eluting vascular scaffold for the treatment of de novo coronary artery stenosis: 12-month clinical and imaging outcomes. J Am Coll Cardiol 58:1578–1588

41.

Adam DJ, Beard JD, Cleveland T, Bell J et al (2005) Bypass versus angioplasty in severe ischaemia of the leg (BASIL): multicentre, randomised controlled trial. Lancet 366:1925–1934

42.

Iida O, Nanto S, Uematsu M, Ikeoka K et al (2010) Importance of the angiosome concept for endovascular therapy in patients with critical limb ischemia. Catheter Cardiovasc Interv 75:830–836

43.

Fusaro M, Cassese S, Ndrepepa G, Tepe G et al (2013) Drug-eluting stents for revascularization of infrapopliteal arteries: updated meta-analysis of randomized trials. JACC Cardiovasc Interv 6:1284–1293

44.

Schmidt A, Piorkowski M, Werner M, Ulrich M et al (2011) First experience with drug-eluting balloons in infrapopliteal arteries: restenosis rate and clinical outcome. J Am Coll Cardiol 58:1105–1109

45.

Zeller T, Baumgartner I, Scheinert D, Brodmann M et al (2014) Drug-eluting balloon versus standard balloon angioplasty for intrapopliteal arterial revascularization in critical limb ischemia: 12-month results from IN.PACT DEEP randomized trial. J Am Coll Cardiol 64:1568–1576

46.

Baigent C, Blackwell L, Collins R, Emberson J et al (2009) Aspirin in the primary and secondary prevention of vascular disease: collaborative meta-analysis of individual participant data from randomized trials. Lancet 373:1849–1860

47.

CAPRIE Steering Committee (1996) A randomised, blinded, trial of clopidogrel versus aspirin in patients at risk of ischaemic events (CAPRIE). Lancet 348:1329–1339

48.

Brown J, Lethaby A, Maxwell H, Wawrzyniak AJ et al (2008) Antiplatelet agents for preventing thrombosis after peripheral bypass surgery. Cochrane Database Syst Rev 4:CD000535

49.

No authors (2000) Efficacy of oral anticoagulants compared with aspirin after infrainguinal bypass surgery (The Dutch Bypass Oral Anticoagulants or Aspirin Study): a randomised trial. Lancet 355:346-351

50.

Johnson WC, Williford WO, Department of Veterans Affairs Cooperative Study #362 (2002) Benefits, morbidity, and mortality associated with long-term administration of oral anticoagulant therapy to patients with peripheral arterial bypass procedures: a prospective randomized study. J Vasc Surg 35:413–421

51.

Sarac TP, Huber TS, Back MR, Ozaki CK et al (1998) Warfarin improves the outcome of infrainguinal vein bypass grafting at high risk for failure. J Vasc Surg 28:446–457
Additional information
Interessenkonflikt
Die Autoren erklären, dass sie sich bei der Erstellung des Beitrags von keinen wirtschaftlichen Interessen leiten ließen. Die Autoren legen folgende potenzielle Interessenkonflikte offen: keine.
Der Verlag erklärt, dass die inhaltliche Qualität des Beitrags von zwei unabhängigen Gutachtern geprüft wurde. Werbung in dieser Zeitschriftenausgabe hat keinen Bezug zur CME-Fortbildung. Der Verlag garantiert, dass die CME-Fortbildung sowie die CME-Fragen frei sind von werblichen Aussagen und keinerlei Produktempfehlungen enthalten. Dies gilt insbesondere für Präparate, die zur Therapie des dargestellten Krankheitsbildes geeignet sind.
About this article
Cite this article
Blessing, E. Update periphere arterielle Verschlusskrankheit. CME 13, 9–19 (2016). https://doi.org/10.1007/s11298-016-5546-0
Schlüsselwörter
Atherosklerose

Claudicatio intermittens

Ischämie

Präventivmaßnahmen

Koronare Intervention