Zusammenfassung
Malaria ist die bedeutsamste Infektionskrankheit, die Reisende oder Migranten aus den Tropen und Subtropen importieren können. Dies geschieht häufig. Eine Malaria kann tödlich verlaufen, und zwar innerhalb kurzer Zeit. Die Klinik ist uncharakteristisch. Daher sollte bei jedem Patienten mit unklarem Fieber nach Auslandsaufenthalten gefragt und ggf. eine sofortige parasitologische Diagnostik veranlasst werden. Eine unkomplizierte Malaria tropica sollte stationär behandelt werden, ­entweder mit Atovaquon/Proguanil oder mit einem Artemisinin-Kombinations­präparat. Liegt eine schwere Malaria vor, muss der Patient auf eine Intensivstation verlegt werden. Antiparasitäres Mittel der Wahl ist dann Artesunat.
This is a preview of subscription content, log in to check access.
Access options
Buy single article
Instant access to the full article PDF.
US$ 39.95
Price includes VAT for USA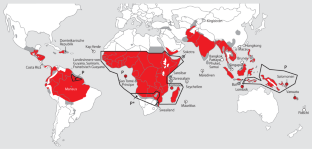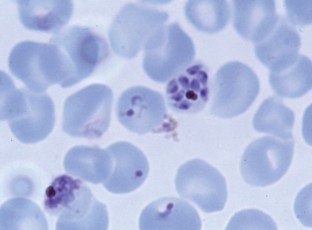 Literatur
[1]

Carter R, Mendis KN (2002) Evolutionary and historical aspects of the burden of malaria. Clin Microbiol Rev 15:564–594

[2]

WHO (2013) World Malaria Report, 11. December 2013. WHO, Geneva

[3]

Packard RM (2007) The making of a tropical disease–a short history of malaria. The John Hopkins University Press, Baltimore

[4]

Leder K, Torresi J, Libman MD et al (2013) GeoSentinel surveillance of illness in returned travelers, 2007–2011. Ann Intern Med 158:456–468

[5]

White NJ, Pukrittayakamee S, Hien TT et al (2014) Malaria. Lancet 383:723–735

[6]

Taylor SM, Cerami C, Fairhurst RM (2013) Hemoglobinopathies: slicing the Gordian knot of Plasmodium falciparum malaria pathogenesis. PLoS Pathog 9:e1003327

[7]

Santos LC, Abreu CF, Xerinda SM et al (2012) Severe imported malaria in an intensive care unit: a review of 59 cases. Malar J 11:96

[8]

Marks ME, Armstrong M, Suvari MM et al (2013) Severe imported falciparum malaria among adults requiring intensive care: a retrospective study at the hospital for tropical diseases, London. BMC Infect Dis 13:118

[9]

Checkley AM, Smith A, Smith V et al (2012) Risk factors for mortality from imported falciparum malaria in the United Kingdom over 20 years: an observational study. BMJ 344:e2116

[10]

Christen D, Steffen R, Schlagenhauf P (2006) Deaths caused by malaria in Switzerland 1988–2002. Am J Trop Med Hyg 75:1188–1194

[11]

Rossi IA, D'Acremont V, Prod'Hom G, Genton B (2012) Safety of falciparum malaria diagnostic strategy based on rapid diagnostic tests in returning travellers and migrants: a retrospective study. Malar J 11:377

[12]

D'Acremont V, Landry P, Mueller I et al (2002) Clinical and laboratory predictors of imported malaria in an outpatient setting: an aid to medical decision making in returning travelers with fever. Am J Trop Med Hyg 66:481–486

[13]

Hanson JP, Lam SW, Mohanty S et al (2013) Fluid resuscitation of adults with severe falciparum malaria: effects on acid-base status, renal function, and extravascular lung water. Crit Care Med 41:972–981

[14]

Salzberger B, Hanses F, Birkenfeld G, Langgartner J (2013) Schwere Infektionen. Ursachen und Management von Sepsis. Internist 54:925–935

[15]

Shanks GD, White NJ (2013) The activation of vivax malaria hypnozoites by infectious diseases. Lancet Infect Dis 13:900–906

[16]

Singh B, Daneshvar C (2013) Human infections and detection of Plasmodium knowlesi. Clin Microbiol Rev 26:165–184

[17]

Wagner-Jauregg J (1918) Über die Einwirkung der Malaria auf die progressive Paralyse. Psychiatr Neurol Wochenschr 20:132–134
Additional information
Interessenkonflikt
G.D. Burchard gibt an, dass kein Interessenkonflikt besteht.
About this article
Cite this article
Burchard, G.D. Malaria. CME 11, 57–65 (2014). https://doi.org/10.1007/s11298-014-1204-6
Schlüsselwörter
Malaria

Malaria tropica

Plasmodium falciparum

Malariaschnelltest

Malariaprophylaxe