Abstract
During Quaternary glaciations, the ranges of Northern Eurasia forest species periodically experienced contraction followed by subsequent re-colonizations in the interglacial intervals. However, unlike the broadleaf trees of temperate forests, taiga species seem not to have retreated fully to southern regions in unfavorable periods and possibly survived at mid-latitudes in multiple refugia. Here, we report a study of genetic variation of three mitochondrial DNA markers in 90 populations of Scots pine (Pinus sylvestris) located from Eastern Europe to Eastern Siberia. The geographic distribution of seven mitotypes demonstrated the split between western and eastern populations approximately along the 38th meridian. Genetic diversity in the western part was significantly higher than in the eastern one. Five mitotypes were western- and one eastern-specific. One mitotype was common in both regions, but in the eastern part it occurred only in the South Urals and adjacent areas. The geographic structure in the mitotype distribution supports a hypothesis of post-glacial re-colonization of the studied territory from the European and Ural refugia.
This is a preview of subscription content, log in to check access.
Access options
Buy single article
Instant access to the full article PDF.
US$ 39.95
Price includes VAT for USA
Subscribe to journal
Immediate online access to all issues from 2019. Subscription will auto renew annually.
US$ 99
This is the net price. Taxes to be calculated in checkout.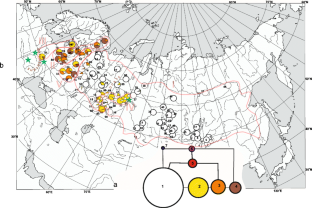 References
Bandelt H-J, Forster P, Rohl A (1999) Median-joining networks for inferring intraspecific phylogenies. Mol Biol Evol 16(1):37–48. https://doi.org/10.1093/oxfordjournals.molbev.a026036

Bernhardsson C, Floran V, Ganea SL, Garcia-Gil MR (2016) Present genetic structure is congruent with the common origin of distant Scots pine populations in its Romanian distribution. For Ecol Manag 361:131–143. https://doi.org/10.1016/j.foreco.2015.10.047

Binney HA, Willis KJ, Edwards ME, Bhagwat SA, Anderson PM, Andreev AA, Blaauw M, Damblon F, Haesaerts P, Kienast F, Kremenetski KV, Krivonogov SK, Lozhkin AV, MacDonald GM, Novenko EY, Oksanen P, Sapelko TV, Valiranta M, Vazhenina L (2009) The distribution of late-quaternary woody taxa in northern Eurasia: evidence from a new macrofossil database. Quat Sci Rev 28(23-24):2445–2464. https://doi.org/10.1016/j.quascirev.2009.04.016

Buchovska J, Danusevicius D, Baniulis D, Stanys V, Siksnianiene JB, Kavaliauskas D (2013) The location of the northern glacial refugium of Scots pine based on mitochondrial DNA markers. Balt For 19:2–12

Burban C, Petit RJ, Carcreff E, Jactel H (1999) Rangewide variation of the maritime pine bast scale Matsucoccus feytaudi Duc. (Homoptera: Matsucoccidae) in relation to the genetic structure of its host. Mol Ecol 8(10):1593–1602. https://doi.org/10.1046/j.1365-294x.1999.00739.x

Cheddadi R, Vendramin GG, Litt T, Francois L, Kageyama M, Lorentz S, Laurent JM, de Beaulieu JL, Sadori L, Jost A, Lunt D (2006) Imprints of glacial refugia in the modern genetic diversity of Pinus sylvestris. Glob Ecol Biogeogr 15(3):271–282. https://doi.org/10.1111/j.1466-822x.2006.00226.x

Dering M, Kosiński P, Wyka TP, Pers−Kamczyc E, Boratyński A, Boratyńska K, Reich PB, Romo A, Zadworny M, Żytkowiak R, Oleksyn J (2017) Tertiary remnants and Holocene colonizers: genetic structure and phylogeography of Scots pine reveal higher genetic diversity in young boreal than in relict Mediterranean populations and a dual colonization of Fennoscandia. Divers Distrib 23(5):540–555. https://doi.org/10.1111/ddi.12546

Devey ME, Bell JC, Smith DN, Neale DB, Moran GF (1996) A genetic linkage map for Pinus radiata based on RFLP, RAPD, and microsatellite markers. Theor Appl Genet 92(6):673–679. https://doi.org/10.1007/Bf00226088

Dupanloup I, Schneider S, Excoffier L (2002) A simulated annealing approach to define the genetic structure of populations. Mol Ecol 11(12):2571–2581. https://doi.org/10.1046/j.1365-294X.2002.01650.x

Excoffier L, Laval G, Schneider S (2005) Arlequin (version 3.0): an integrated software package for population genetics data analysis. Evol Bioinforma 1:47–50

Haesaerts P, Borziac I, Chekha VP, Chirica V, Drozdov NI, Koulakovska L, Orlova LA, van der Plicht J, Damblon F (2010) Charcoal and wood remains for radiocarbon dating Upper Pleistocene loess sequences in Eastern Europe and Central Siberia. Paleogeogr Paleoclimatol Paleoecol 291(1-2):106–127. https://doi.org/10.1016/j.palaeo.2010.03.034

Hantemirova EV, Heinze B, Knyazeva SG, Musaev AM, Lascoux M, Semerikov VL (2017) A new Eurasian phylogeographical paradigm? Limited contribution of southern populations to the recolonization of high latitude populations in Juniperus communis L. (Cupressaceae). J Biogeogr 44(2):271–282. https://doi.org/10.1111/jbi.12867

Jaramillo-Correa JP, Beaulieu J, Bousquet J (2004) Variation in mitochondrial DNA reveals multiple distant glacial refugia in black spruce (Picea mariana), a transcontinental North American conifer. Mol Ecol 13(9):2735–2747. https://doi.org/10.1111/j.1365-294X.2004.02258.x

Naydenov K, Senneville S, Beaulieu J, Tremblay F, Bousquet J (2007) Glacial vicariance in Eurasia: mitochondrial DNA evidence from scots pine for a complex heritage involving genetically distinct refugia at mid-northern latitudes and in Asia Minor. BMC Evol Biol 7(1):233. https://doi.org/10.1186/1471-2148-7-233

Nei M (1987) Molecular evolutionary genetics. Columbia University Press, New York, p 512

Pons O, Petit RJ (1996) Measuring and testing genetic differentiation with ordered versus unordered alleles. Genetics 144(3):1237–1245

Pyhäjärvi T, Salmela MJ, Savolainen O (2008) Colonization routes of Pinus sylvestris inferred from distribution of mitochondrial DNA variation. Tree Genet Genomes 4(2):247–254. https://doi.org/10.1007/s11295-007-0105-1

Sannikov SN, Petrova IV (2012) Phylogenogeography and genotaxonomy of Pinus sylvestris L. populations. Russ J Ecol 43(4):273–280. https://doi.org/10.1134/S1067413612040145

Sannikov SN, Petrova IV, Dymshakova OS, Cherepanova OE (2014) Genetic and phenotypic differentiation of Calluna vulgaris (L.) Hull. in Pritobolie and Europe. Russ J Genet 50(9):925–933. https://doi.org/10.1134/s1022795414090129

Semerikov VL, Semerikova SA, Dymshakova OS, Zatsepina KG, Tarakanov VV, Tikhonova IV, Ekart AK, Vidyakin AI, Jamiyansuren S, Rogovtsev RV, Kalchenko LI (2014) Microsatellite loci polymorphism of chloroplast DNA of scots pine (Pinus sylvestris L.) in Asia and eastern Europe. Russ J Genet 50(6):577–585. https://doi.org/10.1134/S1022795414040127

Semerikov VL, Putintseva YA, Oreshkova NV, Semerikova SA, Krutovsky KV (2015) Development of new mitochondrial DNA markers in Scots pine (Pinus sylvestris L.) for population and phylogeographic studies. Russ J Genet 51(12):1199–1203. https://doi.org/10.1134/S1022795415120108

Sinclair WT, Morman JD, Ennos RA (1999) The postglacial history of Scots pine (Pinus sylvestris L.) in Western Europe: evidence from mitochondrial DNA variation. Mol Ecol 8(1):83–88. https://doi.org/10.1046/j.1365-294X.1999.00527.x

Soranzo N, Alia R, Provan J, Powell W (2000) Patterns of variation at a mitochondrial sequence-tagged-site locus provides new insights into the postglacial history of European Pinus sylvestris populations. Mol Ecol 9(9):1205–1211. https://doi.org/10.1046/j.1365-294x.2000.00994.x

Tsai Y-HE (2011) PhyloGeoViz: a web-based program that visualizes genetic data on maps. Mol Ecol Resour 11(3):557–561. https://doi.org/10.1111/j.1755-0998.2010.02964.x

Vidyakin AI, Semerikov VL, Polezhaeva MA, Dymshakova OS (2012) Spread of mitochondrial DNA haplotypes in population of scots pine (Pinus sylvestris L.) in northern European Russia. Russ J Genet 48(12):1267–1271. https://doi.org/10.1134/s1022795412120150

Volkova VS, Arkhipov SA, Babushkin AE, Kulkova IA, Guskov SA, Kuzmina OB, Levchuk LK, Mikhailova IV, Sukhorukova SS (2002) Stratigraphy of oil and gas basins of Siberia. Cenozoic of West Siberia. Publ. House of SB RAS, Department "GEO", Novosibirsk 246 pp.

Willis KJ, van Andel TH (2004) Trees or no trees? The environments of central and eastern Europe during the last glaciation. Quat Sci Rev 23(23-24):2369–2387. https://doi.org/10.1016/j.quascirev.2004.06.002
Acknowledgements
The authors further acknowledge EG Phylippov, SN Sannikov, KG Zatsepina, S. Jamiyansuren, AK Ekart, LI Kalchenko, and RV Rogovtsev for the material collection and OS Dymshakova, NV Semerikov and MA Polezhaeva for the laboratory assistance. The authors thank two reviewers and the Associate Editor for useful comments, corrections, and suggestions that greatly helped us improve our manuscript.
Funding
This study was funded by the research grants No. 16-04-00607 from the Russian Basic Research Foundation and No. 14.Y26.31.0004 from the Government of the Russian Federation.
Ethics declarations
Conflict of interest
The authors declare that they have no conflicts of interest.
Data archiving statement
A list of the population samples including mitotype frequency is provided in Supplementary material Table S1. Sequences used in the study were deposited in GeneBank (KY302807, KY302806, and KY302808).
Additional information
Communicated by S. C. González-Martínez
Electronic supplementary material
About this article
Cite this article
Semerikov, V.L., Semerikova, S.A., Putintseva, Y.A. et al. Colonization history of Scots pine in Eastern Europe and North Asia based on mitochondrial DNA variation. Tree Genetics & Genomes 14, 8 (2018). https://doi.org/10.1007/s11295-017-1222-0
Received:

Revised:

Accepted:

Published:
Keywords
Mitochondrial DNA

Mitotype

Phylogeography

Pinus sylvestris

Refugia

Scots pine