Abstract
Carotenoids are abundant in citrus fruits and vary among cultivars and species. In the present study, high performance liquid chromatography (HPLC) and real-time polymerase chain reaction (PCR) were used to investigate the expression patterns of 23 carotenoid biosynthesis gene family members and their possible relation with carotenoid accumulation in fresh flavedo, juice sacs and leaves of Valencia orange during fruit maturation. Violaxanthin and lutein mainly accumulated in fruit (flavedo and juice sacs) and leaves (young and mature), respectively, accounting for nearly 79 %, 57 %, 53 % and 70 % of corresponding total carotenoids in February. Violaxanthin content quickly began to increase in flavedo in December, but the increase in juice sacs began later in January. In mature leaves, lutein content was three times that in young leaves; α-carotene and β-carotene were also much higher in mature leaves than in flavedo or juice sacs. Generally most of the carotenoid biosynthesis gene members were expressed at higher levels in flavedo than in juice sacs, and the expression of some continued to increase in flavedo during fruit maturation. All CHYB members expressed at high levels and had similar patterns in juice sacs. Interestingly, the capsanthin capsorubin synthase (CCS) members had similar expression levels and patterns in flavedo and juice sacs. Differences in gene expression between leaf and fruit tissues were noted, pointing to some tissue specificity for certain members of the gene families associated with carotenogenesis. The expression patterns of these 23 citrus carotenoid biosynthesis gene members were also compared with their expression patterns in other plants. Taken together, these first-hand expression data will be useful to define the tissue-specific roles of each gene member in accumulation of different carotenoids in citrus leaves and maturing fruits.
This is a preview of subscription content, log in to check access.
Access options
Buy single article
Instant access to the full article PDF.
US$ 39.95
Price includes VAT for USA
Subscribe to journal
Immediate online access to all issues from 2019. Subscription will auto renew annually.
US$ 99
This is the net price. Taxes to be calculated in checkout.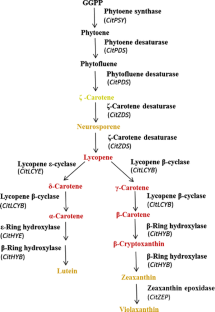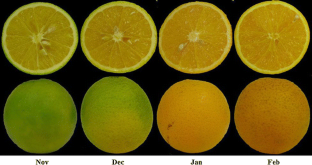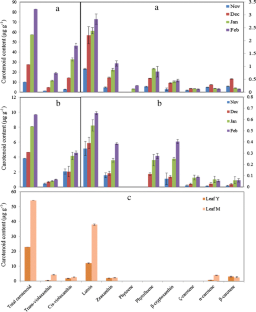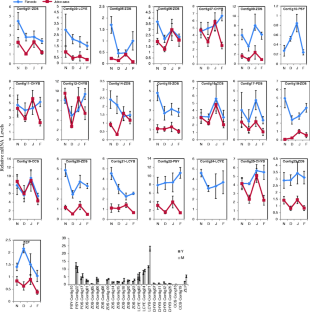 References
Alquezar B, Zacarias L, Rodrigo MJ (2009) Molecular and functional characterization of a novel chromoplast-specific lycopene beta-cyclase from Citrus and its relation to lycopene accumulation. J Exp Bot 60:1783–1797

Arango J, Wust F, Beyer P, Welsch R (2010) Characterization of phytoene synthases from cassava and their involvement in abiotic stress-mediated responses. Planta 232:1251–1262

Bramley PM (1997) The regulation and genetic manipulation of carotenoid biosynthesis in tomato fruit. Pure Appl Chem 69:2159–2162

Busch M, Seuter A, Hain R (2002) Functional analysis of the early steps of carotenoid biosynthesis in tobacco. Plant Physiol 128:439–453

Cao H, Biswas MK, Lü Y, Amar MH, Tong Z, Xu Q, Xu J, Guo W, Deng X (2010) Doubled haploid callus lines of Valencia sweet orange recovered from anther culture. Plant Cell Tiss Organ Cult 104:415–423

Cazzonelli CI, Pogson BJ (2010) Source to sink: regulation of carotenoid biosynthesis in plants. Trends Plant Sci 15:266–274

Chen C, Costa MGC, Yu Q, Moore GA, Gmitter FG (2010) Identification of novel members in sweet orange carotenoid biosynthesis gene families. Tree Genet Genome 6:905–914

Cunningham FX, Gantt E (1998) Genes and enzymes of carotenoid biosynthesis in plants. Annu Rev Plant Physiol Plant Mol Biol 49:557–583

Cunningham FX, Pogson B, Sun Z, McDonald KA, DellaPenna D, Gantt E (1996) Functional analysis of the beta and epsilon lycopene cyclase enzymes of Arabidopsis reveals a mechanism for control of cyclic carotenoid formation. Plant Cell 8:1613–1626

Dhuique-Mayer C, Caris-Veyrat C, Ollitrault P, Curk F, Amiot MJ (2005) Varietal and interspecific influence on micronutrient contents in citrus from the Mediterranean area. J Agric Food Chem 53:2140–2145

Fanciullino AL, Dhuique-Mayer C, Luro F, Casanova J, Morillon R, Ollitrault P (2006) Carotenoid diversity in cultivated citrus is highly influenced by genetic factors. J Agric Food Chem 54:4397–4406

Fanciullino AL, Dhuique-Mayer C, Luro F, Morillon R, Ollitrault P (2007) Carotenoid biosynthetic pathway in the Citrus genus: number of copies and phylogenetic diversity of seven genes. J Agric Food Chem 55:7405–7417

Fanciullino AL, Cercos M, Dhique M, Froelicher Y, Talon M, Ollitrault P, Morillon R (2008) Changes in carotenoid content and biosynthetic gene expression in juice sacs of four orange varieties (Citrus sinensis) differing in flesh fruit color. J Agric Food Chem 56:3628–3638

Fraser PD, Bramley PM (2004) The biosynthesis and nutritional uses of carotenoids. Prog Lipid Res 43:228–265

Fraser PD, Kiano JW, Truesdale MR, Schuch W, Bramley PM (1999) Phytoene synthase-2 enzyme activity in tomato does not contribute to carotenoid synthesis in ripening fruit. Plant Mol Biol 40:687–698

Gao H, Xu J, Liu X, Liu B, Deng X (2011) Light effect on carotenoids production and expression of carotenogenesis genes in citrus callus of four genotypes. Acta Physiol Plant 33:2485–2492

Goodwin TW (1980) The biochemistry of the carotenoids. 2nd ed, vol. 1, Chapman and Hall London

Hirschberg J (2001) Carotenoid biosynthesis in flowering plants. Curr Opin Plant Biol 4:210–218

Ikoma Y, Komatsu A, Kita M, Ogawa K, Omura M, Yano M, Moriguchi T (2001) Expression of a phytoene synthase gene and characteristic carotenoid accumulation during citrus fruit development. Physiol Plant 111:232–238

Kato M (2012) Mechanism of carotenoid accumulation in citrus fruit. J Jpn Soc Hortic Sci 81:219–233

Kato M, Ikoma Y, Matsumoto H, Sugiura M, Hyodo H, Yano M (2004) Accumulation of carotenoids and expression of carotenoid biosynthetic genes during maturation in citrus fruit. Plant Physiol 134:824–837

Kim I, Ko K, Kim C, Chung W (2001a) Isolation and characterization of cDNAs encoding β-carotene hydroxylase in citrus. Plant Sci 161:1005–1010

Kim I, Ko K, Kim C, Chung W (2001b) Isolation and expression patterns of a cDNA encoding phytoene synthase in citrus. Plant Physiol 158:795–800

Kim I, Nam T, Kim C, Song K, Lee D (2010) Isolation and expression patterns of a zeta-carotene desaturase gene from Citrus. Hortic Environ Biotechnol 51(6):551–555

Kita M, Komatsu A, Omura M, Yano M, Ikoma Y, Moriguchi T (2001) Cloning and expression of CitPDS1, a gene encoding phytoene desaturase in citrus. Biosci Biotechnol Biochem 65:1424–1428

Lange BM, Ghassemian M (2003) Genome organization in Arabidopsis thaliana: a survey for genes involved in isoprenoid and chlorophyll metabolism. Plant Mol Biol 51:925–948

Lee HS, Castle WS (2001) Seasonal changes of carotenoid pigments and color in Hamlin, Earlygold, and Budd Blood orange juices. J Agric Food Chem 49:877–882

Li ZH, Matthews PD, Burr B, Wurtzel ET (1996) Cloning and characterization of a maize cDNA encoding phytoene desaturase, an enzyme of the carotenoid biosynthetic pathway. Plant Mol Biol 30:269–279

Li F, Vallabhaneni R, Wurtzel ET (2008) PSY3, a new member of the phytoene synthase gene family conserved in the Poaceae and regulator of abiotic stress-induced root carotenogenesis. Plant Physiol 146:1333–1345

Ma G, Zhang L, Kato M, Yamawaki K, Kiriiwa Y, Yahata M, Ikoma Y, Matsumoto H (2012) Effect of blue and red LED light irradiation on beta-cryptoxanthin accumulation in the flavedo of citrus fruits. J Agric Food Chem 60:197–201

Mahattnatawee K, Rouseff R, Valim M, Naim M (2005) Identification and aroma impact of norisoprenoids in orange juice. J Agric Food Chem 53:393–397

Matsumoto H, Ikoma Y, Kato M, Kuniga T, Nakajima N, Yoshida T (2007) Quantification of carotenoids in citrus fruit by LC-MS and comparison of patterns of seasonal changes for carotenoids among citrus varieties. J Agric Food Chem 55:2356–2368

Matsumoto H, Ikoma Y, Kato M, Nakajima N, Hasegawa Y (2009) Effect of postharvest temperature and ethylene on carotenoid accumulation in the flavedo and juice sacs of satsuma mandarin (Citrus unshiu Marc.) fruit. J Agric Food Chem 57:4724–4732

Meier S, Tzfadia O, Vallabhaneni R, Gehring C, Wurtzel ET (2011) A transcriptional analysis of carotenoid, chlorophyll and plastidial isoprenoid biosynthesis genes during development and osmotic stress responses in Arabidopsis thaliana. BMC Syst Biol 5:77

Mouly PP, Gaydou EM, Lapierre L, Corsetti J (1999) Differentiation of several geographical origins in single-strength Valencia orange juices using quantitative comparison of carotenoid profiles. J Agric Food Chem 47:4038–4045

Olson JA (1989) Provitamin A function of carotenoids: the conversion of beta-carotene into vitamin A. J Nutr 119:105–108

Pecker I, Chamovitz D, Linden H, Sandmann G, Hirschberg J (1992) A single polypeptide catalyzing the conversion of phytoene to zeta-carotene is transcriptionally regulated during tomato fruit ripening. Proc Natl Acad Sci U S A 89:4962–4966

Rodrigo MJ, Marcos JF, Zacarias L (2004) Biochemical and molecular analysis of carotenoid biosynthesis in flavedo of orange (Citrus sinensis L.) during fruit development and maturation. J Agric Food Chem 52:6724–6731

Ruiz-Sola MA, Rodriguez-Concepcion M (2012) Carotenoid biosynthesis in Arabidopsis: a colorful pathway. Arabidopsis Book 10:e0158. doi:10.1199/tab.0158

Sandmann G (2001) Carotenoid biosynthesis and biotechnological application. Arch Biochem Biophys 385:4–12

Stewart I, Wheaton TA (1972) Carotenoids in citrus: their accumulation induced by ethylene. J Agric Food Chem 20:448–449

Tao N, Xu J, Cheng Y, Deng X (2005) Lycopene-epsilon-cyclase pre-mRNA is alternatively spliced in Cara Cara navel orange (Citrus sinensis Osbeck). Biotechnol Lett 27:779–782

Tao N, Hu Z, Liu Q, Xu J, Cheng Y, Guo L, Guo W, Deng X (2007) Expression of phytoene synthase gene (Psy) is enhanced during fruit ripening of Cara Cara navel orange (Citrus sinensis Osbeck). Plant Cell Rep 26:837–843

Welsch R, Wust F, Bar C, Al-Babili S, Beyer P (2008) A third phytoene synthase is devoted to abiotic stress-induced abscisic acid formation in rice and defines functional diversification of phytoene synthase genes. Plant Physiol 147:367–380

Xu J, Liu B, Liu X, Gao H, Deng X (2010) Carotenoids synthesized in citrus callus of different genotypes. Acta Physiol Plant 33:745–753

Zhang L, Ma G, Kato M, Yamawaki K, Takagi T, Kiriiwa Y, Ikoma Y, Matsumoto H, Yoshioka T, Nesumi H (2012) Regulation of carotenoid accumulation and the expression of carotenoid metabolic genes in citrus juice sacs in vitro. J Exp Bot 63:871–886
Acknowledgments
This research was supported by grants from the New Varieties Development and Management Corporation (NVDMC). The authors would like to thank Mrs. M. Wendell, Dr. Jose I. Reyes, Shelley Jones, Mei Song and Dr. Faraj Hijaz (University of Florida, CREC) and Dr. Giovanna Iafelice (University of Molise) for their technical support and advice in planning the project.
Additional information
Communicated by W.-W. Guo
Electronic supplementary material
Below is the link to the electronic supplementary material.
About this article
Cite this article
Wei, X., Chen, C., Yu, Q. et al. Novel expression patterns of carotenoid pathway-related genes in citrus leaves and maturing fruits. Tree Genetics & Genomes 10, 439–448 (2014). https://doi.org/10.1007/s11295-013-0688-7
Received:

Revised:

Accepted:

Published:

Issue Date:
Keywords
Valencia orange

Carotenoid biosynthesis pathway

qRT-PCR

HPLC

Fruit maturation