Abstract
Subspecific taxa of species complexes can display cryptic morphological variation, and individuals and populations can often be difficult to identify with certainty. However, accurate population identification is required for comprehensive conservation and breeding strategies and for studies of invasiveness and gene flow. Using five informative microsatellite markers and a Bayesian statistical approach, we developed an efficient polymerase chain reaction-based diagnostic tool for the rapid identification of individuals and populations of the Acacia saligna species complex of Western Australia. We genotyped 189 individuals from 14 reference populations previously characterised based on morphology and used these data to investigate population structure in the species complex. High total genetic diversity (H T = 0.729) and high population differentiation (θ = 0.355) indicated strong intraspecific structuring. With the provision of prior population information, the reference data set was optimally resolved into four clusters, each corresponding to one of the four main proposed subspecies, with very high membership values (Q > 97%). The reference data set was then used to assign individuals and test populations to one of the four subspecies. Assignment was unequivocal for all test individuals from two populations of subsp. lindleyi and for all but one individual of subsp. stolonifera. Individuals from populations of subsp. saligna and subsp. pruinescens showed a degree of genetic affinity for the two subspecies in their assignments, although the majority of individuals were correctly assigned to subspecies. The diagnostic tool will assist in characterising populations of A. saligna, especially naturalised and invasive populations of unknown origin.
This is a preview of subscription content, log in to check access.
Access options
Buy single article
Instant access to the full article PDF.
US$ 39.95
Price includes VAT for USA
Subscribe to journal
Immediate online access to all issues from 2019. Subscription will auto renew annually.
US$ 99
This is the net price. Taxes to be calculated in checkout.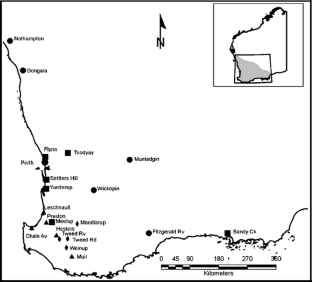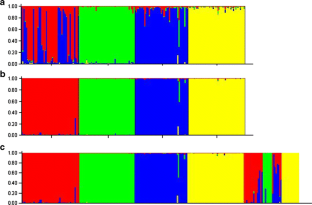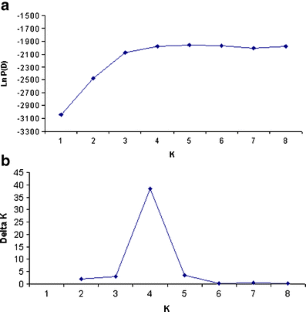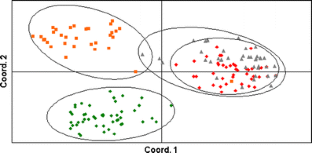 References
Atkins S, Clark I (2004) Fungal molecular diagnostics: a mini review. J Appl Genet 45:3–15

Broadhurst L, Byrne M, Craven L, Lepschi B (2004) Genetic congruence with new species boundaries in the Melaleuca uncinata complex (Myrtaceae). Aust J Bot 52:729–737

Byrne M (2008) Phylogeny, diversity and evolution of Eucalypts. In: Sharma AK, Sharma A (eds) Plant genome: biodiversity and evolution. Vol 1 E: Phanerogam-Angiosperm. Oxford and I.B.H., New Delhi, pp 303–346

Byrne M, Broadhurst L (2002) Genetic diversity and the utilisation of Acacia species complexes in agroforestry in Western Australia. Aust Syst Bot 16:49–55

Byrne M, Millar MA (2004) Genetic systems and issues in the development of woody perennials for revegetation. In: Ridley A, Feikema P, Bennet S, Rogers M, Wilkinson R, Hirth J (eds) Proceedings of the Conference Salinity Solutions: Working with Science and Society, Bendigo, Victoria, 2–5 August 2004.

Byrne M, Moran G, Tibbits W (1993) Restriction map and maternal inheritance of chloroplast DNA in Eucalyptus nitens. Heredity 84:218–220

Byrne M, Macdonald B, Francki M (2001) Incorporation of sodium sulfite into extraction protocol minimizes degradation of Acacia DNA. BioTechniques 30:742–748

Christodloulou S (2003) The impact of Acacia saligna invasion on the autochthonous communities of the Akrotiri salt marshes. Honours thesis, University of Central Lancashire

Crowther M, Spencer P, Alpers D, Dickman C (2002) Taxonomic status of the mardo, Antechinus flavipes leucogaster (Marsupialia: Dasyuridae): a morphological, molecular, reproductive and bioclimatic approach. Aust J Zool 50:627–647

Dana E, Cerrillo M, Sanz-Elorza M, Sobrino E, Mota J (2001) Contribución al conocimiento de las xenófitas en España: catálogo provisional de la flora alóctona de Almería. Acta Bot Malacit 26:264–276

Doyle J, Doyle J (1990) Isolation of plant DNA from fresh tissue. Focus 12:13–15

Duminil J, Caron H, Scotti I, Saint-Omer C, Petit J (2006) Blind population genetics survey of tropical rainforest trees. Mol Ecol 15:3505–3513

Eldridge M, Close R (1992) Taxonomy of rock wallabies, Petrogale (Marsupialia, Macropodidae). 1. A revision of the Eastern Petrogale with the description of 3 new species. Aust J Zool 40:605–625

Elliott CP, Byrne M (2004) Phylogenetics and the conservation of rare taxa in the Eucalyptus angustissima complex in Western Australia. Conserv Genet 5:39–47

Evanno G, Regnaut S, Goudet J (2005) Detecting the number of clusters of individuals using the software STRUCTURE: a simulation study. Mol Ecol 14:2611–2620

Falush D, Stephens M, Pritchard J (2003) Inference of population structure using multilocus genotype data: linked loci and correlated allele frequencies. Genetics 164:1567–1587

Fox JED (1995) A review of the ecological characteristics of Acacia saligna (Labill.) H.Wendl. Mulga Res Cent J 12:39–55

George N, Byrne M, Maslin B, Yan G (2006) Genetic differentiation among morphological variants of Acacia saligna (Mimosaceae). Tree Genet Genom 2:109–119

Georgiades C (1994) The adventive flora of Cyprus, taxonomic, floristic, phytogeographic, ecophysiological study. PhD thesis, Athens University.

Goudet J (2001) FSTAT, a program to estimate and test gene diversities and fixation indices (version 2.9.3.2). Available from http://www2.unil.ch/popgen/softwares/fstat.htm

Hadjikyriakou G, Hadjisterkotis E (2002) The adventive plants of Cyprus with new records of invasive species. Zeitschrift für Jagdwissenschaft 48:59–71

Henderson L (2001) Alien weeds and invasive plants. A complete guide to declared weeds and invaders in South Africa. In: 'Plant Protection Research Institute Handbook No. 12.,' Department of Agriculture and Department of Water Affairs and Forestry, South Africa.

Herbert P, Cywinska A, Ball S, deWaard J (2004) Biological identification through DNA barcodes. Proc R Soc Lond B Biol Sci 270:313–321

Lewis PO, Zaykin D (2001) Genetic data analysis: Computer program for the analysis of allelic data (version 1.0 (d16c)). Available from http://lewis.eeb.uconn.edu/lewishome/software.html

Maslin B, McDonald M (2004) AcaciaSearch: evaluation of acacia as a woody crop option for southern Australia. Rural Industries and Research Development Corporation, Publication Number 03/017, Canberra

Maslin B, McDonald M, O'Sullivan W (2006) Acacia saligna (Coojong). http://www.worldwidewattle.com/infogallery/utilisation/saligna.php

McCartney H, Foster S, Fraaije B, Warde E (2003) Molecular diagnostics for fungal plant pathogens. Pest Manag Sci 59:129–142

Midgley SJ, Turnbull JW (2003) Domestication and use of Australian acacias: case studies of five important species. Aust Syst Bot 16:89–102

Millar MA, Byrne M (2007) Characterisation of polymorphic microsatellite DNA markers for Acacia saligna (Labill.) H.L.Wendl. (Mimosaceae). Mol Ecol Notes 7:1372–1374

Millar MA, Byrne M, Nuberg I, Sedgley M (2008) High outcrossing and random pollen dispersal in a planted stand of Acacia saligna subsp. saligna revealed by paternity analysis using microsatellites. Tree Genet Genom (in press) DOI 10.1007/s11295-007-0115-z

Nei M (1987) Molecular evolutionary genetics. Columbia University Press, New York

Olsen G, Cooper D, Carslake J, Huxtable D, Bartle J (2004) Search Project Report. National Heritage Trust, Western Australian Department of Conservation and Land Management, NHT project number 973849, Perth

Paetkau D, Calvert W, Stirling I, Strobeck C (1995) Microsatellite analysis of population structure in Canadian polar bears. Mol Ecol 4:347–354

Paetkau D, Slade R, Burden M, Estoup A (2004) Direct, real-time estimation of migration rate using assignment methods: a simulation-based exploration of accuracy and power. Mol Ecol 13:55–65

Peakall R, Smouse P (2006) GENALEX 6: genetic analysis in Excel. Population genetic software for teaching and research. Mol Ecol Notes 6:288–295

Piry S, Alapetite A, Cornuet J, Paetkau D, Baudouin L, Estoup A (2004) GENECLASS2: a software for genetic assignment and first generation migrant detection. J Heredity 95:536–539

Pritchard J, Stephens M, Donnely P (2000) Inference of population structure using multilocus genotype data. Genetics 155:945–959

Rannala B, Mountain J (1997) Detecting immigration by using multilocus genotypes. Proc Natl Acad Sci U S A 94:9197–9201

Raymond M, Rousset F (1995) GENEPOP (version 3.4): population genetics software for exact test and ecumenicism. J Heredity 86:248–249

Sanz-Elorza M, Dana E, Sobrino E (2001) Aproximación al listado de plantas alóctonas invasoras reales y potenciales en España. Lazzaroa 22:121–131

SPSS (2001) SPSS for Windows Student Version (version Rel 11.0). Available from http://www.spss.com/spss16/

Weir B, Cockerham C (1984) Estimating F-statistics for the analysis of population structure. Evolution 38:1358–1370
Acknowledgements
We thank Wayne O'Sullivan for assistance with morphological identification of populations and Bruce Maslin and Maurice McDonald for advice on A. saligna taxonomy.
Additional information
Communicated by Y. Tsumura
About this article
Cite this article
Millar, M.A., Byrne, M., Nuberg, I. et al. A rapid PCR-based diagnostic test for the identification of subspecies of Acacia saligna . Tree Genetics & Genomes 4, 625–635 (2008). https://doi.org/10.1007/s11295-008-0138-0
Received:

Revised:

Accepted:

Published:

Issue Date:
Keywords
Microsatellite

Diagnostic tool

Acacia saligna

Species complex

Genetic differentiation