Abstract
In the aftermath of any natural disaster, a quick assessment of economic damage is called for, without which recovery planning and fiscal budgeting is impossible. What is customarily done as damage accounting is to use some aggregation by parts method, which is predisposed to commit double counting, omission, and bureaucratic inconsistencies. As an alternative, we propose to work with a social epidemiological model. First, we present a result by means of a log linear model which shows evidence of hazard factors and vulnerability factors at work. We then simplify the model by deleting the variables that are not significant in a linear formulation. Lastly, we give our estimate of economic damage for the case of the North East Japan Earthquake and Tsunami of March 11, 2011 and alert that the true damage may well be the double of government's estimate.
This is a preview of subscription content, log in to check access.
Access options
Buy single article
Instant access to the full article PDF.
US$ 39.95
Price includes VAT for USA
Subscribe to journal
Immediate online access to all issues from 2019. Subscription will auto renew annually.
US$ 99
This is the net price. Taxes to be calculated in checkout.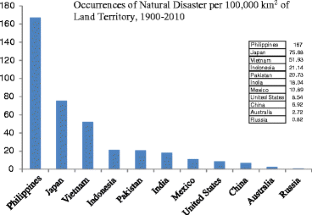 Notes
1.

Prefectures are subnational jurisdictions governed by publicly elected governors, which are comparable to the states in the United States.

2.

It does not include the indirect damage of lost business and employment opportunities either, which are outside the scope of our investigation here.

3.

The reason for their bias can be found in two laws; "Law of National Government Finance on the Disaster Recovery of Public Facilities" and "Disaster Recovery Expenditures on Agriculture, Forestry, and Fishery Facilities." In order to obtain national government funding, local governments, including prefectures, need to present damage estimates of the relevant facilities as soon as possible.

4.

In case of the Kobe earthquake of 1995, the private sector damage came to 60 % of the total damage.

5.

This formulation or its variations are frequently used in the United Nations publications. See, for example, UNDP (2004, p.100).

6.

The Fukushima nuclear power plant accidents pose a serious problem, for there is no reported casualty among the inhabitants and no physical destruction in the vicinity, yet the inconvenience and economic losses incurred by the dislocated people are enormous.

7.

Houses that were built before 1981 were subject to a more lenient building code than afterwards.

8.

Cavallo et al. (2010) also focused on the relationship between the human damage and the direct economic damage in disasters. They used a log linear model to predict the direct economic damage of the earthquake in Haiti. However, they came up with a wide range for prediction, which is, basically, an unavoidable consequence of log linear models.

9.
References
Cabinet Office (2011). Press release on damage estimate of the Great East Japan Earthquake (in Japanese), June 24. (http://www.bousai.go.jp/oshirase/h23/110624-1kisya.pdf).

Cavallo, E., Powell, A., & Becera, O. (2010). Estimating the direct economic damage of the earthquake in Haiti. Economic Journal, 120(546), F298–F312.

Cochrane, H. (2004). Economic loss: myth and measurement. Disaster Prevention and Management, 13(4), 290–296.

Development Bank of Japan (2011). Assessment of economic damage on private and public stocks caused by the Tohoku Earthquake (in Japanese), News Release, April 28.

Hayashida, H., Hamagata, S., Nakano, K., Hitomi, K., & Hoshino, Y. (2011). Macroeconomic impacts of the Tohoku earthquake: an assessment by means of the CRIEPI macroeconometric model (in Japanese). Discussion Paper 11024, Socio-Economic Research Center, Central Research Institute of Electric Power Industry, 1–25.

Inada, Y., Irie, Y., Shima, A., & Toizumi, T. (2011). The Tohoku earthquake's impacts on the Japanese macroeconomy (in Japanese), KISER Report No.6, April 12, 1–9.

Toya, H. (2009). The mitigation effect on disaster damage by preventive policy measures: a panel analysis based on prefectural data (in Japanese). In Report on a system of anti-disaster policies with economics perspective, Cabinet Office, No.44, June, 67–89.

United Nations Development Programme (2004). Reducing disaster risk: a challenge for development. i-xii + 1–146.

Weichselgartner, J. (2001). Disaster migigation: the concept of vulnerability revisited. Disaster Prevention and Management, 10(4), 85–94.
Acknowledgment
This work was supported by 2011 Research Grant from Kampo Financial Group.
Additional information
An earlier version of the paper was presented at the 72nd International Atlantic Economic Conference in Washington D.C. The author wishes to thank the chair of the session and other participants for helpful discussions.
About this article
Cite this article
Hayashi, M. A Quick Method for Assessing Economic Damage Caused by Natural Disasters: An Epidemiological Approach. Int Adv Econ Res 18, 417–427 (2012). https://doi.org/10.1007/s11294-012-9367-y
Keywords
Direct economic damage

Natural disaster

Epidemiological model
JEL