Abstract
This paper attempts to explain why yield curve inversion may serve as a leading indicator of recessions. It employs an IS-LM model with the term structure of interest rates and provides a formal phase-diagram analysis of dynamic adjustment process. It demonstrates that the occurrence of yield curve inversion is an off-equilibrium phenomenon after an adverse shock in the adjustment process of interest rates and output, and that an inverted yield curve may lead, but does not lead to, a recession.
This is a preview of subscription content, log in to check access.
Access options
Buy single article
Instant access to the full article PDF.
US$ 39.95
Price includes VAT for USA
Subscribe to journal
Immediate online access to all issues from 2019. Subscription will auto renew annually.
US$ 99
This is the net price. Taxes to be calculated in checkout.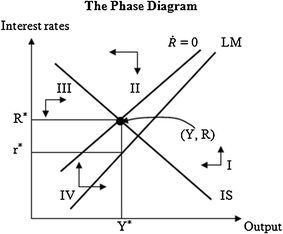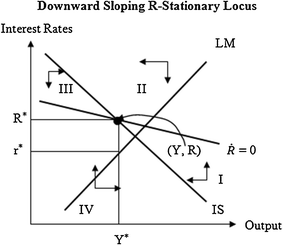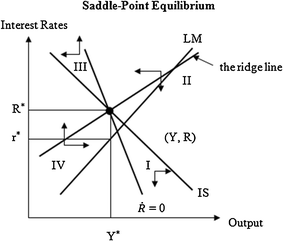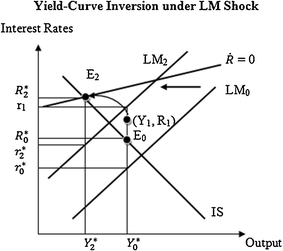 Notes
1.

Romer (2008) has shown the equivalence between the two treatments in this regard.

2.

In theory, the interest rate in the money demand function should be the nominal rate. Here, it is converted by Fisher equation, as usual.

3.

Blanchard and Fisher (1989) developed such a model to study the effects of a change in fiscal policy such as the 1981–1983 tax cuts. But they did not explicitly label both the long-term and the short-term interest rates in their graphic analysis; instead, the short-term rate was eliminated and indirectly represented by the long-term rate from the term structure and the Fisher equation. Hence, their treatment did not explicitly present yield curve in the picture.

4.

Note that the driving force behind the term structure of interest rates is arbitrage. Hence, when it is off the structure, the same driving force would apply to pull the long-term rate back to the position as determined by the term structure.

5.

See also, for example, Sydsæter et al. (2005, p. 251).
References
Berk, J. M. (1998). The information content of the yield curve for monetary policy: a survey. De Economist, 146(2), 303–320.

Blanchard, O. J., & Fisher, S. (1989). Lectures on macroeconomics. Cambridge: MIT Press.

Carlson, K. M., & Spencer, R. W. (1975). Crowding out and its critics. Federal Resserve Bank of St Louis Review, 57(2), 2–17.

Cebula, R. J. (1987). The deficit problem in perspective. Lexington: Lexington Books.

Estrella, A. (2005). Why does the yield curve predict output and inflation? The Economic Journal, 115(July), 722–744.

Estrella, A., & Hardouvelis, G. A. (1991). The term structure as a predictor of real economic activity. Journal of Finance, 46(2), 555–576.

Estrella, A., & Mishkin, F. S. (1997). The term structure of interest rates and its role in monetary policy for the European central bank. European Economic Review, 41, 1375–1401.

Fisher, W. H., & Turnovsky, S. J. (1992). Fiscal policy and the term structure of interest rates: an intertemporal optimizing analysis. Journal of Money, Credit, and Banking, 24(1), 1–26.

Olech, C. (1963). On the global stability of an autonomous system on the plane. Contributions to Differential Equations, Vol. 1. Interscience.

Romer, D. (2008). Macroeconomic theory (3rd ed.). New York: McGraw-Hill Irwin.

Sydsæter, K., Hammond, P., Seierstad, A., & Strǿm, A. (2005). Further mathematics for economic analysis. London: Financial Time/Prentice Hall.
Additional information
The authors would like to thank Richard Cebula, Chris Coombs and the audiences in the 72nd International Atlantic Economic Society (IAES) Conference at Washington DC for their comments on earlier versions. Bill Yang is grateful to the Department of Finance and Economics, Georgia Southern University for the research support (Summer 2011). The standard disclaimer applies.
About this article
Cite this article
Wang, X.H., Yang, B.Z. Yield Curve Inversion and the Incidence of Recession: A Dynamic IS-LM Model with Term Structure of Interest Rates. Int Adv Econ Res 18, 177–185 (2012). https://doi.org/10.1007/s11294-012-9350-7
Keywords
Yield curve inversion

Recession

The IS-LM model

Term structure of interest rates

Phase diagram
JEL