Abstract
The objective of this study is to assess the impact of sex offenders' residential locations on property values in Rochester, New York, by using 19,702 screened single residential housing sales data from 2000 to May 2013. This paper uses both fixed effects and semiparametric models and concludes that the impact from a sex offender's residential location on property values is only regional. Homeowners residing within 0.1 mile, between a 0.1 and 0.2 miles, and between a 0.2 and 0.3 mile radius of a nearby sex offender suffer about 7 %, 6 %, and 3 % property value drops, respectively. These percentage changes translate into $4617, $3731, and $1897 reductions for the average-priced house in the sample, respectively. This negative impact dissipates beyond the 0.3 mile radius.
This is a preview of subscription content, log in to check access.
Access options
Buy single article
Instant access to the full article PDF.
US$ 39.95
Price includes VAT for USA
Subscribe to journal
Immediate online access to all issues from 2019. Subscription will auto renew annually.
US$ 99
This is the net price. Taxes to be calculated in checkout.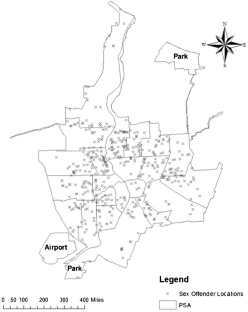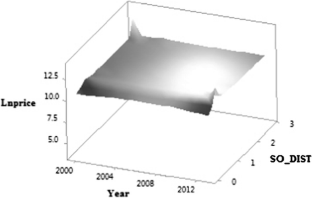 Notes
1.

Nobody knows what happened to Jacob Wetterling after his abduction in October 1989 in St. Joseph, Minnesota. His parents initiated the Jacob Wetterling Foundation and have been supporting Child Safety and Protection laws.

2.

Megan Kanka was killed by a prior SO in her neighborhood and Megan's Laws are named after her.

3.

Adam Walsh was murdered and decapitated after being abducted in July 1981 in Florida.

4.

The city of Rochester divides the city into four quadrants (Northeast, Southeast, Northwest and Southwest). These quadrants are broken down into 130 neighborhoods, each with their own character.
References
Caudill, B. S., Affuso, E., & Yang, M. (2015). Registered sex offenders and house prices: an hedonic analysis. Urban Studies, 52(13), 2425–2440.

Cleveland, W. S., & Devlin, S. J. (1988). Locally-weighted regression: an approach to regression analysis by local fitting. Journal of the American Statistical Association, 83(403), 596–610.

Gibbons, S. (2004). The Costs of Urban Property Crime. The Economic Journal, 114(499), F441–F463.

Larsen, J. E., Lowrey, K. J., & Coleman, J. W. (2003). The effect of proximity to a registered sex Offender's residence on single-family house selling price. The Appraisal Journal, 71(3), 253–265.

Linden, L. L., & Rockoff, J. E. (2008). Estimates of the Impact of Crime Risk on Property Values from Megan's Laws. American Economic Review, 98(3), 1103–1127.

McMillen, D. P., & Redfern, C. L. (2010). Estimation and hypothesis testing for nonparametric hedonic house price functions. Journal of Regional Science, 50(3), 712–733.

Mule, J. (2015). Drawing the Line on Sex Offenders. Retrieved from http://www.rochestercitynewspaper.com/rochester/drawing-the-line-on-sex-offenders/Content?oid=2506689

Pope, J. C. (2008). Fear of Crime and Housing Prices: Household Reactions to Sex Offender Registries. Urban Economics, 64(3), 601–614.

Powell, J. L. (1994). Estimation of Semiparametric Models. Handbook of Econometrics, Volume 4: Elsevier Science. pp. 2444– 2521

Thaler, R. (1978). A note on the value of crime control: evidence from the property market. Journal of Urban Economics, 5(1), 137–145.

Town Village of East Rochester, NY (2016) – Chapter 145. Retrieved from http://ecode360.com/13168900
Acknowledgments
Thanks to Jeremy Groves for his great advice, Gayrat Hamrev for his help on the R analysis, and the Rochester City Council's tremendous support in collecting data.
Appendix
Appendix
About this article
Cite this article
Yu, P. Effects of Sex Offenders' Residential Locations on Property Values Using both Parametric and Semiparametric Models. Atl Econ J 44, 277–291 (2016). https://doi.org/10.1007/s11293-016-9505-7
Keywords
Property values

Sex offenders

Semiparametric model

Fixed effects model

Spatial heterogeneity