Abstract
Understanding the use of small bridges and culverts by wildlife to cross the Qinghai–Tibet railway will aid in the design of wildlife crossing structures for similar transportation infrastructure. From 2014 to 2016, 36 infrared cameras were placed inside 14 small bridges and 11 culverts along the Qinghai–Tibet railway to determine the structures' effectiveness as wildlife passages. Thirteen species of mammals were found to use the small bridges and culverts to cross the railway. The crossing rates for all mammals were significantly higher for small bridges than for culverts. Tibetan antelope (Pantholops hodgsonii), Tibetan gazelle (Procapra picticaudata), kiang (Equus kiang), and wild yak (Bos mutus) preferred small bridges over culverts to cross the railway. In contrast, mountain weasel (Mustela altaica) and Asian badger (Meles leucurus) preferred culverts to cross the railway. The crossing rates of all mammals, particularly Tibetan gazelle and woolly hare, were positively influenced by structure width. Structure height had a positive influence on wild yak, but structure length had a negative influence on kiang. The distance to the highway had a positive influence on the crossing rates of all mammals, particularly wild yak and woolly hare. Human use of the structures had no influence on the crossings of most mammals except for common wolf. We suggest that road design schemes include large and open crossing structures to benefit most species with limitations on human activities near wildlife passages.
This is a preview of subscription content, log in to check access.
Access options
Buy single article
Instant access to the full article PDF.
US$ 39.95
Price includes VAT for USA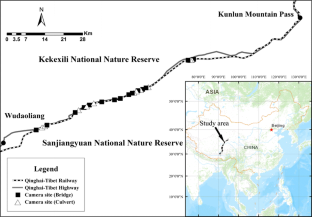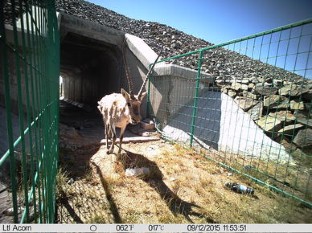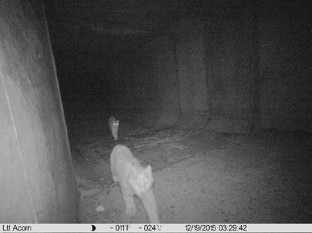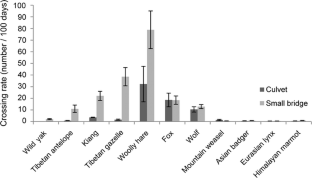 References
Borda-de-Água L, Barrientos R, Beja P, Pereira HM (2017) Railway ecology. Springer, Cham

Buho H, Jiang Z, Liu C, Yoshida T, Mahamut H, Kaneko M, Asakawa M, Motokawa M, Kaji K, Wu X, Otaishi N, Ganzorig S (2011) Preliminary study on migration pattern of the Tibetan antelope (Pantholops hodgsonii) based on satellite tracking. Adv Space Res 48:43–48

China Transportation News (2015) Report by Minister of Ministry of Transport of the People's Republic of China. http://www.moc.gov.cn/zhuanti/2016jiaotonggongzuo_HY/201512/t20151228_1966865.html. Accessed 29 May 2016

Clevenger AP, Huijser MP (2011) Wildlife crossing structure handbook-Design and Evaluation in North America. Federal Highway Administration, Washington

Clevenger AP, Waltho N (2005) Performance indices to identify attributes of highway crossing structures facilitating movement of large mammals. Biol Conserv 121:453–464

Forman RTT (2000) Estimate of the area affected ecologically by the road system in the United States. Conserv Biol 14:31–35

Forman R, Sperling D, Bissonette JA, Clevenger AP, Cutshall CD, Dale VH, Fahrig L, France RL, Goldman CR, Heanue K, Jones JA, Swanson FJ, Turrentine T, Winter TC (2003) Road ecology: Science and Solutions. Island Press, Washington DC

Glista DJ, Devault TL, Dewoody JA (2009) A review of mitigation measures for reducing wildlife mortality on roadways. Landsc Urban Plan 91:1–7

Grilo C, Bissonette JA, Santos-Reis M (2008) Response of carnivores to existing highway culverts and underpasses: implications for road planning and mitigation. Biodivers Conserv 17:1685–1699

IBM Corp (2010) IBM SPSS statistics for windows, Version 19.0

IUCN (2017) The IUCN red list of threatened species. Version 2017-3. http://www.iucnredlist.org. Accessed 2 Feb 2018

Kong YP, Wang Y, Guan L (2013) Road wildlife ecology research in China. Proc Soc Behav Sci 96:1191–1197

Li YZ, Zhou TJ, Jiang HB (2008) Utilization effect of wildlife passages in Golmud–Lhasa section of Qinghai–Tibet railway. Chin Railw Sci 29:127–131

Li ZQ, Ge C, Li J, Li YK, Xu AC, Zhou KX, Xue DY (2010) Ground-dwelling birds near the Qinghai–Tibet highway and railway. Transp Res Part D Transp Environ 15:525–528

Lian XM, Zhang TZ, Cao YF, Su JP, Thirgood S (2007) Group size effects on foraging and vigilance in migratory Tibetan antelope. Behav Process 76:192–197

Lian XM, Zhang TZ, Cao YF, Su JP, Thirgood S (2011) Road proximity and traffic flow perceived as potential predation risks: evidence from the Tibetan antelope in the Kekexili National Nature Reserve, China. Wildl Res 38:141–146

Lian XM, Li XX, Zhou DX, Yan PS (2012) Avoidance distance from Qinghai–Tibet highway in sympatric Tibetan antelope and gazelle. Transp Res Part D Transp Environ 17:585–587

Mata C, Hervas I, Herranz J, Malo SJE (2008) Are motorway wildlife passages worth building? Vertebrate use of road-crossing structures on a Spanish motorway. J Environ Manage 88:407–415

Mateus ARA, Grilo C, Santos-Reis M (2011) Surveying drainage culvert use by carnivores: sampling design and cost-benefit analyzes of track-pads vs. video-surveillance methods. Environ Monit Assess 181:101–109

Ng SJ, Dole JW, Sauvajot RM, Riley SPD, Valone TJ (2004) Use of highway undercrossing by wildlife in southern California. Biol Conserv 115:499–507

Qiu L, Feng ZJ (2004) Effects of traffic during daytime and other human activities on the migration of Tibetan antelope along the Qinghai–Tibet highway, Qinghai–Tibet plateau. Acta Zool Sin 50:669–674

Samejima H, Ong R, Lagan P, Kitayama K (2012) Camera-trapping rates of mammals and birds in a Borenean tropical rainforest under sustainable forest management. For Ecol Manag 270:248–256

Sawyer H, Rodgers PA, Hart T (2016) Pronghorn and mule deer use of underpasses and overpasses along U.S. Highway 191. Wildl Soc B 40:211–216

Sun HL, Zheng D, Yao TD, Zhang YL (2012) Protection and construction of the National Ecological Security Shelter Zone on Tibetan Plateau. Acta Geogr Sin 67:3–12

Taylor BD, Goldingay RL (2010) Roads and wildlife: impacts, mitigation and implications for wildlife management in Australia. Wildl Res 37:320–331

Van Der Ree R, Van Der Grift E, Mata C, Suarez F (2007) Overcoming the barrier effect of roads-How effective are migitation strategies? In: North Carolina State University (ed) Proceedings of the 2007 international conference on ecology and transportation. Raleigh, USA, pp 423–431

Van Der Ree R, Smith DJ, Grilo C (2015) The ecological effects of linear infrastructure and traffic: challenges and opportunities of rapid global growth. In: Van der Ree R, Smith DJ, Grilo C (eds) Handbook of road ecology. Wiley, Chichester, pp 1–9

Wang Y, Guan L, Chen JD, Kong YP (2014a) Research progress in wildlife protection of linear project in Qinghai–Tibet Plateau. Highw Nat 21:106–109

Wang Y, Wang YD, Tao SC, Chen XP, Kong YP, Shah A, Ye CY, Pang M (2014b) Using Infra-red camera trapping technology to monitor mammals along Karakorum Highway in Khunjerab National Park, Pakistan. Pak J Zool 46:725–731

Wang Y, Kong YP, Chen JD (2015a) China: building and managing a massive road and rail network and protecting our rich biodiversity. In: Van der Ree R, Smith DJ, Grilo C (eds) Handbook of road ecology. Wiley, Chichester, pp 465–471

Wang Y, Jian L, Gu XF (2015b) Report on road ecology in the Fifth International wildlife management Congress (IWMC 2015). Transp Res 1:104–110

Wang Y, Guan L, Piao ZJ (2017a) Monitoring wildlife crossing structures along highways in Changbai Mountain, China. Transp Res Part D Transp Environ 50:119–128

Wang Y, Guan L, Chen JD, Kong YP, Zhang W (2017b) Study on design parameters of wildlife passage in Golmud–Lhasa section of Qinghai–Tibet expressway. J Highw Transp Res Dev 34:146–152

Wu XM, Wang W (2006) Wildlife protection during Qinghai–Tibet railway construction. Science Press Ltd, Beijing

Xia L, Yang QS, Li ZC, Wu YH, Feng ZJ (2007) The effect of the Qinghai–Tibet railway on the migration of Tibetan antelope Pantholops hodgsonii in Hoh-xil National Nature Reserve, China. Oryx 41:352–357

Yang QS, Xia L (2008) Tibetan wildlife is getting used to the railway. Nature 452:810–811

Yin BF, Huai HY, Zhang YL, Zhou L, Wei WH (2006) Influence of Qinghai–Tibetan railway and highway on wild animal's activity. Acta Ecol Sin 26:3917–3923

Zhang L, Dong T, Xu WH, Ouyang ZY (2015) Assessment of habitat fragmentation caused by traffic networks and identifying key affected areas to facilitate rate wildlife conservation in China. Wildl Res 42:266–279

Zheng S (1994) Fauna of Rare and Endangered Species of Vertebrates in Northwest China. China Forestry Publishing, Beijing
Acknowledgements
The authors thank Dr. Leonard E. Sielecki of British Columbia Ministry of Transportation and Infrastructure in Canada and Dr. Hsiang Ling Chen of San Diego State University for their helpful review and comments. Special thanks to Mr. Xin Yang, the head of Green River Environmental Protection Association of Sichuan Province for his great support and advice. This research is funded by the National Natural Science Foundation of China (Grant No. 51508250) and the Science and Technology Demonstration Project of Ministry of Transport of China (Grant No. 2016 002) and the National Key Technology Research and Development Program (Grant No. 2014 BAG 05B 06) and basic research program of centric level, scientific research institutes (Grant No. 20170617) and the Inner Mongolia Autonomous Region science and technology innovation guidance project program. We thank Edanz Group (www.edanzediting.com/ac) for editing a draft of this manuscript.
Electronic supplementary material
Below is the link to the electronic supplementary material.
About this article
Cite this article
Wang, Y., Guan, L., Chen, J. et al. Influences on mammals frequency of use of small bridges and culverts along the Qinghai–Tibet railway, China. Ecol Res 33, 879–887 (2018). https://doi.org/10.1007/s11284-018-1578-0
Received:

Accepted:

Published:

Issue Date:
Keywords
Highway

Underpass

Wildlife crossing structure

Road ecology

Tibetan plateau