Abstract
The role of the Orii's flying-fox (Pteropus dasymallus inopinatus) as a pollinator and a seed disperser on Okinawa-jima Island was investigated by direct observations and radio-tracking from October 2001 until January 2006. We found that Orii's flying-fox potentially pollinated seven native plant species. Its feeding behavior and plant morphological traits suggested that this species is an important pollinator of Schima wallichii liukiuensis and Mucuna macrocarpa. The flying-fox also dispersed the seeds of 20 native plant species. The seeds of all plants eaten by the flying-fox were usually dropped beneath the parent tree, although large fruits of four plant species were occasionally brought to the feeding roosts in the mouth, with the maximum dispersal distance—for Terminalia catappa—estimated to be 126 m. Small seeds of 11 species (mostly Ficus species) were dispersed around other trees, during the subsequent feeding session, through the digestive tracts, with the mean dispersal distance for ingested seeds estimated at 150 ± 230.3 m (±SD); the maximum dispersal distance was 1833 m. A comparison of the seed dispersal of available fruits according to the size of flying-foxes and other frugivores suggested that the seed dispersal of eight plant species producing large fruits mostly depended on Orii's flying-fox. On Okinawa-jima Island, the Orii's flying-fox plays an important role as a pollinator of two native plants and as a long-distance seed disperser of Ficus species, and it functions as a limited agent of seed dispersal for plants producing large fruits on Okinawa-jima Island.
This is a preview of subscription content, log in to check access.
Access options
Buy single article
Instant access to the full article PDF.
US$ 39.95
Price includes VAT for USA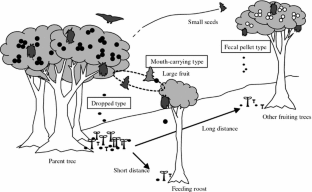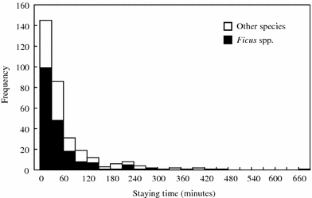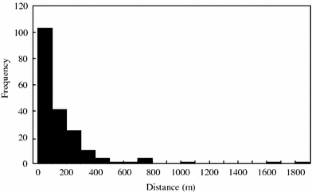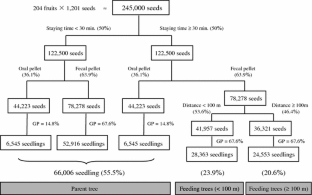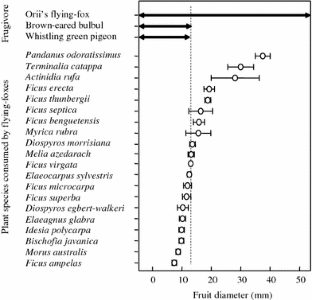 References
Bhat HR (1994) Observation on the food and feeding behavior of Cynopterus sphinx Vahl (Chiroptera, Pteropodidae) at Pune, India. Mammalia 58:363–370

Chapman CA, Onderdonk DA (1998) Forests without primates: primate/plant codependency. Am J Primatol 45:217–141

Corlett RT (1998) Frugivory and seed dispersal by vertebrates in the oriental (Indomalayan) region. Biol Rev 73:413–448

Corlett RT (2004) Flower visitors and pollination in the Oriental (Indomalayan) region. Biol Rev 79:497–532

Cox PA, Elmqvist T, Pierson ED, Rainey WE (1991) Flying foxes as strong interactors in south pacific island ecosystems: A conservation hypothesis. Conserv Biol 5:448–454

Doyle G (2000) Strangler figs in a stand of dry rainforest in the lower Hunter Valley, NSW. Aust Geogr 31:251–264

Dumont ER (2003) Bats and fruit: an ecomorphological approach. In: Kunz TH, Fenton MB (eds) Bat ecology. The University of Chicago Press, Chicago, pp 398–429

Figueiredo RA, Motta-Junior JC, Vasconcellos LAS (1995) Pollination, seed dispersal, seed germination and establishment of seedlings of Ficus microcarpa, Moraceae, in Southeastern Brazil. Rev Brazil Biol 55:233–239

Fleming TH (1981) Fecundity, fruiting pattern, and seed dispersal in Piper amalago (Piperaceae), a bat-dispersed tropical shrub. Oecologia 51:42–46

Funakoshi K, Zubaid A (1997) Behavioural and reproductive ecology of the dog-faced fruit bats, Cynopterus brachyotis and C. horsfieldi, in a Malaysian rain forest. Mammal Study 22:95–108

Funakoshi K, Kunisaki T, Watanabe H (1991) Seasonal changes in activity of the northern Ryukyu fruit bat Pteropus dasymallus dasymallus. J Mamm Soc Jpn 16:13–25

Funakoshi K, Watanabe H, Kunisaki T (1993) Feeding ecology of the northern Ryukyu fruit bat, Pteropus dasymallus dasymallus, in a warm-temperate region. J Zool (Lond) 230:221–230

Hall LS, Richards G (2000) Flying foxes: fruit and blossom bats of Australia. Krieger Publishing Company, Malabar, Florida

Hatusima S, Amano T (1994) Flora of the Ryukyus (in Japanese). The Biological Society of Okinawa, Nishihara

Heithaus ER (1982) Coevolution between bats and plants. In: Kunz TH (ed) Ecology of bats. Plenum Press, New York, pp 327–367

Herrera CM (1985) Determinants of plant-animal coevolution: the case of mutualistic dispersal of seeds by vertebrates. Oikos 44:132–141

Hodgkison R, Balding ST, Zubaid A, Kunz TH (2003) Fruit bats (Chiroptera: Pteropodidae) as seed dispersers and pollinators in a lowland Malaysian rain forest. Biotropica 35:491–502

Itô Y (1997) Diversity of forest tree species in Yanbaru, the northern part of Okinawa Island. Plant Ecol 133:125–133

Itô Y (2003) Rich biota in the forests of Yanbaru, northern montane part of Okinawa Island, Japan, and imminent extinction crisis of the endangered species. In: Kamata N, Liebhold AM, Quring DT, Clancy KM (eds) Forest insect population dynamics and host influences (Proc IUFRO Kanazawa). Kanazawa University, Kanazawa, pp 11–15

Janzen DH, Miller GA, Hackforth-Jones J, Pond CM, Hooper K, Janos DP (1976) Two Costa Rican bat-generated seed shadows of Andira inermis (Leguminosae). Ecology 57:1068–1075

Kalko EKV, Herre EA, Handley CO (1996) Relation of fig fruit characteristics to fruit-eating bats in the New and Old World tropics. J Biogeogr 23:565–576

Kitamura S, Yumoto T, Poonswad P, Chuailua P, Plongmai K, Maruhashi T, Noma N (2002) Interactions between fleshy fruits and frugivores in a tropical seasonal forest in Thailand. Oecologia 133:559–572

Knight RS, Sicgfried WR (1983) Inter-relationships between type, size and colour of fruits and dispersal in southern African trees. Oecologia 56:405–412

Laman TG (1995) Ficus stupenda germination and seedling establishment in a Bornean rain forest canopy. Ecology 76:2617–2626

MacArthur RH, Diamond JM, Karr JR (1972) Density compensation in island faunas. Ecology 53:330–342

Marimuthu G, Rajan KG, Koiraj AJ, Isaac SS, Balasingh J (1998) Observations on the foraging behavior of a tent roosting megachiropteran bat Cynopterus sphinx. Biotropica 30:321–324

Marshall AG (1983) Bats, flowers and fruit: evolutionary relationships in the Old World. Biol J Linn Soc 20:115–135

McConkey KR, Drake DR (2006) Flying foxes cease to function as seed dispersers long before they become rare. Ecology 87:271–276

Mech LD (1983) Handbook of animal radio-tracking. University of Minnesota Press, Minneapolis

Meehan HJ, McConkey KR, Drake DR (2002) Potential disruptions to seed dispersal mutualisms in Tonga, Western Polynesia. J Biogeogr 29:695–712

Mickleburgh SP, Hutson AM, Racey PA (1992) Old World fruit bats: an action plan for their conservation. International Union for Conservation of Nature and Natural Resources, Gland

Miyawaki A (1989) Vegetation of Japan, vol.10: Okinawa & Ogasawara (in Japanese with English summary). Shibundo, Tokyo

Morrison DW (1978) Foraging ecology and energetics of the frugivorous bat Artibeus jamaicensis. Ecology 59:716–723

Morrison DW (1980) Efficiency of food utilization by fruit bats. Oecologia 45:270–273

Muchhala N (2006) Nectar bat stows huge tongue in its rib cage. Nature 444:701–702

Muchhala N, Mena PV, Albuja LV (2005) A new species of Anoura (Chiropterra: Phyllostmidae) from the Ecuadorian Andes. J Mammal 86:457–461

Murray KG (1988) Avian seed dispersal of three neotropical gap-dependent plants. Ecol Monogr 58:271–298

Nakamoto A (2008) Foraging ecology of the Orii's flying-fox Pteropus dasymallus inopinatus. PhD thesis. University of the Ryukyus, Nishihara, Okinawa

Nakamoto A, Kinjo K, Izawa M (2007a) Diet of the Ryukyu flying-fox (Pteropus dasymallus) (in Japanese with English abstract). Biol Mag Okinawa 45:61–77

Nakamoto A, Kinjo K, Izawa M (2007b) Food habits of Orii's flying-fox, Pteropus dasymallus inopinatus, in relation to food availability in an urban area of Okinawa-jima Island, the Ryukyu Archipelago, Japan. Acta Chiropt 9:237–249

Nakamoto A, Sakugawa K, Kinjo K, Izawa M (2007c) Feeding effects of Orii's flying-fox (Pteropus dasymallus inopinatus) on seed germination of subtropical trees on Okinawa-jima Island. Tropics 17:43–50

Noma N, Yumoto T (1997) Fruiting phenology of animal-dispersed plants in response to winter migration of frugivores in a warm temperate forest on Yakushima Island, Japan. Ecol Res 12:119–129

Olesen JM, Valido A (2003) Lizards as pollinators and seed dispersers: an island phenomenon. Trends Ecol Evol 18:177–181

Phua PB, Corlett RT (1989) Seed dispersal by the Lesser short-nosed fruit bat (Cynopterus brachyotis, Pteropodidae, Megachiroptera). Malay Nat J 42:251–256

Proctor M, Yeo P, Lack A (1996) The natural history of pollination. Timber Press, Portland

Rainey WE, Pierson ED (1992) Distribution of Pacific island flying foxes. In: Wilson DE, Graham GL (eds) Pacific island flying-foxes (Proc Int Conserv Conf). US Fish and Wildlife Service, Biological Report 90, Washington D.C., pp 111–121

Rainey WE, Pierson ED, Elmqvist T, Cox PA (1995) The role of flying foxes (Pteropodidae) in oceanic island ecosystems of the Pacific. In: Racey PA, Swift SM (eds) Ecology, evolution and behaviour of bats (Symp Zool Soc London, vol 67). Clarendon Press/Oxford University Press, New York, pp 47–62

Richards GC (1995) A review of ecological interactions of fruit bats in Australian ecosystems. In: Racey PA, Swift SM (eds) Ecology, evolution and behaviour of bats (Symp Zool Soc London, vol 67). Clarendon Press/Oxford University Press, New York, pp 79–96

Tedman RA, Hall LS (1985) The morphology of the gastrointestinal tract and food transit time in the fruit bats Pteropus alecto and P. poliocephalus (Megachiroptera). Aust J Zool 33:625–640

Thomas DW (1984) Fruit intake and energy budgets of frugivorous bats. Physiol Zool 57:457–467

Thornton IWB, Compton SG, Wilson CN (1996) The role of animals in the colonization of the Krakatau Islands by fig trees (Ficus species). J Biogeogr 23:577–592

Traveset A (1998) Effect of seed passage through vertebrate frugivore's guts on germination; a review. Perspect Plant Ecol Evol Systemat 1:151–190

Traveset A, Richardson DM (2006) Biological invasions as disruptors of plant reproductive mutualisms. Trends Ecol Evol 21:208–216

Utzurrum RCB, Heideman PD (1991) Differential ingestion of viable vs nonviable Ficus seeds by fruit bats. Biotropica 23:311–312

van der Pijl L (1957) The dispersal of plants by bats (Chiropterochory). Acta Bot Neerl 6:291–315

Vardon MJ, Brocklehurst PS, Woinarski JCZ, Cunningham RB, Donnelly CF, Tidemann CR (2001) Seasonal habitat use by flying-foxes, Pteropus alecto and P. scapulatus (Megachiroptera), in monsoonal Australia. J Zool (Lond) 253:523–535

Wheelwright NT (1985) Fruit size, gape width, and the diets of fruit-eating birds. Ecology 66:808–818

White GC, Garrott RA (1990) Analysis of wildlife radio-tracking data. Academic, San Diego

Whittaker RJ, Jones SH (1994) The Role of frugivorous bats and birds in the rebuilding of a tropical forest ecosystem, Krakatau, Indonesia. J Biogeogr 21:245–258

Wright J, Stoner KE, Beckman N, Corlett RT, Dirzo R, Muller-Landau HC, Nuñez-Iturri G, Peres CA, Wang BC (2007) The plight of large animals in tropical forests and the consequences for plant regeneration. Biotropica 39:289–291

Yoshiyuki M (1989) A systematic study of the Japanese Chiroptera. National Science Museum, Tokyo
Acknowledgments
We thank Dr. M. Tsuchiya and Dr. A. Hagihara, University of the Ryukyus, for their valuable comments throughout our study. We also thank Dr. M. Yokota and Dr. T. Denda, University of the Ryukyus, for their identification of the plant species, and Dr. S. Matsumura for observations and technical advises for Mucuna macrocarpa. We are indebted to Ms. A. Kubota, Ms. Y. Yoshioka, Ms. K. Sakugawa, Ms. H. Hirota, and Ms. A. Sato, the students of the Laboratory of Ecology and Systematics, University of the Ryukyus, for their assistance during field surveys. Suggestions from two anonymous referees greatly improved the manuscript. We would like to thank Dr. Krzysztof Schmidt and Dr. Matt Hayward for comments and the language correction of the manuscript. We wish to thank the Ministry of the Environment for the permission for survey. This study was supported by a Grant-in-Aid from Nippon Life Insurance Foundation, Sasakawa Scientific Research Grant from The Japan Science Society, the Japan Ministry of Education, Science, Sports and Culture (JMESSC) (A-16201009) and the 21st Century COE program of the University of the Ryukyus.
Appendix
Appendix
Size and weight of fruits and seeds of plants consumed by Orii's flying-foxes on Okinawa-jima Island
Species
Fruit
Seed
n
Longest axis (mm ± SD)
Second longest axis (mm ± SD)
Weight (g ± SD)
n
Longest axis (mm ± SD)
Second longest axis (mm ± SD)
Weight (g ± SD)
Myrica rubra
59
15.8 ± 3.0
15.6 ± 4.2
2.3 ± 1.3
20
8.9 ± 1.0
6.8 ± 0.6
0.1 ± 0.1
Ficus ampelas
38
8.6 ± 1.2
7.4 ± 0.8
0.3 ± 0.1
No data
<0.01
Ficus erecta
12
22.1 ± 1.8
19.3 ± 1.8
3.4 ± 0.9
20
1.7 ± 0.1
1.3 ± 0.1
<0.01
Ficus microcarpa
18
13.1 ± 1.0
11.9 ± 1.4
1.0 ± 0.3
30
1.0 ± 0.2
0.7 ± 0.1
<0.01
Ficus septica
41
24.6 ± 3.1
16.4 ± 4.0
5.7 ± 2.4
20
1.1 ± 0.1
0.8 ± 0.1
<0.01
Ficus superba
29
12.9 ± 1.4
11.6 ± 1.4
0.8 ± 0.3
15
1.1 ± 0.2
0.7 ± 0.1
<0.01
Ficus thunbergii
5
23.0 ± 0.9
18.8 ± 1.0
2.7 ± 0.4
No data
<0.01
Ficus variegata
30
28.9 ± 1.9
24.7 ± 2.0
10.6 ± 1.7
No data
<0.01
Ficus benguetensis
47
19.3 ± 2.2
15.8 ± 1.9
3.1 ± 1.0
20
1.1 ± 0.1
0.7 ± 0.1
<0.01
Ficus virgata
9
14.1 ± 1.0
13.0 ± 0.5
1.4 ± 0.3
20
1.2 ± 0.1
0.7 ± 0.1
<0.01
Morus australis
35
15.4 ± 1.8
8.7 ± 0.7
0.9 ± 0.2
29
2.0 ± 0.1
1.4 ± 0.1
<0.01
Eriobotrya japonica
10
38.9 ± 3.6
23.1 ± 2.6
11.0 ± 2.9
5
17.3 ± 1.6
12.5 ± 1.7
1.5 ± 0.4
Prunus campanulata
No data
No data
Prunus persica
21
39.2 ± 3.2
34.4 ± 4.6
29.8 ± 10.1
No data
Melia azedarach
10
16.7 ± 1.0
13.4 ± 1.1
1.7 ± 0.3
10
13.4 ± 1.2
9.0 ± 0.7
0.5 ± 0.1
Malpighia glabra
7
19.4 ± 2.3
15.8 ± 2.2
3.4 ± 1.1
No data
Bischofia javanica
43
12.0 ± 1.1
9.8 ± 0.8
2.0 ± 3.1
No data
Elaeocarpus sylvestris
24
18.2 ± 1.5
12.5 ± 0.6
1.8 ± 0.2
No data
Actinidia rufa
17
22.7 ± 7.5
28.1 ± 8.1
16.3 ± 9.6
20
2.3 ± 0.1
1.3 ± 0.1
<0.01
Calophyllum inophyllum
45
33.9 ± 2.8
33.2 ± 2.9
15.9 ± 3.7
28
26.7 ± 2.0
23.7 ± 1.8
5.4 ± 1.0
Garcinia subelliptica
38
47.6 ± 6.7
35.7 ± 2.8
43.1 ± 13.5
23
19.5 ± 3.1
14.1 ± 2.3
2.5 ± 1.6
Idesia polycarpa
42
10.1 ± 0.9
9.9 ± 0.9
0.6 ± 0.1
No data
Carica papaya
2
97.5 ± 13.4
79.5 ± 9.2
410.0 ± 268.7
No data
Elaeagnus glabra
20
16.6 ± 2.1
10.2 ± 1.1
1.2 ± 0.4
20
15.2 ± 1.5
5.6 ± 0.5
0.2 ± 0.1
Terminalia catappa
40
50.4 ± 6.2
30.0 ± 4.4
12.3 ± 4.0
38
42.6 ± 6.7
26.5 ± 5.0
3.8 ± 1.4
Psidium guajava
9
60.6 ± 5.6
53.2 ± 7.4
100.8 ± 43.6
No data
Syzygium cumingii
21
19.8 ± 2.4
15.0 ± 2.8
3.1 ± 1.3
No data
Syzygium jambos
36
37.7 ± 4.3
29.5 ± 5.4
14.1 ± 5.5
No data
Syzygium samarangense
15
56.2 ± 5.7
55.1 ± 2.7
63.6 ± 13.2
No data
Schefflera arboricola
No data
No data
Palaquium formosanum
31
40.8 ± 3.7
28.4 ± 2.3
19.4 ± 4.1
16
33.8 ± 2.1
18.2 ± 8.8
4.7 ± 0.6
Planchonella obovata
No data
No data
Diospyros egbert-walkeri
27
16.4 ± 1.9
10.3 ± 1.8
1.5 ± 0.5
30
11.1 ± 0.9
4.6 ± 0.9
0.1 ± 0.0
Diospyros morrisiana
5
14.4 ± 1.0
13.6 ± 1.0
1.1 ± 0.4
No data
Pandanus odoratissimus
10
75.8 ± 1.8
37.5 ± 2.5
70.6 ± 6.2
No data
Chrysalidocarpus lutescens
No data
No data
About this article
Cite this article
Nakamoto, A., Kinjo, K. & Izawa, M. The role of Orii's flying-fox (Pteropus dasymallus inopinatus) as a pollinator and a seed disperser on Okinawa-jima Island, the Ryukyu Archipelago, Japan. Ecol Res 24, 405–414 (2009). https://doi.org/10.1007/s11284-008-0516-y
Received:

Accepted:

Published:

Issue Date:
Keywords
Okinawa-jima Island

Pollination

Pteropus dasymallus

Ryukyu Archipelago

Seed dispersal