Abstract
Dense flocks of migratory shorebirds from diverse species often concentrate in the intertidal areas for stopover. Trophic structure, food partition, prey availability and selectivity, predation risk, and abiotic factors are often used to explain the differences in habitat use of coexisting shorebirds. We sampled the macrobenthos and surveyed the distribution of shorebird populations to study the effects of foraging strategies on the habitat use of shorebirds at Chongming Dongtan, an important stopover site for shorebirds on the East Asian–Australasian Flyway. Results show that the relative abundance of epifaunal macrobenthos in salt marshes was much higher than that in the bare flats, whereas the relative abundance of infaunal macrobenthos in salt marshes was much lower than that in bare flats. The relative abundance of two life forms of macrobenthos was similar in the transitional zones between the salt marshes and the bare flats. Shorebirds with different foraging strategies exhibited different habitat uses. Pause-travel shorebirds mainly utilized the salt-marsh fringes, while tactile continuous shorebirds relied heavily on the bare flats. There was no significant difference in habitat use for visual continuous shorebirds. The density of tactile continuous shorebirds was positively correlated with bivalve density, and that of visual continuous shorebirds positively with crustacean density. Meanwhile, the relative abundance of pause-travel foraging shorebirds was positively correlated with the relative abundance of epifaunal, but negatively with infaunal macrobenthos. In contrast, the relative abundance of tactile foraging shorebirds had a positive correlation with infaunal but a negative one with epifaunal life form. Therefore, foraging strategies may play important roles in shorebirds' habitat use in intertidal areas.
This is a preview of subscription content, log in to check access.
Access options
Buy single article
Instant access to the full article PDF.
US$ 39.95
Price includes VAT for USA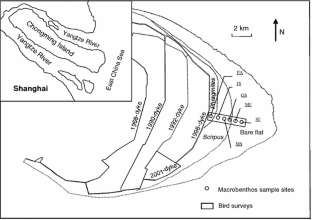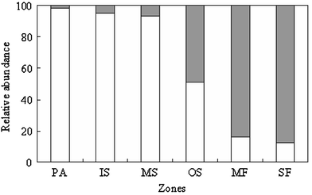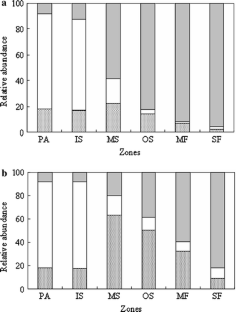 References
Ashley MC, Robinson JA, Oring LW, Vinyard GA (2000) Dipteran standing stock biomass and effects of aquatic bird predation at a constructed wetland. Wetlands 20:84–90

Backwell PRY, O'Hara PD, Christy JH (1998) Prey availability and selective foraging in shorebirds. Anim Behav 55:1659–1667

Baker MC, Baker AEM (1973) Niche relationships among six species of shorebirds on their wintering and breeding ranges. Ecol Monogr 43:193–212

Barbosa A (1995) Foraging strategies and their influence on scanning and flocking behavior of waders. J Avian Biol 26:182–186

Barbosa A (1997) Foraging strategy and predator avoidance behaviour: an intraspecific approach. Acta Oecol 18:615–620

Barbosa A, Moreno E (1999) Evolution of foraging strategies in shorebirds: an ecomophorlogical approach. Auk 116:712–725

Barter M (2002) Shorebirds of the Yellow Sea—importance, threats and conservation status. Canberra, Australia

Barter M, Tonkinson D, Tang SX, Yuan X, Qian F (1997) Staging of Great Knot Calidris tenuirostris, Red Knot C. canutus and Bar-tailed Godwit Limosa lapponica at Chongming Dao, Shanghai: Jumpers to Hoppers? Stilt 31:2–11

Blanco DE (1998) Habitat use by three shorebird species (Pluvialis dominica, Limosa haemastica and Calidris fuscicollis) in relation to tide in Punta Rasa, Argentina. Rev Chil Hist Nat 71:87–94

Boettcher R, Haig SM, Bridges WC (1995) Habitat-related factors affecting the distribution of nonbreeding American Avocets in coastal South-Carolina. Condor 97:68–81

Botto F, Iribarne OO, Martinez MM, Delhey K, Carrete M (1998) The effect of migratory shorebirds on the benthic species of three southwestern Atlantic Argentinean estuaries. Estuaries 21:700–709

Botto F, Palomo G, Iribarne O, Martinez HM (2000) The effect of southwestern Atlantic burrowing crabs on habitat use and foraging activity of migratory shorebirds. Estuaries 23:208–215

Brush T (1995) Habitat use by wintering shorebirds along the lower Laguna-Madre of South Texas. Tex J Sci 47:179–190

Burger J (1984) Abiotic factors affecting migrant shorebirds. In: Burger J, Olla BL (eds) Shorebirds: migration and foraging behavior. Plenum Press, New York, pp 1–72

Burger J, Howe MA, Hahn DC, Chase J (1997a) Effects of tide cycles on habitat selection and habitat partitioning by migrating shorebirds. Auk 94:743–758

Burger J, Niles L, Clark KE (1997b) Importance of beach, mudflat and marsh habitats to migrant shorebirds on Delaware Bay. Biol Conserv 79:283–292

Butler RW, Davidson NC, Morrison RIG (2001) Global-scale shorebird distribution in relation to productivity of near-shore ocean waters. Waterbirds 24:224–232

Cai RX, Huang WH (1991) Fauna of Zhejiang: Molluscs. Zhejiang Science and Technology Publishing House, Hangzhou

Cole ML, Leslie DM, Fisher WL (2002) Habitat use by shorebirds at a stopover site in the southern Great Plains. Southwest Nat 47:372–378

Colwell MA, Dodd SL (1995) Waterbird communities and habitat relationships in coastal pastures of Northern California. Conserv Biol 9:827–834

Colwell MA, Landrum SL (1993) Nonrandom shorebird distribution and fine-scale variation in prey abundance. Condor 95:94–103

Cresswell W (1994) Age-dependent choice of redshank (Tringa totanus) feeding location: profitability or risk? J Anim Ecol 63:589–600

Danufsky T, Colwell MA (2003) Winter shorebird communities and tidal flat characteristics at Humboldt Bay, California. Condor 105:117–129

Davis CA, Smith LM (2001) Foraging strategies and niche dynamics of coexisting shorebirds at stopover sites in the southern Great Plains. Auk 118:484–495

Goss-Custard JD, Jones RE, Newbery PE (1977) The ecology of the Wash. I. distribution and diet of wading birds. J Appl Ecol 14:681–700

Hayes FE, Fox JA (1991) Seasonality, habitat use, and flock sizes of shorebirds at the Bahia-De-Asuncion, Paraguay. Wilson Bull 103:637–649

Hou YQ, Li ZH, Liu DJ, Fan QD, Wang L, Pei XM (1998) Study on the regularity of migration of raptors and its relationship with climate at east China coast in spring. China For Res 11:24–29

Hu W, Lu JJ (2000) A study on spring community structure of shorebirds in SanjiaGang area. J East China Norm Univ (Nat Sci):106–109

Huang ZY, Sun ZH, Yu K (1993) Bird resources and habitats in Shanghai. Fudan University Press, Shanghai

Hubbard DM, Dugan JE (2003) Shorebird use of an exposed sandy beach in southern California. Estuar Coast Shelf Sci 58:41–54

Isola CR, Colwell MA, Taft OW, Safran RJ (2000) Interspecific differences in habitat use of shorebirds and waterfowl foraging in managed wetlands of California's San Joaquin Valley. Waterbirds 23:196–203

Kalejta B (1993) Diets of shorebirds at the Berg River Estuary, South-Africa—spatial and temporal variation. Ostrich 64:123–133

Kalejta B, Hockey PAR (1994) Distribution of shorebirds at the Berg River Estuary, South-Africa, in relation to foraging mode, food-supply and environmental features. Ibis 136:233–239

Lank DB, Butler RW, Ireland J, Ydenberg RC (2003) Effects of predation danger on migration strategies of sandpipers. Oikos 103:303–319

Long LL, Ralph CJ (2001) Dynamics of habitat use by shorebirds in estuarine and agricultural habitats in northwestern California. Wilson Bull 113:41–52

Ma ZJ, Jing K, Tang SM, Chen JK (2002) Shorebirds in the eastern intertidal areas of chongming island during the 2001 northern migration. Stilt 41:6–10

MacLean SF, Holmes JRT (1971) Bill lengths, wintering areas, and taxonomy of North American dunlins, Calidris alpina. Auk 88:893–901

Masero JA, Perez-Gonzalez M, Basadre M, Otero-Saavedra M (1999) Food supply for waders (Aves: Charadrii) in an estuarine area in the Bag of Cadiz (SW Iberian Peninsula). Acta Oecol 20:429–434

McNeil R, Diaz OD, Linero I, Rodriguez JR (1995) Day-time and night-time prey availability for waterbirds in a tropical lagoon. Can J Zool 73:869–878

Mercier F, McNeil R (1994) Seasonal variations in intertidal density of invertebrate prey in a tropical lagoon and effects of shorebird predation. Can J Zool 72:1755–1763

Morrison RIG (1984) Migration system of some new world shorebirds. In: Olla BL (ed) Shorebirds: migration and foraging behavior. Plenum Press, New York, pp 125–202

Ntiamoa-Baidu Y, Piersma T, Wiersma P, Poot M, Battley P, Gordon C (1998) Water depth selection, daily feeding routines and diets of waterbirds in coastal lagoons in Ghana. Ibis 140:89–103

Pienkowski MW, Evans PR (1984) Migratory behavior of shorebirds in the Western Palearctic. In: Burger J, Olla BL (eds) Shorebirds: migration and foraging behavior. Plenum Press, New York, pp 73–123

Piersma T, van Aelst R, Kurk K, Berkhoudt H, Maas LRM (1998) A new pressure sensory mechanism for prey detection in birds: the use of principles of seabed dynamics? Proc R Soc Lond B 265(1404):1377–1383

Placyk JSJ, Harrington BA (2004) Prey abundance and habitat use by migratory shorebirds at coastal stopover sites in Connecticut. J Field Ornithol 75:223–231

Qi ZY, Ma XT, Wang ZR, Lin YG, Xu FS, Dong ZZ, Li FL, Lu DH (1989) Molluscs of Huanghai and Bohai. Agricultural Publishing House, Beijing

Recher HF (1966) Some aspects of the ecology of migrant shorebirds. Ecology 47:393–407

Rojas LM, McNeil R, Cabana T, Lachapelle P (1999) Diurnal and nocturnal visual capabilities in shorebirds as a function of their feeding strategies. Brain Behav Evol 53:29–43

Rogers DI (1999) What determines shorebirds feeding distribution in Roebuck Bay? In: Pepping M, Piersma T, Pearson G, Larvaleye M (eds) Intertidal sediments and benthic animals of Roebuck Bay Western Australia. Netherlands Institute for Sea Research (NIOZ), Texel, pp 145–174

Rubega MA (1997) Surface tension prey transport in shorebirds: how widespread is it? Ibis 139:488–493

Schoener TW (1965) The evolution of bill size differences among sympatric congeneric species of birds. Evolution 19:189–213

Skagen SK, Oman HD (1996) Dietary flexibility of shorebirds in the western hemisphere. Can Field Nat 110:419–444

Sun SC, Cai YL, Liu H (2001) Biomass allocation of Scirpus mariqueter along an elevation gradient in a salt marsh of the Yangtze River Estuary. Acta Bot Sin 43:178–185

Tang SH, Yu K (1996) A study on shorebirds community and diets in Chongming Dongtan. J East China Norm Univ (Nat Sci) (Suppl):79–82

Turpie JK, Hockey PAR (1997) Adaptive variation in the foraging behaviour of Grey plover Pluvialis squatarola and Whimbrel Numenius phaeopus. Ibis 139:289–298

Wei CD, Chen YS (1991) Fauna of Zhejiang: Crustacea. Zhejiang Science and Technology Publishing House, Hangzhou

Wu BL, Sun RP, Yang DJ (1981) Nereidae from China offing. China Ocean Press, Beijing

Xiong LH (2005) Shorebirds distribution, habitat selection and use in Yangtze River estuary. M S thesis. The state key laboratory of estuarine and coastal research, East China Normal University, Shanghai, pp 1–93

Yang DJ, Sun RP (1988) Polychaetes form China offing. Agricultural Publishing House, Beijing

Ydenberg RC, Butler RW, Lank DB, Guglielmo CG, Lemon M, Wolf N (2002) Trade-offs, condition dependence and stopover site selection by migrating sandpipers. J Avian Biol 33:47–55

Yuan XZ, Lu JJ (2001) Preliminary study on macrobenthic community of the creek in the tidal flat of the Changjiang Estuary. Zool Res 22:211–215

Yuan XZ, Lu JJ, Liu H (2002) Influence of characteristics of Scirpus mariqueter community on the benthic macro-invertebrate in a salt marsh of the Changjiang Estuary. Acta Ecol Sin 22(3):326–333

Zwarts L, Wanink JH (1993) How the food-supply harvestable by waders in the Wadden Sea depends on the variation in energy density, body-weight, biomass, burying depth and behavior of tidal-flat invertebrates. Neth J Sea Res 31:441–476

Zweers GA (1991) Transformation of avian feeding mechanisms: a deductive method. Acta Biotheor 39:15–36

Zweers GA, Berge JCV (1997) Evolutionary transitions in the trophic system of the wader-waterfowl complex. Neth J Zool 47:255–287

Zweers GA, Gerritsen AFC (1997) Transitions from pecking to probing mechanisms in waders. Neth J Zool 47:161–208
Acknowledgments
This study was supported by the National Natural Science Foundation of China (no. 30400057), Ministry of Education Programme (no. 104074) and Science and Technology Commission of Shanghai (04DZ19301, 04DZ19303, 05DZ12005, 05DZ22327, 05QMX1406). We appreciate Jing Zhu, Xiaojing Gan, Shimin Tang, Chendong Tang, and Kejia Zhang for their help with the data collection and field surveys, and Chongming Dongtan Nature Reserve for facilitating our fieldwork. We also thank Chiyeung Choi for his advice on an earlier version of this article, and two anonymous referees for their constructive suggestions in the revision, and Bruce Anderson for improving English.
About this article
Cite this article
Jing, K., Ma, Z., Li, B. et al. Foraging strategies involved in habitat use of shorebirds at the intertidal area of Chongming Dongtan, China. Ecol Res 22, 559–570 (2007). https://doi.org/10.1007/s11284-006-0302-7
Received:

Accepted:

Published:

Issue Date:
Keywords
East Asian–Australasian Flyway

Foraging strategy

Habitat use

Mudflat

Stopover

Yangtze River estuary