Abstract
The influences of thinning (50% of standing density) and liming (Ca+Mg, 2 Mg ha−1) on soil chemical properties were investigated for 2 years (2001, 2002) in 40-year-old pitch pine (Pinus rigida Mill.) and 44-year-old Japanese larch (Larix leptolepis Gord.) plantations established on similar soils. In general, soil properties varied significantly among plantations and treatments. For both plantations, thinning significantly increased soil organic C (SOC) concentrations whereas there were no significant changes in soil pH and Ca and Mg concentrations. In addition, thinning increased total soil N and Na concentrations for the pitch pine plantation and available P concentration for the Japanese larch plantation in the second year after the treatment. Liming did not affect soil chemical characteristics for the pitch pine plantation except for Na concentration. However, for the Japanese larch plantation, liming significantly increased soil pH and K, Ca and Mg concentrations and decreased SOC and total soil N concentrations. For both plantations, soil Al concentration did not change after thinning and liming and decreased exponentially with increased pH values. The increases in SOC and total soil N concentrations after thinning were possibly due to increases in decomposition of organic matter and root death. Although differences were not statistically significant, soil available P concentration tended to increase at early stages of liming for both plantations. These results suggested that thinning and liming seemed to regulate soil chemical properties for pitch pine and Japanese larch plantations established on similar soils.
This is a preview of subscription content, log in to check access.
Access options
Buy single article
Instant access to the full article PDF.
US$ 39.95
Price includes VAT for USA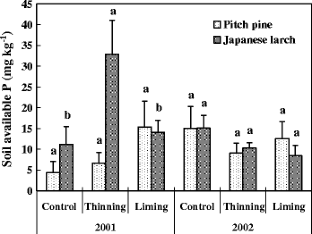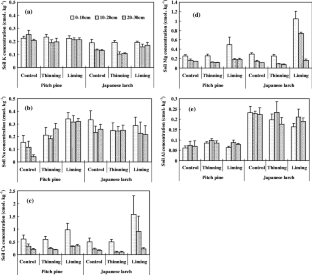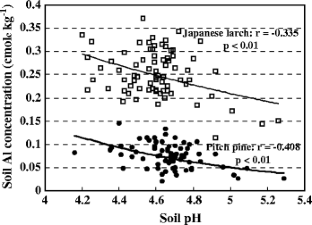 References
Bakker MR, Kerisit R, Verbist K, Nys C (1999) Effects of liming on rhizosphere chemistry and growth of fine roots and of shoots of sessile oak (Quercus petraea). Plant Soil 217:243–255

Barnhisel R, Bertsch PM (1982) Aluminum. In: Page AL et al (eds) Methods of soil analysis. Part 2. Chemical and microbiological properties. Agronomy monograph no. 9, 2nd edn. ASA and SSSA, Madison, Wis., pp 275–300

Beke GJ, Graham DP, Entz T (1995) Nitrate-N, ammonium-N, and organic matter in relation to profile characteristics of Dark Brown Chernozemic soils. Can J Soil Sci 75:55–61

Binkley D (1994) The influence of tree species on forest soils—processes and patterns. In: Trees and Soil Workshop proceedings, Lincoln University, Christchurch, New Zealand, 28 February–2 March 1994

Boerner REJ, Sutherland EK (1997) The chemical characteristics of soil in control and experimentally thinned plots in mesic oak forests along a historical deposition gradient. Appl Soil Ecol 7:59–71

Burke IC, Yonker CM, Parton WJ, Cole CV, Flach K, Schimel DS (1989) Texture, climate, and cultivation effects on soil organic content in U.S. grassland soils. Soil Sci Soc Am J 53:800–805

Chen X, Li B-L (2003) Change in soil carbon and nutrient storage after human disturbance of a primary Korean pine forest in northeast China. For Ecol Manage 186:97–206

Edwards NT, Ross-Todd BM (1983) Soil carbon dynamics in a mixed deciduous forest following clear-cutting with and without residue removal. Soil Sci Soc Am J 47:1014–1021

Ellert BH, Janzen HH, McConkey BG (2001) Measuring and comparing soil carbon storage. In: Lal R, Kimble JM, Follett RF, Stewart BA (eds) Assessment methods for soil carbon. Lewis, Boca Raton, Fla., pp 136–139

Emmett BA (1999) The impact of nitrogen on forest soils and feedbacks on tree growth. Water Air Soil Pollut 116:65–74

Fahey TJ, Hughes JW (1994) Fine root dynamics in a northern hardwood forest ecosystem, Hubbard Brook Experimental Forest, NH. J Ecol 82:533–548

Frank J, Stuanes AO (2003) Short-term effects of liming and vitality fertilization on forest soil and nutrient leaching in a Scots pine ecosystem in Norway. For Ecol Manage 176:371–386

Garten CT Jr, Huston MA, Thoms CA (1994) Topographic variation of soil nitrogen dynamics at Walker branch watershed, Tennessee. For Sci 40(3):497–512

Giardina CP, Rhoades CC (2001) Clear cutting and burning affect nitrogen supply, phosphorus fractions and seedling growth in soils from a Wyoming lodgepole pine forest. For Ecol Manage 140:19–28

Giardina CP, Ryan MG, Hubbard RM, Binkley D (2001) Tree species and soil textural controls on carbon and nitrogen mineralization rates. Soil Sci Soc Am J 65:1272–1279

Harris AR, Stone DM (1992) Ion movement in acidified, low base saturated sand soils. Research paper NC-305. US Department of Agriculture, Forest Service, North Central Forest Experiment Station, St. Paul, Min., pp 1–7

Heath LS, Smith JE (2000) Soil carbon accounting and assumptions for forestry and forest-related land use change. In: Joyce LA, Birdsey R (eds) The impact of climate change on America's forests. A technical document supporting the 2000 USDA Forest service RPA Assessment. general technical report RMRS-GTR-59. USDA Forest Service, Rocky Mountain Research Station, Fort Collins, Colo., pp 89–101

Heiri O, Lotter AF, Lemcke G (2001) Loss on ignition as a method for estimating organic and carbonate content in sediments: reproducibility and comparability of results. J Paleolimnol 25:101–110

Houle D, Duchesne L, Moore JD, Laflèche MR, Ouimet R (2002) Soil and tree-ring chemistry response to liming in a sugar maple stand. J Environ Qual 31:1993–2000

Hwang JH, Son Y (2002) Effects of thinning, liming, and litter layer treatments on soil CO2 efflux and litter decay in P. rigida and L. leptolepis plantations (in Korean with English abstract). J Kor For Soc 91(4):471–479

Hwang JH, Son Y, Kim JS (2001) An improved soil core sampler (in Korean with English abstract). J Kor For Soc 90(6):788–791

Ingerslev M (1997) Effects of liming and fertilization on growth, soil chemistry and soil water chemistry in a Norway spruce plantation on a nutrient-poor soil in Denmark. For Ecol Manage 92:55–66

Johnson DW (1992) Effects of forest management on soil carbon storage. Water Air Soil Pollut 64:83–120

Johnson DW, Ball JT, Walker RF (1997) Effects of CO2 and nitrogen fertilization on vegetation and soil nutrient content in juvenile Ponderosa pine. Plant Soil 190:29–40

Kim C (1999) Aboveground nutrient distribution in pitch pine (Pinus rigida) and Japanese larch (Larix leptolepis) plantations. J Kor For Soc 88(2):266–272

Kim C (2004) Effects of stand density on carbon dynamics in a larch (Larix leptolepis) plantation. J Kor For Soc 93(6):355–362

Kim C, Jeong JH (2001) Change of aboveground carbon storage in a Pinus rigida stand in Gwangnung, Gyunggi-do, Korea (in Korean with English abstract). J Kor For Soc 90(6):774–780

Kim JS, Son Y, Lim JH, Kim ZS (1996) Aboveground biomass, N and P distribution, and litterfall in Pinus rigida and Larix leptolepis plantations (in Korean with English abstract). J Kor For Soc 85:416–425

Kreutzer K (1995) Effects of forest liming on soil processes. Plant Soil 168–169:447–470

Lee CS, Kim JY, You YH (1998) Amelioration of soil acidified by air pollutant around the industrial complexes. Kor J Ecol 21(4):313–320

Lee IK (2000) Effects of nitrogen and phosphorus fertilization on nutrient cycling of P. rigida and L. leptolepis plantations in Yangpyeong Area, Kyunggi, Province (in Korean with English abstract). PhD thesis, Korea University

Lohm U, Larsson K, Nômmik H (1984) Acidification and liming of coniferous forest soil: long-term effects on turnover rates of carbon and nitrogen during an incubation experiment. Soil Biol Biochem 16(4):343–346

Maier CA, Kress LW (2000) Soil CO2 evolution and root respiration in 11 year-old loblolly pine (Pinus taeda) plantations as affected by moisture and nutrient availability. Can J For Res 30:347–359

Martinez AV, Perry DA (1997) Factors influencing the availability of nitrogen in thinned and unthinned Douglas-fir stands in the central Oregon Cascades. For Ecol Manage 93:195–203

Mattson KG, Smith HC (1993) Detrital organic matter and soil CO2 efflux in forests regenerating from cutting in West Virginia. Soil Biol Biochem 25(9):1241–1248

Meiwes KJ, Mindrup M, Khanna PK (2002) Retention of Ca and Mg in the forest floor of a spruce stand after application of various liming materials. For Ecol Manage 159:27–36

Mulder J, De Wit HA, Boonen HWJ, Bakken LR (2001) Increased levels of aluminum in forest soils: effects on the stores of soil organic carbon. Water Air Soil Pollut 130:989–994

Nakane K, Tsubota H, Yamamoto M (1986) Cycling of soil carbon in a Japanese red pine forest. II. Changes occurring in the first year after a clear-felling. Ecol Res 1:47–58

Noble AD, Summer ME, Alva AK (1988) The pH dependency of aluminum phytotoxicity alleviation by calcium sulfate. Soil Sci Soc Am J 52:1398–1402

Olsson BA, Staaf H, Lundkvist H, Bengtsson J, Rosén K (1996) Carbon and nitrogen in coniferous forest soils after clear-felling and harvests of different intensity. For Ecol Manage 82:19–32

Olsson BA (1999) Effects of biomass removal in thinnings and compensatory fertilization on exchangeable base cation pools in acid forest soils. For Ecol Manage 122:29–39

Olsson BA, Bengtsson J, Lundkvist H (1996) Effects of different forest harvest intensities on the pools of exchangeable cations in coniferous forest soils. For Ecol Manage 84:135–147

Park H, Yoo JH, Lee CH, Byun JK, Kim YK (1998) Effects of liming and fertilization on forest soil chemical properties, bacterial population and soil enzyme activities (in Korean with English abstract). FRI J For Sci 58:178–183

Parker JL, Fernandez IJ, Rustad LE, Norton SA (2001) Effects of nitrogen enrichment, wildfire, and harvesting on forest-soil carbon and nitrogen. Soil Sci Soc Am J 65:1248–1255

Pellerin BA, Fernandez IJ, Norton SA, Kahl JS (2002) Soil aluminum distribution in the near-stream zone at the Bear Brook watershed in Maine. Water Air Soil Pollut 134:189–204

Postek K, Driscoll C, Kahl J, Norton S (1995) Changes in the concentrations and speciation of aluminum in response to an experimental addition of ammonium sulfate to the Bear Brook Watershed, Maine, USA. Water Air Soil Pollut 85:1733–1738

Prescott CE (1997) Effects of clearcutting and alternative silvicultural systems on rates of decomposition and nitrogen mineralization in a coastal montane coniferous forest. For Ecol Manage 95:253–260

Priha O, Smolander A (1995) Nitrification, denitrification and microbial biomass N in soil from two N-fertilized and limed Norway spruce forests. Soil Biol Biochem 27(3):305–310

Saikh H, Varadachari C, Ghosh K (1998) Changes in carbon, nitrogen and phosphorus levels due to deforestation and cultivation: a case study in Simlipal National Park, India. Plant Soil 198:137–145

Sanborn P (2001) Influence of broadleaf trees on soil chemical properties: a retrospective study in the sub-boreal spruce zone, British Columbia, Canada. Plant Soil 236:75–82

SAS (1988) SAS/STAT user's guide, 6.03 edn. SAS Institute, Cary, N.C.

Sikström U (2002) Effects of liming and fertilization (N, PK) on stem growth, crown transparency, and needle element concentrations of Picea abies stands in southwestern Sweden. Can J For Res 32:1717–1727

Son Y, Lee IK (1997) Soil nitrogen mineralization in adjacent stands of larch, pine and oak in central Korea. Ann Sci For 54:1–8

Son Y, Jun YC, Lee YY, Kim RH, Yang SY (2004) Soil CO2 evolution, litter decomposition, and nitrogen availability 4 years after thinning in a Japanese larch plantation. Commun Soil Sci Plant Anal 35(7&8):1111–1122

Son Y, Lee W-K, Lee SE, Ryu SR (1999) Effects of thinning on soil nitrogen mineralization in a Japanese larch plantation. Commun Soil Sci Plant Anal 30(17–18):2539–2550

Staddon PL, Ostle N, Dawson LA, Fitter AH (2003) The speed of soil carbon throughput in an upland grassland is increased by liming. J Exp Bot 54(386):1461–1469

Starr JL, Parkin TB, Meisinger JJ (1995) Influence of sample size on chemical and physical soil measurements. Soil Sci Soc Am J 59:713–719

Takahashi M (1997) Comparison of nutrient concentrations in organic layers between broad-leaved and coniferous forest. Soil Sci Plant Nutr 43(3):541–550

Vance ED (2003) Approaches and technologies for detecting changes in forest soil carbon pools. Soil Sci Soc Am J 67:1582

Vesterdal L, Dalsgaard M, Felby C, Raulund-Rasmussen K, Jørgensen BB (1995) Effects of thinning and soil properties on accumulation of carbon, nitrogen and phosphorus in the forest floor of Norway spruce stands. For Ecol Manage 77:1–10

Weber MG (1985) Forest soil respiration in eastern Ontario jack pine ecosystems. Can J For Res 15:1069–1073

Wilmot TR, Ellsworth DS, Tyree MT (1996) Base cation fertilization and liming effects on nutritions and growth of Vermont sugar maple stands. For Ecol Manage 84:123–134

Yoo JH, Byun JK, Kim C, Lee CH, Kim YK, Lee WK (1998) Effects of lime, magnesium sulfate, and compound fertilizers on soil chemical properties of acidified forest soils (in Korean with English abstract). J Kor For Soc 87(3):341–346

Zarin DJ, Johnson AH, Thomas SM (1998) Soil organic carbon and nutrient status in old-growth montane coniferous forest watersheds, Isla Chiloé, Chile. Plant Soil 201:251–258
Acknowledgements
Financial support was provided by a Korea University Grant in 2003. This work was also partially supported by the Ministry of Education and Human Resources Development in Korea (2005).
About this article
Cite this article
Hwang, J., Son, Y. Short-term effects of thinning and liming on forest soils of pitch pine and Japanese larch plantations in central Korea. Ecol Res 21, 671–680 (2006). https://doi.org/10.1007/s11284-006-0170-1
Received:

Accepted:

Published:

Issue Date:
Keywords
Larix leptolepis

Liming

Pinus rigida

Soil chemical properties

Thinning