Abstract
To assess the potential and develop appropriate techniques for the recolonization of lakeshore vegetation at sites where it had been completely lost, a pilot project was launched at Lake Kasumigaura, Japan. We investigated the species composition and density of the soil seed banks (propagule banks) of lake sediments at nine sites (total area, 65,200 m2) where lake sediments were spread thinly (∼10 cm) on the surfaces of artificial littoral zones. These zones were constructed in front of concrete levees and had microtopographic variations. In total, 180 species, including six endangered or vulnerable species and 12 native submerged plants that had disappeared from the aboveground vegetation of the lake, were recorded during the first year of restoration. The distribution of each restored species at the sites suggested the importance of microtopographic variation for recolonizing species-rich lakeshore vegetation. Furthermore, the origin of the source sediment affected the species composition of the established vegetation.
This is a preview of subscription content, log in to check access.
Access options
Buy single article
Instant access to the full article PDF.
US$ 39.95
Price includes VAT for USA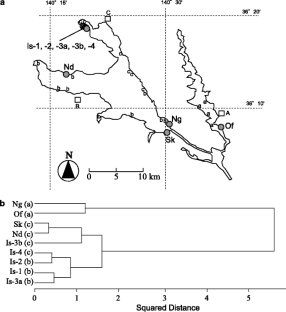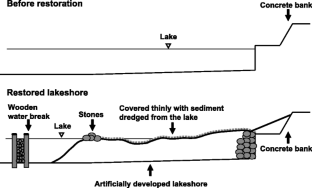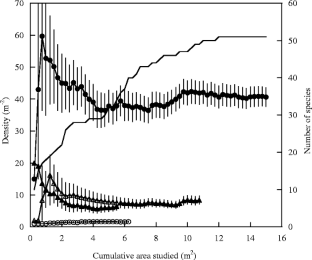 References
Alexander JM, D'Antonio CM (2003) Seed bank dynamics of French broom in coastal California grasslands: effects of stand age and prescribed burning on control and restoration. Restor Ecol 11:185–197

Apparacio A, Guisande R (1997) Replenishment of the endangered Echinospartum algibicum (Genisteae, Fabaceae) from the soil seed bank. Biol Conserv 81:267–273

Archibold OW (1979) Buried viable propagules as a factor in postfire regeneration in northern Saskatchewan. Can J Bot 57:54–58

Baskin CC, Baskin JM (2001) Seeds: ecology, biogeography, and evolution of dormancy and germination. Academic Press, London

Beklioglu M, Ince O, Tuzun I (2003) Restoration of the eutrophic Lake Eymir, Turkey, by biomanipulation after a major external nutrient control. I. Hydrobiologia 489:93–105

Bigwood DW, Inouye DW (1988) Spatial pattern analysis of seed banks: an improved method and optimized sampling. Ecology 69:497–507

Bonis A, Lepart J, Grillas P (1995) Seed bank dynamics and coexistence of annual macrophytes in a temporary and variable habitat. Oikos 74:81–92

Cabin RJ, Marshall DL, Mitchell RJ (2000) The demographic role of soil seed banks. II. Investigations of the fate of experimental seeds of the desert mustard Lesquerella fendleri. J Ecol 88:293–302

Environment Agency of Japan (2000) Threatened wildlife of Japan: red data book, 2nd edn (in Japanese). Japan Wildlife Research Center, Tokyo

Forcella F (1984) A species–area curve for buried viable seeds. Aust J Agric Res 35:645–652

Galinato M, van der Valk A (1986) Seed germination traits of annuals and emergents recruited during drawdowns in the Delta Marsh, Manitoba, Canada. Aquat Bot 26:89–102

Gaudet CL, Keddy PA (1995) Competitive performance and species distribution in shoreline plant communities: a comparative approach. Ecology 76:280–291

Grime JP, Mason G, Curtis AV, Rodman J, Band SR, Mowforth MAG, Neal AM, Shaw S (1981) A comparative study of germination characteristics in a local flora. J Ecol 69:1017–1059

Haag RW (1983) Emergence of seedlings of aquatic macrophytes from lake sediments. Can J Bot 61:148–156

Haukos DA, Smith LM (1994) Composition of seed banks along an elevational gradient in playa wetlands. Wetlands 14:301–307

Hayashi I, Numata M (1971) Viable buried-seed population in the Miscanthus and Zoysia type grasslands in Japan: ecological studies on the buried-seed population in the soil related to plant succession. VI. Jpn J Ecol 20:243–252

Hirose H, Yamagishi T (1977) Illustrations of the Japanese fresh-water algae (in Japanese). Uchidaroukakuho, Tokyo

Ibaraki Prefecture (1959) Basic research on effects of water level drawdown on aquatic organisms in Lake Kasumigaura (in Japanese). Ibaraki Prefecture, Japan

Ibaraki Prefecture (1973) A report on distribution of natural resources in Lake Kasumigaura (in Japanese). Ibaraki Prefecture, Japan

Kadono Y (1994) Aquatic plants of Japan (in Japanese). Bun-ichi Sogo Shuppan, Tokyo

Keddy PA, Ellis TH (1985) Seedling recruitment of eleven wetland plant species along a water-level gradient: shared or distinct responses. Can J Bot 63:876–879

Keddy PA, Reznicek AA (1982) The role of seed banks in the persistence of Ontario's coastal plain flora. Am J Bot 69:13–22

Keddy PA, Fraser LH, Wisheu IC (1998) A comparative approach to examine competitive response of 48 wetland plant species. J Veg Sci 9:777–786

Kuroda T (1899) Floristic report of Lake Kasumigaura (in Japanese). Bot Mag Tokyo 144:51–53

Lehmann A, Lachavanne JB (1999) Changes in the water quality of Lake Geneve indicated by submerged macrophytes. Freshwater Biol 42:457–466

Levin DA (1990) The seed bank as a source of genetic novelty in plants. Am Nat 135:563–572

McCue KM, Holtsford TP (1998) Seed bank influences on genetic diversity in the rare annual Clarkia springvillensis (Onagraceae). Am J Bot 85:30–36

McDonald AW (1993) The role of seedbank and sown seeds in the restoration of an English flood-meadow. J Veg Sci 4:395–400

McKnight SK (1992) Transplanted seed bank response to drawdown time in a created wetland in East Texas. Wetlands 12:79–90

Middleton BA (1995) Seed banks and species richness potential of coal slurry ponds reclaimed as wetlands. Restor Ecol 3:311–318

Middleton BA (2003) Soil seed banks and the potential restoration of forested wetlands after farming. J Appl Ecol 40:1025–1034

Miyawaki S, Nishihiro J, Nakamura K, Fujiwara N (2004) Spatio-temporal pattern and factors of vegetation decline in Lake Kasumigaura (in Japanese with English summary). Jpn J Conserv Ecol 9:45–55

National Institute for Environmental Studies (2001) Lake Kasumigaura database. Center for Global Environmental Research, National Institute for Environmental Sciences, Tsukuba

Nishihiro J, Takagawa S, Miyawaki S, Ajima M (2003) Propagule banks of submerged plants in the sediments of Lake Kasumigaura, Japan (in Japanese with English summary). Jpn J Conserv Ecol 8:113–118

Nishihiro J, Araki S, Fujiwara N, Washitani I (2004a) Germination characteristics of lakeshore plants under an artificially stabilized water regime. Aquat Bot 79:333–343

Nishihiro J, Miyawaki S, Fujiwara N, Washitani I (2004b) Regeneration failure of lakeshore plants under an artificially altered water regime. Ecol Res 19:613–623

Sakurai Y (1981) Changes of flora, vegetation area and biomass of aquatic plants in the recent progress of eutrophication in Lake Kasumigaura (in Japanese with English summary). Res Rep Natl Inst Environ Stud 22:229–279

Sakurai Y (1990) Decrease in vegetation area, standing biomass and species diversity of aquatic macrophytes in Lake Kasumigaura (Nishiura) in recent years. Jpn J Limnol 51:45–48

Salkhan J (1974) Studies of plant demography: Ranunculus repens L., R. bulbosus L. and R. acris L. II. Reproductive strategies and seed population dynamics. J Ecol 62:151–177

Satake Y, Hara H, Watari A, Tominari T (1982) Wild flowers of Japan (in Japanese). Heibonsha, Tokyo

Seabloom EW, van der Valk AG, Moloney KA (1998) The role of water depth and soil temperature in determining initial composition of prairie wetland coenoclines. Plant Ecol 138:203–216

van der Valk AG, Davis CB (1978) The role of seed banks in the vegetation dynamics of prairie glacial marshes. Ecology 59:322–335

van der Valk AG, Pederson RL, Davis CB (1992) Restoration and creation of freshwater wetlands using seed banks. Wetlands Ecol Manage 1:191–197

Wilson SD, Keddy PA (1986) Species competitive ability and position along a natural stress/disturbance gradient. Ecology 67:1236–1242

de Winton MD, Clayton JS, Champion PD (2000) Seedling emergence from seed banks of 15 New Zealand lakes with contrasting vegetation histories. Aquat Bot 66:181–194

Wisheu IC, Keddy PA (1991) Seed banks of a rare wetland plant community: distribution patterns and effects of human-induced disturbance. J Veg Sci 2:181–188

Zhang ZQ, Shu WS, Lau CY, Wong MH (2001) Soil seed bank as an input of seed source in revegetation of lead/zinc mine tailings. Restor Ecol 9:378–385
Acknowledgements
We thank the Kasumigaura River Office of the Ministry of Land, Infrastructure, and Transport of Japan for allowing us to conduct this study, Dr Stefan Hotes of the University of Tokyo for his advice on a draft of this paper. We also thank the anonymous reviewers for helpful comments that improved the manuscript. This research was partly supported by a Grant-in-Aid from the Ministry of Education, Culture, Sports, Science and Technology of Japan (no. 15710173).
Appendix
Appendix
List of vascular plants and charophytes observed at the study sites (for sites see Table 1 and Fig. 1a). + Presence, A alien species
Family
Species
Ng
Of
Is1
Is2
Is3a
Is3b
Is4
Sk
Nd
Alien
Asteraceae
Artemisia indica
+
+
 
+
 
 
 
 
+
 
Aster subulatus
+
+
+
+
+
+
+
+
+
A
Bidens frondosa
+
+
 
+
 
+
+
+
+
A
Bidens pilosa
+
+
 
 
 
 
 
 
+
A
Bidens tripartita
+
+
 
 
 
 
 
 
+
A
Centipeda minima
+
+
 
 
 
 
+
 
 
 
Conyza canadensis
+
+
 
+
+
 
 
+
+
A
Conyza sumatrensis
 
+
 
 
 
 
 
 
+
A
Eclipta alba
+
+
+
+
+
+
+
+
+
A
Eclipta prostrate
+
+
+
+
+
+
+
+
+
A
Erigeron annuus
+
+
+
+
+
+
+
+
+
A
Erigeron philadelphicus
+
+
+
+
+
+
+
+
 
A
Galinsoga ciliata
 
 
+
+
+
+
+
 
 
A
Gnaphalium affine
+
+
 
 
 
 
 
+
 
 
Gnaphalium calviceps
 
 
 
 
 
 
 
 
+
A
Gnaphalium pennsylvanicum
+
+
 
 
 
 
 
 
+
A
Lactuca indica
 
 
 
+
 
 
 
 
+
 
Senecio vulgaris
 
 
 
 
 
 
 
+
+
A
Solidago altissima
+
+
+
+
+
+
+
+
+
A
Sonchus oleraceus
+
 
 
 
 
 
 
 
 
 
Xanthium canadense
 
 
+
+
 
 
+
+
+
A
Youngia japonica
 
 
 
 
 
 
 
+
+
 
Campanulaceae
Lobelia chinensis
 
 
 
 
 
 
 
 
+
 
Scrophulariaceae
Limnophila sessiliflora
 
 
 
 
 
 
 
+
 
 
Lindernia angustifolia
+
+
+
 
 
+
 
+
 
 
Lindernia dubia
+
+
+
+
+
+
+
+
+
A
Lindernia procumbens
+
+
+
+
+
+
+
+
+
 
Mazus japonicus
 
 
+
+
+
+
+
+
 
 
Veronica peregrine
 
 
+
+
+
+
+
+
 
 
Veronica undulate
 
 
+
+
+
+
+
+
+
 
Callitrichaceae
Callitriche palustris
 
 
 
 
 
 
+
 
+
 
Lamiaceae
Lycopus lucidus
 
 
+
+
+
+
+
+
 
 
Lycopus ramosissimus
+
 
+
 
 
 
 
 
 
 
Lycopus ramosissimus var. japonicus
 
 
+
+
+
+
+
+
+
 
Mosla dianthera
+
+
+
+
+
+
+
+
 
 
Mosla punctulata
+
+
 
 
 
 
 
 
 
 
Boraginaceae
Bothriospermum tenellum
+
+
+
+
+
+
+
 
+
 
Trigonotis peduncularis
 
 
 
 
 
 
 
 
+
 
Menyanthaceae
Nymphoides peltata
+
+
+
 
 
 
+
+
 
 
Solanaceae
Solanum americanum
 
 
 
 
 
 
 
+
+
A
Apiaceae
Oenanthe javanica
+
+
 
 
 
 
+
+
 
 
Euphorbiaceae
Acalypha australis
 
 
+
+
+
+
+
 
 
 
Euphorbia supine
 
 
 
 
 
 
 
 
+
A
Onagraceae
Ludwigia decurrens
+
+
+
+
+
+
+
+
+
A
Ludwigia decurrens
 
 
 
 
 
 
+
+
 
A
Ludwigia epilobioides
+
+
+
+
+
+
+
+
+
 
Oenothera biennis
 
 
 
 
 
 
 
 
+
A
Oenothera laciniata
+
+
 
 
 
 
 
 
 
A
Trapaceae
Trapa bispinosa var. iinumai
+
+
+
+
+
+
+
+
+
 
Trapa natans
+
 
+
+
+
+
+
+
 
 
Lythraceae
Ammannia coccinea
 
 
 
+
+
+
 
+
 
A
Ammannia multiflora
 
 
+
+
+
+
+
+
 
 
Rotala indica
 
 
+
+
+
 
 
 
 
 
Haloragaceae
Myriophyllum brasiliense
+
+
 
 
 
 
 
+
 
A
Myriophyllum spicatum
+
 
 
 
 
 
+
+
+
 
Fabaceae
Aeschynomene indica
+
+
 
+
 
 
+
+
+
 
Amphicarpaea bractaeta subsp. edgeworthii var. japonica
 
 
 
 
 
 
+
 
 
 
Glycine max subsp. soja
+
 
+
+
+
+
+
 
+
 
Kummerovia striata
+
+
 
 
 
 
 
 
+
 
Lespedeza cuneata
+
+
+
 
 
 
 
 
 
 
Trifolium dubium
+
+
 
 
 
 
 
 
+
A
Trifolium repens
+
+
+
+
+
+
+
 
 
A
Vicia hirsute
 
+
 
 
 
 
 
+
+
 
Crassulaceae
Sedum bulbiferum
+
+
 
 
 
 
 
+
+
 
Brassicaceae
Capsella bursa-pastoris
 
+
 
 
 
 
 
+
+
 
Cardamine flexuosa
 
+
+
+
+
+
+
 
+
 
Lepidium virginicum
 
 
 
 
 
 
 
 
+
A
Rorippa indica
+
+
+
+
+
+
+
+
+
 
Rorippa islandica
+
+
+
+
+
+
+
+
+
 
Salicaceae
Salix chaenomeloides
 
 
+
+
+
+
+
 
 
 
Salix gilgiana
+
 
 
 
 
 
 
 
+
 
Salix integra
+
 
 
 
 
 
 
 
 
 
Salix subfragilis
+
+
+
+
+
+
+
 
+
 
Cucurbitaceae
Actinostemma lobatum
+
+
+
+
+
+
+
 
+
 
Melothria japonica
 
 
 
 
 
 
 
+
 
 
Clusiaceae
Triadenum japonicum
 
+
 
 
 
 
 
 
 
 
Polygonaceae
Persicaria hydropiper
+
+
+
+
+
+
+
+
 
 
Persicaria lapathifoliua
+
+
+
+
+
+
+
+
+
 
Persicaria longiseta
+
+
+
+
+
+
+
+
+
 
Persicaria maackianum
 
 
 
 
 
 
 
 
+
 
Persicaria nipponensis
 
+
 
 
 
 
 
 
 
 
Persicaria thunbergii
 
+
+
 
 
 
+
 
+
 
Rumex crispus
 
+
 
 
 
 
 
 
 
A
Rumex crispus subsp. japonicus
+
+
+
+
+
+
+
+
+
 
Caryophyllaceae
Cerastium glomeratum
+
+
 
 
 
 
 
 
+
A
Myosoton aquaticum
 
 
+
+
+
+
+
 
+
 
Sagina japonica
+
+
+
+
+
+
+
 
 
 
Stellaria alsine var. undulate
 
 
 
 
 
 
 
 
+
 
Stellaria media
+
+
 
 
 
 
 
 
 
 
Portulacaceae
Portulaca oleracea
+
+
+
 
 
 
 
 
 
 
Amaranthaceae
Achyranthes bidentata var. tomentosa
 
+
 
 
 
 
 
 
+
 
Chenopodiaceae
Ambrina ambrosioides
+
+
 
+
 
 
+
+
+
A
Chenopodium album
+
+
 
+
 
 
+
+
+
 
Cannabaceae
Humulus japonicus
 
 
 
 
 
 
 
 
+
 
Papaveraceae
Macleaya cordata
 
 
 
 
 
 
 
 
 
 
Ranunculaceae
Ranunculus cantoniensis
 
+
+
+
+
+
+
 
+
 
Ranunculus japonicus
 
 
 
 
 
 
 
+
 
 
Ranunculus quelpaertensis var. glaber
 
 
 
 
 
 
 
+
 
 
Ranunculus sceleratus
+
+
+
+
+
+
+
+
+
 
Ceratophyllaceae
Ceratophyllum demersum
 
 
 
 
 
 
 
+
+
 
Nelumnbonaceae
Nelumbo nucifera
 
 
+
+
+
+
+
+
 
 
Pontederiaceae
Eichhornia crassipes
+
 
 
 
 
 
+
+
+
A
Monochoria korsakowii
+
+
+
+
+
+
+
+
 
 
Monochoria vaginalis
+
+
+
+
+
+
+
+
 
 
Typhaceae
Typha angustifolia
+
+
+
+
+
+
+
+
+
 
Typha latifolia
 
+
 
 
 
 
 
+
 
 
Typha orientaris
+
 
 
 
 
 
 
 
 
 
Poaceae
Alopecurus aequalis
 
 
+
+
+
+
+
 
+
 
Arthraxon hispidus
+
 
+
+
+
+
+
+
 
 
Arundinella hirta
 
 
+
+
+
+
 
+
 
 
Cynodon dactylon
 
 
 
 
 
 
 
+
 
 
Digitaria ciliaris
+
+
 
+
+
+
+
+
+
 
Digitaria violascens
 
 
+
+
+
+
+
 
 
 
Echinochloa crus-galli var. caudate
+
+
+
+
+
+
+
+
+
 
Echinochloa oryzicola
+
+
+
+
+
+
+
+
+
 
Eleusine indica
 
 
 
+
+
 
+
 
 
 
Eragrostis multicaulis
+
+
+
+
+
+
+
+
+
 
Isachne globosa
 
+
 
 
 
 
 
 
 
 
Panicum bisulcatum
 
 
 
+
+
 
 
 
 
 
Panicum dichotomiflorum
+
+
+
+
+
+
+
+
+
A
Paspalum distichum
+
+
+
+
+
+
+
+
+
A
Pasparlm thunbergii
 
 
 
 
 
 
 
 
+
 
Phragmites australis
+
+
+
+
+
+
+
 
+
 
Poa annua
 
 
+
+
+
+
+
 
 
 
Polypogon fugax
+
+
+
+
+
+
+
+
+
 
Setaria viridis
 
 
+
+
+
+
+
 
+
 
Zizania latifolia
 
 
+
+
+
+
+
 
 
 
Zoysia japonica
 
 
 
 
 
 
+
 
 
 
Cyperaceae
Carex dimorpholepis
 
 
 
 
 
 
 
+
 
 
Carex meurocarpa
 
 
+
+
+
+
+
 
 
 
Cyperus amuricus
+
+
 
+
 
+
+
+
+
 
Cyperus brevifolius var. leiolepis
+
+
+
+
+
+
+
+
+
 
Cyperus difformis
+
+
+
+
+
+
+
+
+
 
Cyperus engelmannii
+
+
 
 
 
+
+
+
+
A
Cyperus exaltatus var. iwasakii
 
 
 
 
+
+
+
+
+
 
Cyperus flaccidus
 
 
+
 
 
 
 
 
 
 
Cyperus flavidus
+
+
 
 
 
 
 
+
 
 
Cyperus glomeratus
+
 
+
+
+
+
+
+
+
 
Cyperus haspan
 
 
+
+
+
+
+
+
 
 
Cyperus iria
+
+
+
+
+
+
+
+
+
 
Cyperus microiria
+
+
+
+
+
+
+
+
+
 
Cyperus polystachyos
+
+
+
+
+
+
+
+
+
 
Cyperus sanguinolentus
+
+
+
+
+
+
+
+
 
 
Cyperus serotinus
 
 
 
 
 
 
 
+
 
 
Eleocharis acicularis var. longiseta
+
+
+
+
 
 
+
+
 
 
Eleocharis congesta
 
 
+
 
 
 
 
 
 
 
Fimbristylis dichotoma
 
 
+
 
+
+
 
 
 
 
Fimbristylis miliacea
 
 
+
+
+
+
+
+
+
 
Fimbristylis squarrosa var. esquarrosa
+
+
 
 
 
+
+
+
+
 
Scirpus fluviatilis
+
+
 
+
+
+
+
+
+
 
Scirpus juncoides
+
+
+
+
+
+
 
+
 
 
Scirpus lacustris subsp. Creber
+
 
+
 
 
 
+
+
 
 
Scirpus planiculmis
+
+
 
 
 
 
 
+
 
 
Scirpus triangulatus
+
+
 
 
 
 
 
 
 
 
Scirpus triqueter
+
+
+
+
+
+
+
+
+
 
Juncaceae
Juncus effusus var. decipiens
+
+
 
 
+
 
 
 
+
 
Juncus leschenaultii
+
+
 
 
 
 
 
 
 
 
Juncus tenuis
 
 
 
 
 
 
 
+
 
 
Luzula capitata
 
 
 
 
 
 
 
 
+
 
Commelinaceae
Commelina communis
+
+
+
 
 
 
 
 
+
 
Murdannia keisak
+
+
 
 
 
 
+
+
+
 
Lemnaceae
Spirodela polyrhiza
+
+
+
+
+
+
+
+
+
 
Potamogetonaceae
Potamogeton crispus
+
+
 
 
 
 
 
+
+
 
Potamogeton distinctus
+
 
 
 
 
 
 
 
 
 
Potamogeton malaianus
+
+
+
+
+
+
+
+
+
 
Potamogeton oxyphyllus
 
 
 
 
 
 
+
 
 
 
Potamogeton pectinatus
+
+
 
 
 
 
 
 
 
 
Potamogeton perfoliatus
+
+
 
 
 
 
 
 
 
 
Potamogeton anguillanus
+
+
 
 
 
 
 
 
 
 
Hydrocharitaceae
Egeria densa
 
 
 
 
 
 
 
 
+
A
Elodea nuttallii
 
+
 
 
 
 
+
 
 
A
Hydrocharis dubia
+
+
 
 
 
 
 
 
+
 
Vallisneria denseserrulata
 
 
 
 
 
 
+
 
 
 
Vallisneria natans
+
+
 
 
 
 
 
 
 
 
Alismataceae
Sagittaria trifolia
+
+
+
+
+
+
+
+
+
 
Alisma canaliculatum
 
+
 
 
 
 
 
+
+
 
Equisetaceae
Equisetum arvense
+
+
 
 
 
 
+
 
+
 
Parkeriaceae
Ceratopteris thalictroides
 
 
+
 
 
 
 
 
 
 
Characeae
Chara braunii
+
+
 
 
 
 
 
 
 
 
Nitella hyaline
+
 
 
 
 
 
 
 
 
 
About this article
Cite this article
Nishihiro, J., Nishihiro, M.A. & Washitani, I. Assessing the potential for recovery of lakeshore vegetation: species richness of sediment propagule banks. Ecol Res 21, 436–445 (2006). https://doi.org/10.1007/s11284-005-0133-y
Received:

Accepted:

Published:

Issue Date:
Keywords
Aquatic plants

Lake Kasumigaura

Lakeshore vegetation

Restoration

Seed bank