Abstract
Objectives
This study aimed to clarify the anatomical and CT imaging features of the parotid duct at the anterior portion near the orifice together with its surrounding structures and to determine appropriate CT slice thicknesses for depicting the duct.
Methods
Initially, two cadavers were dissected to clarify the relationship between the duct and its surrounding structures. Next, original urethane phantoms with 2- and 3-mm diameters were scanned. The resultant images were constructed at 0.5-, 2-, and 3-mm slice thicknesses and evaluated, taking the partial volume effect into account. Finally, axial CT images of 190 adult subjects (107 men; 83 women) were analyzed for the relationship between the duct and other structures, together with the types of duct curvature on the axial plane and the slice ranges for the duct's run in the body axis direction.
Results
The facial vein, which could always be observed anteriorly to the parotid duct, appeared to be an effective anatomical landmark for identifying the duct. The zygomaticus major muscle and buccal fat pad capsule should be carefully differentiated from the duct. The phantom study revealed that 2-mm slice thickness was appropriate, and this was confirmed in the actual CT images with a high detection rate (98 %). The run of the parotid duct showed three types of curvature within ranges of four slices at 2-mm thickness.
Conclusions
On axial CT images constructed at ≤2-mm slice thicknesses, the parotid duct was sufficiently depicted and could be well identified from other structures by reference to the facial vein.
This is a preview of subscription content, log in to check access.
Access options
Buy single article
Instant access to the full article PDF.
US$ 39.95
Price includes VAT for USA
Subscribe to journal
Immediate online access to all issues from 2019. Subscription will auto renew annually.
US$ 99
This is the net price. Taxes to be calculated in checkout.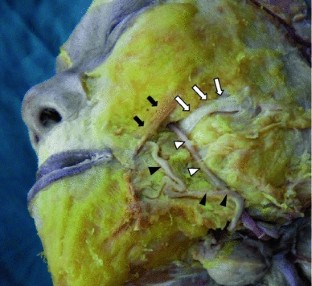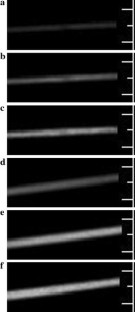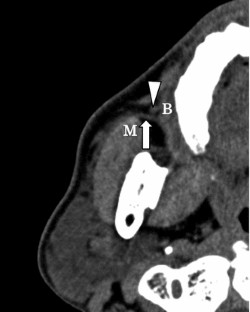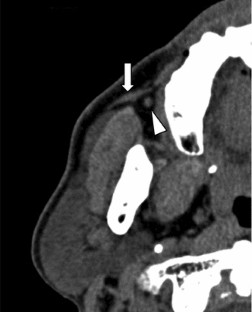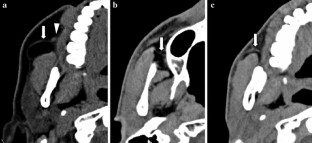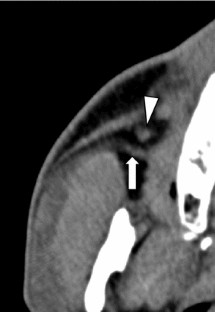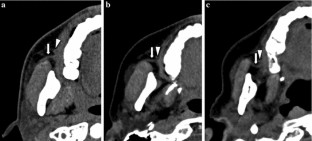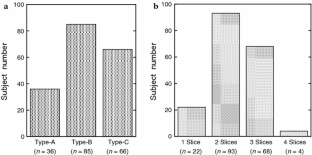 References
1.

Rose SS. Sialography in diagnosis. Postgrad Med J. 1950;26:521–31.

2.

Oppenheim H, Wing M. Sialography and surface anatomy of the parotid duct. AMA Arch Otolaryngol. 1960;71:80–3.

3.

Einstein RA, Perzik SL. Parotid sialography; roentgenologico-surgical correlation in a series of 70 cases. Calif Med. 1958;88:98–102.

4.

Stone DN, Mancuso AA, Rice D, Hanafee WN. Parotid CT sialography. Radiology. 1981;138:393–7.

5.

Som PM, Biller HF. The combined CT-sialogram. Radiology. 1980;135:387–90.

6.

Cockrell DJ, Rout PG. An adverse reaction following sialography. Dentomaxillofac Radiol. 1993;22:41–2.

7.

Tonami H, Ogawa Y, Matoba M, Kuginuki Y, Yokota H, Higashi K, et al. MR sialography in patients with Sjögren syndrome. Am J Neuroradiol. 1998;19:1199–203.

8.

Murakami R, Baba Y, Nishimura R, Baba T, Matsumoto N, Yamashita Y, et al. MR sialography using half-Fourier acquisition single-shot turbo spin-echo (HASTE) sequences. Am J Neuroradiol. 1998;19:959–61.

9.

Varghese JC, Thornton F, Lucey BC, Walsh M, Farrell MA, Lee MJ. A prospective comparative study of MR sialography and conventional sialography of salivary duct disease. Am J Roentgenol. 1999;173:1497–503.

10.

Kalinowski M, Heverhagen JT, Rehberg E, Klose KJ, Wagner HJ. Comparative study of MR sialography and digital subtraction sialography for benign salivary gland disorders. Am J Neuroradiol. 2002;23:1485–92.

11.

Gadodia A, Bhalla AS, Sharma R, Thakar A, Parshad R. MR sialography of iatrogenic sialocele: comparison with conventional sialography. Dentomaxillofac Radiol. 2011;40:147–53.

12.

Yousem DM, Kraut MA, Chalian AA. Major salivary gland imaging. Radiology. 2000;216:19–29.

13.

Tart RP, Kotzur IM, Mancuso AA, Glantz MS, Mukherji SK. CT and MR imaging of the buccal space and buccal space masses. Radiographics. 1995;15:531–50.

14.

Ardekian L, Shamir D, Trabelsi M, Peled M. Chronic obstructive parotitis due to strictures of Stenson's duct–our treatment experience with sialoendoscopy. J Oral Maxillofac Surg. 2010;68:83–7.

15.

Braun IF, Hoffman JC Jr. Computed tomography of the buccomasseteric region: 1 Anatomy. Am J Neuroradiol. 1984;5:605–10.

16.

Bryan RN, Miller RH, Ferreyro RI, Sessions RB. Computed tomography of the major salivary glands. Am J Roentgenol. 1982;139:547–54.

17.

Pabst R. Head and neck. In: Putz R, Pabst R, editors. Sobotta atlas of human anatomy, vol. 1 Head, neck, upper limb. 13th English edition, Weiglein AH. Philadelphia: Lippincott Williams & Wilkins; 2001. p. 83–5.

18.

Kamijyo Y. Oral anatomy volume 3 angiology. 3rd ed. Tokyo: Kyodo-Insatsu; 2006. p. 425–553 (in Japanese).

19.

Kitamura S. Atlas of oral maxillofacial region anatomy for dental clinicians. Tokyo: Ishiyaku; 2009. p. 12–14, 102, 103 (in Japanese).

20.

Kim HC, Han MH, Moon MH, Kim JH, Kim IO, Chang KH. CT and MR imaging of the buccal space: normal anatomy and abnormalities. Korean J Radiol. 2005;6:22–30.

21.

Singh J, Prasad K, Lalitha RM, Ranganath K. Buccal pad of fat and its applications in oral and maxillofacial surgery: a review of published literature (February) 2004 to (July) 2009. Oral Surg Oral Med Oral Pathol Oral Radiol Endod. 2010;110:698–705.

22.

Zhang HM, Yan YP, Qi KM, Wang JQ, Liu ZF. Anatomical structure of the buccal fat pad and its clinical adaptations. Plast Reconstr Surg. 2002;109:2509–18 (discussion 2519–20).
Acknowledgments
This work was supported by a Grant-in-Aid for Scientific Research from the Japan Society for the Promotion of Science (JSPS) (no. 20592211).
Conflict of interest
The authors declare that they have no conflict of interest.
About this article
Cite this article
Miyake, T., Izumi, M., Naitoh, M. et al. Depiction of the parotid duct on axial CT images. Oral Radiol 29, 19–26 (2013). https://doi.org/10.1007/s11282-012-0104-2
Received:

Accepted:

Published:

Issue Date:
Keywords
Parotid gland

Multidetector computed tomography

Cadaver

Radiographic phantom