Abstract
Objectives
To investigate whether CT images reflect the anatomical condition of mylohyoid muscle defects by confirmation with subsequent dissection of cadavers, and to evaluate whether CT images are useful for detecting such defects.
Methods
CT scans of the head and upper neck were performed in six cadavers. Multiplanar reconstruction was carried out to obtain 2-mm-thick axial and coronal images of the mylohyoid muscle. The number of defects was determined. All the cadavers were subsequently dissected for comparison with the CT findings. The contents of the defects were also identified.
Results
CT demonstrated the presence of one or more mylohyoid defects in four of the six cadavers. Defects were seen bilaterally in three of the four cadavers. Five of eight defects were observed on both axial and coronal images, whereas two were not observed on coronal images and one was not observed on axial images. The defects contained part of the sublingual gland bilaterally in one cadaver and unilaterally in another. In one cadaver, the submental artery passed through the defect bilaterally. In the other cadaver, there were bilateral defects without any substantial contents.
Conclusions
Our results indicate that mylohyoid defects are commonly seen anatomically, and that some of them show herniation of the sublingual gland. CT images can demonstrate mylohyoid defects on multiplanar reconstructed images.
This is a preview of subscription content, log in to check access.
Access options
Buy single article
Instant access to the full article PDF.
US$ 39.95
Price includes VAT for USA
Subscribe to journal
Immediate online access to all issues from 2019. Subscription will auto renew annually.
US$ 99
This is the net price. Taxes to be calculated in checkout.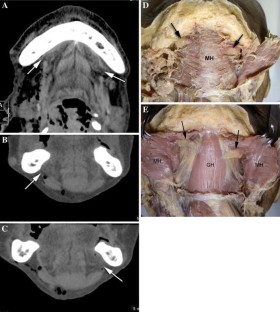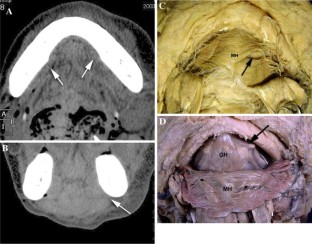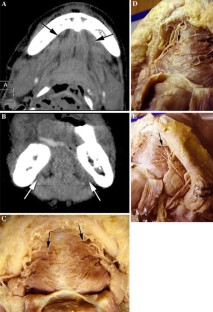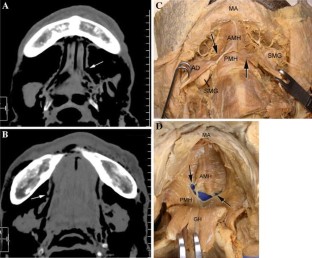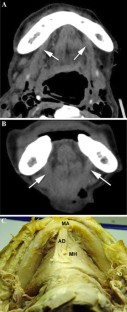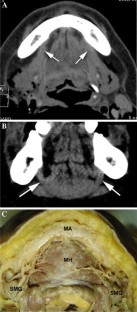 References
1.

Gaughran GR. Mylohyoid boutonnière and sublingual bouton. J Anat. 1963;97:565–8.

2.

Castelli WA, Huelke DF, Celis A. Some basic anatomic features in paralingual space surgery. Oral Surg Oral Med Oral Pathol. 1969;27:613–21.

3.

Nathan H, Luchansky E. Sublingual gland herniation through the mylohyoid muscle. Oral Surg Oral Med Oral Pathol. 1985;59:21–3.

4.

Engel JD, Harn SD, Cohen DM. Mylohyoid herniation: gross and histologic evaluation with clinical correlation. Oral Surg Oral Med Oral Pathol. 1987;63:55–9.

5.

Windisch G, Weiglein AH, Kiesler K. Herniation of the mylohyoid muscle. J Craniofac Surg. 2004;15:566–9.

6.

White DK, Davidson HC, Harnberger HR, Haller J, Kamya A. Accessory salivary tissue in the mylohyoid boutonnière: a clinical and radiologic pseudolesion of the oral cavity. Am J Neuroradiol. 2001;22:406–12.

7.

Hopp E, Mortensen B, Kolbenstvedt A. Mylohyoid herniation of the sublingual gland diagnosed by magnetic resonance imaging. Dentomaxillofac Radiol. 2004;33:351–3.

8.

Kiesler K, Gugatschka M, Friedrich G. Incidence and clinical relevance of herniation of the mylohyoid muscle with penetration of the sublingual gland. Eur Arch Otorhinolaryngol. 2007;264:1071–4.

9.

Keberle M, Eulert S, Relic A, Hahn D. Functional MR imaging of submandibular herniation of sublingual tissues through a gap of the mylohyoid muscle in two cases of submandibular "masses". Eur Radiol. 2005;15:1326–8.
Acknowledgment
This work was supported by a Grant-in-Aid for Young Scientists (B) (15791077).
About this article
Cite this article
Otonari-Yamamoto, M., Nakajima, K., Tsuji, Y. et al. Mylohyoid muscle defects: comparison of CT findings and dissected specimens. Oral Radiol 27, 50–56 (2011). https://doi.org/10.1007/s11282-011-0066-9
Received:

Accepted:

Published:

Issue Date:
Keywords
Mylohyoid muscle

Defect

Sublingual gland

CT