Abstract
Aneurysmal bone cysts (ABCs) are classified as bone-related lesions based on the 2005 World Health Organization histological classification of odontogenic tumors. Most ABCs are diagnosed using a combination of conventional radiography, computed tomography, magnetic resonance imaging (MRI), and digital subtraction angiography. ABCs should be differentiated from true cysts or other pseudocysts because their treatment is different. Additionally, unlike other cysts, ABCs pose a hemorrhagic risk in surgery; thus, preoperative evaluation of intralesional blood flow is required. Here we report a case of a mandibular ABC in a 39-year-old woman and focus on its dynamic contrast-enhanced MRI (DCE-MRI) features. On DCE-MRI, the lesion was divided into two areas according to the enhancement pattern: the blood-pooling and blood-flow areas. The series of DCE-MR images of the blood-pooling area showed marked enhancement of the margin, but no enhancement in the inner part of the cavity. Additionally, the time-signal intensity curve (TIC) demonstrated no change in the signal intensity (SI) until approximately 15 min after gadolinium-diethylenetriamine penta-acetic acid (Gd-DTPA) administration. In contrast, the series of DCE-MR images of the blood-flow area exhibited marked enhancement in the cyst cavity in the early phase. The TIC showed a rapid increase in SI in the early phase, followed by a rapid decrease until 150 s, and finally a gradual decrease until approximately 15 min after Gd-DTPA administration. Thus, in the current patient, preoperative DCE-MRI clearly delineated the vessel-rich area within the lesion.
This is a preview of subscription content, log in to check access.
Access options
Buy single article
Instant access to the full article PDF.
US$ 39.95
Price includes VAT for USA
Subscribe to journal
Immediate online access to all issues from 2019. Subscription will auto renew annually.
US$ 99
This is the net price. Taxes to be calculated in checkout.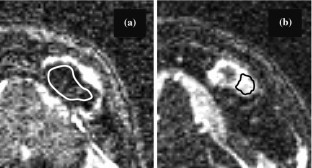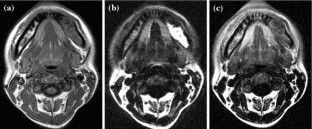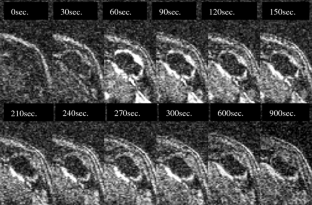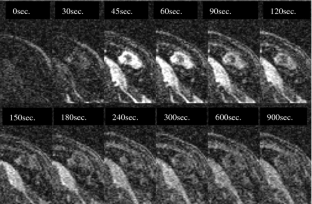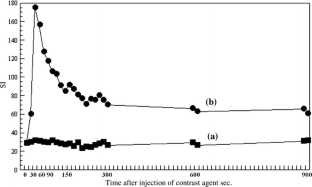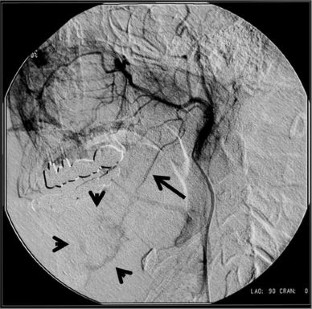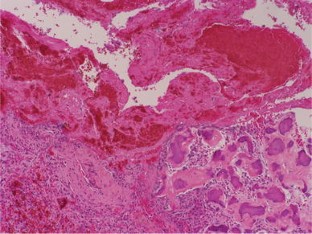 References
1.

Barnes L, Evenson JW, Reichart P, Sidransky D, editors. World Health Organization classification of tumours. Pathology and genetics of head and neck tumours. Lyon: IARC Press; 2005.

2.

Vergel De Dios AM, Bond JR, Shives TC, McLeod RA, Unni KK. Aneurysmal bone cyst. A clinicopathologic study of 238 cases. Cancer. 1992;69:2921–31.

3.

Kransdorf MJ, Sweet DE. Aneurysmal bone cyst: concept, controversy, clinical presentation, and imaging. AJR Am J Roentgenol. 1995;164:573–80.

4.

Kalantar Motamedi MH. Aneurysmal bone cysts of the jaws: clinicopathological features, radiographic evaluation and treatment analysis of 17 cases. J Craniomaxillofac Surg. 1998;26:56–62.

5.

Revel MP, Vanel D, Sigal R, Luboinski B, Michel G, Legrand I, et al. Aneurysmal bone cysts of the jaws: CT and MR findings. J Comput Assist Tomogr. 1992;16:84–6.

6.

Ueno S, Mushimoto K, Kurozumi T, Hirase T, Takasu J. Aneurysmal bone cyst of the mandible. J Oral Maxillofac Surg. 1982;40:680–3.

7.

Motamedi MH, Stavropoulos MF. Large radiolucent lesion of the mandibular condyle. J Oral Maxillofac Surg. 1997;55:1300–4.

8.

Asaumi J, Konouchi H, Hisatomi M, Matsuzaki H, Shigehara H, Honda Y, et al. MR features of aneurysmal bone cyst of the mandible and characteristics distinguishing it from other lesions. Eur J Radiol. 2003;45:108–12.

9.

Wakasa T, Asaumi JI, Konouchi H, Honda Y, Kishi K. Aneurysmal bone cyst of the mandible: a report of two cases and a review of the literature. Jpn J Oral Diagn/Oral Med. 2002;15:352–8.

10.

Al-Ameri H, Thomas ML, Yoon A, Mayeda GS, Burstein S, Kloner RA, et al. Complication rate of diagnostic carotid angiography performed by interventional cardiologists. Catheter Cardiovasc Interv. 2009;73:661–5.

11.

Herzig R, Burval S, Krupka B, Vlachová I, Urbánek K, Mares J. Comparison of ultrasonography, CT angiography, and digital subtraction angiography in severe carotid stenoses. Eur J Neurol. 2004;11:774–81.

12.

Franklin B, Gasco J, Uribe T, VonRitschl RH, Hauck E. Diagnostic accuracy and inter-rater reliability of 64-multislice 3D-CTA compared to intra-arterial DSA for intracranial aneurysms. J Clin Neurosci. 2010;17:579–83.

13.

Walsh SR, Tang T, Gaunt ME, Boyle JR. Contrast-induced nephropathy. J Endovasc Ther. 2007;14:92–100.

14.

Acosta S, Björnsson S, Ekberg O, Resch T. CT angiography followed by endovascular intervention for acute superior mesenteric artery occlusion does not increase risk of contrast-induced renal failure. Eur J Vasc Endovasc Surg. 2010;39:726–30.

15.

Nash K, Hafeez A, Hou S. Hospital-acquired renal insufficiency. Am J Kidney Dis. 2002;39:930–6.

16.

Gadre KS, Zubairy RA. Aneurysmal bone cyst of the mandibular condyle: report of a case. J Oral Maxillofac Surg. 2000;58:439–43.

17.

Hernandez GA, Castro A, Castro G, Amador E. Aneurysmal bone cyst versus hemangioma of the mandible. Report of a long-term follow-up of a self-limiting case. Oral Surg Oral Med Oral Pathol. 1993;76:790–6.

18.

Matsuura S, Tahara T, Ro T, Masumi T, Kasuya H, Yokota T. Aneurysmal bone cyst of the coronoid process of the mandible. Dentomaxillofac Radiol. 1999;28:324–6.

19.

Minami M, Kaneda T, Ozawa K, Yamamoto H, Itai Y, Ozawa M, et al. Cystic lesions of the maxillomandibular region: MR imaging distinction of odontogenic keratocysts and ameloblastomas from other cysts. AJR Am J Roentgenol. 1996;166:943–9.

20.

Yanagi Y, Asaumi J, Unetsubo T, Ashida M, Takenobu T, Hisatomi M, et al. Usefulness of MRI and dynamic contrast-enhanced MRI for differential diagnosis of simple bone cysts from true cysts in the jaw. Oral Surg Oral Med Oral Pathol Oral Radiol Endod. 2010;110:364–9.

21.

Bozbuğa M, Turan Süslü H. Aneurysmal bone cyst of the sphenoid bone extending into the ethmoid sinus, nasal cavity and orbita in a child. Turk Neurosurg. 2009;19:172–6.

22.

Kumar VV, Malik NA, Kumar DB. Treatment of large recurrent aneurysmal bone cysts of mandible: transosseous intralesional embolization as an adjunct to resection. Int J Oral Maxillofac Surg. 2009;38:671–6.
About this article
Cite this article
Yanagi, Y., Fujita, M., Hisatomi, M. et al. The utility of three-dimensional dynamic contrast-enhanced magnetic resonance imaging in delineating vessel-rich regions: a case report of an aneurysmal bone cyst of the mandible. Oral Radiol 26, 110–115 (2010). https://doi.org/10.1007/s11282-010-0048-3
Received:

Accepted:

Published:

Issue Date:
Keywords
Aneurismal bone cyst

Dynamic contrast-enhanced MRI

MRI