Abstract
Cleidocranial dysplasia (CCD) is a rare congenital disorder with prolonged retention of the primary teeth, unerupted permanent teeth, and supernumerary teeth. We report a 19-year-old well-developed and well-nourished Thai woman who presented with intermittent dull pain in the lower left jaw for about a week. CCD was diagnosed based on a panoramic radiograph that revealed 32 unerupted teeth affecting all four quadrants of her jaw. Chest and skull radiographs were added to evaluate the clavicles and skull bone formation to confirm the diagnosis of CCD. Family members, including parents and siblings, were radiographically investigated and showed no abnormality. After a 6-h first operation in the lower left jaw to remove five supernumerary teeth, a deciduous canine, and a permanent third molar, three-dimensional imaging by cone-beam computed tomography was conducted as an aid for planning further dental surgery and orthodontic treatment. A second operation was conducted to remove the other unerupted teeth in the four quadrants in 6 h, the same as the initial operation time, although the second involved the whole jaw, as compared with the first operation in only one quadrant.
This is a preview of subscription content, log in to check access.
Access options
Buy single article
Instant access to the full article PDF.
US$ 39.95
Price includes VAT for USA
Subscribe to journal
Immediate online access to all issues from 2019. Subscription will auto renew annually.
US$ 99
This is the net price. Taxes to be calculated in checkout.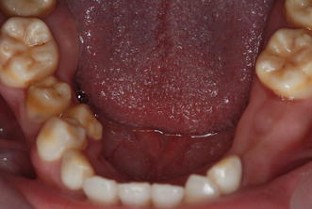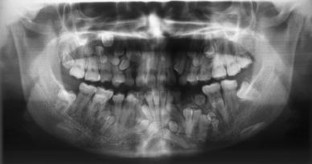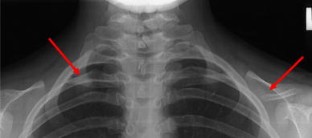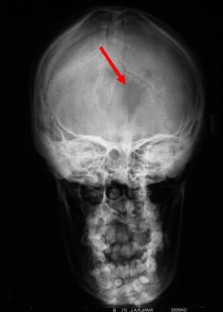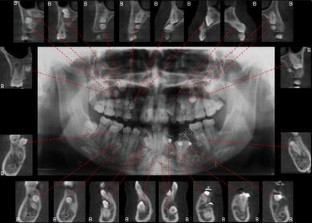 References
1.

Golan I, Baumert U, Hrala BP, Mussig D. Dentomaxillofacial variability of cleidocranial dysplasia: clinicoradiological presentation and systematic review. Dentomaxillofac Radiol. 2003;32(6):347–54.

2.

McNamara CM, O'Riordan BC, Blake M, Sandy JR. Cleidocranial dysplasia: radiological appearances on dental panoramic radiography. Dentomaxillofac Radiol. 1999;28:89–97.

3.

Hrischfelder U, Mussig D, Fleischer-Peters A. Untersuchungen zur Schadelmorphologie bei Dysostosis cleidocranialis. Dtsch Zahnarztl Z. 1991;46:292–6.

4.

Jensen BL, Kreiborg S. Craniofacial abnormalities in 52 school-age and adult patients with cleidocranial dysplasia. J Craniofac Genet Dev Biol. 1993;13:98–108.

5.

Arnheiter C, Scarfe WC, Farman AG. Trends in maxillofacial cone-beam computed tomography usage. Oral Radiol. 2006;22:80–5.

6.

Tsiklakis K, Donta C, Gavala S, Karayianni K, Kamenopoulou V, Hourdakis CJ. Dose reduction in maxillofacial imaging using low dose cone-beam CT. Eur J Radiol. 2005;56:413–7.

7.

Scarfe WC, Farman AG. Clinical applications of cone-beam computed tomography in dental practice. J Can Dent Assoc. 2006;72:75–80.

8.

Loubele M, Maes F, Schutyser F, Marchal G, Jacobs R, Suetens P. Assessment of bone segmentation quality of cone-beam CT versus multislice spiral CT: a pilot study. Oral Surg Oral Med Oral Pathol Oral Radiol Endod. 2006;102:225–34.

9.

Nakagawa Y, Kobayashi K, Ishii H, Mishima A, Ishii H, Asada K, et al. Preoperative application of limited cone-beam computerized tomography as an assessment tool before minor oral surgery. Int J Oral Maxillofac Surg. 2002;31:322–7.

10.

Angle AD, Rebellato J. Dental team management for a patient with cleidocranial dysostosis. Am J Orthod Dentofacial Orthop. 2005;128:110–7.

11.

Suba Z, Balaton G, Gyulai-Gaal S, Balaton P, Barabas J, Tarjan I. Cleidocranial dysplasia: diagnostic criteria and combined treatment. J Craniofac Surg. 2005;16:1122–6.
About this article
Cite this article
Sutthiprapaporn, P., Kongsomboon, S. & Pisek, P. Use of cone-beam CT in a patient with cleidocranial dysplasia dramatically reduced the operation time. Oral Radiol 26, 52–55 (2010). https://doi.org/10.1007/s11282-010-0040-y
Received:

Accepted:

Published:

Issue Date:
Keywords
Cone-beam CT

Cleidocranial dysplasia

Panoramic radiograph