Abstract
Radio coverage shrinkage is one of the key factors that places limitation on link data transmission rate quality in mobile broadband networks, especially on users at cell edge. This occurs due to multipath radio signal fading, frequent changes in radio propagation conditions and base station equipment deterioration. Other key limiting factors includes intercellular/intracellular interference and random background noise in the network environment. Within this context, the importance of carrying out a routine independent assessments of deployed mobile communication networks in a realistic environment has also increased. This is to evaluate their robustness and performance capability in different radio propagation scenarios from one location to the other. This research work deals with practical performance monitoring and evaluation of deployed commercial mobile broadband HSPA networks, considering the radio coverage and service quality aspects in typical suburban environments. The aim is to correlate cell coverage with radio link quality performance indicators in different propagation environments. The aim have been accomplished by carrying out field test measurement campaign and a drill down post data analysis on the HSPA networks and this enable us to critically examined and relate vital QoS parameters at the cell site specific level. Finally, based on Block Error rate performance threshold, the cell radius has been estimated for each measurement routes. The results could form the basis for performance optimisation of mobile cellular networks.
This is a preview of subscription content, log in to check access.
Access options
Buy single article
Instant access to the full article PDF.
US$ 39.95
Price includes VAT for USA
Subscribe to journal
Immediate online access to all issues from 2019. Subscription will auto renew annually.
US$ 199
This is the net price. Taxes to be calculated in checkout.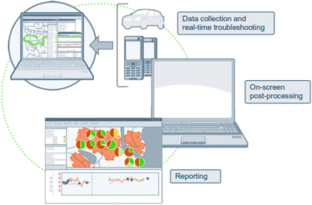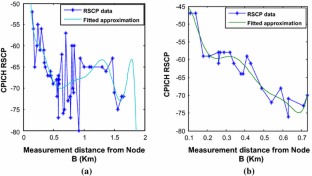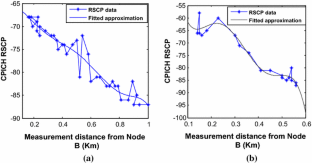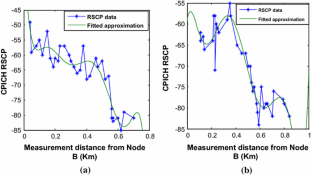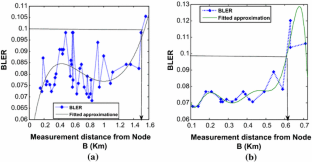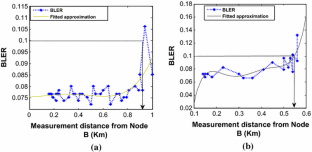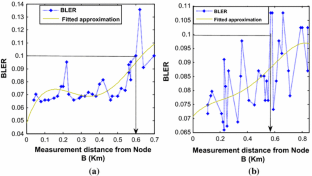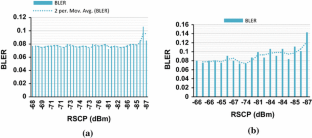 References
1.

3G Release 7, technical specifications and technical reports for a UTRAN-based 3GPP system, TR 21.101.

2.

LTE: The future of mobile broadband technology, a technical paper, by version wireless (2009).

3.

Gozalvez, J., & Dunlop, J. (2003). On the importance of using appropriate link-to-system level interfaces for the study of link adaptation. In Proceedings of the IST mobile and wireless communications summit (pp. 441–445).

4.

Zuliani, L., Gambetti, C., Zanella, A., & Andrisano, O. (2006). Link level modelling in the simulation of packet switched wireless networks. IEEE wireless and communication networking conference, WCNC (pp. 3–6).

5.

Van Peteghem, H., & Schumacher, L. (2006). Implementation of an open-source UTRAN testbed. In Proceedings of the 13th symposium on communications and vehicular technology (SCVT), Liege (Belgium).

6.

Van Peteghem, H., & Schumacher, L. (2007). Investigation of the sensitivity of UMTS traffic classes to time-correlated errors on an IPv6, linux-based Rel, 99 UTRAN testbed. Technical report TD(07)011, COST 2100.

7.

Lembo, D. Modelling BLER performance of punctured codes (M.Tech Thesis, School of Electrical Engineering, Alto University Sergio, Finland).

8.

Karner, W. (2005). A UMTS DL DCH BLER model based on measurements in live networks, technical report, COST 273.

9.

Mukubwa, E.C., Karien, A., & Chatelain, D. (2006). A cell focused approach to propagation prediction modelling, Satnac Conference, Western Capa South Africa.

10.

Bas, C.U., & Ergen, S.C. (2012). Spatio-temporal characteristics of link quality in wireless sensor networks. IEEE wireless communications and networking conference (pp. 1152–1157).

11.

3GPP TS 25.215.Physical layer—measurements (FDD).

12.

Ascon, (2010). TEMS Investigation, drive test tools for mobile networks, version 9.3.1.

13.

Chen, L., Sandrasegaran, K., Basukala, R., Madani, F.M., & Lin, C. (2010). Impact of soft handover and pilot pollution on video telephony in a commercial network. In Proceedings of the 16th Asia-Pacific Conference on Communications (APCC 2010) (pp. 481–486).

14.

Recommendation ITU-R M 1225: Guidelines for evaluation of radio transmission technologies for IMT-2000.

15.

QUALCOMM, WCDMA Network Planning and Optimisation, 80-W0853-1 Review B, 2006.

16.

Isabona, J., & Ojuh, D. O. (2014). Radio link quality measurement survey over HSDPA radio interface: A holistic technique for efficient networks performance monitoring in wireless communication systems Nigerian. Journal of Physics, 25(2), 46–54.

17.

Zamudio-Castro, I., Vidal-Beltran, S., Ponce-Rojas, J., & Sosa-Pedroza, J. (2011). Experimental analysis of a Node B coverage based on the CPICH and Ec/Io values. Wireless Engineering and Technology, 2, 23–29.
About this article
Cite this article
Isabona, J., Srivastava, V.M. Coverage and Link Quality Trends in Suburban Mobile Broadband HSPA Network Environments. Wireless Pers Commun 95, 3955–3968 (2017). https://doi.org/10.1007/s11277-017-4034-5
Keywords
Cell coverage

Cell radius

Coverage quality

Link level

Link quality

BLER