Abstract
The paper addresses the Be Responsible platform, a representative example of human-centric sensing network which, relying on the Info-Communication and Internet of Things concepts, aims to improve the communication between citizens, on one side, and government authorities, on the other side, with the purpose of resolving various problems encountered in a modern society. A widespread network of human-centric smartphone devices and PCs has been used as a valuable source of data collected and processed in order to trigger adequate actions upon problem resolving. In this way, humans acting as sensor operators and data sources become a powerful factor in improving their society. The Be Responsible platform enables the people to report the irregularities in various aspects of their social life (grey economy, misuse of government vehicles, ecology, traffic), and hence to take active part in resolving them. It also promotes positive and responsible social and institutional behavior, which has to be nurtured in any society seeking progress. The number of submitted reports as well as the money collected from the fine revenues and subsequently invested in projects of social good, undoubtedly prove that what could not be achieved through years of traditional government-led policy approach, was achieved in months of citizen engagement.
This is a preview of subscription content, log in to check access.
Access options
Buy single article
Instant access to the full article PDF.
US$ 39.95
Price includes VAT for USA
Subscribe to journal
Immediate online access to all issues from 2019. Subscription will auto renew annually.
US$ 199
This is the net price. Taxes to be calculated in checkout.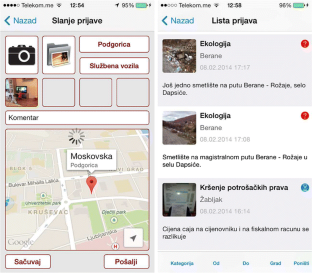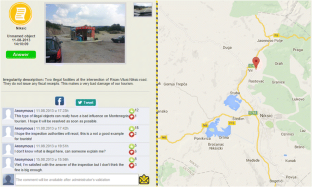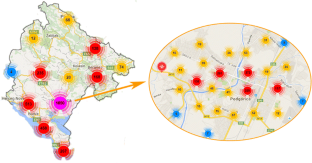 Notes
1.

GDP of Montenegro amounts to around 3.5 billion euros.
References
1.

(2013) Be responsible android application. https://play.google.com/store/apps/details?id=com.etf.budiodgovoran&hl=en.

2.

(2013) Be responsible website. http://www.budiodgovoran.me.

3.

(2013) Cody application. https://itunes.apple.com/app/id601617403.

4.

(2014) Be responsible iOS application. https://itunes.apple.com/us/app/budi-odgovoran/id826440019?ls=1&mt=8.

5.

(2014) Bright spots. https://www.gov.uk/government/news/brightspots-of-open-government-to-be-recognised-at-global-summit.

6.

(2014) National Association of Government Communicators (NAGC). http://nagconline.org/.

7.

(2014) Open Government Partnership (OGP). www.opengovpartnership.org.

8.

(2015) Be responsible facebook application. https://www.facebook.com/BudiOdgovoran/app/111579945711032/.

9.

Al-Fuqaha, A., Guizani, M., Mohammadi, M., Aledhari, M., & Ayyash, M. (2015). Internet of things: A survey on enabling technologies, protocols, and applications. IEEE Communications Surveys & Tutorials, 17(4), 2347–2376.

10.

Boulos, M. N. K., Brewer, A. C., Karimkhani, C., Buller, D. B., & Dellavalle, R. P. (2014). Mobile medical and health apps: State of the art, concerns, regulatory control and certification. Online Journal of Public Health Informatics, 5(3), 1–6.

11.

Burke, J. A., Estrin, D., Hansen, M., Parker, A., Ramanathan, N., Reddy, S., & Srivastava, M. B. (2006). Participatory sensing. In Center for Embedded Network Sensing (pp. 1–3). UCLA. http://escholarship.org/uc/item/19h777qd.

12.

Cohen, J. (2015). 11 health and fitness apps that achieve top results. Forbes Leadership, 3(1), e28.

13.

Goldman, J., Shilton, K., Burke, J., Estrin, D., Hansen, M., Ramanathan, N., Reddy, S., Samanta, V., Srivastava, M., & West, R. (2009). Participatory sensing: A citizen-powered approach to illuminating the patterns that shape our world. Foresight & Governance Project, white paper, pp. 1–15.

14.

Monares, Á., Ochoa, S. F., Santos, R., Orozco, J., & Meseguer, R. (2014). Modeling iot-based solutions using human-centric wireless sensor networks. Sensors, 14(9), 15687–15713.

15.

Srivastava, M., Abdelzaher, T., & Szymanski, B. (2012). Human-centric sensing. Philosophical Transactions of the Royal Society of London A: Mathematical, Physical and Engineering Sciences, 370(1958), 176–197.

16.

Stefan, V., Nikola, B., & Slobodan, D. (2014). Budi odgovoran—Tehnologija u službi društvene odgovornosti. Telekomunikacioni Forum TELFOR 2014.

17.

Tilak, S. (2013). Real-world deployments of participatory sensing applications: Current trends and future directions. ISRN Sensor Networks.

18.

Xu, W., & Liu, Y. (2015). mhealthapps: A repository and database of mobile health apps. JMIR mHealth and uHealth, 3(1), e28.
About this article
Cite this article
Bulatović, N., Žarić, N., Djukanović, S. et al. An Example of Human-Centric Sensor Network: Be Responsible Platform. Wireless Pers Commun 92, 237–250 (2017). https://doi.org/10.1007/s11277-016-3848-x
Keywords
Human-centered sensing network

Participatory sensing

Internet of Things

Data sourcing

Data-driven recruitment campaign