Abstract
This paper concerns the design of a new ultra-wideband antenna with an octagonal configuration and reduced size. The prototype has been simulated and designed. It has shown a permissible agreement between simulations and measures and an operation of ultra-wideband from 2.38 to 14 GHz (142 %) for wireless applications.
This is a preview of subscription content, log in to check access.
Access options
Buy single article
Instant access to the full article PDF.
US$ 39.95
Price includes VAT for USA
Subscribe to journal
Immediate online access to all issues from 2019. Subscription will auto renew annually.
US$ 199
This is the net price. Taxes to be calculated in checkout.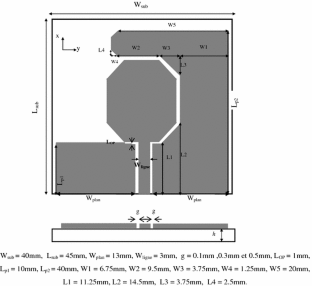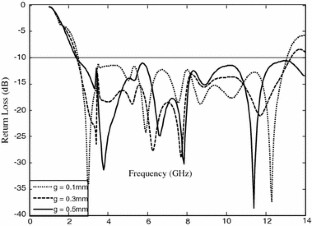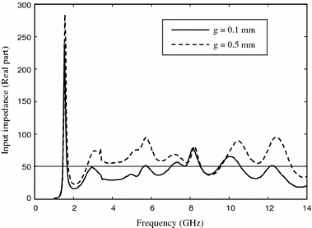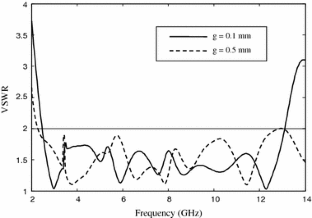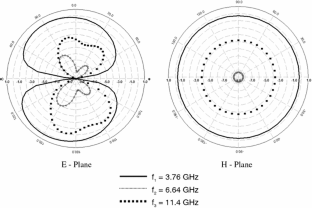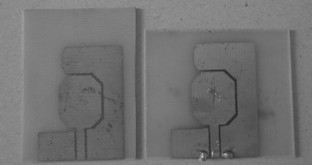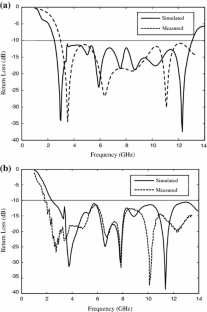 References
1.

Choi, S. H., Park, J. K., Kim, S. K., & Park, J. Y. (2004). A new ultra-wideband antenna for UWB applications. Microwave and Optical Technology Letters, 40(5), 399.

2.

Lin, Y.-C., & Hung, K.-J. (2006). Compact ultrawideband rectangular aperture antenna and band-notched designs. IEEE Transactions on Antennas and Propagation, 54(11), 3075.

3.

Sobli, N. H. M., & Abd-El-raouf, H. E. (2008). Design of a compact printed band-notched antenna for ultrawideband communications. Progress In Electromagnetics Research M, 3, 57–78.

4.

Lin, C.-C., & Chuang, H.-R. (2008). A 3–12 Ghz UWB planar triangular monopole antenna with ridged ground-plane. Progress In Electromagnetics Research, PIER, 83, 307–321.

5.

Kshetrimayum, R. S., Panda, J. R., & Pillalamarri, R. (2009). UWB printed monopole antenna with a notch frequency for coexistence with IEEE 802.11a WLAN devices. In NCC.

6.

Bouchouicha, M. L., Dupont, F., Bremond, A., & Ventura, L. (2009) A novel design of ultrawide-band antenna. In: PIERS proceedings, Moscow, Russia.

7.

Nikolaou, S., Kim, B., Kim, Y.-S., Papapolymerou, J., & Tentzeris, M. M. (2006) CPW-fed ultra wideband (UWB) monopoles with band rejection characteristic on ultra thin organic substrate. In: Proceedings of Asia–Pacific, microwave conference.

8.

Yu, F., & Wang, C. (2009). A CPW-fed novel planar ultra-wideband antenna with a band-notch characteristic. Radioengineering, 18(4), 551.

9.

Zhang, X., Zhang, T.-L., Xia, Y.-Y., Yan, Z.-H., & Wang, X.-M. (2009). Planar monopole antenna with band-notch characterization for UWB applications. Progress in Electromagnetics Research Letters, 6, 149–156.

10.

Zhu, Y., Zhang, F. S., Lin, C., Zhang, Q., & Huang, J. X. (2010). A novel dual band-notched monopole antenna for ultra-wideband application. Progress in Electromagnetics Research Letters, 16, 109–117.

11.

Sadek, S., & Katbay, Z. (2010). UWB cedar patch antenna. International Journal of Research and Reviews in Computer Science (IJRRCS), 1(2), 38.

12.

Alhefnawy, M. Y., Assisi, A., Almotaafy, H., Safwat, A., & Youssef, M. I. (2009). Design and implementation of a novel planer UWB monopole antenna for multipath environments. In: 13th international conference on aerospace sciences & aviation technology, ASAT-13.

13.

Natarajamani, S., Behera, S. K., Patra, S. K. & Mishra, R. K. (2009) CPW-fed octagon shape slot antenna for UWB application. In International conference on microwaves, antenna, propagation & remote sensing.

14.

Sim, C.-Y.-D., Chung, W.-T., & Lee, C.-H. (2010). Planar UWB antenna with 5Ghz band rejection switching function at ground plane. Progress in Electromagnetics Research, 106, 321–333.
Acknowledgments
The author would like to thank the Lt. Colonel KIMOUCHE for the help during the fabrication of the antenna prototype.
About this article
Cite this article
Bitchikh, M., Azrar, A. & Aksas, R. UWB Coplanar Waveguide Octagonal Antenna. Wireless Pers Commun 87, 99–106 (2016). https://doi.org/10.1007/s11277-015-3029-3
Keywords
Antennas

Ultra-wideband

CPW access

Wireless communications