Abstract
In this paper, we propose an efficient link establish scheme among wireless USB devices. When a wireless USB host establishes a default link with a wireless USB slave device, the proposed scheme allocates resources for its reverse link at the same time. After this, when the role of wireless USB host is changed to the wireless USB device, the proposed scheme can prevent the failure of reverse link establish by guaranteeing the early resource allocation for reverse link. Also, the proposed scheme can reduce delay and the energy consumed by the wireless USB host scan to set up a new reverse link, because the proposed scheme scans only medium access slots already allocated for reverse link. From the simulation results for throughput, delay and energy consumption, it is shown that the performance of the proposed scheme is superior to that of the legacy WUSB standard, for device to device communications.
This is a preview of subscription content, log in to check access.
Access options
Buy single article
Instant access to the full article PDF.
US$ 39.95
Price includes VAT for USA
Subscribe to journal
Immediate online access to all issues from 2019. Subscription will auto renew annually.
US$ 199
This is the net price. Taxes to be calculated in checkout.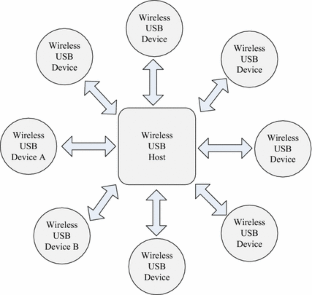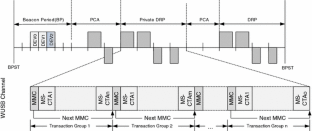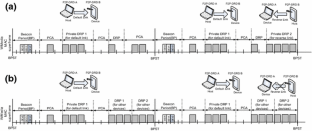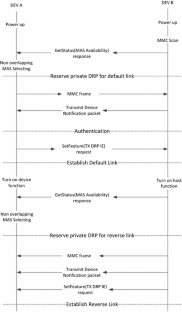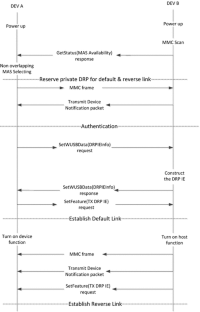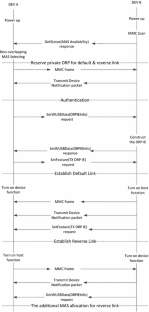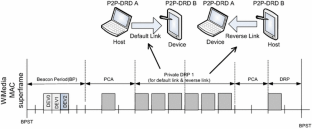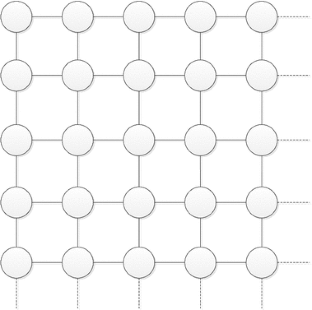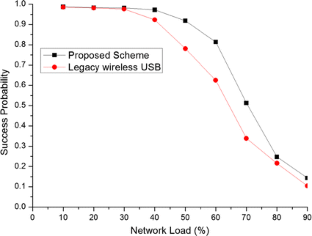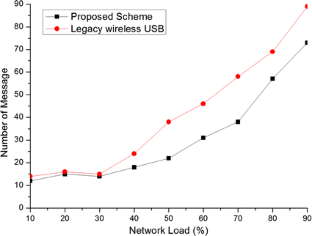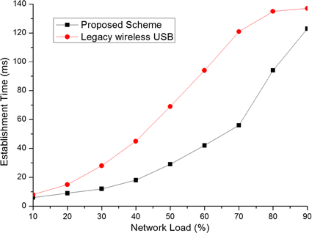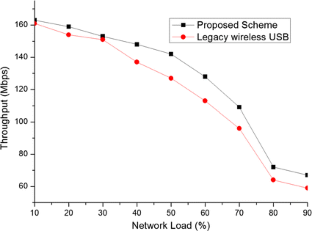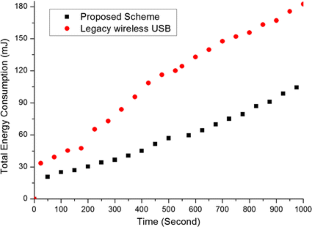 Abbreviations
BP:

Beacon period

D2D:

Device to device

DN:

Device notification

D-MAC:

Distributed medium access control

DRD:

Dual role device

DRP:

Distributed reservation protocol

DTP:

Data transfer period

IE:

Information element

MAS:

Medium access slot

MMC:

Micro-scheduled management command

OTG:

On The Go

PCA:

Prioritized contention access

TDMA:

Time division multiplexing access

USB:

Universal serial bus

UWB:

Ultra wide-band

WPAN:

Wireless personal area network

WUSB:

Wireless USB
References
1.

USB Implementation Forum, "Universal serial bus specification, revision 3.1," July 2013.

2.

WiMedia MAC Release Spec. 1.5 (2009). Distributed medium access control (MAC) for wireless networks, October 5 2009. http://www.wimedia.org/en/index/asp.

3.

USB Implementation Forum, "Wireless universal serial bus specification, revision 1.1," September 2010.

4.

Kim, J.-W., Hur, K., Park, J., & Eom, D.-S. (2009). A distributed MAC design for data collision-free wireless USB home networks. IEEE Transactions on Consumer Electronics, 55(3), 1337–1343.

5.

Kim, J.-W., Hur, K., & Lee, Y. (2013). A cooperative MAC protocol for QoS enhancement in wireless USB networks. Wireless Personal Communications, 70, 869–888.

6.

Kim, J.-W., Hur, K., & Lee, S.-R. (2013). Wireless USB cluster tree based on distributed reservation protocol for mobility support. Wireless Personal Communications, 71, 275–298.

7.

Shin, W.-Y. (2014). Performance evaluation of parallel opportunistic multihop routing. Journal of Information and Communication Convergence Engineering, 12(3), 135–139.
Acknowledgments
This research was supported in part by Basic Science Research Program through the National Research Foundation of Korea (NRF) funded by the Ministry of Education (NRF-2009-0093828) and in part by the MSIP (Ministry of Science, ICT and Future Planning), Korea, under the C-ITRC (Convergence Information Technology Research Center) support program (NIPA-2014-H0401-14-1009) supervised by the NIPA (National IT Industry Promotion Agency).
About this article
Cite this article
Kim, J., Hur, K. & Lee, S. An Efficient Link Establish Scheme for Device to Device Communications in Wireless USB Systems. Wireless Pers Commun 83, 507–525 (2015). https://doi.org/10.1007/s11277-015-2406-2
Keywords
Device-to-device communication

Energy saving

Reliability

UWB

WPAN

Wireless USB