Abstract
We propose an adaptive modulation and coding (AMC) scheme using relay protocols AF, DF and DMF. The AMC scheme is used for improving the throughput and reliability of a communication system, using different modulation and coding schemes. We analyze the performance of relay protocols with the AMC scheme and observe that relay protocols with the AMC scheme are capable of providing better average throughput at a lower signal to noise ratio (SNR) level as compared to the conventional scheme with no AMC. We perform Monte Carlo simulations based on 3GPP long term evolution-advanced parameters to prove the performance comparison of adaptive modulation and coding scheme (MCS) relay protocols with non-adaptive MCS relay protocols. The simulation results of the proposed system with adaptive MCS prove that among the amplify-and-forward (AF), decode-and-forward (DF) and de-modulate-and-forward (DMF), the DMF protocol performs best, at a lower SNR value and higher average throughput.
This is a preview of subscription content, log in to check access.
Access options
Buy single article
Instant access to the full article PDF.
US$ 39.95
Price includes VAT for USA
Subscribe to journal
Immediate online access to all issues from 2019. Subscription will auto renew annually.
US$ 199
This is the net price. Taxes to be calculated in checkout.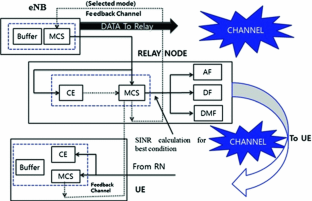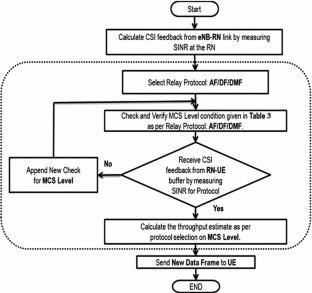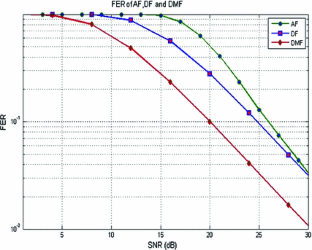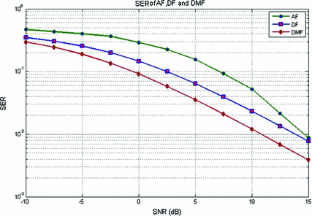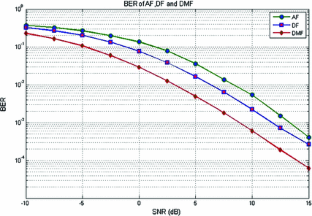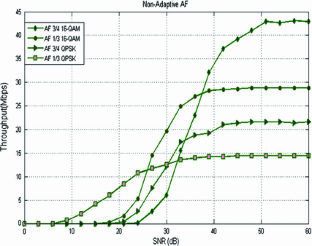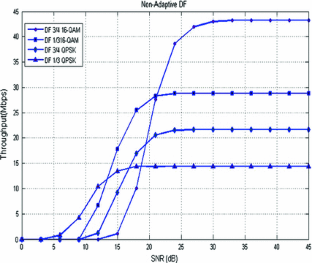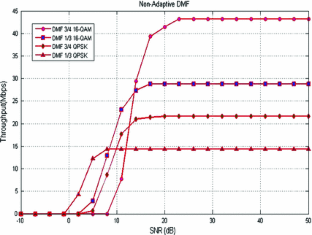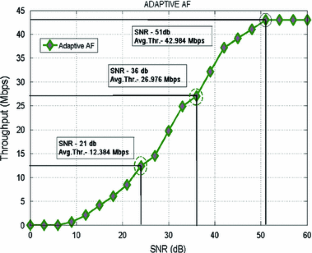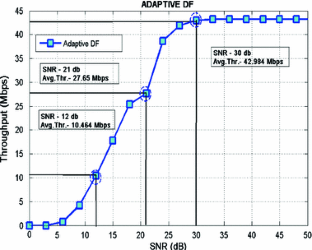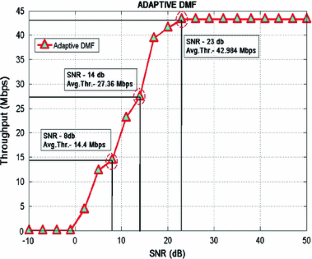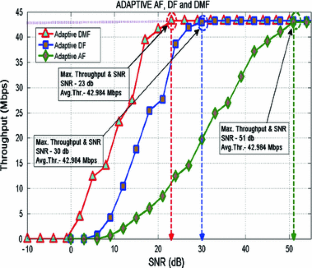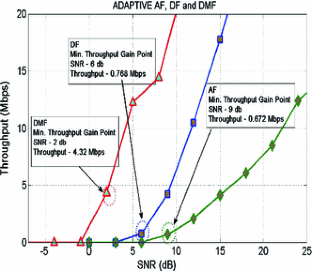 References
1.

Pabst, R., Walke, B. H., Schultz, D. C., et al. (2004). Relay-based deployment concepts for wireless and mobile broadband radio. IEEE Communications Magazine, 42(9), 80–89.

2.

Peters, S. W., Panah, A. Y., Truong, K. T., & Heath, R. W., Jr. (2009). Relay architectures for 3GPP LTE-advanced. EURASIP Journal on Wireless Communications and Networking, vol. 2009, Article ID 618787, 14 pages.

3.

Sesia, S., Toufik, I., & Baker, M. (2009). LTE, The UMTS long term evolution: From theory to practice. New York: Wiley.

4.

Laneman, J. N., Tse, D. N. C., & Wornell, G. W. (2004). Cooperative diversity in wireless networks: Efficient protocol and outage behavior. IEEE Transactions on Information Theory, 50, 3062–3080.

5.

Sendonaris, A., Erkip, E., & Aazhang, B. (2003). User cooperation diversity—Part i: System description. IEEE Transactions on Communications, 51(11), 1927–1938.

6.

Sendonaris, A., Erkip, E., & Aazhang, B. (2003). User cooperation diversity—Part ii: Implementation aspects and performance analysis. IEEE Transactions on Communications, 51(11), 1939–1948.

7.

Holland, G., Vaidya, N., & Bahl, P. (2001). A rate-adaptive MAC protocol for multi-hop wireless networks. In Proceedings of the 7th MobiCom, Rome, Italy, pp. 236–251.

8.

Chua, S. G., & Goldsmith, A. J. (1998). Adaptive coded modulation for fading channels. IEEE Transaction on Communications, 46, 595–602.

9.

Malik, S., Moon, S., Kim, B., Kim, C., & Hwang, I. (2012). Joint precoding technique for interference cancellation in multiuser MIMO relay neworks for LTE advanced system. Journal of The Institute of Electronics Engineers of Korea, 49-TC(6), 15–26

10.

Lai, S. K., Cheng, R. S., Letaief, K. B., & Murch, R. D. (1999). Adaptive trellis coded MQAM and power optimization for OFDM transmissio. In IEEE Vehicular Technology Conference, pp. 290–295.

11.

Lee, J. H., Yoon, G. S., Cho, I. S., Seo, C. W., Portugal, S., & Hwang, I. T. (2009). Design and performance analysis of a communication system with AMC and MIMO mode selection scheme. Journal of The Institute of Electronics Engineers of Korea, 47-TC(3), 22–30

12.

Keller, T., & Hanzo, L. (2000). Adaptive modulation techniques for duplex OFDM transmission. IEEE Transaction on Vehicular Technology, 49, 1893–1906.

13.

Hwang, I. T., Son, J. Y., Hahn, S. K., Kang, M. G., You, Y. H., & Kang, C. E. (2004). Improvement of AMC-MIMO multiplexing systems with selection transmit diversity techniques. IEICE Transactions on Communications, E87–B(6), 1684–1687.

14.

Proakis, J. G. (2001). Digital communications (4th ed.). New York: McGraw-Hill.
Acknowledgments
This research was supported by Basic Science Research Program through the National Research Foundation of Korea (NRF) funded by the Ministry of Education (2013R1A1A2007779). This research was supported by the MSIP (Ministry of Science, ICT & Future Planning), Korea, under the ITRC (Information Technology Research Center) support program (NIPA-2013-H0301-13-3005), supervised by the NIPA (National IT Industry Promotion Agency).
About this article
Cite this article
Malik, S., Moon, S., Kim, B. et al. New Relay Protocols with AMC Scheme for Throughput Enhancement in LTE-Advanced System. Wireless Pers Commun 74, 773–788 (2014). https://doi.org/10.1007/s11277-013-1320-8
Keywords