Abstract
This paper describes a new space-time coding scheme for non-coherent multi-antenna Multi-Input Multi-Output (MIMO) systems. This new MIMO scheme merges error-correcting and space-time coding functions by transmitting invertible matrices, so this scheme has been called "Matrix Coded Modulation" or "MCM". Coherent systems require Channel State Information (CSI) at the transmitters and/or at the receivers, and their performances strongly depend on the channel estimation. For example, in systems using Orthogonal Frequency Division Multiplexing, the channel estimation requires the insertion of pilot-symbols in the transmitted frame which implies a spectral efficiency loss of the global system that increase with the number of transmit antennas. The existing non-coherent schemes such as the Differential Space-Time Modulation leads to performance degradation compared to coherent systems in which perfect CSI is assumed. Decoding in the MCM scheme is performed iteratively, based on a specified detection criteria. In the proposed MCM scheme, decoding can be achieved with or without CSI at the receiving antennas. As the space-time coding function is merged with the error-correcting code, the euclidean distances distribution between modulated signals based on the detection criteria is strongly linked to the Hamming weights distribution of the channel error-correcting code used in the MCM scheme. Moreover, a low-complexity decoding algorithm is described and compared to the existing differential schemes.
This is a preview of subscription content, log in to check access.
Access options
Buy single article
Instant access to the full article PDF.
US$ 39.95
Price includes VAT for USA
Subscribe to journal
Immediate online access to all issues from 2019. Subscription will auto renew annually.
US$ 199
This is the net price. Taxes to be calculated in checkout.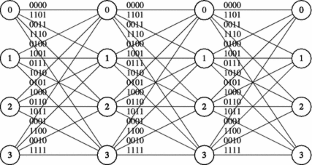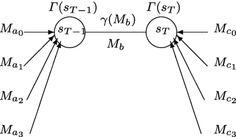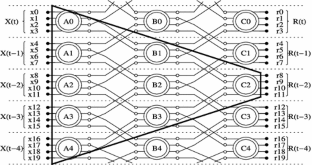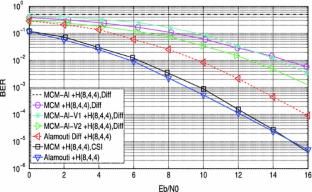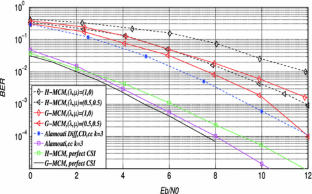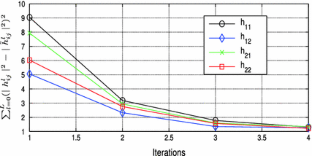 References
1.

Forney, G. D., & Jr. (1973). The Viterbi algorithm. Proceedings of the IEEE, 61(3), 268–278.

2.

MacWilliams, F. J., & Sloane, N. J. A. (1973). The theory of error-correcting codes, Chap. 19, Paragraph 3. Amsterdam: North-Holland, 1977.

3.

Berrou, C., Glavieux, A., & Thitimajshima, P. (1993). Near Shannon limit error-correcting and decoding: Turbo-codes, In Proceedings of the IEEE international conference on, communications (ICC'93), pp. 1064–1070, Geneva, Switzerland.

4.

Alamouti, S. (1998). A simple transmit diversity technique for wireless communications. IEEE Journal of Selected Areas Communication, 16, 1451–1458.

5.

Tarokh, V., Jafarkhani, H., & Calderbank, A. R. (1999). Space-time block bodes from orthogonal designs. IEEE Transactions on Information Theory, 45(5), 1456–1467.

6.

Tarokh, V., & Jafarkhani, H. (2000). A differential detection scheme for transmit diversity. IEEE Journal on Selected Areas in Communications, 18(7), 1169–1174.

7.

Hughes, B. L. (2000). Differential space-time modulation. IEEE Transactions on Information Theory, 46(7), 2567–2578.

8.

Hochwald, B. M., & Sweldens, W. (2000). Differential unitary space-time modulation. IEEE Transactions on Communications, 48(12).

9.

Cadic, E., Carlach, J. C., Olocco, G., Otmani, A., & Tillich, J. P. (2001). Low complexity tail-biting trellises of self-dual codes of length 24, 32 and 40 over GF(2) and Z4 of large minimum distance. Proceedings of the 14th international symposium on applied algebra, algebraic algorithms and error-correcting codes, AAECC-14, pp. 57–66.

10.

Schlegel, C., & Grant, A. (2003). Differential space-time turbo codes. IEEE Transactions on Information theory, 49(9), 2298–2306.

11.

Carlach, J.-C., & Otmani, A. (2003). A systematic construction of self-dual codes. IEEE Transactions on Information Theory, 49(11), 3005–3009.

12.

Pauli, V., Cocke, J., Lampe, L., & Huber, J. (2008). Differential space-frequency modulation and fast 2-D multiple-symbole differential detection for MIMO-OFDM. IEEE Transactions on Vehicular Technology, 57(1), 297–310.
About this article
Cite this article
El Arab, A., Carlach, J. & Hélard, M. Matrix Coded Modulation: A New Non-coherent MIMO Scheme. Wireless Pers Commun 71, 2475–2489 (2013). https://doi.org/10.1007/s11277-012-0949-z
Keywords
MIMO

Coherent

Non-coherent differential space-time coding

Channel coding

Coded modulation

Euclidean distance