Abstract
The conducted researches have shown that the features of the housing and communal sector do not allow talking about the possibility of calculating the "optimal" tariff rate. The development of an effective method of tariff formation for rural areas is particularly acute. The use of traditional method to calculate the amount of tariffs for housing and communal services provided to the population and enterprises (called "cost plus" approach) consists in a simple summation of the cost price of a service with a premium that was set directly by a particular housing and communal enterprise within the maximum and minimum values. The authors found that none of the current pricing and tariffs' setting methods fulfills the requirements for an effective and economically founded tariff policy in the housing and communal services sector. In this regard, the development of a new methodology that will ensure the receipt of compromise tariffs for housing and communal services is required. Compromise analysis, the main purpose of which is to obtain optimal prices, can be used as a basis of such methodology.
This is a preview of subscription content, log in to check access.
Access options
Buy single article
Instant unlimited access to the full article PDF.
US$ 39.95
Price includes VAT for USA
Subscribe to journal
Immediate online access to all issues from 2019. Subscription will auto renew annually.
US$ 99
This is the net price. Taxes to be calculated in checkout.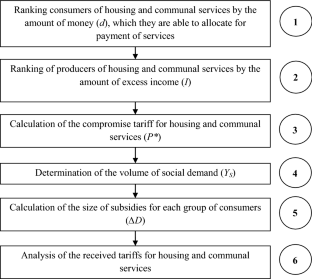 References
1.

Jukic, B., Jukic, N., & Parameswaran, M. (2002). Data models for information sharing in e-partnerships: Analysis, improvements, and relevance. Journal of Organizational Computing and Electronic Commerce,12, 175–195.

2.

Kardash, V. A. (2006). Conflicts and trade-offs in a market economy. Moscow: Nauka.

3.

Borkovskaya, V. (2018). Project management risks in the sphere of housing and communal services. MATEC Web of Conferences,251, 06025.

4.

Zamotajlova, D., Popova, E., Gorkavoy, P., & Nedogonova, T. (2018). Compromise tariff formation as one of the bases of development of the housing and com-munal complex of rural areas. Kuban State Agrarian University.

5.

OECD. (2007). Innovative rural regions. Organisation for Economic Co-operation and Development.

6.

Chan, H. K., & Chan, F. T. S. (2009). Effect of information sharing in supply chains with flexibility. International Journal of Production Research,47, 213–232.

7.

Ingenbleek, P. T., & Van der Lans, I. A. (2013). Relating price strategies and price-setting practices. European Journal of Marketing,47, 27–48.

8.

Lummi, K., & Rautiainen, A. (2017). Development options and impacts of distribution tariff structures. Tampere University of Technology, Finland 65.

9.

Oksana, S. (2017). Management of reforming of housing-and-communal services. IOP Conference Series: Earth and Environmental Science,90, 10.

10.

Zamotajlova, D., Kurnosova, N., & Reznikov, V. (2017). Methodological approaches to estimation of management organizations' efficiency of activity in housing and communal sphere. Kuban State Agrarian University.

11.

European-Commission. (2015). Study on tariff design for distribution systems.

12.

Davcik, N. S., & Piyush, S. (2015). Impact of product differentiation, marketing investments and brand equity on pricing strategies: A brand level investigation. European Journal of Marketing,49, 760–781.

13.

Zaheeruddin, & Manas, M. (2015). Analysis of design of technologies, tariff structures, and regulatory policies for sustainable growth of the smart grid. Energy Technology & Policy,2, 28–38.

14.

Ryahovskaya, A. (2016). Government regulation of the economy in crisis. Scientific works of the Free Economic Society of Russia.

15.

Alcalde, J., & Peris, J. E. (2017). Sharing costs and the compromise solution. University of Alicante, D. Quantitative Methods and Economic Theory.
Additional information
Publisher's Note
Springer Nature remains neutral with regard to jurisdictional claims in published maps and institutional affiliations.
About this article
Cite this article
Pereira, J.P., Zamotajlova, D. & Popova, E. Development of an effective method of tariff formation for rural areas: the case of Russian Federation. Wireless Netw (2020) doi:10.1007/s11276-019-02237-7
Keywords
Housing and communal complex

Method of tariff formation

Compromise prices and tariffs

Social demand

Rural areas