Abstract
With Automobiles becoming the main form of transportation adopted in all parts of the world, it has become a necessity to develop useful applications providing safety and entertainment by harnessing the communication between the vehicles. Vehicular adhoc networks (VANET) forms the backbone for efficiently communicating among the vehicles. VANETs on the downside do not have a stable topology and has frequent network disconnections due to its high mobility. Taking all these factors into consideration, designing and implementing VANET routing protocols is a challenge. The proposed framework depends on the use of network resources to further reflect the current system condition and adjust the arrangement between continuous network topology changes and the QoS needs. It consists of three stages: The VANET scenario generator for creating network road and traffic scenarios, formulating the weighted cost function, and finally the optimization phase to identify the optimized configuration based on the weighted cost function formulated. The proposed approach (FA-OLSR) was simulated and the simulation results revealed and improved Packet Delivery Ratio, Mean Routing Load, and End-to-End Delay.
This is a preview of subscription content, log in to check access.
Access options
Buy single article
Instant access to the full article PDF.
US$ 39.95
Price includes VAT for USA
Subscribe to journal
Immediate online access to all issues from 2019. Subscription will auto renew annually.
US$ 99
This is the net price. Taxes to be calculated in checkout.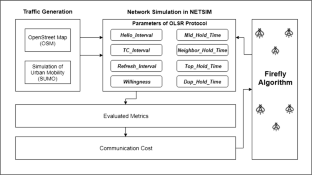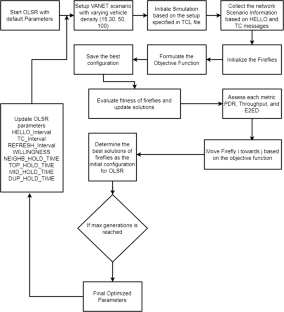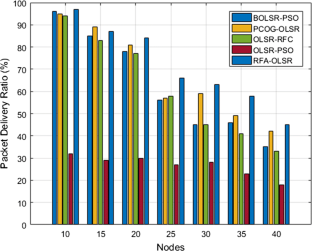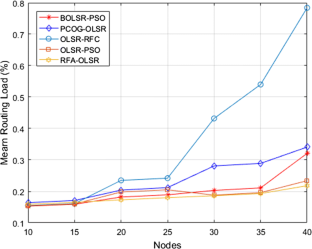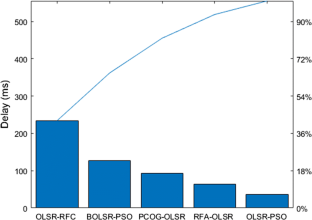 References
1.

Eze, E. C., Zhang, S., & Liu, E. (2014). Vehicular ad hoc networks (VANETs): Current state, challenges, potentials and way forward. In Proceedings of the 2014 20th international conference on automation and computing, Cranfield, UK, 12–13 September 2014 (pp. 176–181).

2.

Corson, S., & Macker, J. (1999). Mobile ad hoc networking (MANET): Routing protocol performance issues and evaluation considerations. USA: RFC Editor.

3.

Arshad, W., Javaid, N., Khan, R. D., Ilahi, M., Qasim, U., & Khan, Z. A. (2013). Modeling and simulating network connectivity in routing protocols for MANETs and VANETs. Journal of Basic and Applied Scientific Research, 3, 1312–1318.

4.

The Crash Avoidance Metrics Partnership (CAMP). (2005). Vehicle safety communications project task 3 final report: Identify intelligent vehicle applications enabled by Dedicated Short Range Communications (DSRC). Tech. Rep. 809859, National Highway Traffic Safety Administration, Office of Research and Development (USDOT), Washington, DC.

5.

Taleb, T., Sakhaee, E., Jamalipour, A., Hashimoto, K., Kato, N., & Nemoto, Y. (2007). A stable routing protocol to support ITS services in VANET networks. IEEE Transactions on Vehicular Technology, 56(6), 3337–3347.

6.

Li, F., & Wang, Y. (2007). Routing in vehicular ad hoc networks: A survey. IEEE Vehicle Technology Magazine, 2(2), 12–22.

7.

Bi, Y., Zhou, H., Zhuang, W., & Zhao, H. (2017). Overview of safety message broadcast in vehicular networks. In Safety message broadcast in vehicular networks (pp. 11–24). Cham: Springer International Publishing.

8.

Eze, E., Zhang, S., Liu, E., & Eze, J. (2016). Advances in vehicular ad-hoc networks (VANETs): Challenges and road-map for future development. International Journal of Automation and Computing, 13(1), 1–18.

9.

Cha, S. H., Lee, K. W., & Ryu, M. W. (2012). Routing protocol considerations for vehicle to vehicle communication through mobility pattern analysis. In T. Kim, C. Ramos, J. Abawajy, B. H. Kang, D. Ślęzak, & H. Adeli (Eds.), Computer applications for modeling, simulation, and automobile. MAS 2012, ASNT 2012. Communications in computer and information science (Vol. 341). Berlin: Springer.

10.

Clausen, T., & Jacquet, P. (2003). Optimized link state routing protocol (OLSR). IETF RFC 3626. [Online]. Available http://www.ietf.org/rfc/rfc3626.txt. Accessed 27 Jan 2019.

11.

Alba, E., Dorronsoro, B., Luna, F., Nebro, A., Bouvry, P., & Hogie, L. (2007). A cellular MOGA for optimal broadcasting strategy in metropolitan MANETs. Computer Communications, 30(4), 685–697.

12.

Cheng, H., & Yang, S. (2010). Genetic algorithms with immigrant schemes for dynamic multicast problems in mobile ad hoc networks. Engineering Applications of Artificial Intelligence, 23(5), 806–819.

13.

Shokrani, H., & Jabbehdari, S. (2009) A novel ant-based QoS routing for mobile ad hoc networks. In Proceedings of 1st ICUFN (pp. 79–82).

14.

Huang, C., Chuang, Y., & Hu, K. (2009). Using particle swarm optimization for QoS in ad-hoc multicast. Engineering Applications of Artificial Intelligence, 22(8), 1188–1193.

15.

Houssaini, Z., Zaimi, I., Drissi, M., Oumsis, M., & Ouatik, S. (2018). Trade-off between accuracy, cost, and QoS using a beacon-on-demand strategy and Kalman filtering over a VANET. Digital Communications and Networks, 4(1), 13–26.

16.

Goldberg, D. E. (1989). Genetic algorithms in search optimization and machine learning. Reading, MA: Addison-Wesley.

17.

Moussaoui, A., Semchedine, F., & Boukerram, A. (2014). A link-state QoS routing protocol based on link stability for Mobile Ad hoc Networks. Journal of Network and Computer Applications, 39, 117–125.

18.

Toutouh, J., García-Nieto, J., & Alba, E. (2010). Optimal configuration of OLSR routing protocol for VANETs by means of differential evolution. In Proceedings of the 3rd International Conference on Metaheuristics and Nature.

19.

Gopu, A., & Venkataraman, N. (2015). Optimal VM placement in distributed cloud environment using MOEA/D. Soft Computing. https://doi.org/10.1007/s00500-018-03686-6

20.

Wang, S., Djahel, S., McManis, J., McKenna, C., & Murphy, L. (2013). Comprehensive performance analysis and comparison of vehicles routing algorithms in smart cities. In Proceedings of global information infrastructure symposium, Trento, Italy (pp. 1–8). https://doi.org/10.1109/giis.2013.6684365.

21.

Yuan, J., Zheng, Y., Xie, X., & Sun, G. (2013). T-drive: Enhancing driving directions with taxi drivers' intelligence. IEEE Transactions on Knowledge and Data Engineering, 25(1), 220–232. https://doi.org/10.1109/TKDE.2011.200.

22.

Ortiz, M., et al. (2013) Intelligent routing strategies in wireless sensor networks for smart cities applications. In Proceedings of 10th IEEE international conference on networking, sensing and control (ICNSC), Evry, France (pp. 740–745). https://doi.org/10.1109/icnsc.2013.6548830.

23.

Caro, G. D., & Dorigo, M. (1998). AntNet: distributed stigmergetic control for communications networks. Journal of Artificial Intelligence Research, 9, 317–365.

24.

Gunes, M., Sorges, U., & Bouazizi, I. (2002). ARA: The ant-colony based routing algorithm for magnets. In Proceedings of the 2002 international conference on parallel processing workshops, Vancouver, BC, Canada, August 2002.

25.

Kamali, S., & Opatrny, J. (2008). A position based ant colony routing algorithm for mobile ad-hoc networks. Journal of Networks, 3(4), 21–26.

26.

Gomez, C., Garcia, D., & Paradells, J. (2005). Improving performance of a real ad-hoc network by tuning OLSR parameters. In Proceedings of the 10th IEEE symposium on computers and communications (ISCC'05), Murcia, Spain, 27–30 June 2005 (pp. 16–21).

27.

Huang, Y., Bhatti, S. N., & Parker, D. (2006). Tuning OLSR. In Proceedings of the 2006 IEEE 17th international symposium on personal, indoor and mobile radio communications, Helsinki, Finland, 11–14 September 2006 (pp. 1–5).

28.

Yang, X. S. (2010). Engineering optimisation: an introduction with metaheuristic applications. Hoboken: Wiley.

29.

OpenStreetMap. (2019). OpenStreetMap. [online] Available at https://www.openstreetmap.org/ Accessed 17 Apr 2019.

30.

Tetcos.com. (2019). NetSim-Network Simulator & Emulator | Home. [online] Available at https://www.tetcos.com/. Accessed 8 Mar 2019.

31.

Joshua, C., Duraisamy, R., & Varadarajan, V. (2019). A reputation based weighted clustering protocol in VANET: A multi-objective firefly approach. Mobile Networks and Applications.

32.

Mehra, R., Bali, R. S., & Kaur, P. (2016). Efficient clustering based OLSR routing protocol for VANET. In 2016 Symposium on Colossal Data Analysis and Networking (CDAN) (pp. 1–7). IEEE.

33.

Krajzewicz, D., Bonert, M., & Wagner, P. (2006). The open source traffic simulation package SUMO. In Proceedings of RoboCup, Bremen, Germany (pp. 1–10).

34.

Al-Kharasani, N., Zulkarnain, Z., Subramaniam, S., & Hanapi, Z. (2018). An efficient framework model for optimizing routing performance in VANETs. Sensors, 18(2), 597.

35.

Stephan, T., & Joseph, K. (2016). Cognitive radio assisted OLSR routing for vehicular sensor networks. Procedia Computer Science, 89, 271–282.
Additional information
Publisher's Note
Springer Nature remains neutral with regard to jurisdictional claims in published maps and institutional affiliations.
About this article
Cite this article
Joshua, C.J., Varadarajan, V. An optimization framework for routing protocols in VANETs: a multi-objective firefly algorithm approach. Wireless Netw (2019). https://doi.org/10.1007/s11276-019-02072-w
Keywords
VANET

Routing

Multi-objective optimization

Pareto front

MOPSO

Firefly algorithm