Abstract
In a single local mobility domain of Proxy Mobile IPv6 (PMIPv6) the mobile node (MN) uses only its PMIPv6 home address for all its communication. When the MN moves into another domain, the MN must change its PMIPv6 home address and host-based mobility signaling is activated. Consequently PMIPv6's network-based mobility cannot be retained. Additionally, if the MN does not support inter-domain mobility, it cannot maintain its communication sessions with its correspondent node (CN). In this paper, we propose a inter-domain mobility support protocol in PMIPv6 networks using overlap function of mobile access gateway called overlap-MAG. In overlap-MAG protocol an MN maintain active communication sessions without mobility protocol stacks when the MN moves into another local mobility domain. Thus, overlap-MAG protocol retains the advantages of PMIPv6 for inter-domain mobility support. However only a few modifications are necessary on the mobile access gateway without any modifications of MN and CN's protocol stacks. Thus, overlap-MAG not only simplifies implementation and deployment, but also allows service providers to offer multi-services and communication ubiquity to customers with simple mobility hosts. We evaluate and compare network performance between our proposed solution and PMIPv6 and the main host-based mobility protocol, MIPv6 to demonstrate the advantages of proposed protocol.
This is a preview of subscription content, log in to check access.
Access options
Buy single article
Instant access to the full article PDF.
US$ 39.95
Price includes VAT for USA
Subscribe to journal
Immediate online access to all issues from 2019. Subscription will auto renew annually.
US$ 99
This is the net price. Taxes to be calculated in checkout.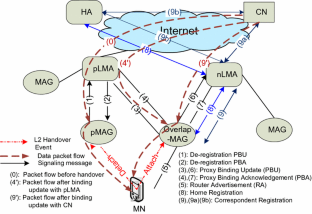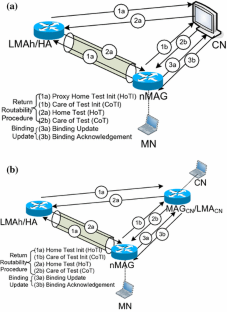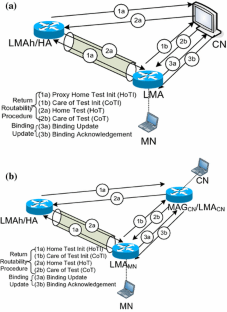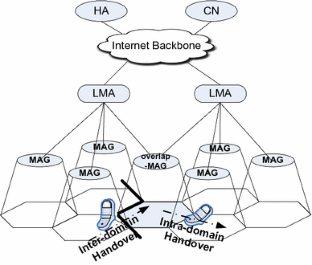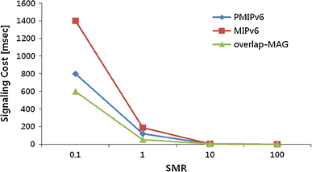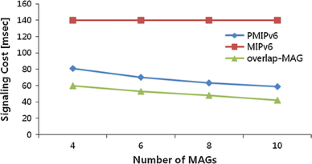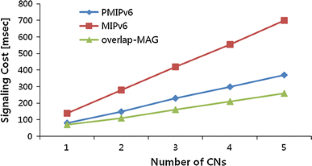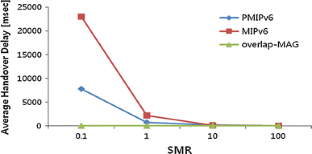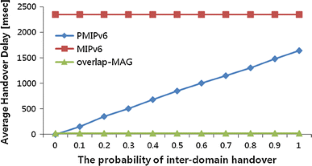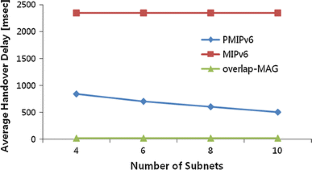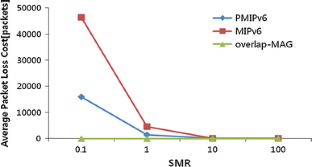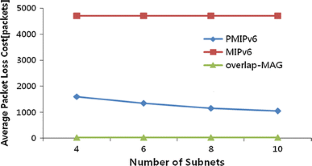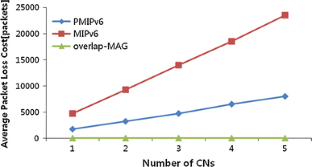 References
1.

Gundavelli, S., et al. (2008). Proxy Mobile IPv6, IETF, RFC 5213.

2.

Giartta, G. (2012) Interactions between PMIPv6 and MIPv6: Scenarios and related issues, IETF, RFC6612.

3.

Devarapalli, V. (2007) Proxy Mobile IPv6 and mobile IPv6 interworking, IETF, draft-devarapalli-netlmm-pmipv6-mipv6-01. April 25, 2007.

4.

Lebsch, M., et al. (2007) Route optimizations for Proxy Mobile IPv6, IETF, draft-abeille-netlmm-proxymip6ro-01. November 13, 2007.

5.

Lee, Joong-Hee, et al. (2007). A novel inter-LMD handoff mechanism for network-based localized mobility management. LNCS, 4712, 356–366.

6.

Neumann, N., Fu, X., Lei, J., & Zhang, G. (2009) Inter-domain handover and data forwarding between Proxy Mobile IPv6 domains, draft-neumann-netlmm-inter-domain-02.txt. March 9, 2009.

7.

Dutta, M., et al. (2008) Proxy MIP for inter-MAG route optimization, IETF, draft-dutta-netmm-pmipro-01. July 13, 2008.

8.

Joe, I., & Lee, H. (2012). An efficient inter-domain handover scheme with minimized latency for PMIPv6. In Proceedings of workshop on computing, networking and communications.

9.

Van Hanh, N., & Ro, S. (2009). Global mobility support in Proxy Mobile IPv6 for mobility-unaware hosts. In Local computer network proceedings.

10.

Hess, A., & Schafer, G. (2002). Performance evaluation of AAA/mobile IP authentication, In Proceedings of 2nd Polish-German teletraffic symposium (PGTS'02). Gdansk, Poland.

11.

Wang, H., Prasad, A. R., & Schoo, P. (2004). Research issues for fast authentication in inter-domain handover. In Proceedings of wireless world research forum. Beijing.

12.

Tuladhar, S. R. (2007). Inter-domain authentication for seamless roaming in heterogeneous wireless networks. Master thesis, University of Pittsburgh.

13.

Baumann, F. V., & Niemegeers, I. G. (1994). An evaluation of location management procedures, universal personal communications, 1994. Record., 1994 third annual international conference, pp. 359–364, September 27–October 1, 1994.

14.

Wang, K., & Huey, J. (1999). A cost effective distributed location management strategy for wireless networks, Springer, Netherlands. Wireless Network, 5(4), 287–297.

15.

Pack, S., et al. (2006). An adaptive mobility anchor point selection scheme in hierarchical mobile IPv6 networks. Computer Communications, 29(16), 3066–3078.

16.

6NET Project. (2005). Mobile IPv6 handovers: Performance analysis and evaluation, Technical Report, 6Nets Consortium. June 21, 2005 (Online).

17.

Narten, T., Nordmark, E., & Simpson, W. (2007). Neighbour discovery for IP version 6, IETF RFC 4861.
Acknowledgments
This research was supported by Basic Science Research Program through the National Research Foundation of Korea (NRF) funded by the Ministry of Education, Science and Technology (2011-0012003).
About this article
Cite this article
Ro, S., Nguyen, V.H. Inter-domain mobility support in Proxy Mobile IPv6 using overlap function of mobile access gateway. Wireless Netw 21, 899–910 (2015). https://doi.org/10.1007/s11276-014-0828-5
Keywords
Overlap-MAG

Network based mobility management

Proxy Mobile IPv6

Inter-domain handover