Omics analysis of acetic acid tolerance in Saccharomyces cerevisiae
Abstract
Acetic acid is an inhibitor in industrial processes such as wine making and bioethanol production from cellulosic hydrolysate. It causes energy depletion, inhibition of metabolic enzyme activity, growth arrest and ethanol productivity losses in Saccharomyces cerevisiae. Therefore, understanding the mechanisms of the yeast responses to acetic acid stress is essential for improving acetic acid tolerance and ethanol production. Although 329 genes associated with acetic acid tolerance have been identified in the Saccharomyces genome and included in the database (http://www.yeastgenome.org/observable/resistance_to_acetic_acid/overview), the cellular mechanistic responses to acetic acid remain unclear in this organism. Post-genomic approaches such as transcriptomics, proteomics, metabolomics and chemogenomics are being applied to yeast and are providing insight into the mechanisms and interactions of genes, proteins and other components that together determine complex quantitative phenotypic traits such as acetic acid tolerance. This review focuses on these omics approaches in the response to acetic acid in S. cerevisiae. Additionally, several novel strains with improved acetic acid tolerance have been engineered by modifying key genes, and the application of these strains and recently acquired knowledge to industrial processes is also discussed.
Keywords
Acetic acid tolerance 
Industrial strain 
Omics analysis 
Post-genomic approach 
Saccharomyces cerevisiae
Introduction
Lignocellulosic materials are rapidly becoming a major source of bioethanol because they are abundant, renewable, and uncompetitive with food resources. However, their pre-treatment usually generates many inhibitory compounds that hamper microorganism growth, such as formic acid, acetic acid and furfural (Fernandes et al. 2005; Luo et al. 2002). Since lignin and hemicellulose are highly acetylated, acetic acid is produced during the pre-treatment process, and it remains in the resultant hydrolysate (Chesson et al. 1983). Acetic acid also causes intracellular acidification, leading to energy depletion (Pampulha and Loureiro-Dias 2000) and inhibition of cell growth and metabolism during lignocellulosic fermentation. This weak acid is one of the main inhibitors in lignocellulosic hydrolysates.
Understanding the physiological mechanisms of Saccharomyces cerevisiae is a basic requirement for enhancing acetic acid tolerance during fermentation and improving product quality, such as balsamic vinegar and wine (Solieri and Giudici 2008; Vilela-Moura et al. 2011). Acetic acid tolerance is controlled by multiple genes, and even in a relatively simple model organism such as S. cerevisiae, precisely determining the genes involved and their interactions is highly challenging. Part of the reason is the difficulty in narrowing phenotypes to single genes and in detecting and quantifying epistasis, the contribution of variable quantitative traits and linked quantitative trait loci (Wilkening et al. 2014). Thus, the cellular stress responses to acetic acid remain unclear, which makes it difficult to improve this organism by genetic engineering.
After decades of post-genomic research, several approaches have been developed in S. cerevisiae at a genome-wide scale, including DNA microarray analysis, functional screening of non-essential gene deletion collections, whole genome sequence analysis, and inverse engineering. By using these technologies, we could dissect acetic acid tolerance and other complex traits in yeast. This review gives an overview of high-throughput technologies used to decipher acetic acid tolerance in S. cerevisiae. We discuss the advantages and challenges of these approaches, the novel genes identified, and novel strains constructed by modifying some key genes.
General mechanisms of acetic acid tolerance
In low pH conditions (<4.76), acetic acid is in an undissociated (protonated) state that can enter the cell through the Fps1p channel or by simple diffusion (Mollapour and Piper 2007). Once in the cytoplasm, acetic acid dissociates into acetate anions and protons, leading to cytoplasmic acidification and inhibition of some important metabolic processes (Arneborg et al. 2000). S. cerevisiae is sensitive to acetic acid in the presence of glucose, which restrains acetic acid depletion. Yeast can undergo programmed cell death triggered by internal and external stimuli including acetic acid (Giannattasio et al. 2013; Ludovico et al. 2001).
Nevertheless, yeast can survive in the presence of low concentrations of acetic acid. Acetate anions can be converted to acetyl-CoA by peroxisomal or cytosolic acetyl-CoA synthetases. Then acetyl-CoA enters the tricarboxylic cycle or glyoxylate cycle (Lee et al. 2011; Rolland et al. 2002; Vilela-Moura et al. 2008). Yeast adapted to acetic acid display many physiological alterations, including cell wall and membrane reorganization, pH recovery, efflux of anions, and detoxification (Mira et al. 2010c). Two important enzymes are required to maintain the pH in the cytoplasm: the plasma membrane proton-pumping ATPase (PM-H+-ATPase) and the vacuolar proton-pumping ATPase (V-H+-ATPase). PM-H+-ATPase is activated by weak acid, and pumps out protons in response (Carmelo et al. 1997). V-H+-ATPase also contributes to the recovery and maintenance of cytosolic pH, and it is crucial for the other physiological processes (Kane 2006; Martinez-Munoz and Kane 2008). Meanwhile, the ATP-binding cassette (ABC) transporter Pdr12 can export some organic anions out of the cell (Holyoak et al. 1999) (Fig. 1).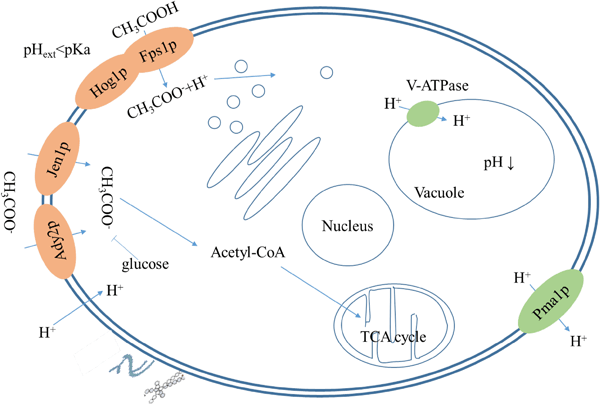 Omics analysis of acetic acid tolerance
It is well known that most tolerance traits are controlled by multiple genetic loci, and omics analysis offers a promising approach for identifying the genetic basis of quantitative traits. Omics analysis can probe cells at a genome-wide scale to provide information on genome, transcriptome, proteome, and metabolome, due to the availability of complete genome sequences. Nowadays, more and more omics technologies are being used in the study of acetic acid tolerance in S. cerevisiae, and these are summarized below.
Genetic manipulation for improving acetic acid tolerance
Omics approaches could provide the theoretical basis and definite genes for genetic modification in yeast. By functional genomics screening and genome wide analysis, many genes associated with acetic acid tolerance are involved in carbohydrate metabolism, protein folding, lipid metabolism, cell wall function and transport (Mira et al. 2010b). There are several examples of genetic manipulation to alter the cell structure and thereby improve acetic acid tolerance.
The plasma membrane is an important barrier in acetic acid tolerance. When acetic acid is present, the expression of YRO2 is induced in the plasma membrane, and the Yro2 protein is believed to alleviate acetic acid-induced damage (Takabatake et al. 2015). Acetic acid can also enter the cell through the Fps1p channel. While deletion of fps1 can improve ethanol production and decrease acetic acid yield. Part of the reason was that the fps1∆ mutant might solve the occurring redox balance problems by reducing acetic acid (Zhang et al. 2007).
In the cytoplasm, acetic acid dissociates into acetate anions and protons, and the consumption of acetate and/or protection of intracellular proteins can improve acetic acid tolerance. Through genomic library screening, Chen et al. (2016b) found that the endogenous expression of Whi2 could be activated by acetic acid. So, overexpression of WHI2, encoding a 55 kDa cytoplasmic globular scaffold protein, can improve acetic acid tolerance and provide a protective effect in S. cerevisiae. And overexpression of ACS2, an acetyl-coenzyme A synthetase, also improves resistance to acetic acid during fermentation (Ding et al. 2015b). Wu et al. (2016) found that higher long chain fatty acid concentrations, intracellular trehalose levels, and CAT activity are important factors contributing to the improved acetic acid tolerance of jjj1∆ mutants.
Mitochondria are the epicentre of energy production in the cell, and an important organelle for tolerance to acetic acid. Kumar et al. (2015) overexpressed COX20, a mitochondrial cytochrome c oxidase chaperone, which improved tolerance to acetic acid during fermentation.
The biogenesis and fragmentation of the vacuole is dependent on vesicle–vesicle and vesicle–vacuole fusion and fission events. By screening overexpression library, overexpression of PEP3, VAM6, or VPS3 increases the number of fragmented vacuoles, and overexpression of PEP3 in particular shortens the lag phase associated with stress tolerance without altering the growth rate (Ding et al. 2015a).
The nucleus also plays a role in acetic acid tolerance. Chromatin dynamics controlled by various histone modification enzymes is important for stress-responsive genes, and histone H3/H4 acetylation is an important histone modification. By screening 345 single point mutations in H3 and H4 histone libraries, Liu et al. (2014) identified two mutants, H3K37A and H4K16Q, that showed improved ethanol fermentation ability under acetic acid stress conditions. And they further analysed acetic acid tolerance and ethanol fermentation capacity of the mutants by genome-wide transcriptional profiling. As we know, RTT109 is a histone acetyltransferase for the acetylation of histone H3. Cheng et al. (2016) fought that the absence of RTT109 not only activates transcription of stress responsive genes, but also improves resistance to oxidative stress, which ultimately contributes to improved acetic acid tolerance in S. cerevisiae.
To date, many studies have focused on laboratory strains, but few have investigated industrial strains or naturally occurring organisms isolated from the environment. This may be because industrial strains have a more complex genome, since they are often diploid, polyploid, or aneuploid. In general, a true and stable haploid strain is difficult to obtain. Furthermore, phenotypic screening can be laborious and time-consuming, hence it is difficult to directly identify some industrially relevant traits using bulk segregant approaches (Swinnen et al. 2012b). However, several successful strategies using high-throughput technologies can now be applied to industrial strains. In one study, highly ethanol tolerant industrial strains were investigated and three causative genes (MKT1, SKS2 and APJ1) identified by pooled-segregant whole genome sequence analysis (Swinnen et al. 2012a). Another study crossed haploid segregants of a strain with an unusually high acetic acid tolerance and a reference industrial strain, resulting in the identification of three new causative alleles (GLO1, DOT5, CUP2) that determine high acetic acid tolerance (Meijnen et al. 2016). Such methods are therefore capable of dissecting specific phenotypes at a whole genome scale, and the knowledge obtained can be used to improve acetic acid tolerance in industrial strains (Table 1).
Table 1
The efforts to improve acetic acid tolerance in yeast
| Strains | pH | Genes and manuscripts | Relation to omics | Effects of acetic acid compare to wild strains | Tolerance levels | References |
| --- | --- | --- | --- | --- | --- | --- |
| S288c | 4.8 | PEP3 ↑ | Overexpression library screening | Shorter lag phase but does not alter growth rate | 80 mM | Ding et al. (2015a) |
| S288c | 4.8 | ACS2 ↑ | – | Increased growth rate and shorter lag phase | 140 mM | Ding et al. (2015b) |
| SR8 | 4.0 | ACE2 ↑ | Transcriptome analysis | Improved tolerance to acetic acid and furfural | 33 mM | Chen et al. (2016a) |
| SR8 | 4.0 | WHI2 ↑ | Genomic library screening | Improved glucose and/or xylose fermentation under acetic acid stress | 50 mM | Chen et al. (2016b) |
| BY4741 | 5.5 | JJJ1 ↓ | – | Increased ethanol production and shorter lag phase | 75 mM | Wu et al. (2016) |
| BY4741 | 1.2 | COX20 ↑ | – | Improved tolerance to acetic acid and hydrogen peroxide-induced oxidative stress | 75 mM | Kumar et al. (2015) |
| BY4741 | 3.5 | RTT109 ↓ | – | Increased acetic acid tolerance and ethanol production rate | 92 mM | Cheng et al. (2016) |
| D452-2 | 3.2 | OAZ1 and TPO1 double disruption and SPE3 ↑ | RNA-sequence analysis | Increased spermidine content and shorter lag phase | 67 mM | Kim et al. (2015) |
| CEN.PK113-13D | 4.5 | HAA1 ↑ and the Haa1S135F mutant strain | SNP analysis | Mutant led to an increased recruitment to Haa1 target genes | 50 mM | Swinnen et al. (2017) |
Perspectives
Several molecular factors have been identified that are related to acetic acid and modified to engineer improved strains. These include strains overexpressing HAA1 and GRX5 (Fang et al. 2015; Sakihama et al. 2015; Swinnen et al. 2017), strains in which FPS1 and PHO13 are deleted (Sakihama et al. 2015), and 52 individual deletion strains identified by screening a deletion mutant library. However, because of the complex mechanisms involved in the response to acetic acid in yeast, a global molecular analysis of strains by whole genome sequencing and/or omics technologies is required to assess weak acid tolerance. Fortunately, recent advances in high-throughput techniques, including genomics, transcriptomics, proteomics, and metabolomics, are providing us with a vast amount of biological data to help us unravel these biological processes. Furthermore, these results can be used to engineer more robust strains with improved stress resistance.
Whole genome sequencing can certainly initiate a better understanding of stress tolerance, but it cannot distinguish between trait-relevant and trait-irrelevant molecular differences. Bansal (2005) summarized the limitations in genomics and proteomics approaches as follows: a lack of available gene-functionality information in wet-lab data, a lack of computer algorithms to explore the vast amount of data with unknown functionality, a limited knowledge of protein–protein and protein–DNA interactions, and a lack of knowledge concerning the temporal and transient behaviour of genes and pathways. Interestingly, genome-wide profiles are rarely in agreement, apparently due to different experimental conditions, including the strains used, the pH of the medium, and the acetic acid concentration. However, all data are valuable for both reinforcing previous findings and understanding regulatory networks (Mira et al. 2010c). Further elucidation of the molecular mechanisms of acetic acid tolerance will likely require a combination of high-throughput approaches and other methods, such as gene manipulation techniques including CRISPER/Cas9, systems metabolic analysis and evolution engineering.
Notes
Acknowledgements
This work was funded by China Spark Program (Grant No. 2015GA690004) and the Outstanding Youth Foundation of Jiangsu Province (Grant No. BK20140002).
Copyright information
© Springer Science+Business Media Dordrecht 2017