Abstract
Acorus calamus Linn. of the family Araceae (Acoraceae), commonly known as Sweet Flag and Vacha. The rhizome of this plant has medicinal properties against bugs, moths, lice and emetic stomach in dyspepsia. Chemical composition of the hydro-distilled essential oil obtained from the rhizomes of A. calamus was analyzed by gas chromatography equipped with flame ionization detector and gas chromatography coupled with mass spectrometry. The essential oil of A. calamus and its major compound β-asarone were tested against five Gram-positive, eight Gram-negative bacteria, and three fungi by the tube-dilution method at a concentration rang of 5.0–0.009 mg/mL. Forty constituents were identified which comprised 98.3 % of the total oil. The major compound β-asarone (80.6 %) was identified and confirm by NMR (1H– & 13C–) in rhizome oil of A. calamus. The organism Micrococcus luteus was found to be more susceptible to the oil with minimum bactericidal concentration (MBC) value of 0.032 ± 0.004 mg/mL, followed by Aspergillus fumigatus, Aspergillus niger and Micrococcus flavus with MBC values of 0.104 ± 0.016, 0.117 ± 0.017 and 0.143 ± 0.013 mg/mL, respectively. The compound β-asarone was susceptible to the microorganism A. niger with MBC value 0.416 ± 0.065 mg/mL. The present study revealed that tetraploid variety of A. calamus is growing in this region with substantial amount of β-asarone. The oil showed bactericidal property against tested bacteria and fungi. The β-asarone exhibited poorer bactericidal activity against test microorganisms.
This is a preview of subscription content, log in to check access.
Access options
Buy single article
Instant access to the full article PDF.
US$ 39.95
Price includes VAT for USA
Subscribe to journal
Immediate online access to all issues from 2019. Subscription will auto renew annually.
US$ 199
This is the net price. Taxes to be calculated in checkout.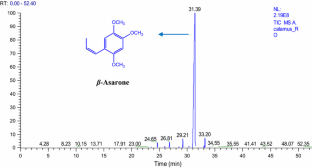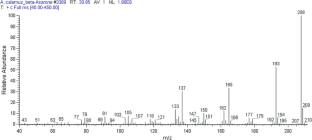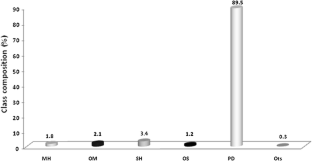 References
Adams RP (2007) Identification of essential oil components by gas chromatography/mass spectroscopy. Allured Publication, Carol Stream

Agarwal SL, Dandiya PC, Singh KP, Arora RB (1956) A note on the preliminary studies of certain pharmacological actions of Acorus calamus. J Am Pharm Assoc 45:655–656

Aqil F, Zahin M, Ahmad I (2008) Antimutagenic activity of methnolic extracts of four ayurvedic medicinal plants. Indian J Exp Biol 46:668–672

Balakumbahan R, Rajamani K, Kumanan K (2010) Acorus calamus: an overview. J Med Plants Res 4:2740–2745

Bassolé IHN, Juliani HR (2012) Essential oils in combination and their antimicrobial properties. Molecules 17:3989–4006

Bhattacharya AK, Kumar VS (2011) Chemistry and biological activity of Bach (Acorus calamus). J Med Aromat Plant Sci 33:270–278

Derle DV, Gujar KN (2001) Antiinflammatory, analgesic and antipyretic activity of Acorus calamus and Curcuma amada. Indian Drugs 38:444–447

Garneau FX, Collin G, Gagnon H, Belanger A, Lavoie S, Savard N, Pichette A (2008) Aromas from Quebec. I. Composition of the essential oil of the rhizomes of Acorus calamus L. J Essent Oil Res 20:250–254

Inouye S, Yamaguchi H, Takizawa T (2001) Screening of the antibacterial effects of variety of essential oils on respiratory tract pathogens, using a modified dilution assay method. J Infect Chemother 7:251–254

Joshi RK (2012) Chemical composition of Senecio belgaumensis from India. Chem Nat Compd 47:1010–1011

Joshi RK (2013a) Essential oil of flowers of Anaphalis contorta, an aromatic and medicinal plant from India. Nat Prod Commun 8:225–226

Joshi RK (2013b) Chemical composition of the essential oil of Baccharoides lilacina from India. Nat Prod Commun 8:401–402

Joshi RK (2013c) Chemical constituents and antibacterial property of the essential oil of the roots of Cyathocline purpurea. J Ethnopharmacol 145:621–625

Joshi RK (2013d) Volatile composition and antimicrobial activity of the essential oil of Artemisia absinthium growing in Western Ghats region of North West Karnataka, India. Pharm Biol 51:888–892

Joshi RK (2014a) Chemical composition of the essential oil of Croton bonplandianus from India. Nat Prod Commun 9:269–270

Joshi RK (2014b) Chemical composition and antimicrobial activity of the essential oil of Ocimum basilicum L. (sweet basil) from Western Ghats of North West Karnataka, India. Anc Sci Life 33:149–154

Keller K, Stahl E (1983) Zusammensetzung des ätherischen Oles von 8-asaronfreiem Kalmus. Planta Med 47:71–74

Kim WJ, Hwang KH, Park DG, Kim TJ, Kim DW, Choi DK, Moon WK, Lee KH (2011) Major constituents and antimicrobial activity of Korean herb Acorus calamus. Nat Prod Res 13:1278–1281

Marongiu B, Piras A, Porcedda S, Scorciapino A (2005) Chemical composition of the essential oil and supercritical CO2 extract of Commiphora myrrha (Nees) Engl. and of Acorus calamus L. J Agric Food Chem 53:7939–7943

McFarland J (1987) Standardization of bacterial culture for the disc diffusion assay. J Am Med Assoc 49:1176–1178

Mehrotra S, Mishra KP, Maurya R, Srimal RC, Yadav VS, Pandey R, Singh VK (2003) Anticellular and immunosuppressive properties of ethanolic extract of Acorus calamus rhizome. Int Immunopharmacol 3:53–61

Murthy MM, Subramanyam M, Giridhar KV, Jetty A (2006) Antimicrobial activities of bharangin from Premna herbaceae Roxb. and bharangin monoacetate. J Ethnopharmacol 104:290–292

Oh MH, Houghton PJ, Whang WK, Cho JH (2004) Screening of Korean herbal medicine used to improve cognitive function for anti-cholinesterase activity. Phytomedicine 11:544–548

Ozcan M, Akgul A, Chalchat JC (2002) Volatile constituents of the essential oil of Acorus calamus L. grown in Konya Province (Turkey). J Essent Oil Res 14:366–368

Parab RS, Mengi SA (2002) Hypolipidemic activity of Acorus calamus L. in rats. Fitoterapia 73:451–455

Pujol V, Seux V, Villard J (1990) Recherche de substances antifongiques secretes par les champignons superieurs en culture. Ann Pharm Fr 48:17–22

Radusiene J, Judzentiene A, Peciulyte D, Janulis V (2007) Essential oil composition and antimicrobial assay of Acorus calamus leaves from different wild populations. Plant Genet Resour 5:37–44

Rafatullh S, Tariq M, Mossa JS, Al-yahya MA, Al-said MS, Ageel AM (1994) Anti-secretagogue, antiulcer and cytoprotective properties of Acorus calamus in rats. Fitoterapia 65:19–23

Raina VK, Srivastava SK, Syamasunder KV (2003) Essential oil composition of Acorus calamus L. from the lower region of the Himalayas. Flavour Fragr J 18:18–20

Rost LCM, Bos R (1979) Biosystematic investigations with Acorus L.–3. Communication constituents of essential oils. Planta Med 36:350–361

Shoba FG, Thomas M (2001) Study of antidiarrhoeal activity offour medicinal plants in castor oil induced diarrhoea. J Ethnopharmacol 76:73–76

Shukla PK, Khanna VK, Ali MM, Maurya RR, Handa SS, Srimal RC (2002) Protective effect of Acorus calamus against acrylamide induced neurotoxicity. Phytother Res 16:256–260

Stahl E, Keller K (1981) Ober den unterschiedlichen B asarongehalt handelsüblicher kalmusdrogen. Pharmazie 36:53–57

Stahl E, Keller K (1983) Extraktion labiler naturstoffe mit überkritischen Gasen, 12. Schonende extraktion von basaronfreien kalmusrhizomen. Planta Med 47:75–78

Suryadevara P, Khanam S (2002) Screening of plant extracts for larvicidal activity against Culex quinquefasciatus. J Nat Remedies 2:186–188

Tkachev AV, Gurev AM, Yusubov MS (2006) Acorafuran, a new sesquiterpenoid from Acorus calamus essential oil. Chem Nat Compd 42:696–698

Wan J, Wilcock A, Coventry MJ (1998) The effect of essential oils of basil on the growth of Aeromonas hydrophilaand, Pseudomonas fluorescens. Appl Microbiol 84:152–158

Wilczewska AZ, Ulman M, Chilmoriczyk Z, Maj J, Koprozicz T, Tomczyk M, Tomczykowa M (2008) Comparison of volatile constituents of Acorus calamus and Asarum europaeum obtained by different techniques. J Essent Oil Res 20:390–395

Zuo HL, Yang FQ, Zhang XM, Xia ZN (2012) Separation of cis- and trans-asarone from Acorus tatarinowii by preparative gas chromatography. J Anal Methods Chem 2012:1–5
Acknowledgments
The author is grateful to the Indian Council of Medical Research, New Delhi, India for providing necessary facilities and thankful to Miss Vijaylaxmi Badakar, Lab Assistant, for screening of antimicrobial activity.
About this article
Cite this article
Joshi, R.K. Acorus calamus Linn.: phytoconstituents and bactericidal property. World J Microbiol Biotechnol 32, 164 (2016). https://doi.org/10.1007/s11274-016-2124-2
Received:

Accepted:

Published:
Keywords
Acorus calamus Linn.

Bactericidal property

β-asarone

Essential oil composition

GC/MS

NMR (1H– & 13C–)