Enhanced butanol production from cassava with Clostridium acetobutylicum by genome shuffling
Abstract
To obtain strains exhibiting high levels of solvent tolerance and butanol production, wild type strains of Clostridium acetobutylicum butanol-producing strain GX01 and Lactobacillus mucosae butanol-tolerant strain M26 were subjected to mutagenesis combining N-methyl-N-nitro-N-nitrosoguanidine induction with genome shuffling. After four successive rounds of genome shuffling, the C. acetobutylicum shuffled strain GS4-3 showing greater levels of fermentation performances (such as secreting a higher level of amylase, improving the thermal stability, and possessing greater environmental robustness) compared to the wild type strains was isolated. As a result, after optimization of culture conditions, mutant GS4-3 produced 32.6 g/L of total solvent, 20.1 g/L of butanol production, and 0.35 g/L/h of butanol productivity, which were, respectively, increased by 23.5, 23.3, and 40.0 % than the wild-type strain GX01, in a 10 L bioreactor. The enhanced production of butanol and tolerance of solvent of mutant associated with GS4-3 make it promising for acetone/butanol/ethanol fermentation from cassava (Manihot esculenta).
Graphical Abstract
Compared to the parental strain (blue), the shuffled strain exhibited the more excellent performances for butanol production from different carbon sources.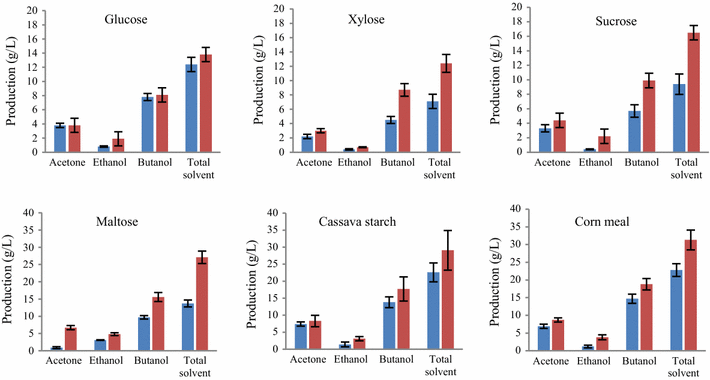 Keywords
Butanol 
Cassava 
Clostridium acetobutylicum
N-methyl-N-nitro-N-nitrosoguanidine mutation 
Genome shuffling 
Notes
Acknowledgments
This research was financially supported by the key Project of Guangxi Science and Technology Lab Center (LGZX201006), the National Natural Science Foundation of China (31560027), and the "Bagui Scholars Distinguished Professor" Special Project.
Copyright information
© Springer Science+Business Media Dordrecht 2016