Abstract
Mastitis is the inflammation of the mammary gland. Recent research has shown that Angiopoietin-like protein 2 (ANGPTL2) is a key inflammatory mediator. In the present study, we tested whether there is a correlation between increased ANGPTL2 expression and inflammation in response to Staphylococcus aureus in murine mastitis and the mechanisms involved. Thirty mice were divided into two groups: blank control group, challenged group. The entire infused mammary glands were removed to observe the changes of histopathology, myeloperoxidase (MPO) activity, production of tumour necrosis factor-α (TNF-α) and interleukin (IL)-6, and genes expression of ANGPTL2, TNF-α and IL-6. In challenged group, the structure of mammary glands was damaged and the large areas of cell fragments were observed. The MPO activity, IL-6 and TNF-α concentrations, ANGPTL2, IL-6, and TNF-α mRNA levels were significantly elevated in challenged group compared with blank control group. The present findings indicate ANGPTL2 may mediate the inflammation in murine mastitis through the activation of IL-6 and TNF-α.
This is a preview of subscription content, log in to check access.
Access options
Buy single article
Instant access to the full article PDF.
US$ 39.95
Price includes VAT for USA
Subscribe to journal
Immediate online access to all issues from 2019. Subscription will auto renew annually.
US$ 199
This is the net price. Taxes to be calculated in checkout.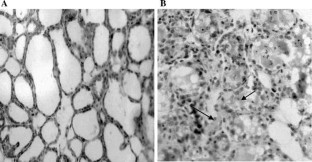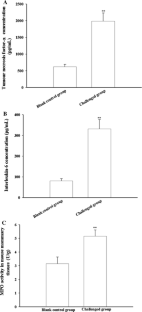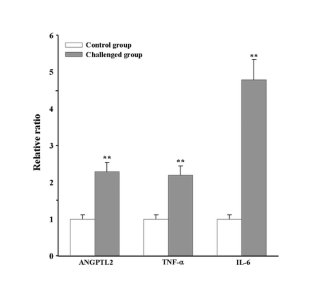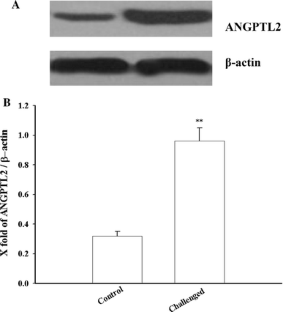 References
Al-Mousawi AM, Kulp GA, Branski LK, Kraft R, Mecott GA, Williams FN, Herndon DN, Jeschke MG (2010) Impact of anesthesia, analgesia, and euthanasia technique on the inflammatory cytokine profile in a rodent model of severe burn injury. Shock 34(3):261–268

Aoi J, Endo M, Kadomatsu T, Miyata K, Nakano M, Horiguchi H, Ogata A, Odagiri H, Yano M, Araki K, Jinnin M, Ito T, Hirakawa S, Ihn H, Oike Y (2011) Angiopoietin-like protein 2 is an important facilitator of inflammatory carcinogenesis and metastasis. Cancer Res 71(24):7502–7512. doi:10.1158/0008-5472

Aoi J, Endo M, Kadomatsu T, Miyata K, Ogata A, Horiguchi H, Odagiri H, Masuda T, Fukushima S, Jinnin M, Hirakawa S, Sawa T, Akaike T, Ihn H, Oike Y (2014) Angiopoietin-like protein 2 accelerates carcinogenesis by activating chronic inflammation and oxidative stress. Mol Cancer Res 2:239–249. doi:10.1158/1541-7786

Elazar S, Gonen E, Livneh-Kol A, Rosenshine I, Shpigel NY (2010) Neutrophil recruitment in endotoxin-induced murine mastitis is strictly dependent on mammary alveolar macrophages. Vet Res 41(1):10. doi:10.1051/vetres/2009058

Farhat N, Thorin-Trescases N, Mamarbachi M, Villeneuve L, Yu C, Martel C, Duquette N, Gayda M, Nigam A, Juneau M, Allen BG, Thorin E (2013) Angiopoietin-like 2 promotes atherogenesis in mice. J Am Heart Assoc 3:e000201. doi:10.1161/JAHA.113.000201

Kadomatsu T, Uragami S, Akashi M, Tsuchiya Y, Nakajima H, Nakashima Y, Endo M, Miyata K, Terada K, Todo T, Node K, Oike Y (2013) A molecular clock regulates angiopoietin-like protein 2 expression. PLoS ONE 8(2):e57921. doi:10.1371/journal.pone.0057921

Kanda A, Noda K, Oike Y, Ishida S (2012) Angiopoietin-like protein 2 mediates endotoxin-induced acute inflammation in the eye. Lab Investig 11:1553–1563. doi:10.1038/labinvest

Kushibiki S (2011) Tumor necrosis factor-α-induced inflammatory responses in cattle. Anim Sci J 4:504–511. doi:10.1111/j.1740-0929.2011.00931.x

Li M, Liu X, Robinson G, Bar-Peled U, Wagner KU, Young WS, Hennighausen L, Furth PA (1997) Mammary-derived signals activate programmed cell death during the first stage of mammary gland involution. Proc Natl Acad Sci USA 94(7):3425–3430

Li D, Fu Y, Zhang W, Su G, Liu B, Guo M, Li F, Liang D, Liu Z, Zhang X, Cao Y, Zhang N, Yang Z (2013) Salidroside attenuates inflammatory responses by suppressing nuclear factor-κB and mitogen activated protein kinases activation in lipopolysaccharide-induced mastitis in mice. Inflamm Res 1:9–15. doi:10.1007/s00011-012-0545-4

Ogata A, Endo M, Aoi J, Takahashi O, Kadomatsu T, Miyata K, Tian Z, Jinnin M, Fukushima S, Ihn H, Oike Y (2012) The role of angiopoietin-like protein 2 in pathogenesis of dermatomyositis. Biochem Biophys Res Commun 418(3):494–499. doi:10.1016/j.bbrc.2012.01.052

Okada T, Tsukano H, Endo M, Tabata M, Miyata K, Kadomatsu T, Miyashita K, Semba K, Nakamura E, Tsukano M, Mizuta H, Oike Y (2010) Synoviocyte-derived angiopoietin-like protein 2 contributes to synovial chronic inflammation in rheumatoid arthritis. Am J Pathol 176(5):2309–2319. doi:10.2353/ajpath.2010.090865

Rainard P, Cunha P, Bougarn S, Fromageau A, Rossignol C, Gilbert FB, Berthon P (2013) T helper 17-associated cytokines are produced during antigen-specific inflammation in themammary gland. PLoS ONE 8(5):e63471. doi:10.1371/journal.pone.0063471

Sasaki H, Suzuki A, Shitara M, Hikosaka Y, Okuda K, Moriyama S, Yano M, Fujii Y (2012) Angiopoietin-like protein ANGPTL2 gene expression is correlated with lymph node metastasis in lung cancer. Oncol Lett 4(6):1325–1328

Shang H, Wei H, Yue B, Xu P, Huang H (2009) Microsatellite analysis in two populations of Kunming mice. Lab Anim 43(1):34–40. doi:10.1258/la.2008.008098

Song X, Wang T, Zhang Z, Jiang H, Wang W, Cao Y, Zhang N (2015) Anti-inflammatory effect by regulating inflammatory signaling pathways and cytokines in LPS-induced mouse mastitis. Inflammation 38(1):79–88. doi:10.1007/s10753-014-0009-9

Trigo G, Dinis M, França A, Bonifácio Andrade E, Gil da Costa RM, Ferreira P, Tavares D (2009) Leukocyte populations and cytokine expression in the mammary gland in a mouse model of Streptococcus agalactiae mastitis. J Med Microbiol 58(Pt 7):951–958. doi:10.1099/jmm.0.007385-0

Tuchscherr LP, Buzzola FR, Alvarez LP, Caccuri RL, Lee JC, Sordelli DO (2005) Capsule-negative Staphylococcus aureus induces chronic experimental mastitis in mice. Infect Immun 73(12):7932–7937

Zheng J, Watson AD, Kerr DE (2006) Genome-wide expression analysis of lipopolysaccharide-induced mastitis in a mouse model. Infect Immun 74(3):1907–1915
Acknowledgments
Project supported by Hunan Provincial Natural Science Foundation of China (14JJ2079).
Conflict of interest
The authors declare that they have no conflict of interest.
About this article
Cite this article
Wang, J., Xiao, H., Sun, Z. et al. Angiopoietin-like protein 2 may mediate the inflammation in murine mastitis through the activation of interleukin-6 and tumour necrosis factor-α. World J Microbiol Biotechnol 31, 1235–1240 (2015). https://doi.org/10.1007/s11274-015-1873-7
Received:

Accepted:

Published:

Issue Date:
Keywords
Angiopoietin-like protein 2

Murine mastitis

Staphylococcus aureus