Abstract
We characterized the culturable, heterotrophic bacterial community in soil collected from a former alpine military site contaminated with petroleum hydrocarbons. The physiologically active eubacterial community, as revealed by fluorescence-in situ-hybridization, accounted for 14.9 % of the total (DAPI-stained) bacterial community. 4.0 and 1.2 % of the DAPI-stained cells could be attributed to culturable, heterotrophic bacteria able to grow at 20 and 10 °C, respectively. The majority of culturable bacterial isolates (23/28 strains) belonged to the Proteobacteria with a predominance of Alphaproteobacteria. The remaining isolates were affiliated with the Firmicutes, Actinobacteria and Bacteroidetes. Five strains could be identified as representatives of novel species. Characterization of the 28 strains demonstrated their adaptation to the temperature and nutrient conditions prevailing in the studied soil. One-third of the strains was able to grow at subzero temperatures (−5 °C). Studies on the effect of temperature on growth and lipase production with two selected strains demonstrated their low-temperature adaptation.
This is a preview of subscription content, log in to check access.
Access options
Buy single article
Instant access to the full article PDF.
US$ 39.95
Price includes VAT for USA
Subscribe to journal
Immediate online access to all issues from 2019. Subscription will auto renew annually.
US$ 199
This is the net price. Taxes to be calculated in checkout.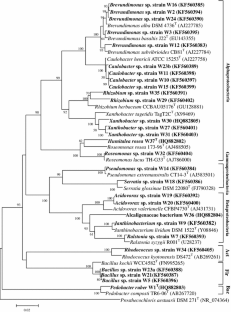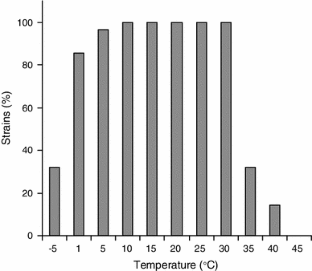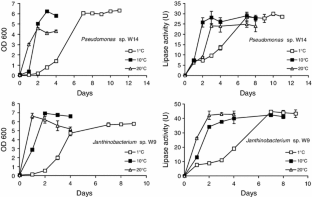 References
Amann R, Ludwig W, Schleifer KH (1995) Phylogenetic identification and in situ detection of individual microbial cells without cultivation. Microbiol Rev 59:143–169

Barra Caracciolo A, Grenni P, Cupo C, Rosetti S (2005) In situ analysis of native microbial communities in complex samples with high particulate loads. FEMS Microbiol Lett 253:55–58

Benedek T, Vajna B, Táncsik A, Márialigeti K, Lányi S, Máthé I (2013) Remarkable impact of PAHs and TPHs on the richness and diversity of bacterial species in surface soils exposed to long-term hydrocarbon pollution. World J Microbiol Biotechnol 29:1989–2002

Bertaux J, Gloger U, Schmid M, Hartmann A, Scheu S (2007) Routine fluorescence in situ hybridization in soil. J Microbiol Methods 69:451–460

Fabiani A, Gamalero E, Castaldini M, Coss GP, Musso C, Pagliai M (2009) Berta G Microbiological polyphasic approach for soil health evaluation in an Italian polluted site. Sci Total Environ 407:4954–4964

Filler DM, Snape I, Barnes DL (2008) Bioremediation of petroleum hydrocarbons in cold regions. Cambridge University Press, Cambridge

Foght J, Aislabie J (2005) Enumeration of soil microorganisms. In: Margesin R, Schinner F (eds) Manual for soil analysis—monitoring and assessing soil bioremediation. Springer, Berlin, pp 261–280

Gratia E, Weekers F, Margesin R, D'Amico S, Thonart P, Feller G (2009) Selection of a cold-adapted bacterium for bioremediation of wastewater at low temperatures. Extremophiles 13:763–768

Greer CW, Whyte LG, Niederberger TD (2010) Microbial communities in hydrocarbon-contaminated temperate, tropical, alpine, and polar soils. In: Timmis KN (ed) Handbook of hydrocarbon and lipid microbiology. Springer, Berlin, pp 2313–2328

Houde A, Kademi A, Leblanc D (2004) Lipases and their industrial applications: an overview. Appl Biochem Biotechnol 118:155–170

Joseph B, Ramteke PW, Thomas G (2008) Cold active microbial lipases: some hot issues and recent developments. Biotechnol Adv 26:457–470

Junge K, Imhoff F, Staley T, Deming JW (2002) Phylogenetic diversity of numerically important Arctic sea-ice bacteria cultured at subzero temperature. Microb Ecol 43:315–328

Labbé D, Margesin R, Schinner F, Whyte LG, Greer CW (2007) Comparative phylogenetic analysis of microbial communities in pristine and hydrocarbon-contaminated alpine soils. FEMS Microbiol Ecol 59:466–475

Mair J, Schinner F, Margesin R (2013) A feasibility study on the bioremediation of hydrocarbon-contaminated soil from an Alpine former military site: effects of temperature and biostimulation. Cold Reg Sci Technol 96:122–128

Margesin R, Feller G (2010) Biotechnological applications of psychrophiles. Environ Technol 31:835–844

Margesin R, Schinner F (1997) Bioremediation of diesel-oil contaminated alpine soils at low temperatures. Appl Microbiol Biotechnol 47:462–468

Margesin R, Schinner F (1999) A feasibility study for the in situ remediation of a former tank farm. World J Microbiol Biotechnol 15:615–622

Margesin R, Zhang DC (2013a) Humitalea rosea gen. nov., sp. nov., an aerobic bacteriochlorophyll-containing bacterium of the family Acetobacteraceae isolated from soil. Int J Syst Evol Microbiol 63:1411–1416

Margesin R, Zhang DC (2013b) Pedobacter ruber sp. nov., a novel psychrophilic bacterium isolated from soil. Int J Syst Evol Microbiol 63:339–344

Margesin R, Zimmerbauer A, Schinner F (1999) Soil lipase activity—a useful indicator of oil biodegradation. Biotechnol Tech 13:859–863

Margesin R, Gander S, Zacke G, Gounot AM, Schinner F (2003) Hydrocarbon degradation and enzyme activities of cold-adapted bacteria and yeasts. Extremophiles 7:451–458

Margesin R, Hämmerle M, Tscherko D (2007) Microbial activity and community composition during bioremediation of diesel-oil-contaminated soil: effects of hydrocarbon concentration, fertilizers and incubation time. Microbial Ecol 53:259–269

Margesin R, Jud M, Tscherko D, Schinner F (2009) Microbial communities and activities in alpine and subalpine soils. FEMS Microbiol Ecol 67:208–218

Margesin R, Plaza GA, Kasenbacher S (2011) Characterization of bacterial communities at heavy-metal-contaminated sites. Chemosphere 82:583–1588

Mathe I, Benedek T, Tancsics A, Palatinszky M, Lanyi S, Marialigeti K (2012) Diversity, activity, antibiotic and heavy metal resistance of bacteria from petroleum hydrocarbon contaminated soils located in Harghita County (Romania). Int Biodeter Biodegr 73:41–49

Militon C, Boucher D, Vachelard C, Perchet G, Barra V, Troquet J, Peyretaillade E, Peyret P (2010) Bacterial community changes during bioremediation of aliphatic hydrocarbon-contaminated soil. FEMS Microbiol Ecol 74:669–681

Panikov NS, Sizova MV (2007) Growth kinetics of microorganisms isolated from Alaskan soil and permafrost in solid media frozen down to -35 C. FEMS Microbiol Ecol 59:500–512

Plaza GA, Nałęcz-Jawecki G, Pinyakong O, Illmer P, Margesin R (2010) Ecotoxicological and microbiological characterization of soils from heavy metal and hydrocarbon contaminated sites. Environ Monit Assess 163:477–488

Popp N, Schlömann M, Mau M (2006) Bacterial diversity in the active stage of a bioremediation system for mineral oil hydrocarbon-contaminated soils. Microbiology 152:3291–3304

Saul DJ, Aislabie JM, Brown CE, Harris L, Foght JM (2005) Hydrocarbon contamination changes the bacterial diversity of soil from around Scott Base, Antarctica. FEMS Microbiol Ecol 53:141–155

Shivaji S, Kumari K, Kishore KH, Pindi PK, Rao PS, Radha Srinivas TN, Asthana R, Ravindra R (2011) Vertical distribution of bacteria in a lake sediment from Antarctica by culture-independent and culture-dependent approaches. Res Microbiol 162:191–203

Steven B, Briggs G, McKay CP, Pollard WH, Greer CW, Whyte LG (2007) Characterization of the microbial diversity in a permafrost sample from the Canadian high Arctic using culture-dependent and culture-independent methods. FEMS Microbiol Ecol 59:513–523

Struvay C, Feller G (2012) Optimization to low temperature activity in psychrophilic enzymes. Int J Mol Sci 13:11643–11665

Vinas M, Sabate J, Espuny MJ, Solanas AM (2005) Bacterial community dynamics and polycyclic aromatic hydrocarbon degradation during bioremediation of heavily creosote-contaminated soil. Appl Environ Microbiol 71:7008–7018

Zhang DC, Liu HC, Xin YH, Zhou YG, Schinner F, Margesin R (2010) Sphingopyxis bauzanensis sp. nov., a novel psychrophilic bacterium isolated from soil. Int J Syst Evol Microbiol 60:2618–2622

Zhang DC, Moertelmaier C, Margesin R (2012) Characterization of the bacterial and archaeal diversity in hydrocarbon-contaminated soil. Sci Total Environ 421–422:184–196
Acknowledgments
This study was supported by a grant from the "Autonome Provinz Bozen, Südtirol", Amt für Geologie und Baustoffprüfung. We thank P. Thurnbichler, J. Mair and S. Kasenbacher for technical assistance.
About this article
Cite this article
Zhang, D., Margesin, R. Characterization of culturable heterotrophic bacteria in hydrocarbon-contaminated soil from an alpine former military site. World J Microbiol Biotechnol 30, 1717–1724 (2014). https://doi.org/10.1007/s11274-013-1594-8
Received:

Accepted:

Published:

Issue Date:
Keywords
Alpine

Soil

Culturable bacteria

Hydrocarbons

Lipase